Here it is, my very first recipe in the category 'Family Style Dinner'. I hope you will join me for this new adventure of home cooked meals – and if you try any of the recipes throw me a comment and let me know how you like them!
These meatballs aren't exactly Italian, but the fennel seeds definitely give them an Italian vibe and if you throw them in my homemade tomato sauce, I promise you have a delicious dinner to serve your family.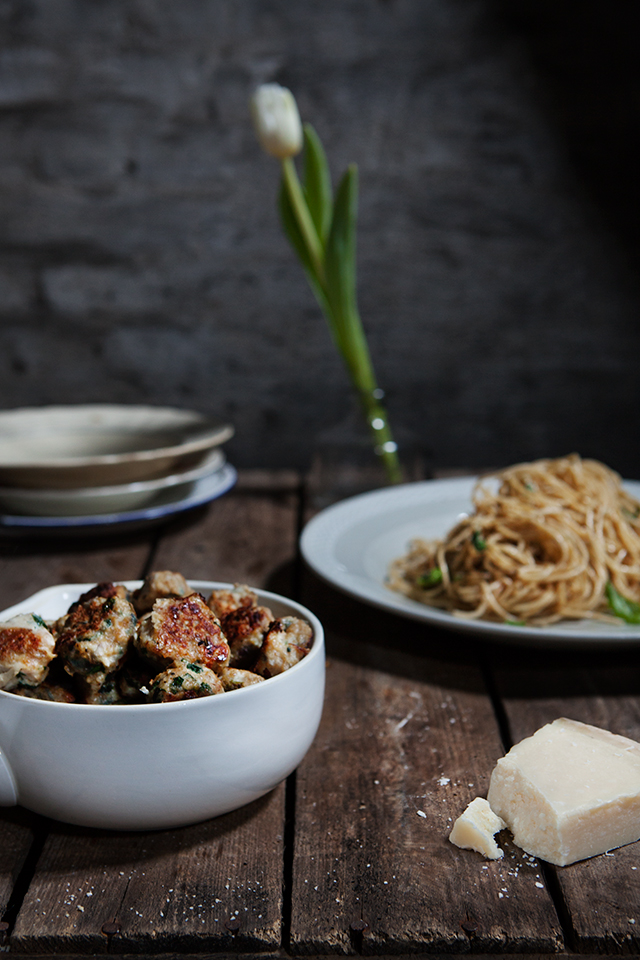 You can use what ever meat that you like for these italian meatballs. I like to use chicken or a mix of veal and pork, but anything goes. Just remember not to have them in the oven to long, you want them moist and not dry.
You can serve these meatballs in a tomato sauce, with a salad on the side or in your favorite pasta dish. I always serve them with simple garlic spaghetti.
If I have basil, I always throw in a few leaves of that as well, but you don't have to. You can also choose to replace the parsley with basil.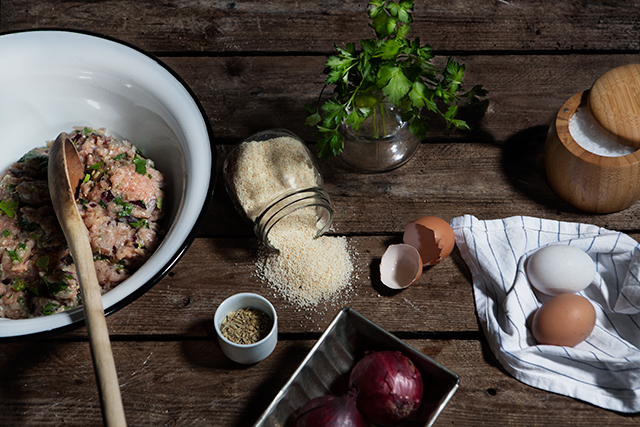 A tip: To make your life a little easier, plan meals for one week in advance using this printable template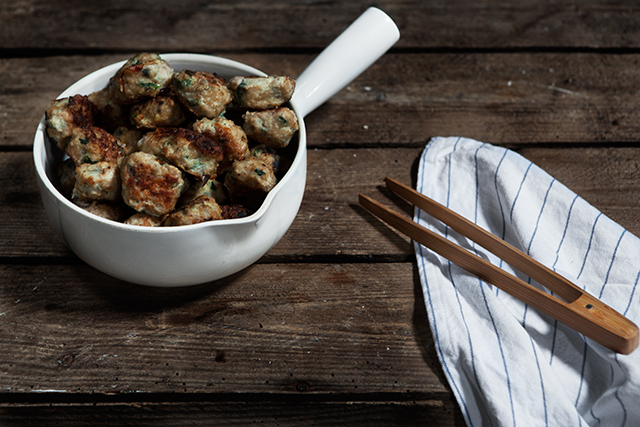 Recipe: Italian Meatballs
Ingredients
400 g (14 oz)

Ground Chicken

1

Red onion

Handful

Parsley

1 tbsp

Fennel seeds

1

Egg

3 tbsp

Bread Crumbs

2 tsp

Salt

Freshly ground black pepper
Directions
Preheat the oven to 220°C (425°F)
Line a baking tray with parchment papaer
Chop the onion finely
Roll the parsley up to a bundle and chop it roughly
Mix all the ingredients together in a large bowl
Form small balls, use your hands or two spoons
Sear the meatballs in a little olive oil in a frying pan until they have beautiful brown color. 2-3 minutes.
Place the meatballs on to the prepared baking tray and bake for 10 minutes
|
Published on January 28, 2014
|
Italian Meatballs Recipe
Comments - I would love to hear from you