Valentine's Day is tomorrow and even though I am not a big fan of the day, I believe it is a good thing to celebrate love. For the occasion I made Raw Almond Cookies with Creamy Peppermint-Coconut Custard for my hubbby.
These cute, heart shaped cookies are not only super healthy but absolutely divine!
So make sure to make some – Just promise me to make them with love and give them to someone you care about, they are way to tasty to waist on anyone else…wink wink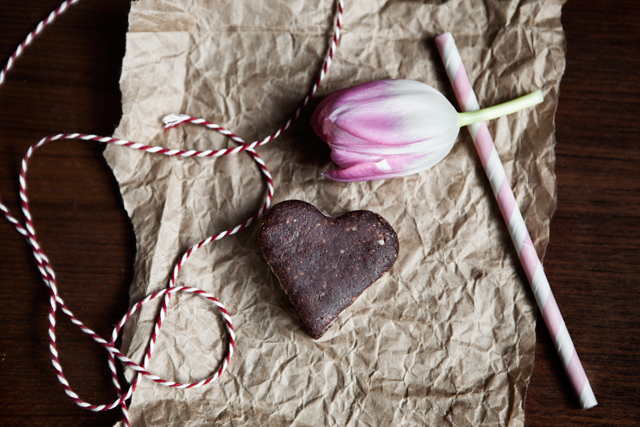 What do you have planned for the big V-day?
I will be working all day, but I am thinking about serving my lover breakfast in bed, a cup of hot vanilla coffe and few of these healthy and tasty delights.
The cookies are also perfect for wrapping and I am sure you bestie will love you even more if you give her a little edible present.
Happy Valentines Ya'll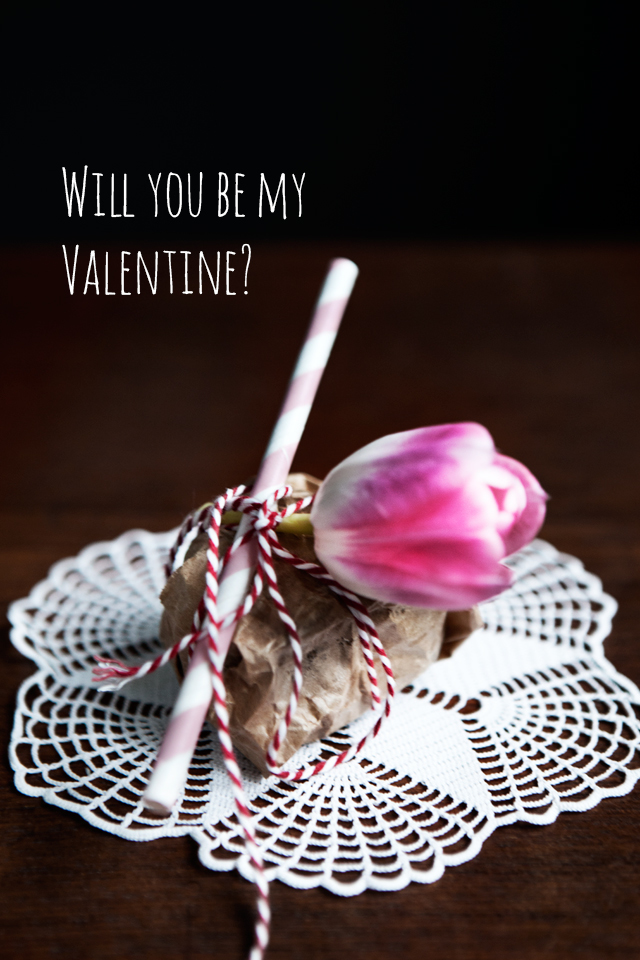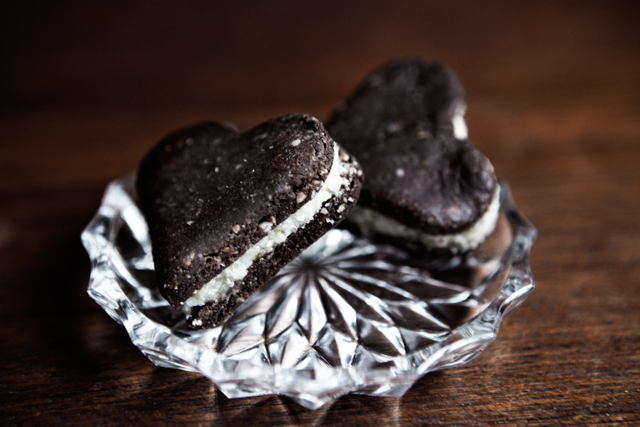 Recipe: Almond Cookies with Peppermint Custard
From the Icelandic Raw Dessert Book 'Eftirréttir Sollu' Store the cookies in the fridge or the freezer, otherwise they might melt a little bit (not here in scandinavia though, it is freezing)
Ingredients
2.5 dl (1 cup)

Almonds

1 dl (9 tbsp)

Coconut Palm Sugar

3/4 dl (5 tbsp)

Cocoa

3/4 dl (5 tbsp)

Cocoa Butter, melted

1/2 tsp

Almond Essence

1 tsp

Vanilla Essence

1/8 tsp

Salt

3 tbsp

Honey

PEPPERMINT COCONUT CUSTARD

2 dl (0.5 cup + 5 tbsp)

Frozen Coconut Meat*

1 dl (9 tbsp)

Coconut Oil

1 dl (9 tbsp)

Honey

1 tsp

Vanilla Essence

2 tsp

Peppermint Essence

1/8 tsp

Salt
Directions
Grind the almonds in a food processor until they are very finely chopped, almost almond flour
Add the remaining ingredients except for the honey and blend well
Add the honey and process a little more, by now you should have a sticky mass
Roll out the doug between two sheets of parchment paper until 1/2 cm (1.9 inch) thick
Cut the dough in preferred shapes, I made hearts ♥
Place the cut outs in the fridge while making the creamy filling
Mix all the custard ingredients with your hand blender (or a regular blender) until a smooth paste
Put the peppermint/coconut custard on one side of one cookie and then another cookie on top
*Coconut Meat
In some Asian Stores you can buy frozen Coconut Meat. They do not have it in mine, so I simply bought two whole, fresh coconuts. It isn't easy to crack a coconut open but with a screw driver and a hammer I did it! (I watched this video for assistance)
After peeling the skin of the meat I gave it a quick tour in the food processor, so it was more like a very chunky shredded coconut meat when I put it in the freezer. The two nuts gave me 6 dl of meat so I have plenty in my freezer for future raw "baking"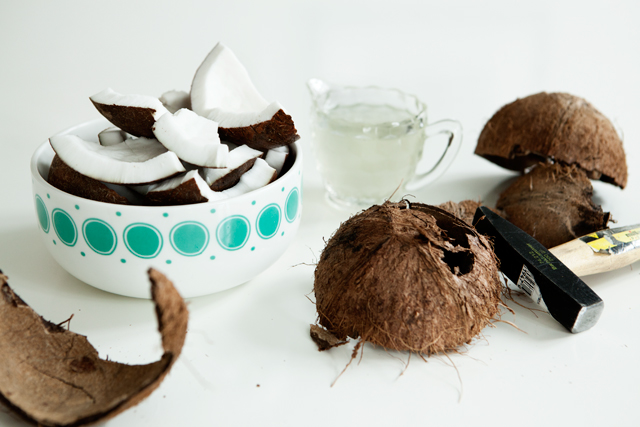 |
Published on February 13, 2013
|
Almond Cookies with Peppermint Custard
Comments - I would love to hear from you