Dorayaki (どら焼き) is one of the most popular Japanese pastry. It is a sandwich of two sweet pancake-like patties with Anko (sweet red bean paste) in the middle.
If you have never had Japanese sweets, Dorayaki is perfect for beginners. It is sweet and simply delicious!
This recipe of mine isn't completely traditional, I tweaked it a little bit by adding some salted caramel and fresh berries for a Scandinavian Twist!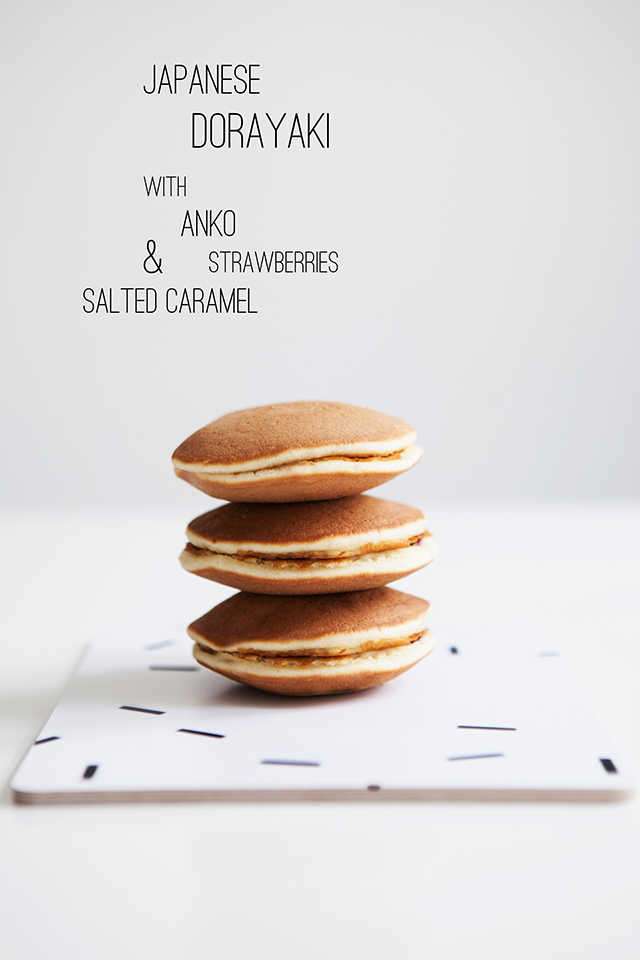 In Japanese, dora means gong, and I read somewhere that the first Dorayaki was made when a samurai named Benkei forgot his gong (dora) when leaving a farmer's house where he had been hiding. The farmer then used the gong to fry the pancakes, thus the name Dorayaki. Dorayaki originally only had one layer, but the current shape was invented in 1914 by Usagiya in the Ueno district of Tokyo.
Anko or Red bean paste is a dark red, sweet bean paste and often used in Japanese pastries.  It is prepared by boiling and mashing azuki beans with sugar or honey. I buy my anko in an Asian specialty store.
I mashed my anko with some salted caramel sauce to give the filling a little more edge. Without the salted caramel it becomes a little too sweet for my taste.
I recommend enjoying Dorayaki with a hot cup of Matcha or your favorite tea!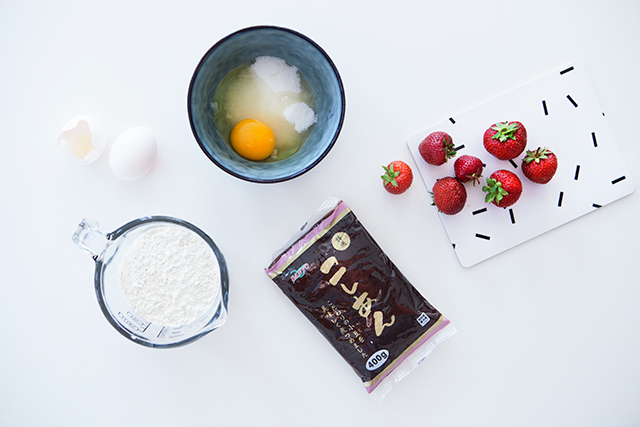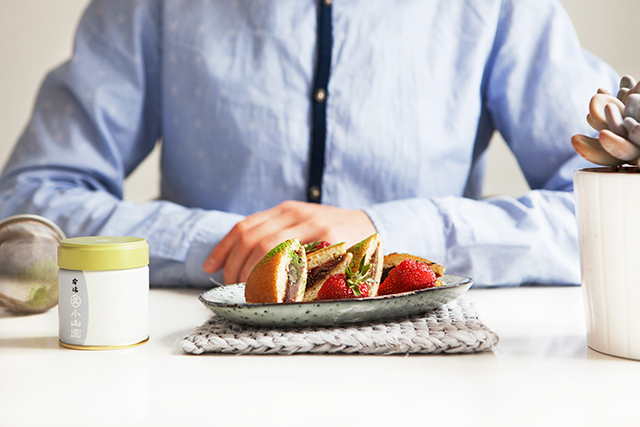 Recipe: Dorayaki
You can find my Recipe for Salted Caramel Sauce Here
Ingredients
3 dl (1 1/4 cup)

Flour

2 tsp

Baking Powder

1 dl (1/2 cup)

Sugar

2

Eggs

1 tbsp

Honey

Anko (Sweet Red Bean Paste)

Salted Caramel Sauce*(see link above)

Thinly Sliced

Fresh Strawberries/Blueberries
Directions
Mix flour and baking powder in a bowl and set aside
Whisk the eggs, sugar and honey until light and fluffy
Add the dry ingredients and mix until well combined
Heat a non-stick frying pan over medium heat
Scoop up 1 tbsp of batter and drop to the pan (I make 4 at a time)
Flip the "pancakes" over when the sides look dry and air bubbles have formed and cook for one more minute
Place on a plate and cover with wet paper towel to keep moist
Mix Anko and Slated Caramel Sauce together, I use 4 tbsp Anko to 4 tsp Caramel
Place a tsp of Caramel/Anko onto a pancake
Press blueberries or thinly sliced strawberries on top. Then cover with another pancake to make a sandwich
Wrap in plastic film and press well together, and pinch the edges so the filling doesn't come out. Keep the cakes wrapped in plastic until ready to serve.
Serve with a steaming hot cup of Matcha or other Green Tea
Store in the fridge for up to 2 days
|
Published on June 23, 2014
|
Dorayaki Recipe
Comments - I would love to hear from you