Dumplings are steamed Chinese Calzones filled with deliciousness. Dumplings are always steamed but it is also very popular to fry them after the steaming. Fried dumplings are called Pot-Stickers since they stick to the pan when fried!

For this Duck Dumplings Recipe I used Icelandic Game, but you can obviously use what ever kind of duck you like and have access to. 
It is tempting to use juniper berries, bay leaves and pink pepper corns when cooking birds and game, but the combo of the warm Chinese spices and the gaminess of the duck was mind blowing.
There are many, many ways to fold dumplings, I highly recommend you check out this youtube video to learn different techniques.
You can make dumplings in advance. Simply keep them in the fridge and steam again for few minutes before serving them. You can also store them in the freezer for few weeks, just allow them to get to room-temp before re-steaming or frying them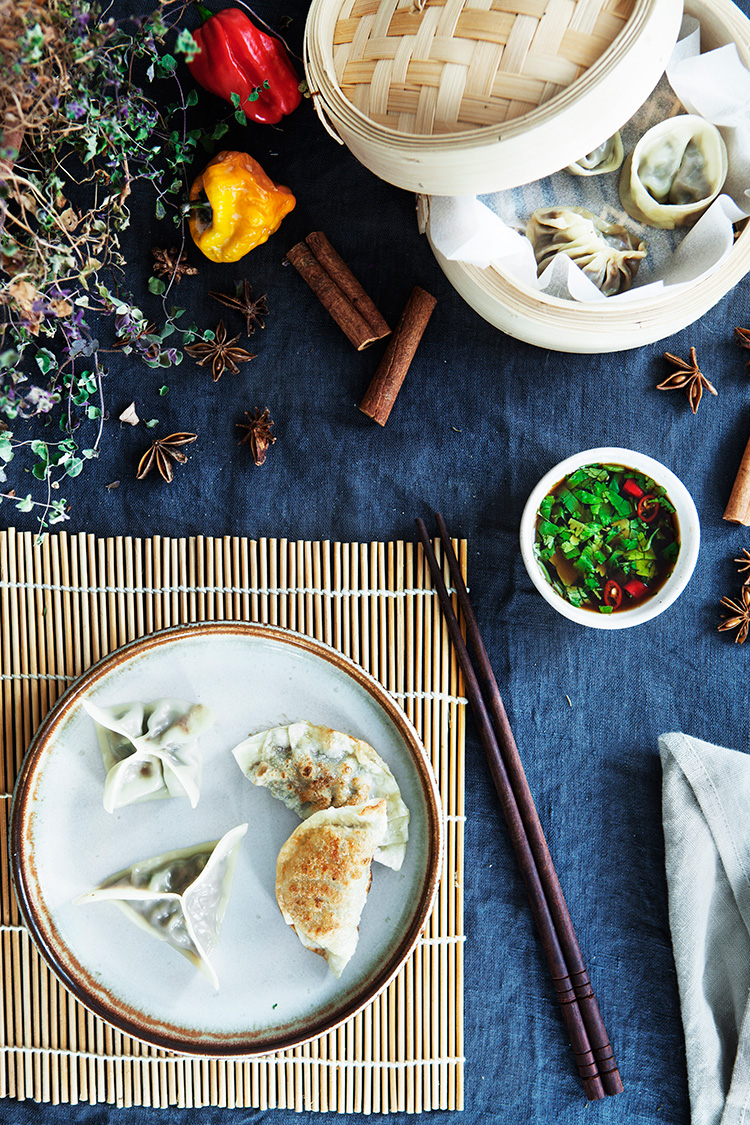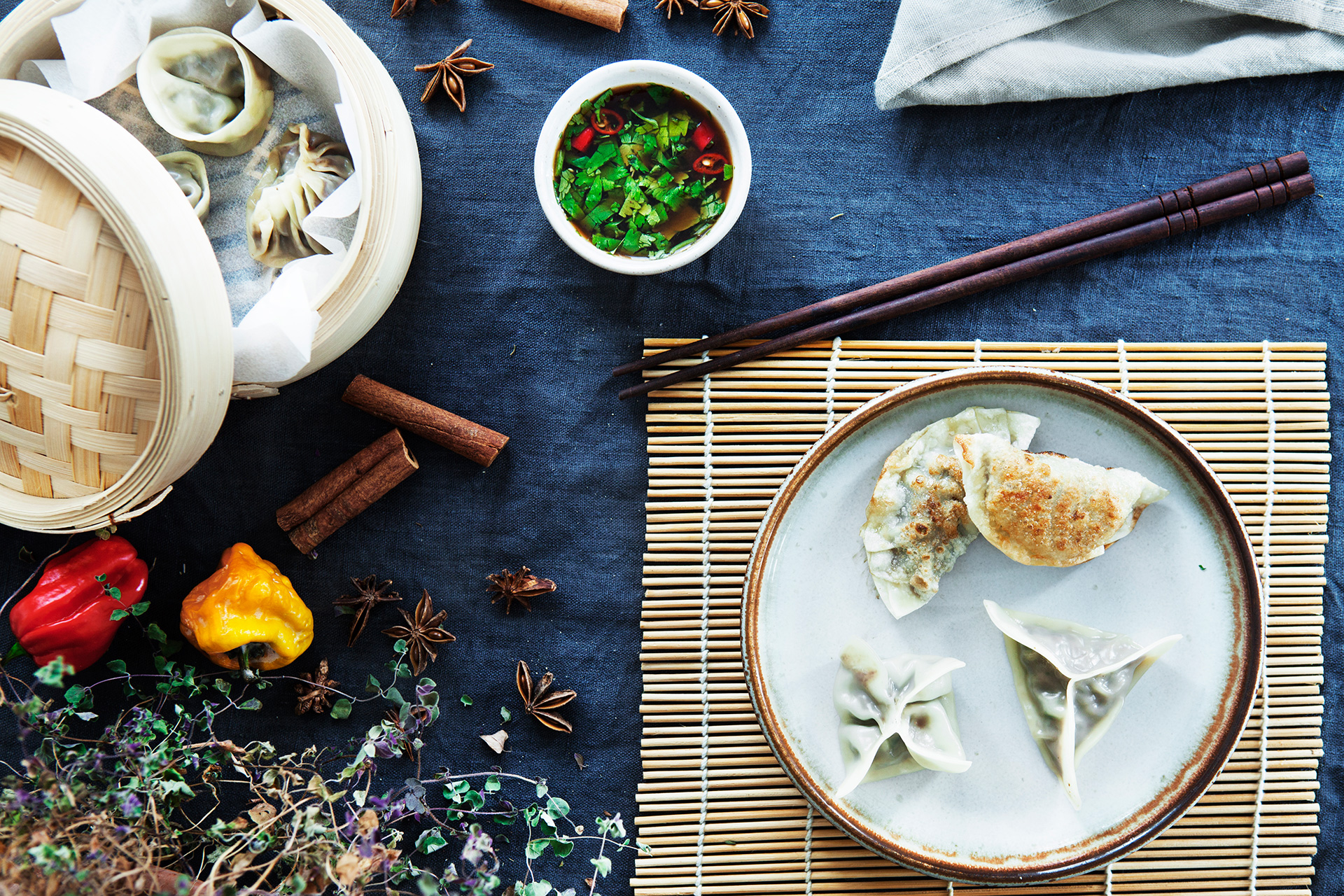 Recipe: Duck Dumplings
Makes 36

You can make dumplings in advance. Simply keep them in the fridge and steam again for few minutes before serving them. You can also store them in the freezer for few weeks, just allow them to get to room-temp before re-steaming or frying them
Ingredients
300 g (10 oz)

Skinless Duck Breast

3

Garlic Cloves

30 g (1 oz)

Ginger Root

100 g (3,5 oz)

Mushrooms

100 g (3,5 oz)

Bok Choy

2

Spring Onions

3 tbsp.

Soy Sauce

2 tsp.

Sesame Oil

1/2 tsp.

Chili Flakes

1/4 tsp.

Powdered Star Anise

1/4 tsp.

Cinnamon

1 tbsp.

Corn Flour

36

Won Ton Wrappers (Gyoza Wrappers)
Directions
Come everything (except the wrappers) into a Food Processor and mix until smooth. Alternatively you could put the meat through a meat grinder and chop everything else finely.
Spoon 2 teaspoons of the filling onto the center of each dough round. Lightly moisten the edges with water and then bring up the sides of the wrapper; press and pleat the edges to seal in the filling
Place parchment paper in a bamboo-steamer basket and place the folded dumplings on top, be sure to let them not touch. Steam for 12 minutes.
Serve them steamed or throw them in little oil in a frying pan and make pot stickers.
Serve the dumplings hot and dip in the sauce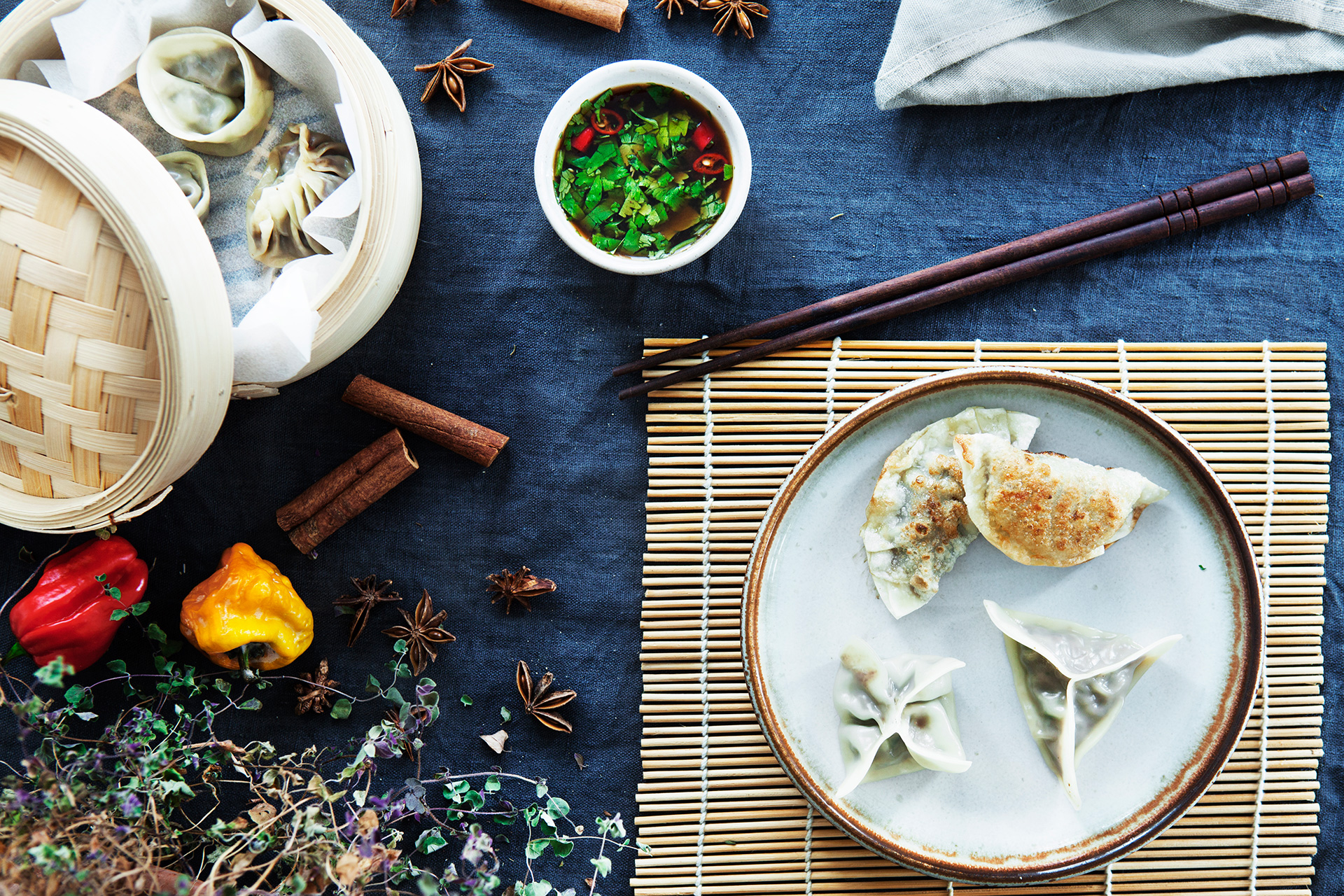 Recipe: Dipping Sauce for Dumplings
Ingredients
3 tbsp.

Soy Sauce

1 tsp.

Sesame Oil

1

Fresh Chili

Handful

Cilantro
Directions
Chop chili and cilantro and mix in with the soy and sesame oil
|
Published on March 16, 2015
|
Duck Dumplings Recipe
Comments - I would love to hear from you