One could say that Cauliflower is the new Kale – it's popularity has gone through the roof lately!
I often do Cauliflower rice and serve with Thai Curry or Stew, you know, just to hold back on the carbs a little bit.
Tonight I am serving Cauliflower Couscous with a hint of Morocco!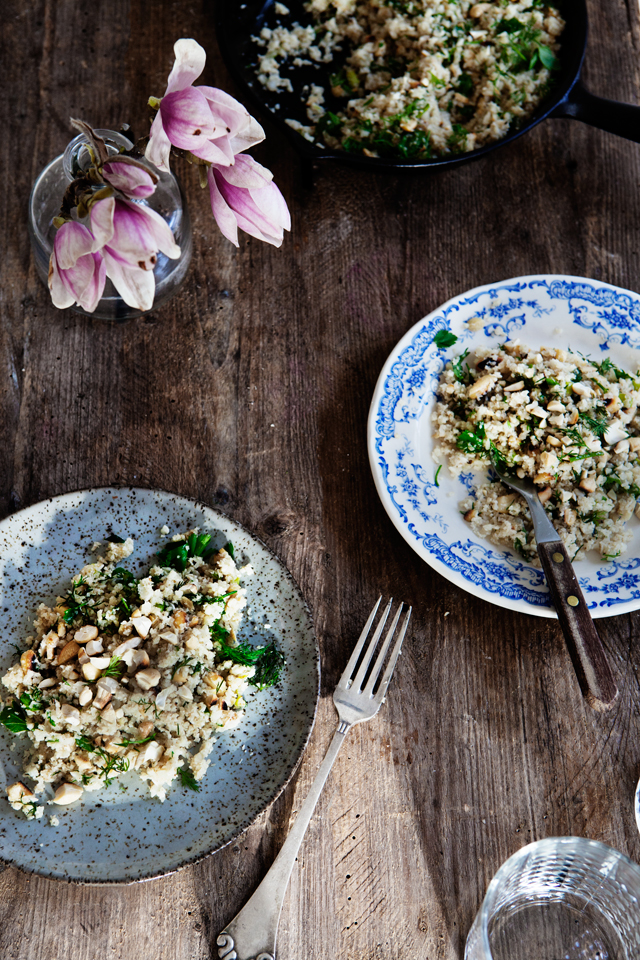 When I first served cauliflower "plain rice" for my husband he wrinkled his nose and didn't really believe that this was gonna taste good. But after his first bite, he had to admit that it was the perfect substitute and now we rarely eat rice anymore.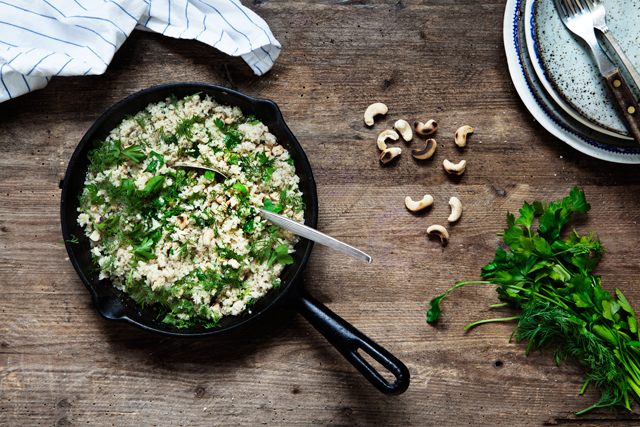 To make "plain rice" you simply process the flowers into rice sized pieces, and cook them in a pan with a little oil. Season with salt and pepper.
You can also make fried rice, by starting with garlic and onion, then adding the cauliflower rice, some vegetables and an egg.
Make sure you check out the other recipes from my series 'Family Style Dinner':
Celeriac Burgers
Garlic Pasta
Italian Meatballs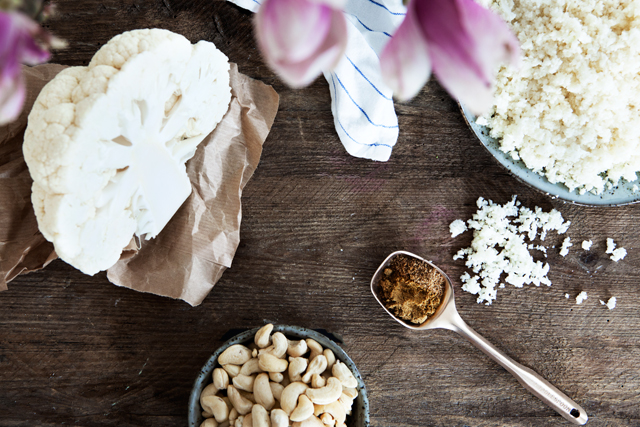 Recipe: Cauliflower CousCous
My Cauliflower was 1.2 kg (2.5 pounds). Serves 6
If you do not have a food processor, you can grate the cauliflower on a old fashioned grater
Ingredients
1 large

Cauliflower

2 handfuls

Cashews

2 tbsp

Vegetable Oil

2

Garlic Clove

2 tsp

Cumin

2 tsp

Coriander

2

Green Onions (Spring Onions)

Salt & Pepper

handful

Fresh Dill

handulf

Fresh Flat leaved Parsley

Lemon Zest (from half a Lemon)
Directions
Start by cutting the flowers of the stem and place them in a food processor and spin until rice sized
Roast the Cashews on a dry pan over high heat. Move them around the pan constantly. When they have taken some color remove from heat and let cool
Heat the oil over low heat. Add the garlic, cumin and coriander and after a minute add the green onions (finely chopped)
When the onion has softened add the cauliflower rice and give it a good stir, making sure everything gets mixed in well
Let simmer for 10 minutes. If it looks dry to you, add few tbsp of water
Salt and Pepper
Roughly chop the now cooled cashews along with the fresh herbs and fold into the couscous
Grate some Lemon Zest on top
Serve hot or cold!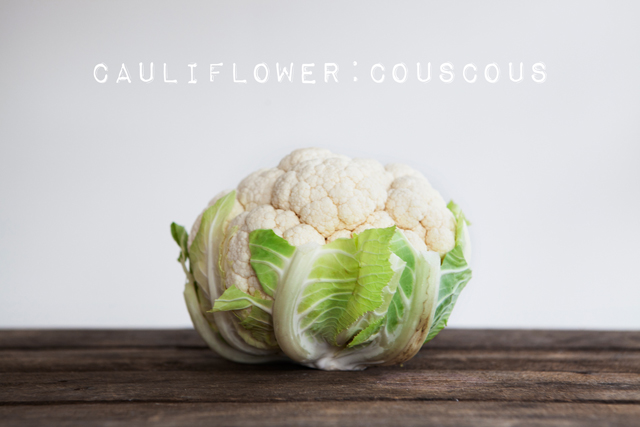 |
Published on March 6, 2014
|
Cauliflower CousCous
Comments - I would love to hear from you