I guess I jumped started the spring a little too early this year. Here in Scandinavia, the winter is back on it's icy track and not a plus degree in sight.
Today's cocktail is Bermuda's national drink, 'Dark N' Stormy'. I truly hope that this classic, caribbean, highball* cocktail can keep you warm until spring arrives for real!
Originally this drink is made with Ginger Beer*, I like to make mine with super fresh homemade Ginger Ale.  That is the reason for my version being on the lighter side and not so dark as the title suggests.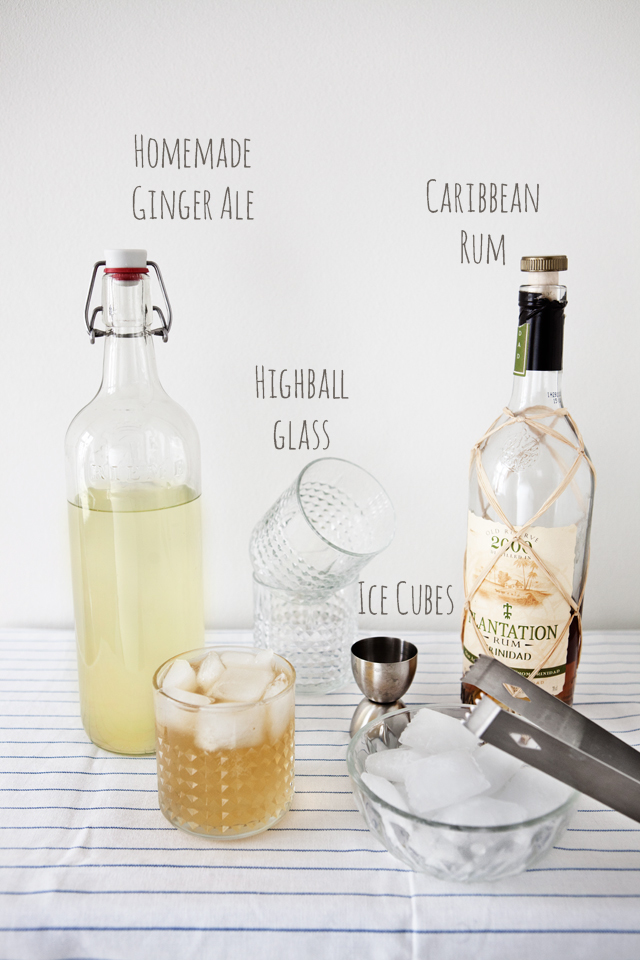 Fun Fact #1 : Dark N' Stormy is trademarked by Gosling Brothers Limited, the makers of Goslings Black Seal Rum. I didn't have Gosling Black Seal Rum, so I used Plantation Trinidad Rum instead.
Fun Fact #2 : A highball cocktail is a mixed drink that is made with spirit base and a larger proportion of a non-alcoholic mixer
Fun Fact #3 : The difference between ginger beer and ginger ale is that ginger beer is brewed (fermented) but ginger ale is just carbonated water that's been flavored with ginger.
Ginger beers are categorized as non-alcoholic drinks because their alcohol content is less than 0.5 percent and since ginger beers are naturally fermented, they have less carbonation and often develop a beer-like head when poured into a glass.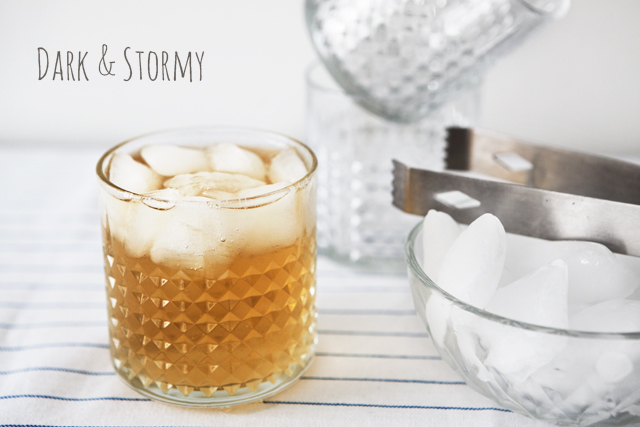 Recipe: Dark N' Stormy
Ingredients
4 cl (1.5 ounces)

Goslings Black Seal Rum (or other Caribbean rum)

150 ml (5 ounces)

Homemade Ginger Ale

1/4

of a lime for garnish and you can squeeze it over the ice if you want

Ice Cubes
Directions
Fill a long drink glass with ice
If you want, squeeze 1/8 of a lime over the ice
Pour the rum in
Fill the glass up with ginger beer or Homemade Ginger Ale (recipe below)
Place a lime wedge on the rim for garnish
Recipe: Homemade Ginger Ale
Makes 1.6 L (54 ounces) of super fresh Ginger Ale
Ingredients
8 dl (3.5 cups)

Water

250 g (9 ounces)

Ginger

3-5 Strips

Lemon peal - yellow part only

3.5 dl (1.25 cups)

Sugar

Chilled Seltzer (Sparkling Water)
Directions
Peal and coarsely chop the Ginger
Place water, ginger and lemon peal in a sauce pan and bring to a boil
Simmer at a low boil, uncovered, for about 10 minutes
Add the sugar, stirring constantly, and continue to boil for another 12-15 minutes
Place a fine wire strainer over a bowl or a pitcher. Pour in ginger mixture to separate solids from liquid
Discard lemon peal and ginger
Pour the syrup into a glass container, seal tightly, and chill at least 1 hour until completely cold or up to 1 week
Mix 1 dl (0.4 cups) ginger syrup with 4 dl (1.5 cup) cold sparkling water.
This Recipe makes a total of 8 dl (3.4 cups) Ginger Syrup and therefor 1.6 L (54 ounces) of Fresh Ginger Ale
Published on March 15, 2013
|
Dark N' Stormy
Comments - I would love to hear from you