I have never been a big fan of store bought marshmallows and frankly I have never understood the idea of putting them on a stick over a fire. Until now! These homemade marshmallows are out of this world, soft, spongy, fluffy and they taste heavenly. I am addicted!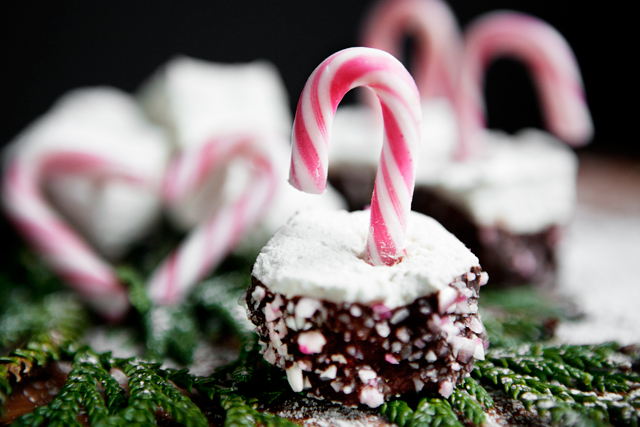 As you might have noticed I am loving candy canes this season and using them for a lot of different desserts and treats.
You can cut your marshmallows in any shape you prefer. I made both one bite pieces, where the top is dipped in dark chocolate and crushed candy canes, and a larger version with a mini candy cane in the middle, perfect to hang on the edge of a cup of hot cocoa.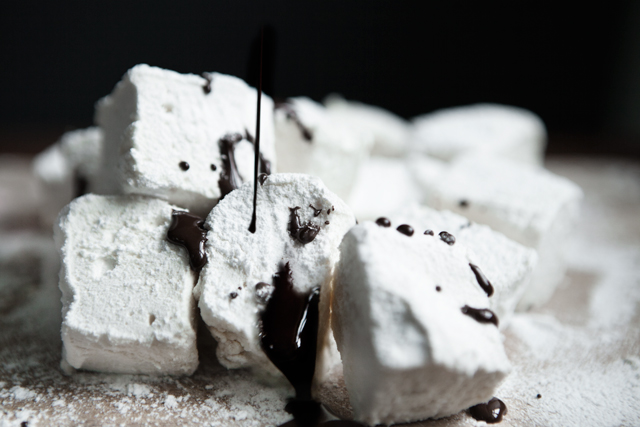 Last night I went to a dinner party and brought the hostess a little red tin filled with the smaller ones which made perfect mini dessert with a delicious cup of coffee.
Homemade Marshmallows are so worth making. It is a lot easier than you might think – I won't lie to you, you might get sticky fingers but who cares about fingers when you can fill your tummy with deliciousness?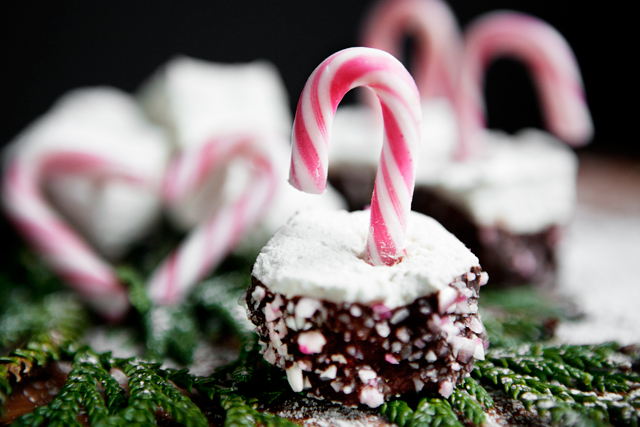 Recipe: Homemade Marshmallows
Ingredients
3 tbs

powdered gelatin

2.5 dl (1 cup)

cold water (divided)

5 dl (2 cups)

granulated sugar

1 dl (7 tbsp)

cane syrup (or light corn syrup)

1/4 tsp

salt

2

large egg whites

1 tsp

vanilla extract (you could also use peppermint)

2.5 dl (1 cup)

powdered sugar for dusting the pan and the marshmallows
Directions
Oil bottom and sides of a approx. 22x34 cm (8,5x14 inches) pan and dust bottom and sides with some powdered sugar
In bowl of a standing mixer sprinkle gelatin over 1.25 dl (0.5 cup) of ice cold water, and let stand to soften
In a heavy saucepan cook granulated sugar, cane syrup, the other 1.25 dl (0.5 cup) of the cold water, and salt over low heat, stirring with a wooden spoon, until sugar is dissolved. Increase heat to moderate and boil mixture, without stirring, until your thermometer reaches 115°C (240°F)
Remove pan from heat and pour sugar syrup over gelatin mixture
With a standing mixer beat mixture on high speed until white, thick, and nearly tripled in volume, about 10 minutes
In a separate bowl beat egg whites until they just hold stiff peaks
Beat whites and vanilla (or your choice of flavoring) into sugar mixture until just combined. Pour mixture into the prepared baking pan
Sift an even layer of powdered sugar over the top
Leave the marshmallow pan uncovered, until the marshmallows are firm, at least four hours and up to one day. I left mine over night
Cut the marshmallows as you please, be creative! And store in an airtight container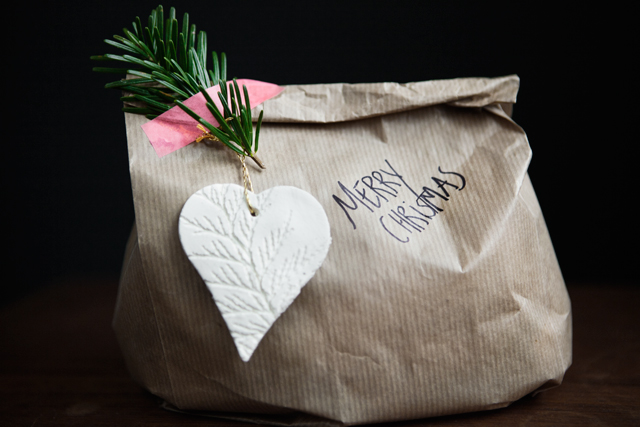 |
Published on December 13, 2012
|
Homemade Marshmallows
Comments - I would love to hear from you