This past Saturday I participated in a charity bake sale. I made my famous Skyr Cake, but with a new flavour: Liquorice!
It was a huge success – the acidity of the skyr, the semi bitter liquorice and the sweetness of the dates turned the cake into a heavenly treat.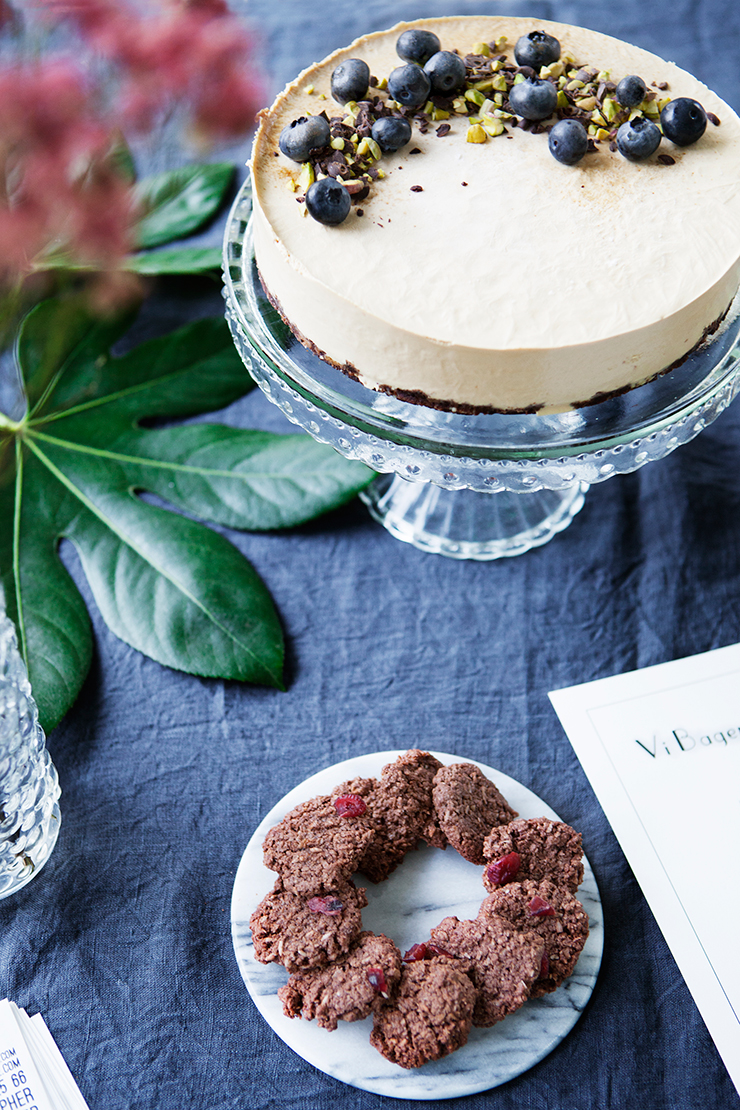 There is no added sugar in this Liquorice Skyr Cake, but there are both dates and banana in the bottom layer which adds delightful sweetness to every spoonful.
You can decorate the cake as you please I like to use fresh blueberries and crushed pistachios.
Good advice
– You can buy 'Skyr' in Iceland, Denmark, Sweden, Norway and at Wholefoods in the US.

– A frozen Skyr Cake takes about 8 hours to thaw in the fridge or 3 hours on the kitchen counter

– This recipe fits a 20-23 cm (8-9 inch) spring form

– Store leftover cake in the fridge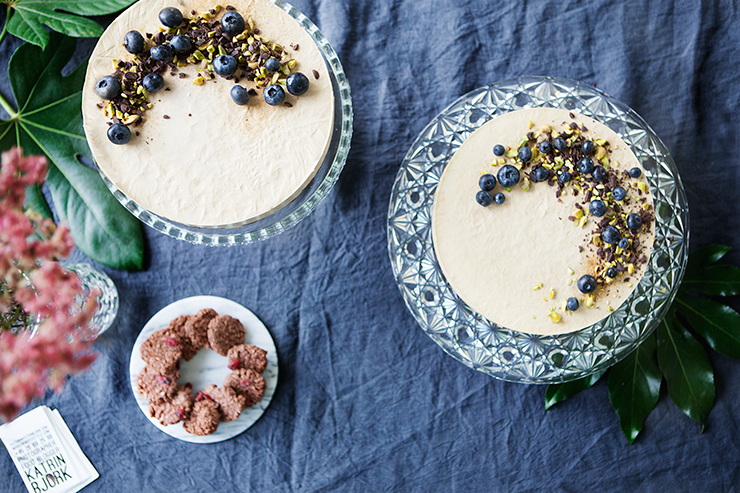 You can find more Skyr Cake Recipes here and here.
If you can not find gelatin sheets you can use powder. Just make sure to follow the instructions on the packet. 1 Gelatin sheet is approximately 0,5 tsp of powdered geleatin
This recipe calls for 8 gelatin sheets which would then be 4 tsp of powdered gelatin or 4 tsp of agar agar.
For the guests on a dairy free diet I baked these Cookies – Crunchy on the outside and gooey on the inside. For some extra sweetness and to add some color I sprinkled some dried cranberries on top.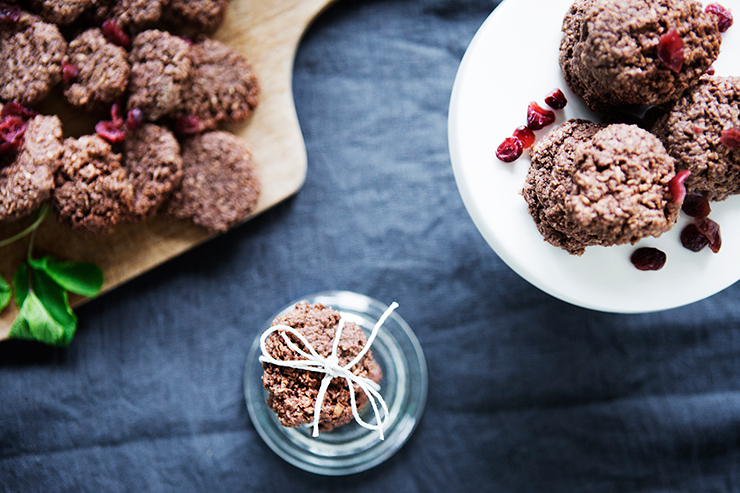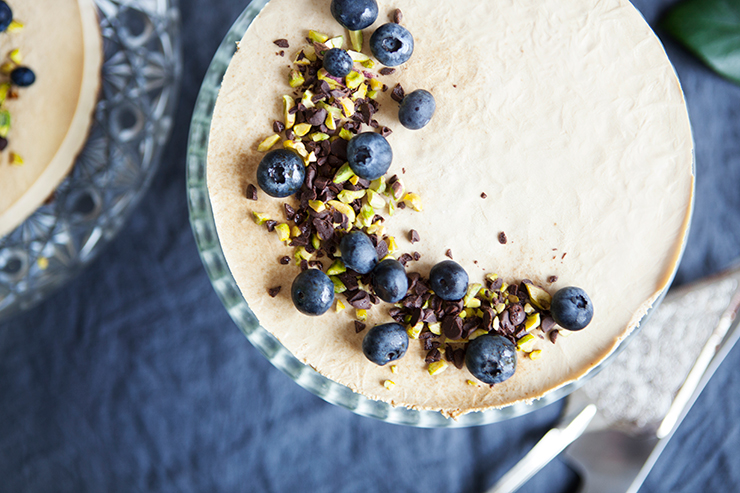 Recipe: Liquorice Skyr Cake
Ingredients
100 g (3,5 ounces)

Almonds

50 g (1,5 ounces)

Pecans

50 g (1,5 ounces)

Cashews

100 g (3,5 ounces)

Oats

2 tbsp

Raw Cocoa Powder

10

Dates, pittet

1/2

Banana

500 g (1 lbs)

Non flavoured Skyr

1

Egg

2 tbsp

Salty Liquorice Syrup*

1 tbsp

Fine Liquorice Powder*

250 ml (1 cup)

Heavy Cream

8

Gelatin Sheets

1/2 dl (4 tbsp)

Milk
Directions
Line a round spring form (20-23 cm (8-9 inch)) with parchment paper
Place all the nuts into a food processor and give them a good spin
Add the oats and spin a little more
Add cocoa, dates and banana. You might have to stop a few times and scrape down the sides.
When the dough is forming a mass put it into the spring form and press it down equally. Place the form in the fridge while making the rest of the cake
Mix together skyr, egg, liquorice syrup and liquorice powder
Whip the heavy cream stiff in a separate bowl and then fold into the skyr
Soften the gelatin sheets in cold water for few minutes
Squeeze the water out of the now softened gelatin sheets and place in a small sauce pan along the milk. Melt together over low heat until gelatin is completely absorebed
Pour over the skyr mixture and fold throughly
Pour the skyr over the bottom layer and place in the fridge for minimum 8 hours or in the freezer for up to 4 weeks
A frozen Skyr Cake takes about 8 hours to thaw in the fridge or 3 hours on the kitchen counter
* I use Liquorice syrup and powder from Johan Bulow
|
Published on September 2, 2014
|
Liquorice Skyr Cake
Comments - I would love to hear from you