Today's post and recipe is the very first 'guest Post' here on Modern Wifestyle. I am thrilled to share this delicious Pumpkin Muffin Recipe from Suus at Food Bandits.
I have followed both the blog and Suus' Instagram Account for the longest time, and through the internet we became friends. Her images are beautiful and her recipes are definitely mouthwatering.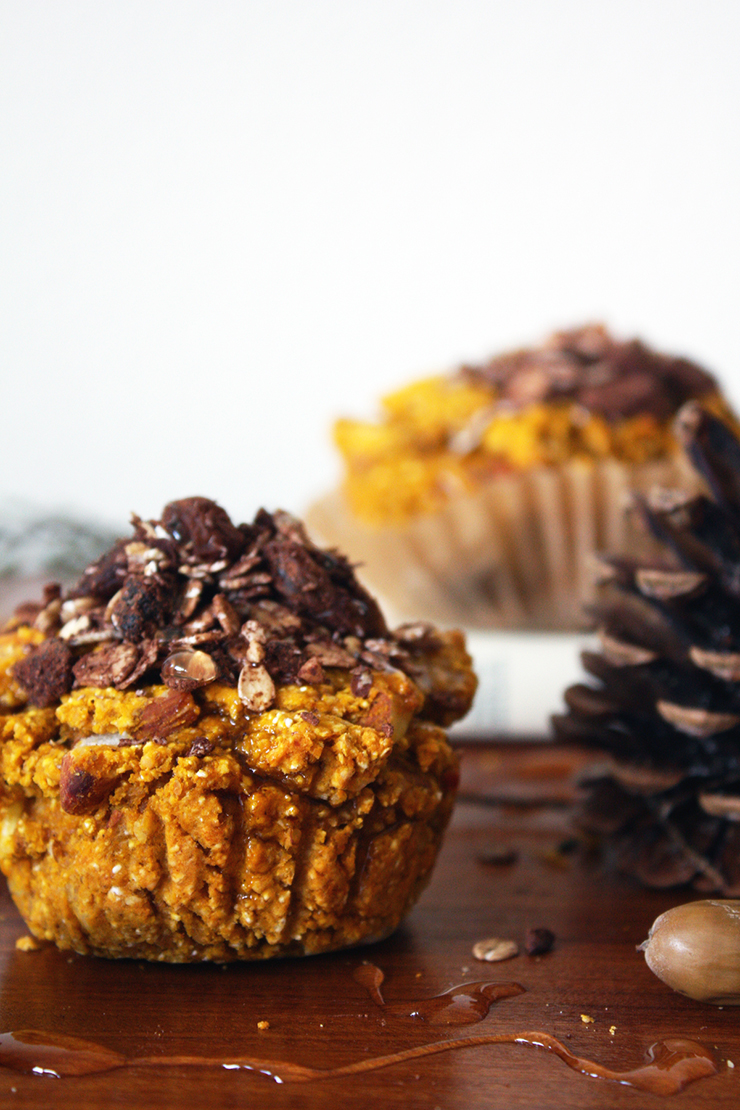 Hi, my name is Suus and I write the blog Food Bandits.  
When I started my blog I shared sugar packed dessert recipes but now all my recipes are sugar free and vegetarian. You can also find some vegan and gluten free recipes in the mix as well.
My main goal is to share recipes that are easy to make and I love making people happy through food.
I am thrilled  to write a guest post for Modern Wifestyle. I love Katrin's work – especially her cocktail recipes.
After Katrin and I agreed on the theme pumpkin and when preparing for this post, I visited a pumpkin farm to select the best pumpkin for my recipe. It was a strange experience to say the least, the farm was a bit, eeeeeh, well, let's say different from what I expected or as we say in the Netherlands; 'apart'. But the pumpkins I bought tasted great just as these pumpkin muffins I prepared for you all.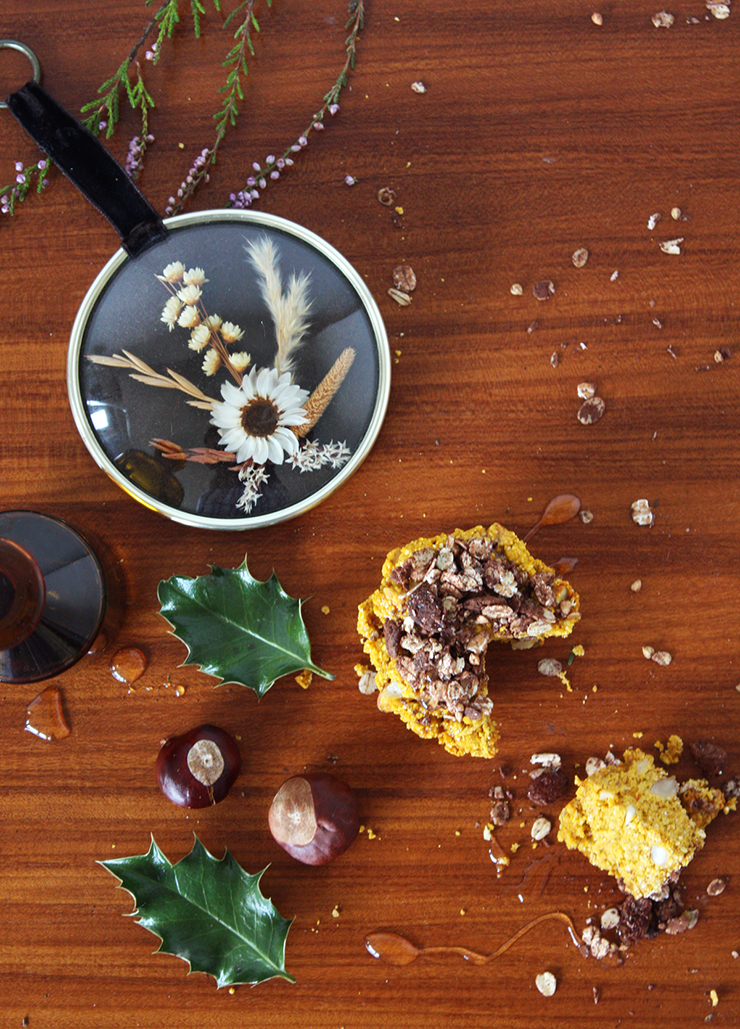 These Pumpkin Muffins have that sweet and soft taste of a pumpkin and they are so easy to make. The batter is quite thick and the muffins are pretty dense, so if you feel like lightening it up feel free to add some almond or rice milk.
Because of the muffins density and size, one muffin can easily pass as a whole meal. My pumpkin muffins are vegan, gluten & sugar free.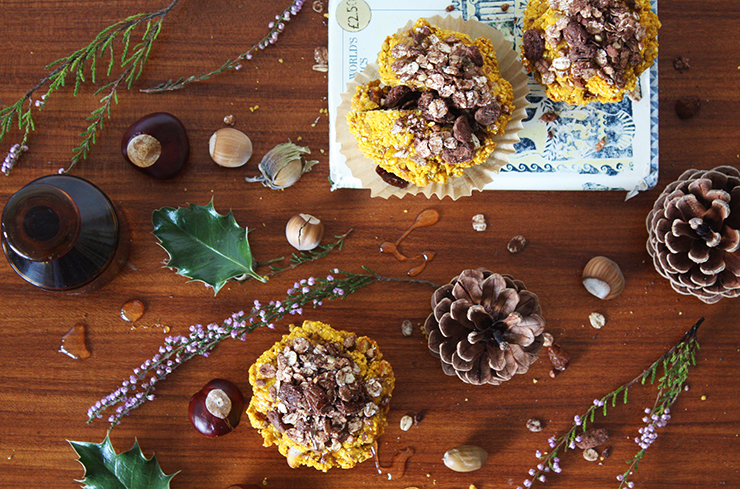 Recipe: Pumpkin Muffins
Makes 4 large muffins
*Pumpkin Puree:
Boil or bake the pumpkin until tender. Remove the skin and place the meat in a blender and blend until completely smooth. 
Ingredients
2,5 dl (1 cup)

Pumpkin Puree

5 dl (2 cups)

Oat Flour

1 tsp.

Baking Powder

1/4 tsp.

Ground Ginger

1/4 tsp.

Cardemom

1/8 tsp.

Nutmeg

1/4 tsp.

Salt

Chocolate Granola or Oatmeal mixed with Chocolate Buttons (for the topping)

Rice Syrup (for the topping)
Directions
Preheat the oven at 180 degrees and place paper cups in a muffin tray
Mix together oatmeal, baking powder and spices
Add the pumpkin puree and mix well. You will get a thick batter (thicker then regular muffins) If you find it too thick feel free to add some almond or rice milk
Scoop the batter into the paper cups and bake the muffins for 15 minutes until the top looks a bit crumbly
While the muffins a cooling down, mix together rice syrup and chocolate granola and then add on top for extra crunch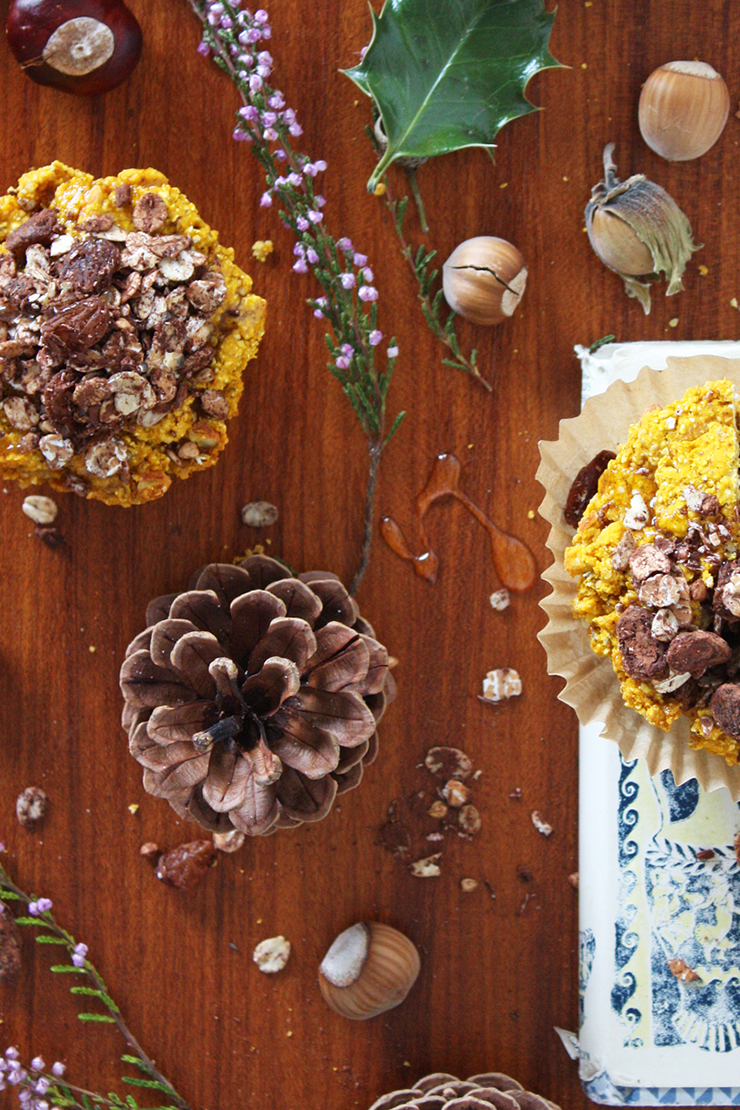 |
Published on September 25, 2014
|
Pumpkin Muffins Recipe
Comments - I would love to hear from you