A Whoopie Pie is two halves of a small spongy cookies sandwiched together with frosting in between the layers. My cakes are 'Pumpkin Whoopie Pies' with fall spices and filled with Maple-Syrup Buttercream. A true fall treat with a big hint of Thanksgiving and the winter upon us.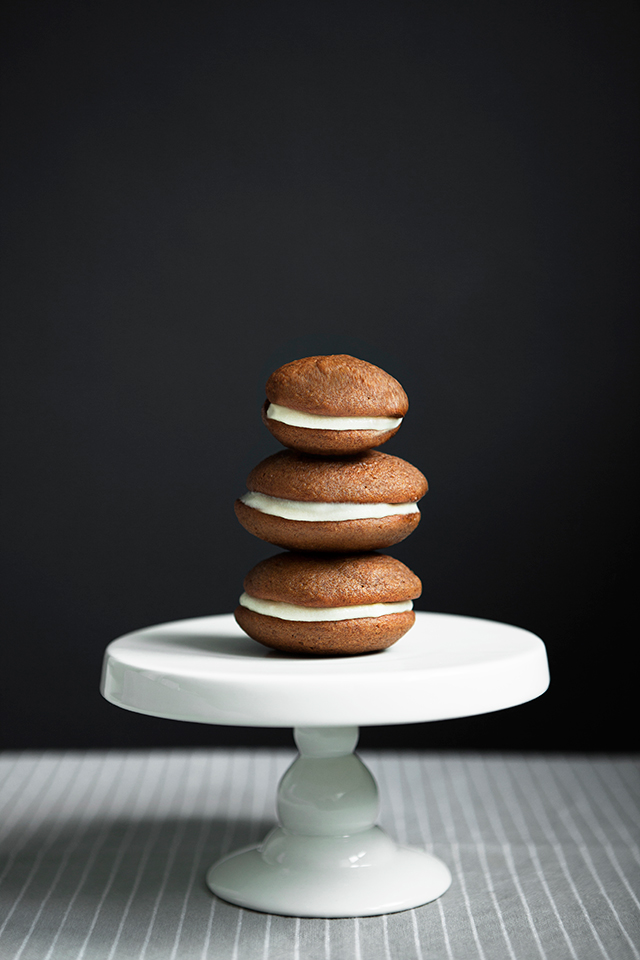 My niece, who was visiting and helping me bake the pies, asked a priceless question while quietly sifting flour:
Niece: What kind of filling are we making
Me: Maple Syrup Butter Cream
Niece: Oh, to add some Canadian feeling to them?
Isn't that a wonderful thought? I admit that my reason for using maple syrup is simply that I wanted to add some warmth to the otherwise plain buttercream, but from now on, every time I use maple I will say it is to add some Canadian touch.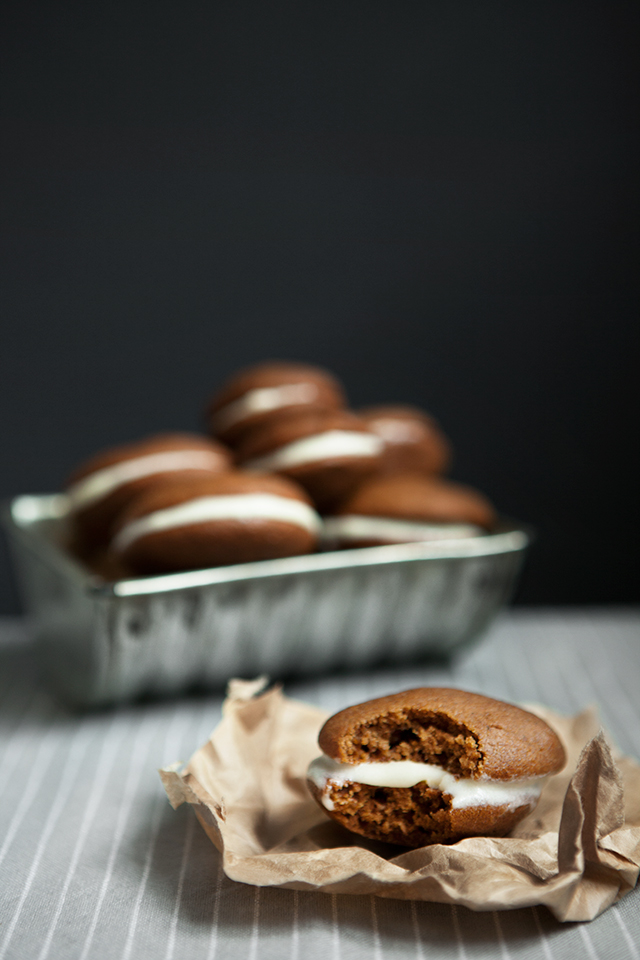 Fun Fact: The Whoopie Pies, also known ad 'Hucklebucks' and 'Creamy Turtles' are Amish!
Amish women would use cake batter leftovers to bake these tasty miniature cake sandwiches and then slip them into the farmers' lunch boxes. When the farmers found the treats in their lunch, they would shout "Whoopie" and therefore the name 'Whoopie Pie'.
Last year I made Pumpkin Pie Truffles – Did you ever try those? Super yummy and great for Thanksgiving!
Thirsty for more Pumpkin Recipes? Try my Thai Pumpkin Soup or Roasted Pumpkin Seeds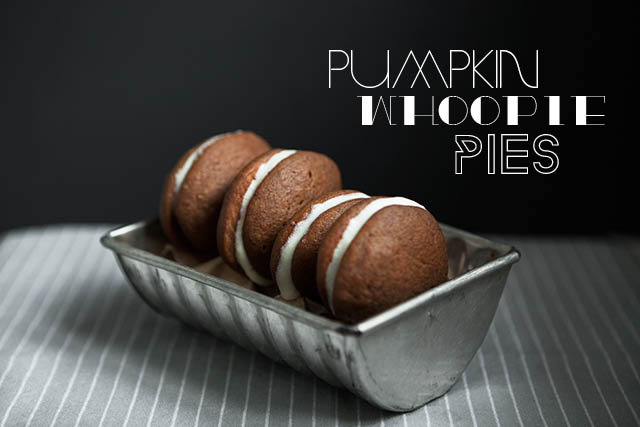 Recipe: Pumpkin Whoopie Pies
Recipe adapted from Martha Stewart
This recipe makes 14 large or 25 small Whoopie Pies. *Pumpkin Puree

1. Chop your pumpkin in half and remove the seeds (I recomend you roast them)
2. Depending on how large your pumpkin is, chop the halves into pieces and place shell side up on a baking trey
3. Bake in 200°C (400F) preheated oven for 30 minutes or so
4. Now the pumpkin shell should be a lot darker than before, deep dark orange
5. When cool enough to handle you should be able to easily remove the skin from the fruit or scoop the pumpkin out of the shell
6. Toss the skin
7. Process the pumpkin meat and then strain
8. Now you should have a very smooth pumpkin puree which you can freeze, use for pumpkin pie or other delicious treats.
Ingredients
4 dl (1.5 cups + 4 tbsp)

Flour

1/2 tsp

Salt

1,5 tsp

Baking Powder

1 tbsp

Ground Cinnamon

1/2 tbsp

Ground Ginger

1/2 tbsp

Ground Cloves

2.5 dl (1 cup)

Brown Sugar

1 dl (3 oz)

Vegetable Oil

3.5 dl (1.5 cup)

Pumpkin Puree*

1

Egg

1/2 tsp

Vanilla Extract

100 g (1 stick)

Butter (room temp)

2 dl (0.5 cups + 5 tbsp)

Powdered Sugar

0.5 dl (0.2)

Maple Syrup
Directions
Preheat the oven to 180°C (350°F)
In a large bowl sift together flour, salt, baking powder and soda, cinnamon, ginger and cloves. Set aside
In a separate bowl (could be the bowl to your stand mixer if you would like to use that) mix together the brown sugar and vegetable oil
When Smooth, add the pumpkin puree and give it a good whisk. Then add egg and vanilla
Sprinkle the flour/spice mixture over your well mixed wet ingredients and mix until well combined. Do not over mix!
If you have a whoopie pie pan use that. I do not have one, so I simply scooped the dough up with a table spoon and dropped it onto a parchment paper lined baking sheet.
Bake for 10-12 minutes
Beet the butter smooth
Add the powdered sugar and mix until creamy
Add the Maple Syrup
When the cookies have cooled completely pair them, two and two, by size
Transfer filling into a pastry bag and pipe a dollop onto the flat side of only one cookie from each pair
Sandwich with the remaining cookies - Press slightly so filling gets pushed to the edges
Store in the fridge for up to 4 days
|
Published on October 18, 2013
|
Pumpkin Whoopie Pies
Comments - I would love to hear from you