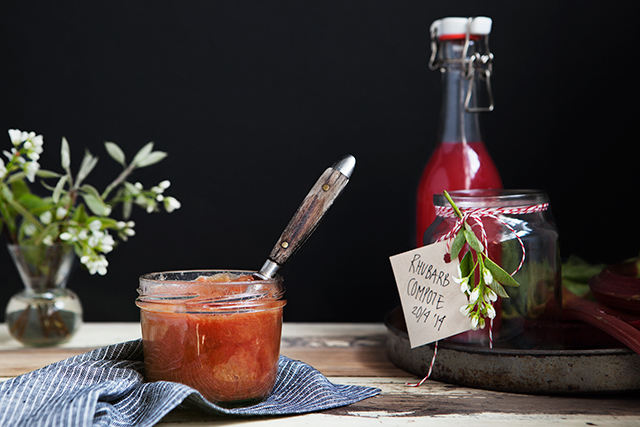 Rhubarb compote might be the easiest thing in the world to make and you can enjoy million ways : On your morning Yogurt, in a Trifle, on Pancakes or Waffles, in a Cake, with Cheese…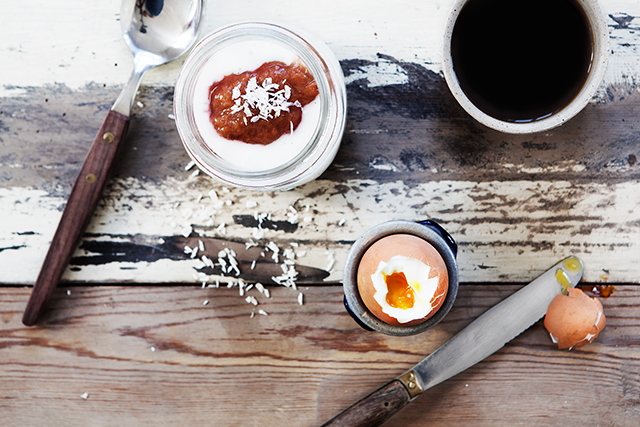 Rhubarb is super easy to grow, and it is one of the first things you can harvest from your garden in the Spring. Rhubarb is also a popular ingredient in the New Nordic Cuisine along with Dill, Beets and Liquorice.
There are many different types of Rhubarb, but the most common are the red and the green ones. I highly recommend using the red one, since it is sweeter and has more appealing color. (the green one becomes dark brown when cooked)
Rhubarb Leaves can contain oxalic acid, which is fatal to people when consumed in large amounts. In World War I Rhubarb Leaves were recommended as a food source in Britain and Oxalic Acid Poisoning killed a lot of people. So don't eat the leaves kids!
Making Rhubarb Compote and Syrup at the same time is a great use of the whole rhubarb, and nothing goes to waste!
Need an idea for breakfast? Plain or Vanilla Yogurt, 1 tbsp of Rhubarb Compote, 2 tsp of Coconut Flakes or Granola!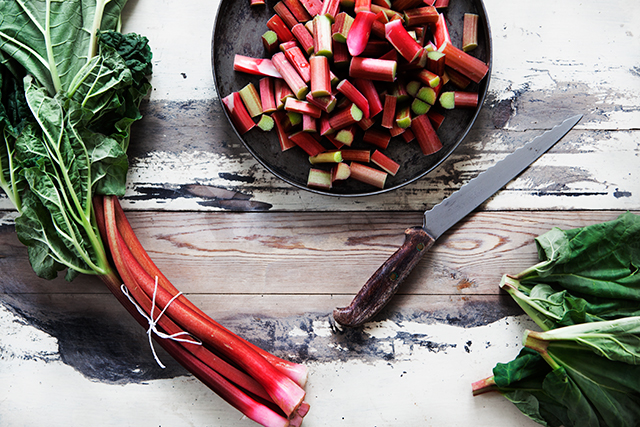 Recipe: Rhubarb Compote
This recipe is if you are making both syrup and compote. If you want a recipe just for compote take a look at this recipe If you are using frozen Rhubarb make sure it is completely thawed.
Ingredients
500 g (1 pound)

Red Rhubarb

6 tbsp

Sugar

2.5 dl (1 cup)

Water

1/2

Vanilla Bean or 1/2 tsp pure Vanilla Extract
Directions
Roughly chop the Rhubarb into 2.5 cm (1 inch) pieces
Throw Rhubarb, sugar and water into a saucepan and simmer until rhubarb has softened and the sugar has completely dissolved
Sift the liquid into a clean bowl and follow my Rhubarb Syrup Recipe to finish the syrup
Add the Vanilla and 2 tbsp of the liquid you just sifted into the thick rhubarb "jam" and bring to a boil one more time, stirring constantly so it doesn't burn
Pour into a clean and sterilised jar. Store in the fridge for up to 3 weeks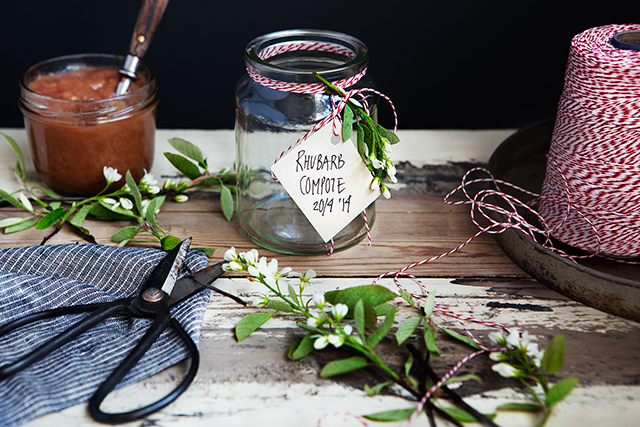 |
Published on April 26, 2014
|
Rhubarb Compote Recipe
Comments - I would love to hear from you