I am a huge fan of breakfast, and I know nothing better than having plenty of time in the morning to make something delicious and enjoy it with a hot cup of coffee while reading a good book or the newspaper.
The weekend is around the corner, why not treat yourself  with some lemon pancakes with fresh blueberries and some light syrup.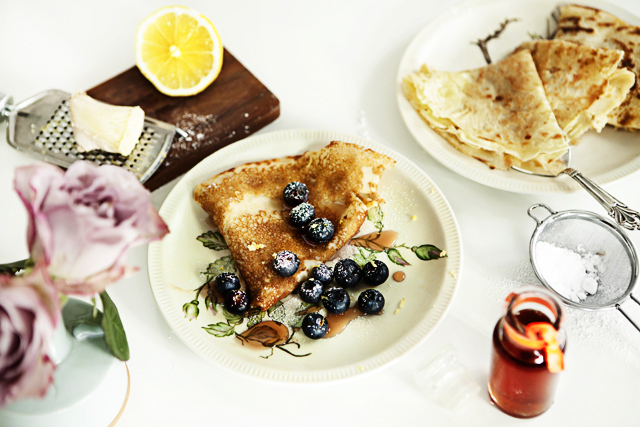 I do love American pancakes with tons of syrup and bacon on the side, but sometimes a girl needs some elegance in her life and then the french version is the way to go. My pancake batter is sugar-free and very simple to make.
It is easier to make these crepe inspired pancakes with a pancake pan, but don't let it stop you if you don't have one, just use your regular frying pan. Just make sure you make the pancakes paper thin. You can serve these fresh and citrus tasting pancakes with any kind of berries and any kind of syrup.
I recently received a homemade plum syrup from a friend and I find it the perfect breakfast syrup. I'll ask her for the recipe and share it with you guys. To spice the dish up a little bit, I grated some fresh ginger over the pancakes and sifted a little bit of powdered sugar for decoration.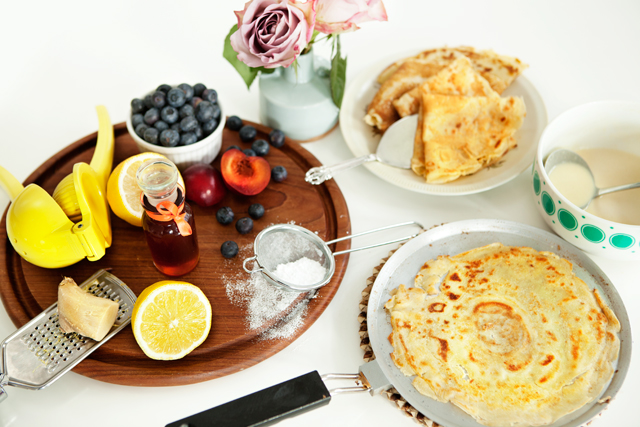 Lemon Pancakes Recipe
2 large eggs 3.5 dl milk (1.5%)
0.5 dl lemon juice zest from one lemon
100 g flour pinch of salt
40 g butter
1. With an electric mixer or by hand, beat the eggs with milk, lemon juice and lemon zest.
2. When light and fluffy add the flour and salt. (I recommend sifting the flour)
3. Mix well
4. Melt the butter on your pancake pan and then pour it into the batter. Stir.
5. Pour some batter onto a hot pan and tip and rotate it to spread batter as thinly as possible.
6.Over medium heat brown the pancakes on both sides
7. I serve mine with fresh blueberries and plum syrup and for decoration I sifted a little of powdered sugar over the plate.
|
Published on January 25, 2013
|
Lemon Pancakes
Comments - I would love to hear from you