Not only am I sharing the Syrup recipe with you guys today, I am also throwing in Banana Pancakes to enjoy along with it! Truly a perfect weekend breakfast.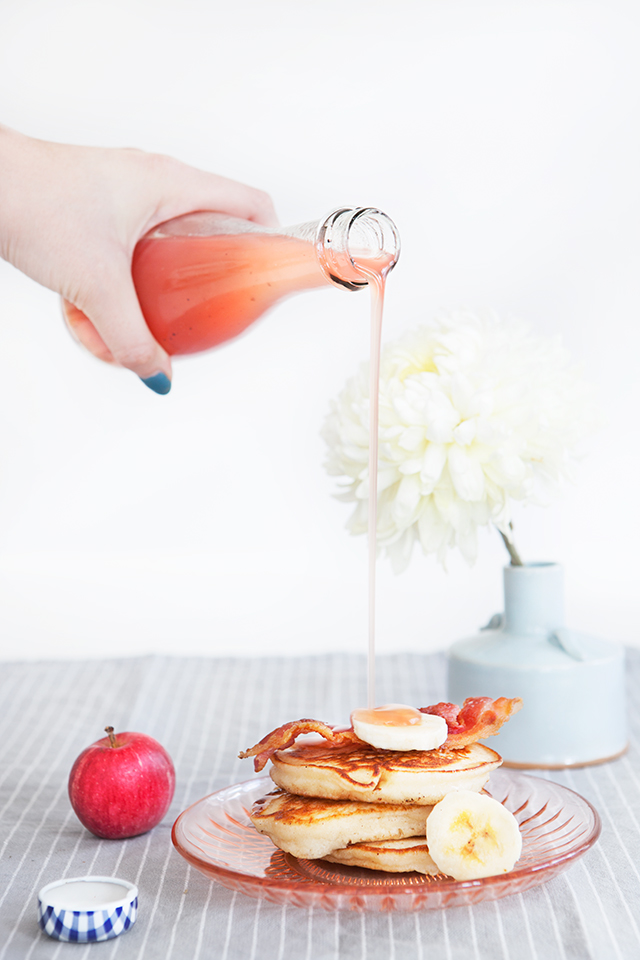 Last week I posted a recipe for Apple Chutney – Today I am presenting Apple Syrup made with all the apple peel and cores from the chutney making.
This is a great way to use the whole fruit and make two different delicious things happen in your kitchen at once.
Here are my recipes for Homemade Applesauce & Apple Cider
You can also pour the apple syrup over your yogurt and granola – use it for baking – glaze your turkey with it – Enjoy it in a cocktail…. The possibilities are endless, but one thing is for sure, that this syrup is delicious!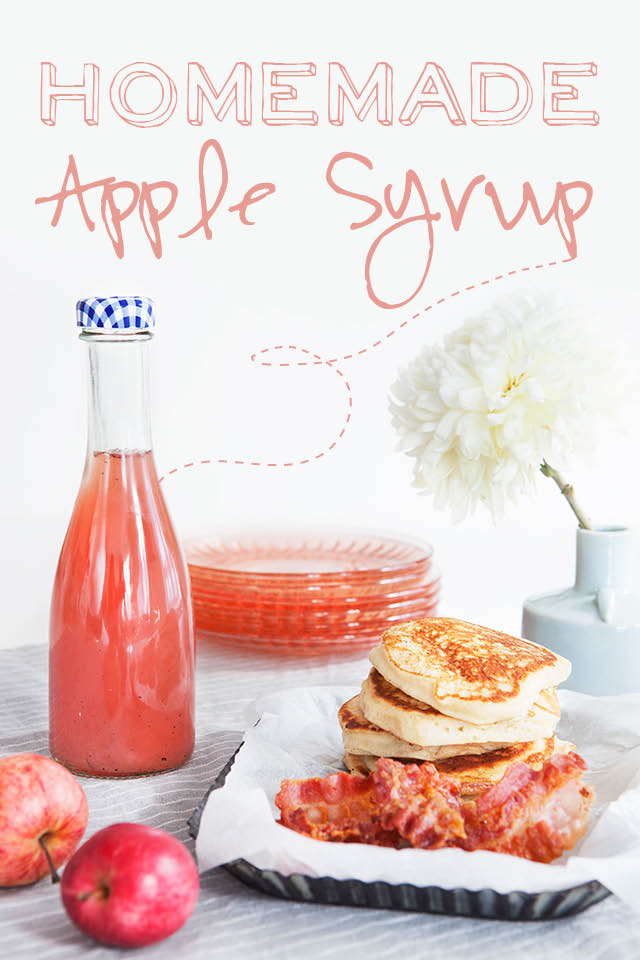 Apple Syrup
Peel and cores from 1 kg (2 pounds) Apples
Water
250 g (1 cup) sugar
Seeds from 1/2 vanilla bean
1. Throw all the peel and cores into a large pan and almost cover with water
2. Bring to a boil and let simmer for 30 minutes
3. Strain and toss the peel and cores
4. Bring to the boil again and reduce until you have ca 3.5 dl (1.5 cups) apple water in the pan
5. Add the sugar and stir until dissolved
6. Add the vanilla seeds
7. Let it simmer until the syrup starts to thicken, about 5 minutes
8. Pour into glass bottles and store in the fridge. The syrup will thicken a little as it cools.
Banana Pancakes
Makes 12-15
2 cups Greek Yogurt or Other Neutral Yogurt
2 small (very) ripe bananas (mashed)
2 tsp vanilla extract
2 eggs (separated)
40 g (3 tbs) butter (melted)
5 dl (2 cups) Flour
½ dl (¼ cup) sugar
1 tsp baking powder
½ tsp salt
1. Mix together yogurt, mashed bananas, vanilla, egg yolks and butter
2. In a separate bowl Mix together flour, sugar, baking powder and sugar
3. Pour the dry ingredients over the wet and mix just until incorporated. Do not over-mix
4. Whisk the egg whites stiff and dry, and gently fold them in the batter
5. Fry on a regular frying pan over medium heat for approximately 1 minutes each side
6. Serve with Homemade Apple Syrup
|
Published on October 9, 2013
|
Banana Pancakes with Homemade Apple Syrup
Comments - I would love to hear from you