Here are the ever popular French Macarons, now with a holiday twist – Filled with Candy Cane buttercream.
My Candy Cane  Macarons are an elegant alternative for a dessert, beautiful hostess present and a delightful treat with a glass of chilled champagne.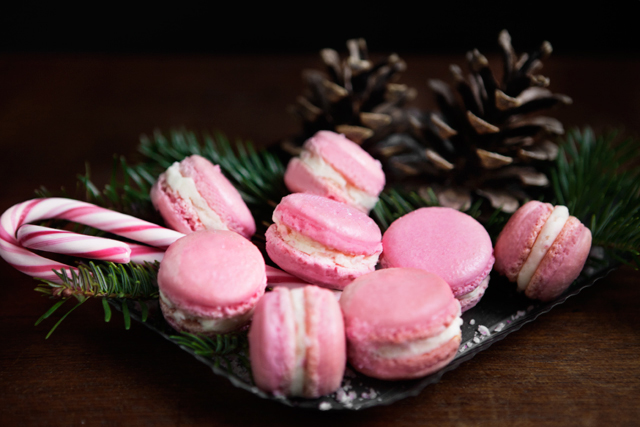 Macarons can be tricky and there is a French saying that says that macarons can not be made when it is raining.I do not know if that is true or not, but I made them the other day while snowing and the completely failed. On the following day, in bright sunshine, I made a new batch, and they turned out beautifully.
No matter if you are baking on a rainy day, in a snowstorm or bright sunlight be patient, do not rush it, give yourself all the time in the world when making them and you will be just fine. Good luck ❤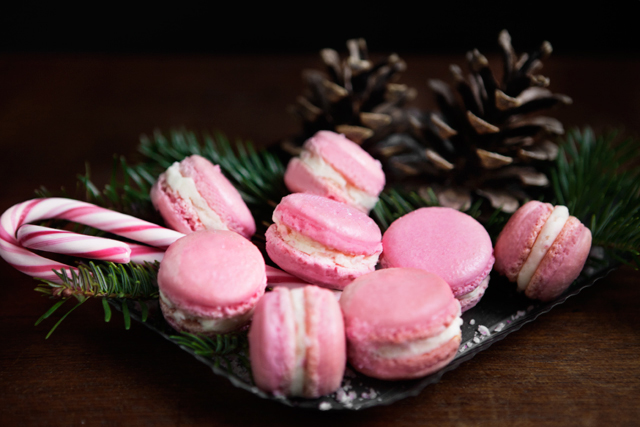 Recipe: Candy Cane Macarons
Tip: If macarons stick to the parchment paper after they come out of the oven, spray water underneath directly onto the hot baking sheet. The steam will help release the cookies.
Ingredients
50 g (approximately 2)

Egg Whites

30 g (2 1/2 tbsp)

Sugar

Few Drops of

Food Color

60 g (3/4 cups)

Almond Flour

100 g (1 cup)

Powdered Sugar
Directions
Whisk whites in a stand mixer on low speed until foamy, approx. 3 minutes.
Add the sugar and increase speed to high. Whisk until stiff peaks form, approx. 5 minutes.
Add the food coloring and whisk until combined. Approx. 1 minute
Meanwhile sift powdered sugar and almond flour together into a separate bowl.
Sift flour/sugar mixture over whites, and fold carefully. You want the mixture well folded together and there should be no streaks, but it should be a little bit grainy and not completely smooth, otherwise the cakes will crack.
Transfer batter to a pastry bag fitted with a 1 cm (1/2 inch) plain round tip, and pipe 2 cm (1 inch) rounds on parchment-lined baking sheets.
Tap bottom of each baking sheet on the table to release trapped air. Let stand at room temperature for 15 minutes.
Meanwhile preheat the oven to 160°C (320°F)
Place in the oven and immediately reduce oven temperature to 140°C (300°F). Bake 1 sheet at a time, until macarons are crisp and firm, about 18-20 minutes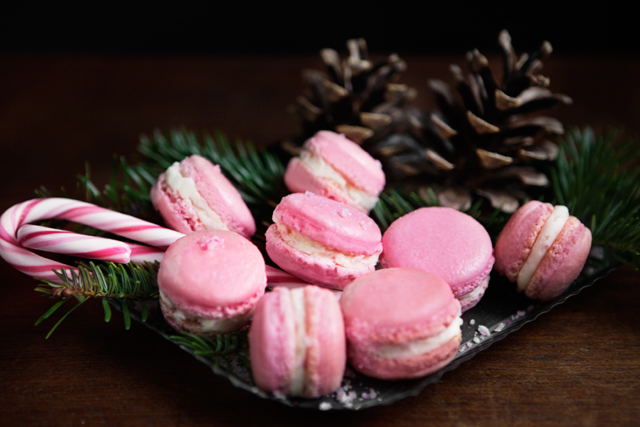 Recipe: Candy Cane Buttercream
This recipe is only a reference and not carved in stone. You might want to add more butter, sugar or even an extra tsp of extract. Taste as you go!
Ingredients
100 g (1 stick)

Butter, room temp

2,5 dl (1 cup)

Powdered Sugar

2 tsp

Peppermint Extract

4

Crushed Candy Canes
Directions
Beat butter, sugar and extract together until smooth
Mix in the crushed candy canes
Use a piping bag with 1 cm (1/2 inch) tip and pipe the buttercream onto the "bottom" halves of the cakes and then put the "lid" on. Be careful not to press them harshly together because the cookies are fragile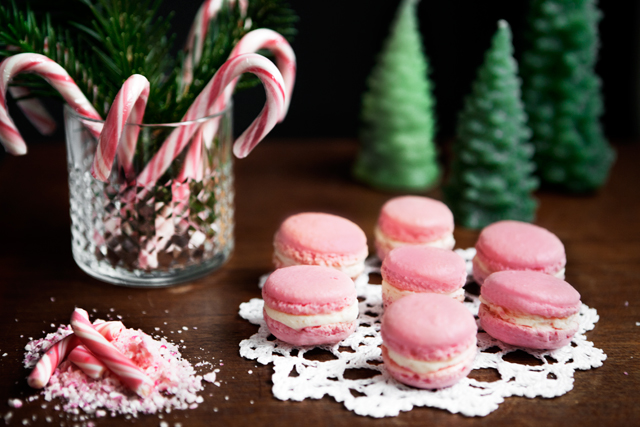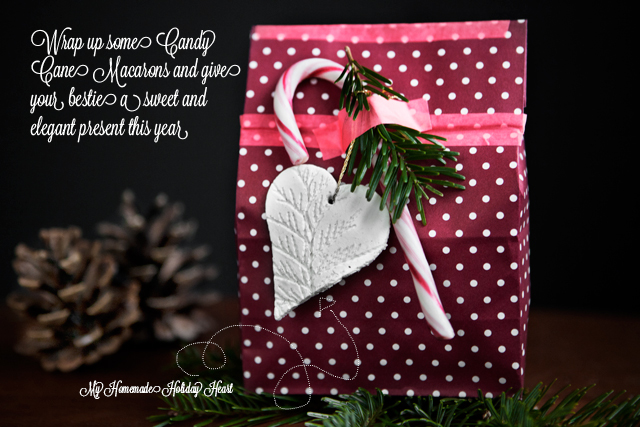 |
Published on December 11, 2012
|
Candy Cane Macarons
Comments - I would love to hear from you