One year ago, today, I launched Modern Wifestyle!
At first my nearest friends and family were the only readers, now people from all over the world read my growing blog and make things after my recipes. Thank you all for that, it warms my little heart.
To celebrate this milestone, I wanted to make and serve something seasonal – warm and fuzzy, gorgeous and tasty for all senses.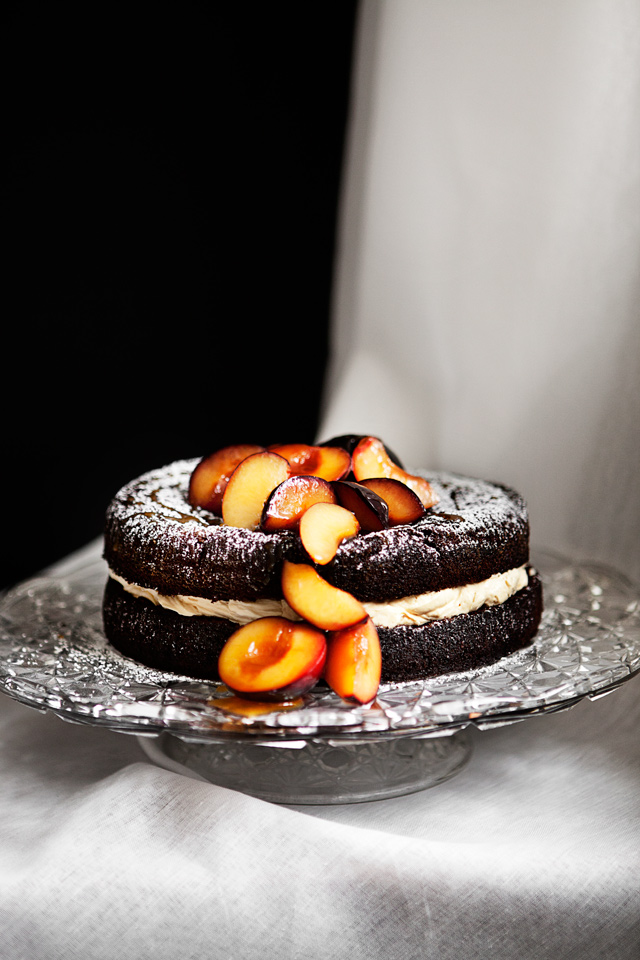 After a trip to my local market to see what fruit were fresh and perky, and inspired by the colors of the fall – a moist Chocolate Cake with Salted Caramel Frosting and vanilla/cinnamon poached plums is what I came up with – and let me tell you, neither me nor my guests regret that choice of flavor palette.
This cake is visually stunning and I promise you it is absolutely worth spending few hours in the kitchen making, it is that delicious.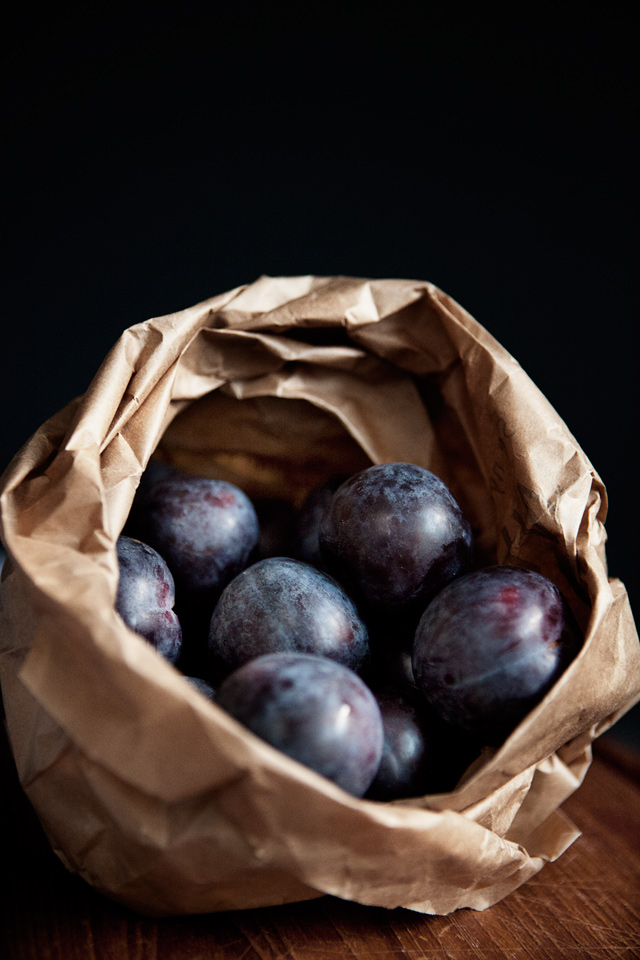 Related Recipes:
Brownie with dates recipe
New Years Eve Cake
Chocolate Tarts
Few Tips before you begin
-Start by making the caramel sauce so it will have time to cool down. Be super careful when making it, it burns so easily. You can not use burnt caramel, it will taste bad and bitter.
– The cake batter is very liquid, so no worries, you have done nothing wrong.
Recipe: Chocolate Cake
Ingredients
200 g (1,5 cups + 2 tbsp.)

Flour

300 g (1,5 cups)

Sugar

65 g (1/2 cup)

Cocoa

1 tsp

Baking Powder

1 tsp

Baking Soda

1/2 tsp

Salt

2

Eggs

1 dl (3,5 oz)

Whole Milk

1 dl (3,5 oz)

Sour Cream

115 g (1 stick)

Butter

1 tsp.

Vanilla extract

1 dl (3,5 oz)

Coffee
Directions
Preheat the oven to 180°C (350°F)
Butter, line with parchment paper and dust with flour, one 21 cm baking pan (8-9 inch)
Sift together flour, sugar, cocoa, baking soda, baking powder, and salt. Set aside
Mix the eggs, just to separate them
Add the milk, sour cream, and melted butter - mix well
Slowly mix in the dry ingredients and make a batter
Add the vanilla and coffee and mix
Pour the batter into the prepared pan
Bake for 40-45 minutes or until a pin comes out almost clean (few crumbs is fine). After 30 minutes, I place aluminum foil over the top to prevent the cake from burning
When the cake has cooled a little divide it into two. You can use whatever method you like, I use dental floss. I wrap it around the middle of the cake, then I pull in opposite directions and the floss gets right through and cuts the cake evenly.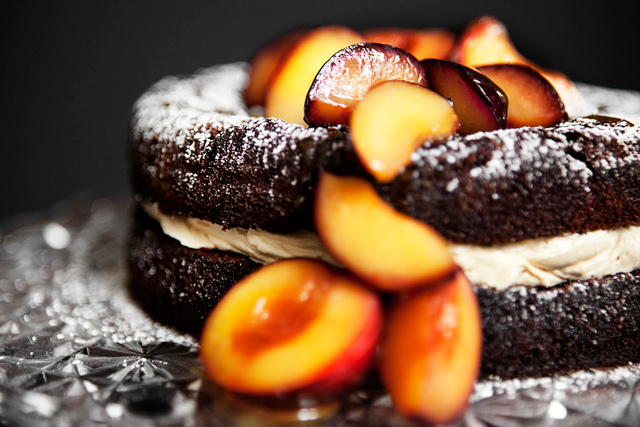 Recipe: Salted Caramel Sauce
Ingredients
3.5 dl (1,5 cups)

Sugar

125 g (1 stick + 1 tbsp.)

butter

2 dl (3/4 cups)

heavy cream

1 tbs.

salt
Directions
In a heavy sauce pan melt the sugar slowly. You want it amber golden and around 150 degrees C. Be careful it burns at a blink of an eye (I did 3 batches before I got it right the first time I made this)
Add the butter all at once and stir until melted and well blended with the sugar
Remove from heat and slowly add the heavy cream
Add the salt
Cool, and pour into sterilized jars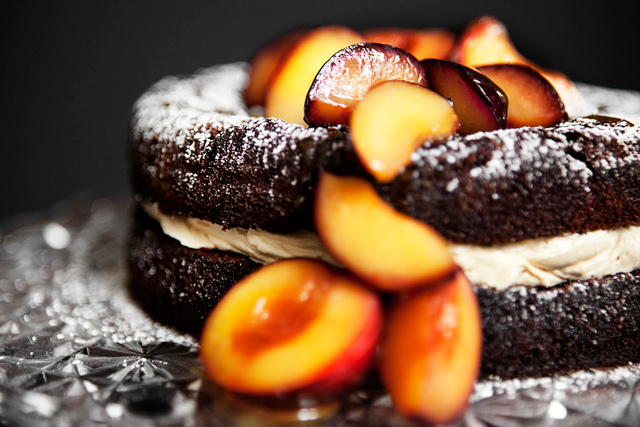 Recipe: Salted Caramel Frosting
Ingredients
115 g (1 stick)

Butter

2,5 dl (1 cup)

Powdered Sugar

4 tbsp.

Caramel Sauce (room temp.)
Directions
Whisk the butter until light and fluffy
Add the powdered sugar and keep mixing
When you feel like your frosting has a thick consistency and doesn't taste too much of butter add the caramel sauce and mix well
Recipe: Poached Plums
Ingredients
375 g (13 oz)

Plums

170 ml (3/4 cup)

Water

100 g (1/2 cup)

Sugar

50 g (1/4 cup)

Brown Sugar

Cinnamon Stick

Vanilla Bean
Directions
Cut the plums in different sizes, both half and quarters, remove and toss the stone
Melt the sugar in the water (without stirring) together with the seeds from the vanilla bean and cinnamon stick
When melted and well combined, add the plums.
Cooking time depends on the ripeness of your plums and how soft you want them. Mine were quite firm and I kept them in the slowly simmering syrup for about 4 minutes.
Assembling the cake
1. You should now have divided your cake and have two halves. Place the bottom half on a cake stand and smear frosting on it
2. Place the other half on top
3. Sift 1 tbsp powdered sugar over the whole cake
4. Decorate with the poached plums
5. Drizzle caramel sauce and some of the plum syrup over the cake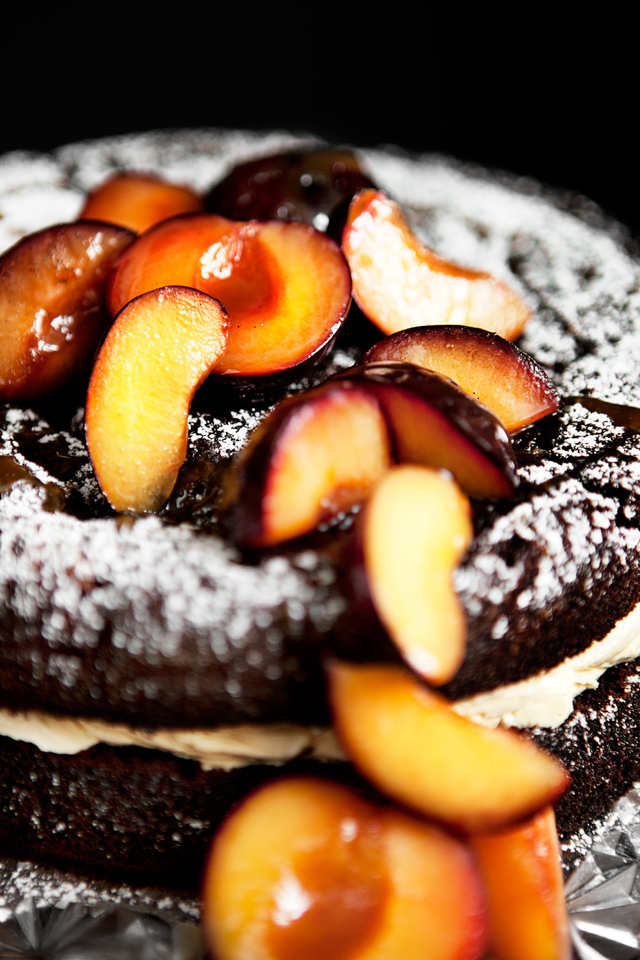 (Chocolate cake recipe inspired by Chasing Delicious and Salty Caramel Sauce by The Brown eyed baker)
|
Published on October 17, 2012
|
Chocolate Cake with Salted Caramel Frosting and Poached Plums – Recipe
Comments - I would love to hear from you