Spending a Sunday afternoon in November baking and decorating Chocolate Gingerbread Cookies is about as cozy as it gets. Light candles, listen to soft Christmas tunes and let the holiday aroma soar in every room.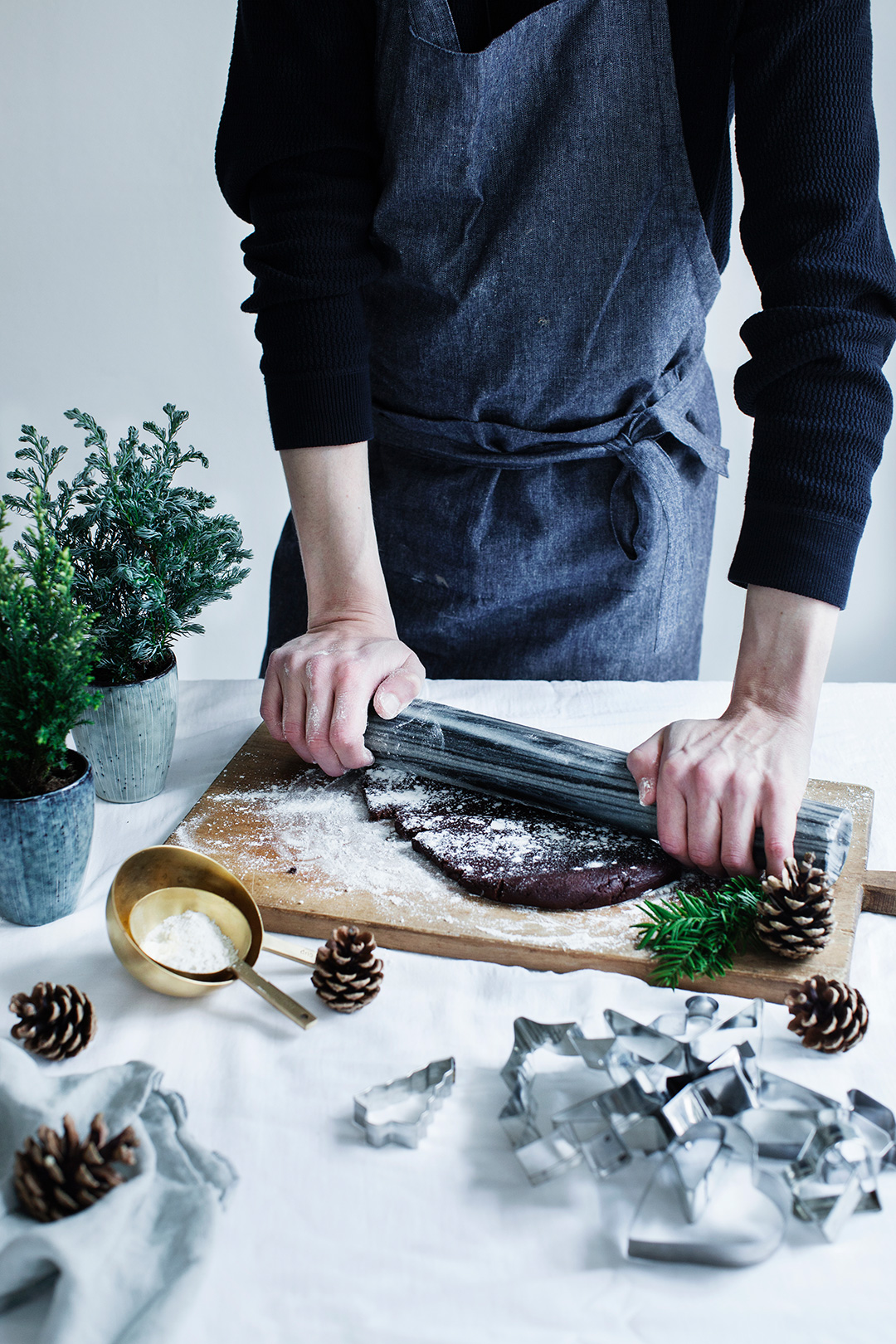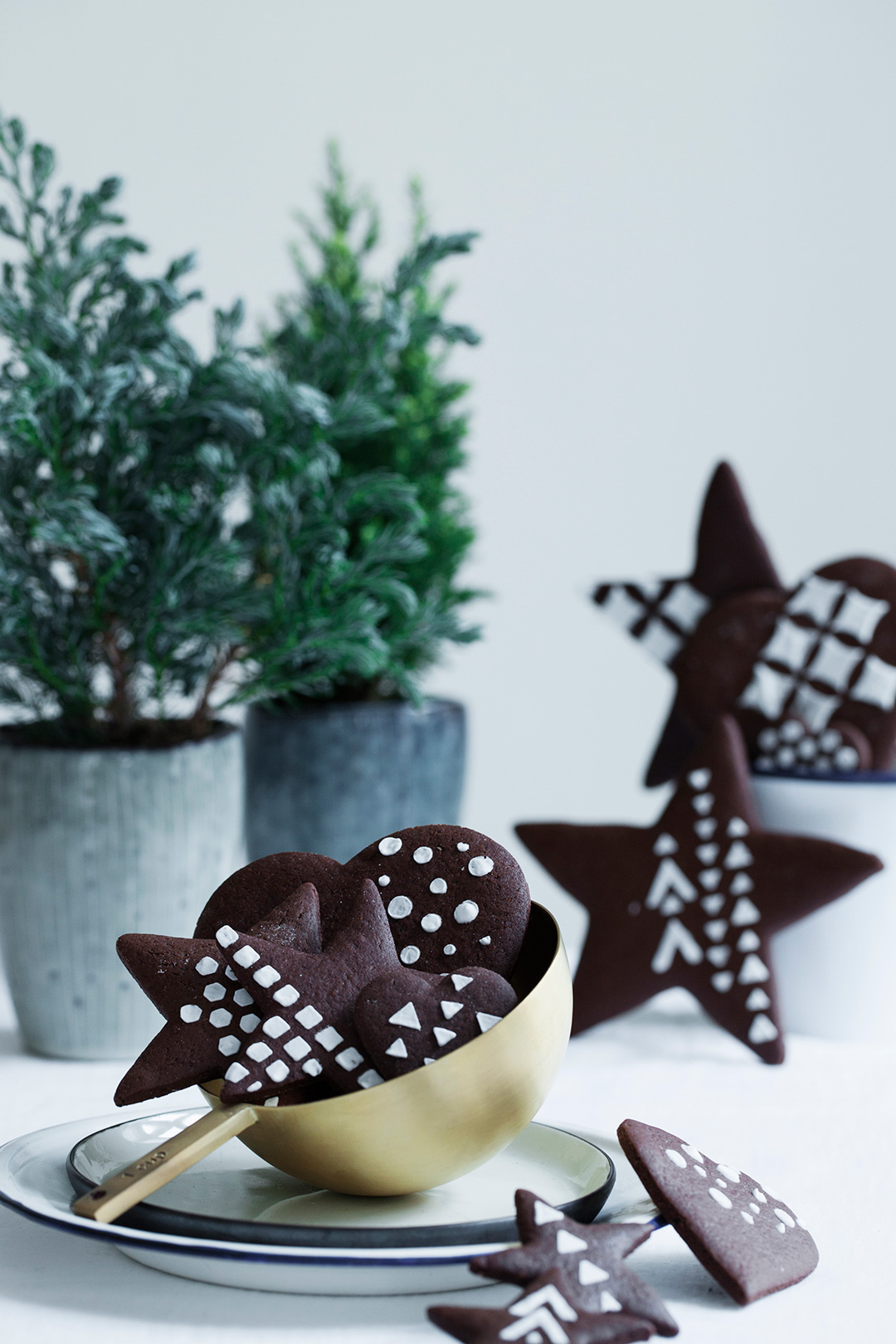 Chocolate Gingerbread Cookies are a lovely alternative to the regular ones. They taste great and go perfectly with hot cocoa.
In Scandinavia, Gingerbread Cookies are called Pepper Cookies even though there has not been added pepper to the traditional recipes for years. But I decided to give it a try and let me tell you, it is delicious!
To keep the spices in balance, I decided to leave out the traditional cardamom which is a part of the spice mix for Gingerbread Cookies in Scandinavia.
Royal Icing is basically meringue since it is made of egg white and powdered sugar (not water and powdered sugar like regular icing). It is thick, dry and hardens fast, which makes is perfect for painting on cookies. You can color it in any shade you like, but I like to have mine when the cookies are as dark as these chocolate gingerbread cookies.
I am most definitely not the most precise painter and frankly I am horrible at any kind of drawing. (You can ask my friends, I am always the last to be picked when Pictionary is on the table 😉 ).
That is why I decided to buy stencils and make this years cookies with geometric and graphic pattern.
Chocolate Gingerbread Cookies make an excellent hostess gift. Place them in a box and bring with you to a Christmas party.
Do you have some more time to spend in the kitchen this cold November? I highly recommend you try my Peppermint Crinkle Cookies they are out of this world yummy!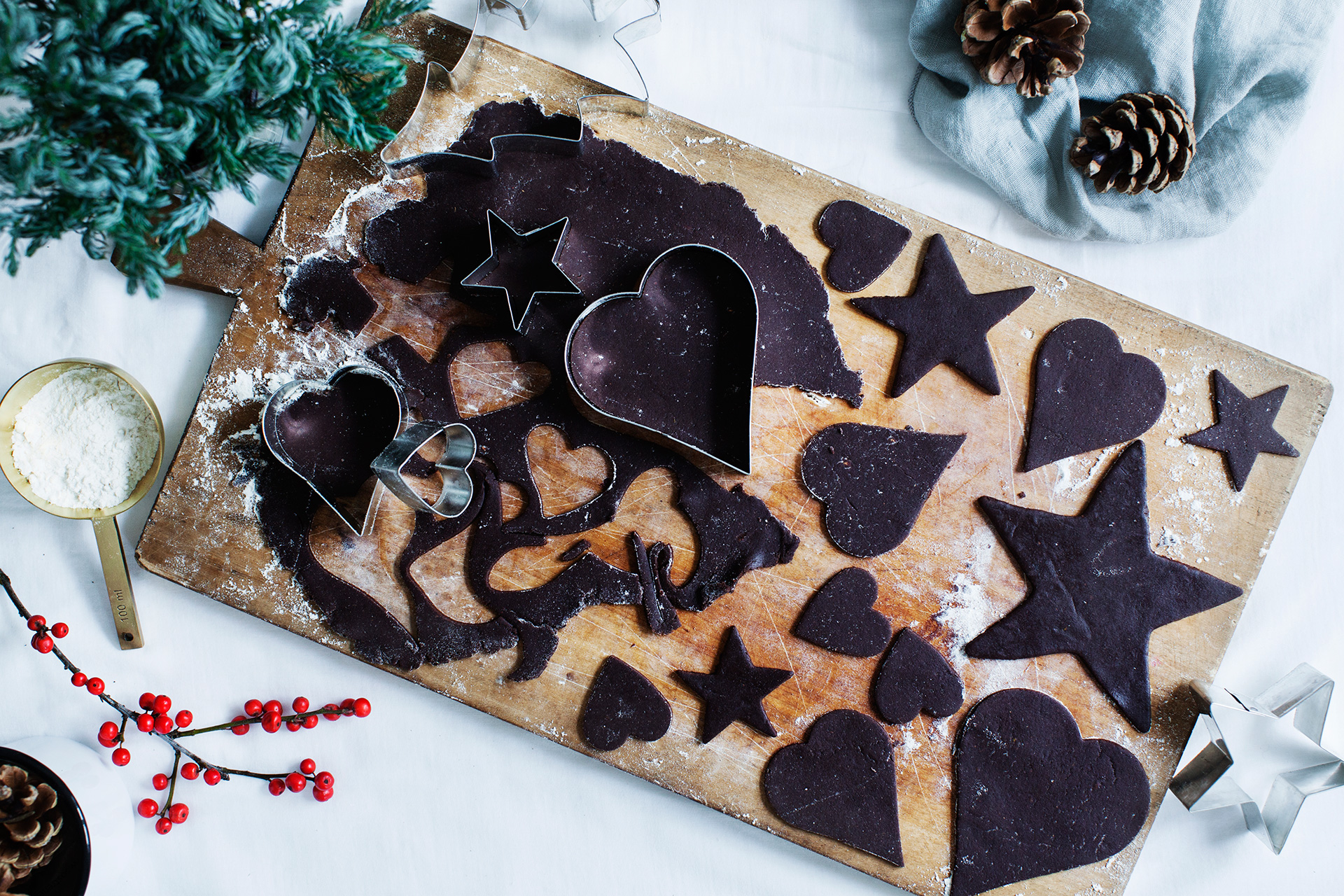 Recipe: Chocolate Gingerbread Cookies
Ingredients
1,25 dl (1/2 cup)

Brown Sugar

100 g (1 stick)

Butter

1,25 dl (1/2 cup)

Golden Syrup (Or molasses)

1

egg

1 tsp

Orange Zest

375 g (3,5 cups)

Flour

60 g (1/2 cup)

Cocoa

2 tsp

Ground Cinnamon

1 tsp

Ground Ginger

1/2 tsp

Freshly Ground Pepper

1/4 tsp

Ground Cloves

1/4 tsp

Salt

1 tsp

Baking Soda
Directions
Beat brown sugar and butter until creamy and fluffy. Then add syrup, egg and orange zest and beat until homogenous.
Sift all the dry ingredients together and then knead them together with the wet ingredients.
When the dough is smooth and glossy press it together into a disc and place in the fridge for 1 hour or up to three days.
Roll the dough out on a clean and lightly floured surface and use cookie cutters to cut them into shapes.
Depending on the size of your cookies bake them in an 180°C (350°F) hot oven for 6-12 minutes
When the cookies have cooled decorate them with royal icing.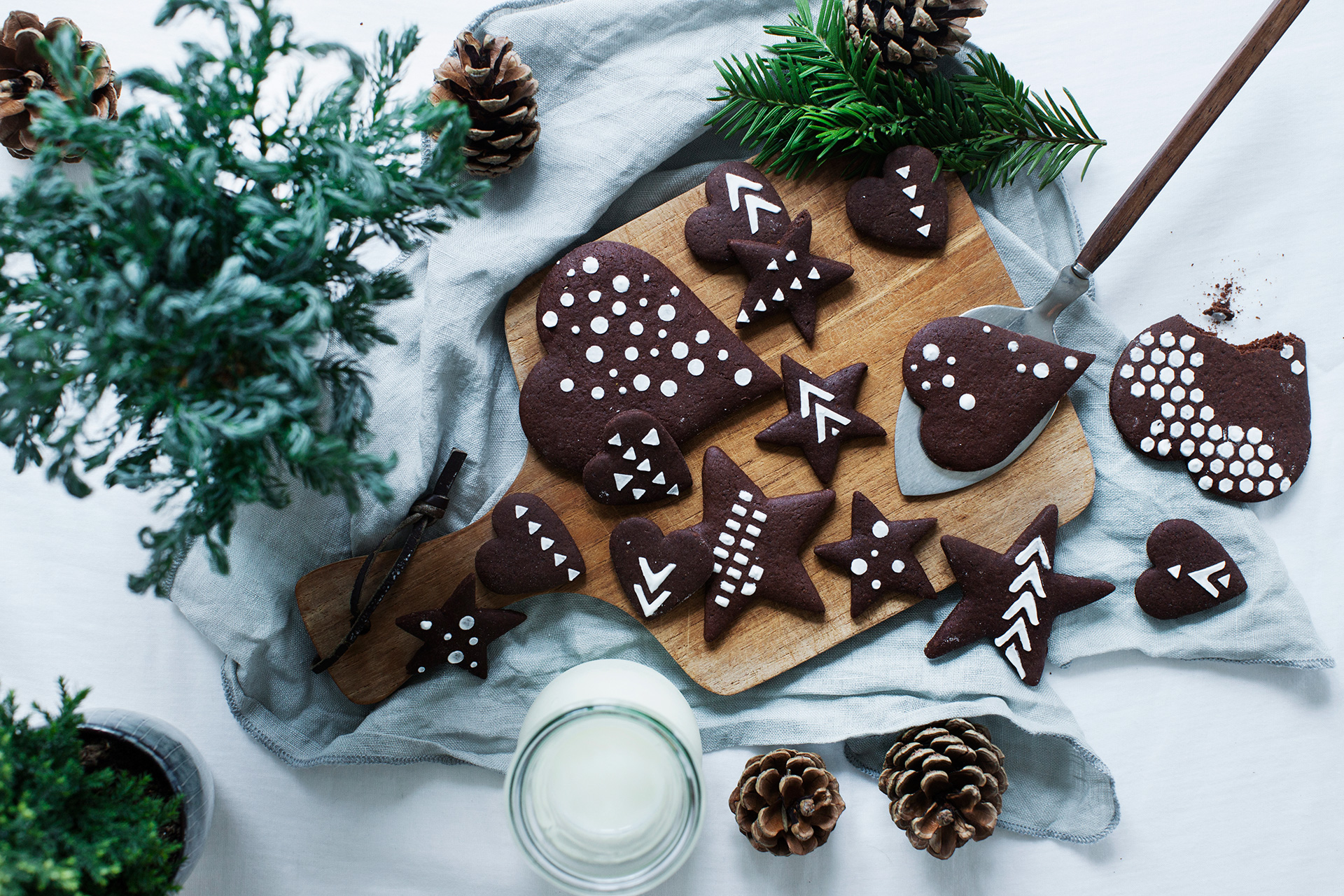 Recipe: Royal Icing
You can store royal icing in the fridge for up to three days.
Ingredients
1

Egg White

150 g (1 1/4 cups)

Powdered Suger
Directions
Whisk egg white and powdered suger with an electric mixer until thick and glossy, approximately 5 minutes.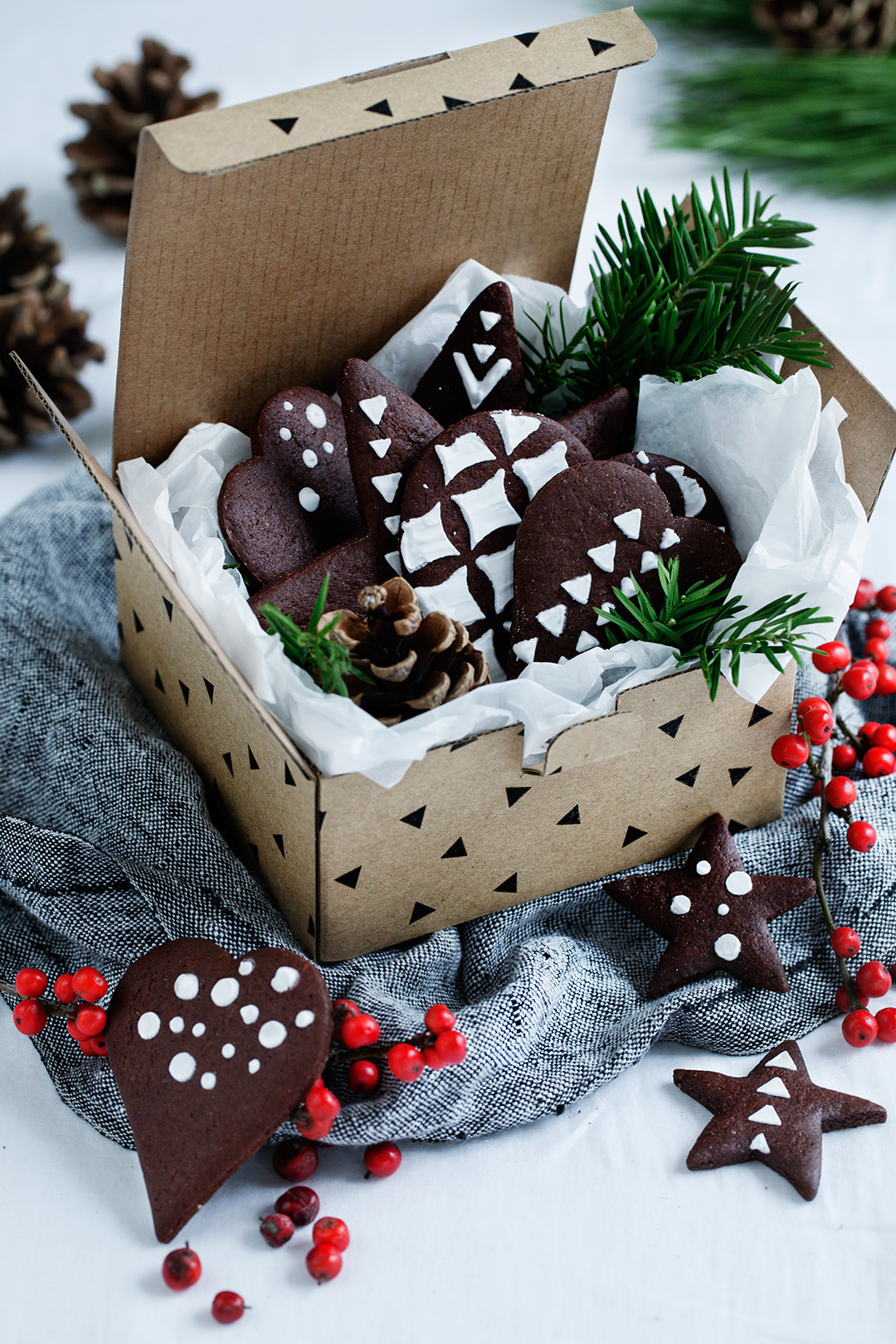 |
Published on November 5, 2015
|
Chocolate Gingerbread Cookies
Comments - I would love to hear from you