This is no ordinary Chocolate Pie!
It is a Chocolate Pie for serious Chocolate Lovers and the subtle smokiness of the bourbon takes it to a whole 'nother level. Imagine having a bite of quality dark chocolate and taking a sip of delicious dessert wine at the same time – that is exactly how this Chocolate Pie tastes like.
This Chocolate Pie Recipe is  a little time consuming, so get cracking!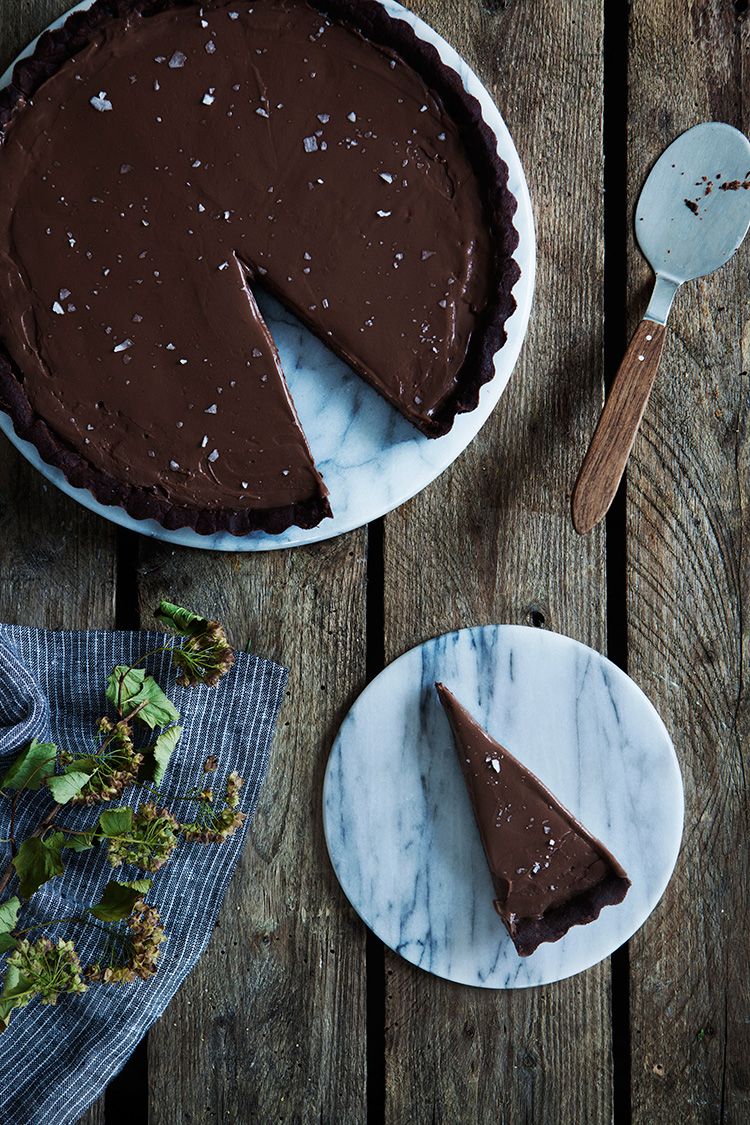 Pie is not just a Pie, but a symbol of a warm and loving home. The smell of freshly baked pie can turn a bad day into a good one and one bite will definitely bring a smile to your face.
Historians have traced the roots of the Pie to the Greeks, who invented the pie crust by mixing water and flour around 4500 BC. (Sometime before 2000 BC, a recipe for chicken pie was written on a tablet in Sumer.)
From the greeks the pie culture traveled to Europe and around 1650 from England to the United States, but that is the year when Pumpkin Pie first appeared in a cookbook.
But still it was not until the early 19th century that Pie became popular among the general public in North America.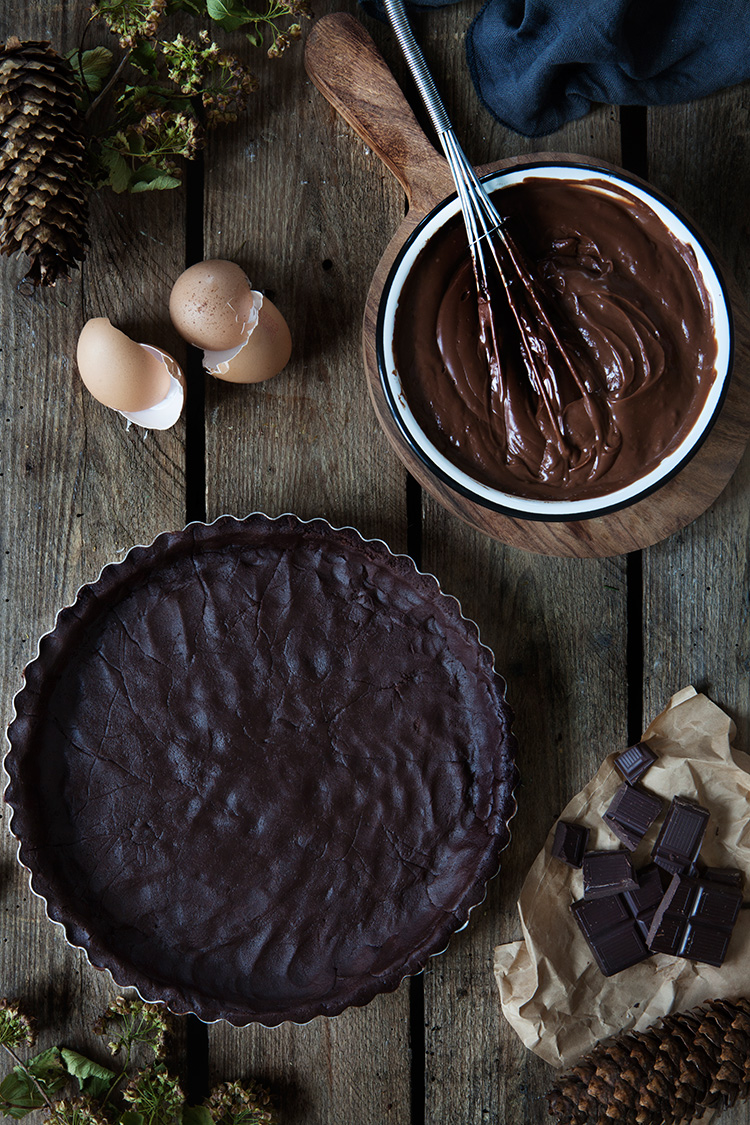 When I bake with chocolate I always use the real thing and most of the time I use 70% chocolate. Today I went all in and used the Organic and Environment friendly Panama 80% chocolate from Chocolate and Love. A super rich and flavorful chocolate with lovely texture.
If you don't feel like having both chocolate crust and chocolate filling, you can easily use regular pie crust or maybe even go the nutty way and make a raw bottom layer.
Serve with a scoop of ice-cream or whipped cream.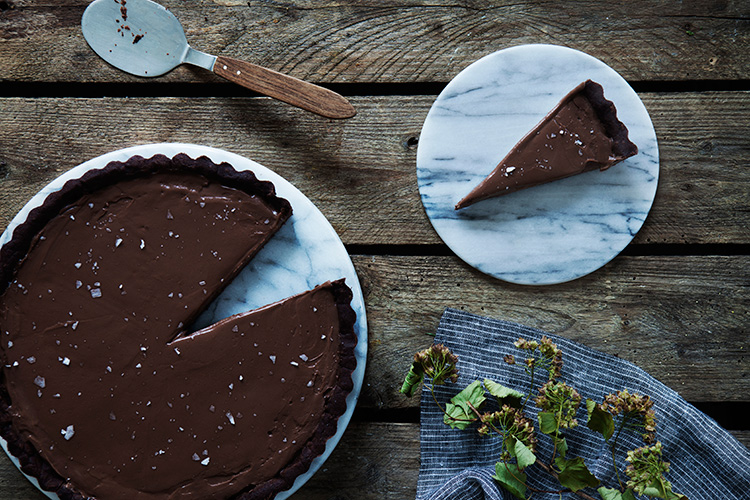 Recipe: Chocolate Pie Crust
Ingredients
3 dl (1 cup + 4 tbsp) Flour
3 tbsp Cocoa
1/2 tsp Salt
3 tbsp Powdered Sugar
100 g (1 stick) Butter
1 Egg Yolk
1/2 tsp Vanilla Essence
Directions
Mix flour, cocoa and salt in a bowl and set a side
In a food processor pulse butter and powdered sugar until smooth
Add the egg yolk and vanilla essence and pulse few times
Add the dry ingredients and pulse until just corporated
Press the dough together into a disk, wrap in plastic film and place in the fridge for 1 hour or maximum of 3 days
Grease a 21-25 cm (8-9,5 inch) pie pan (I use one with loose bottom)
Roll out dough between 2 sheets of parchment paper to 3 mm (1/8 inch) thickness
Transfer dough to pie dish, pressing gently onto bottom and up the sides. Chill for 30 minutes.
Heat the oven to 160°C (320°F) Bake the crust for 15-20 minutes or until baked through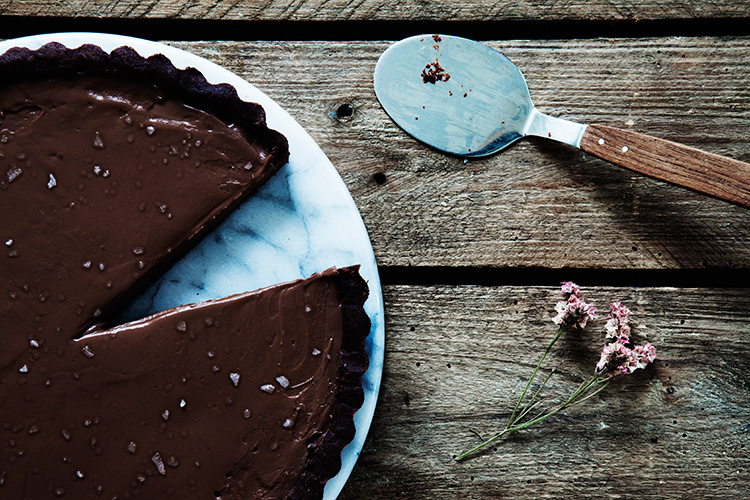 Recipe: Chocolate Pie Filling with Bourbon
Ingredients
5 tbsp Sugar
2 tbsp Corn Starch
1/2 tsp Salt
2 Egg Yolks
3 dl (1,5 cups) Milk
100 g (3,5 oz) Dark Chocolate (preferably organic)
1 tsp Vanilla Essence
2 tbsp Bourbon
Sea Salt for garnish
Directions
Place sugar, corn starch and salt in a saucepan
Whisk egg yolks and milk in a separate bowl and then pour into saucepan
Heat over medium heat, stirring constantly until thick
Then add chopped chocolate, vanilla and bourbon and stir until all the chocolate has melted
Pour the filling into the baked Pie Crust and chill in the fridge for 6 hours
Sprinkle little sea salt on top right before you serve it
|
Published on January 18, 2015
|
Chocolate Pie Recipe
Comments - I would love to hear from you