This is my Gluten, Sugar and Dairy Free Chocolate Pumpkin Cake – A great and healthy alternative for Thanksgiving's Pumpkin Pie.
The bottom layer is a semi-sweet chocolate sponge cake and then you have a flavorful mousse on top. It is the ultimate fall dessert and will keep both your tummy happy and your heart warm.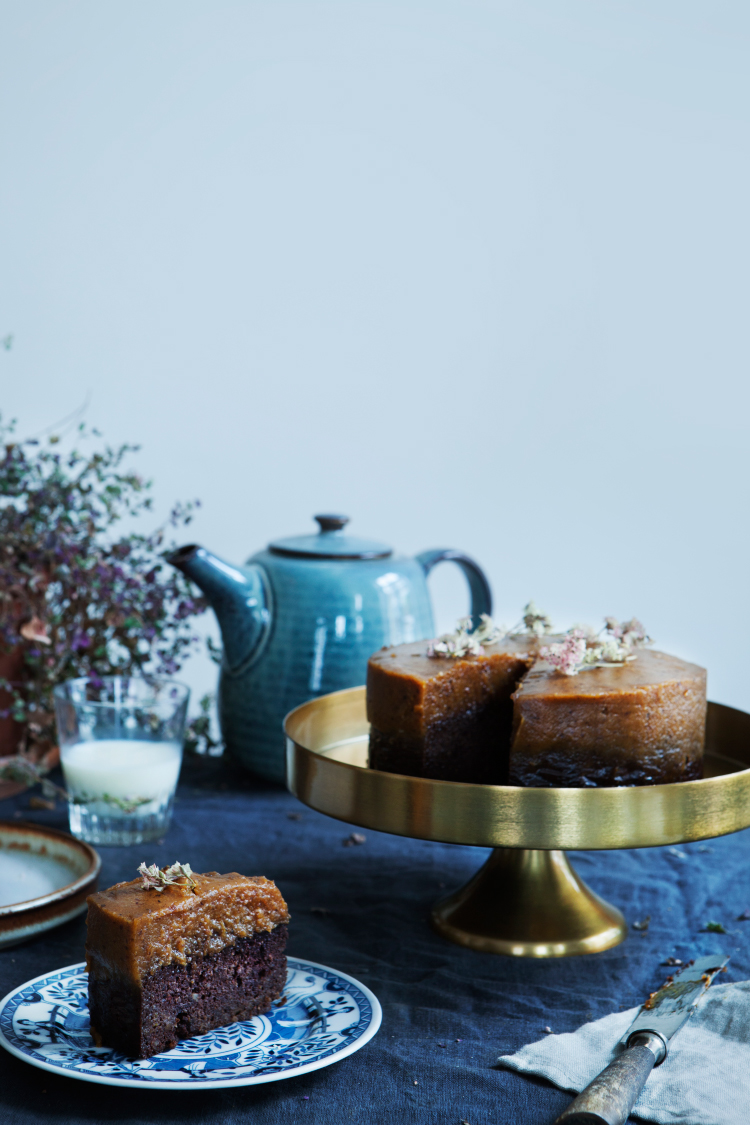 This recipe and blog post was originally posted as a guest post at the beautiful Dutch food blog Foodbandits. If you do not know Suus, her healthy recipes or beautiful pictures I highly recommend you hop over and take a look.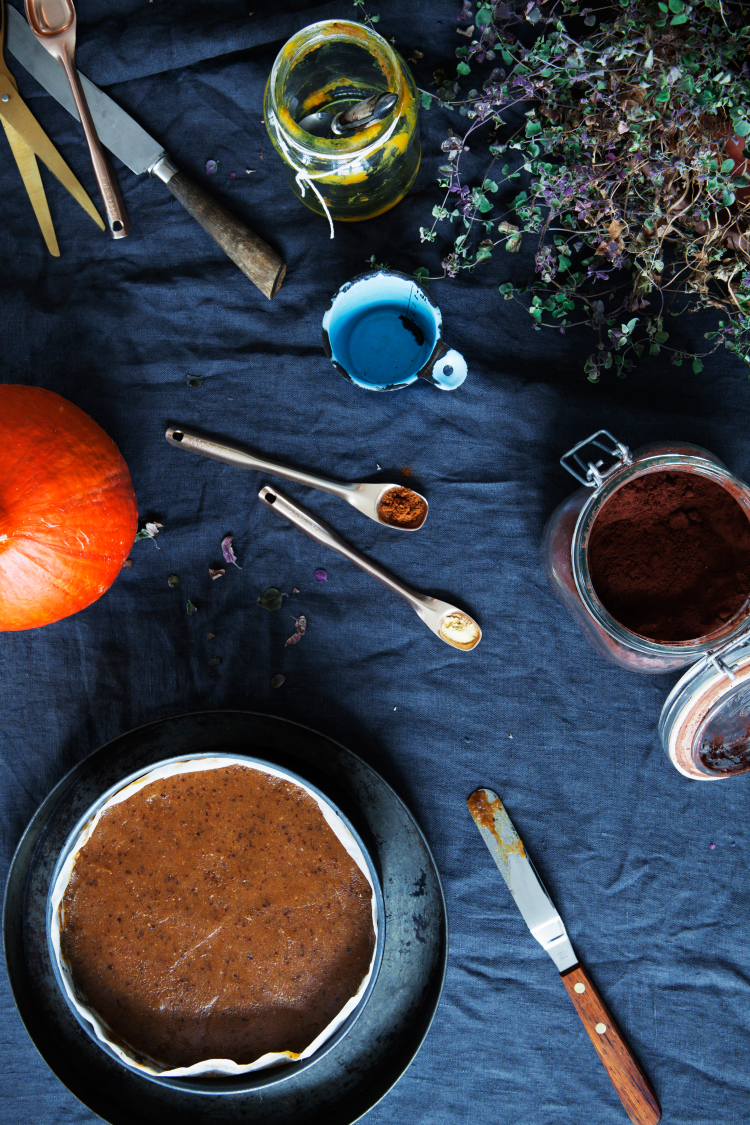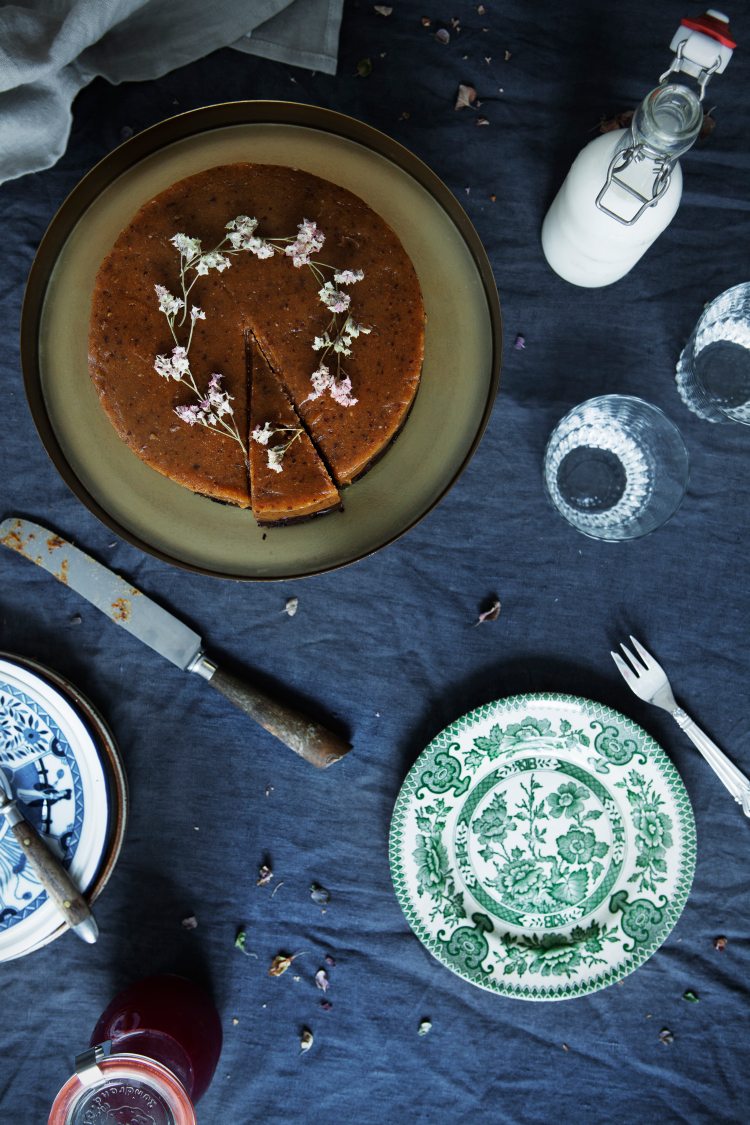 I didn't grow up eating pumpkin, but after living in New York for a while I couldn't help but be introduced to the classic Pumpkin Pie at Thanksgiving Dinner, and let me tell you, I was sold at first bite. 
Pumpkin pairs perfectly with the wintry spices such as cinnamon, nutmeg, cloves and ginger – but is also great with spices like lemon grass and chili. Check out my  Thai Pumpkin Soup recipe for inspiration.
My Chocolate Pumpkin Cake is filled with spices and warmth, it is kid friendly and I have not yet met a person that wasn't madly in love at first bite.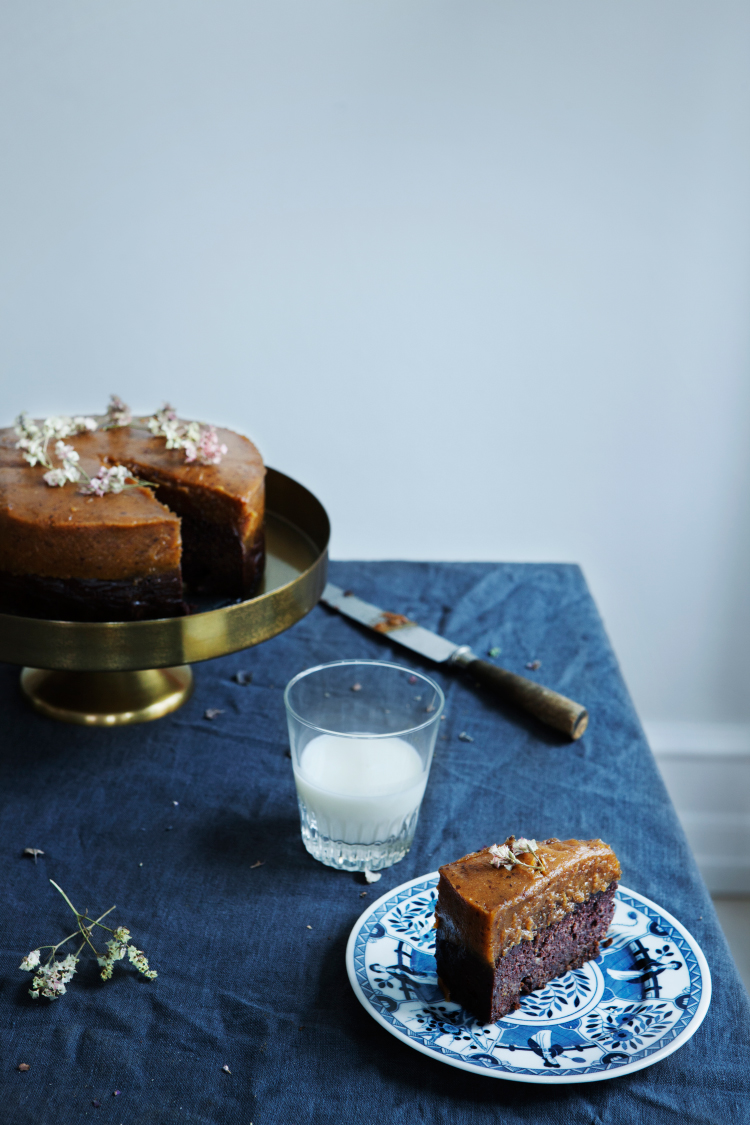 If you have a garden you can easily grow pumpkins, just pick a sunny spot with some room for the vines to grow. Before you start planting, make sure all chances of frost have passed, preferably late may.
 
Fun fact: Pumpkin isn't only a fruit, it is in fact a berry!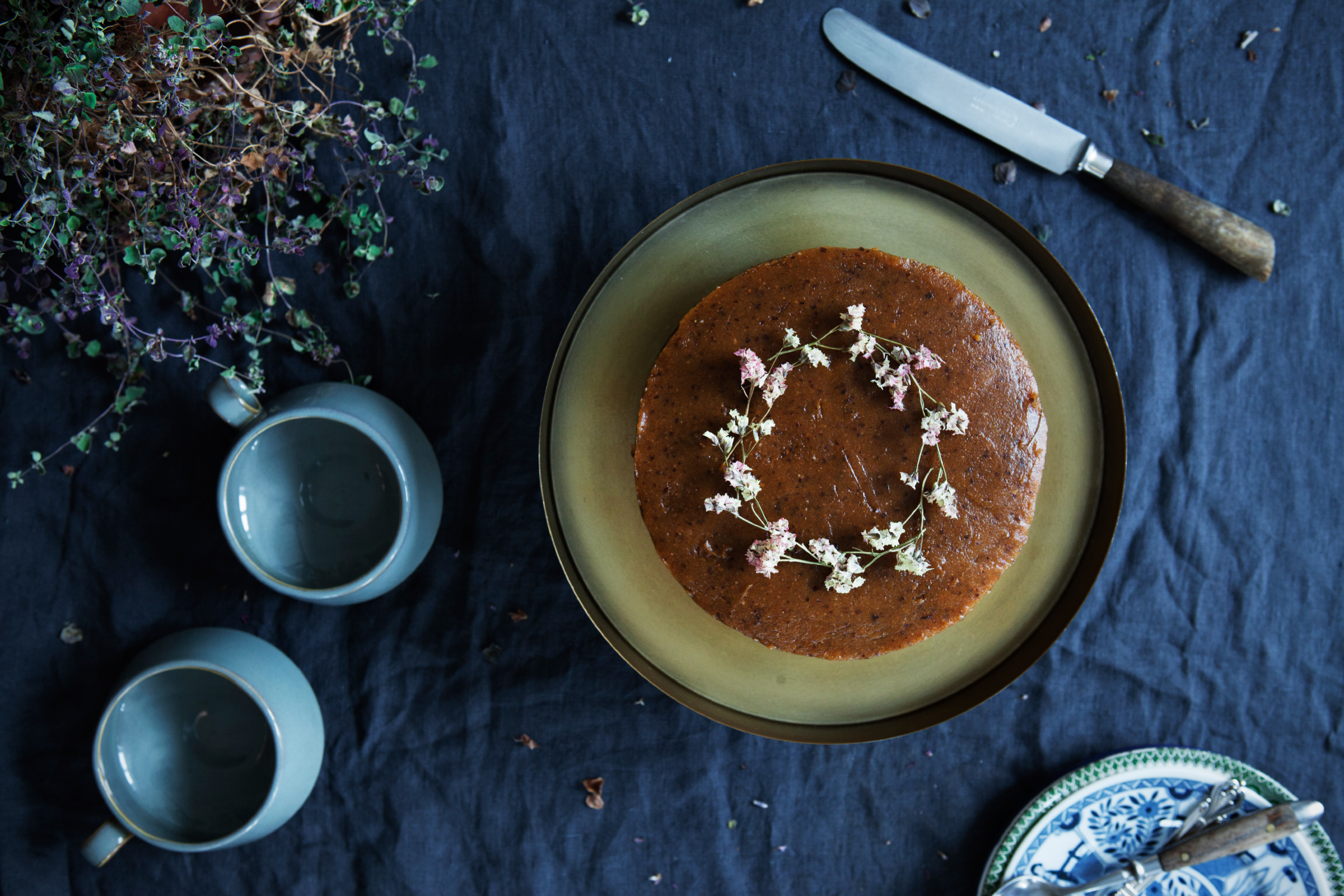 Recipe: Chocolate Pumpkin Cake
Ingredients
200 g

dates, pitted

100 g

almonds

3 tbsp.

cocoa

3 tbsp.

coconut oil

1 tbsp.

rice malt syrup (optional)

4

eggs

Seeds from 1/2 vanilla bean
Directions
Preheat the oven to 180°C (regular heat, not fan) and line a 18-20 cm baking pan
Blitz the almonds in a food processor, add the dates and mix until you have a sticky mass
Throw in the cocoa, coconut oil and if you are a sweet tooth add the malt syrup and give it a spin
In a separate bowl whisk the eggs with the vanilla until super light and fluffy
Fold the sticky mass into the eggs little at a time. It takes some time, but it is totally possible. Don't be scared to loose the airiness of the eggs, they should be so fluffy that they can afford loosing some.
Pour the batter into the baking pan and bake for 30-40 minutes or until a pin comes out clean
After the cake has cooled down, place it back into the baking pan and pour the Pumpkin Mousse over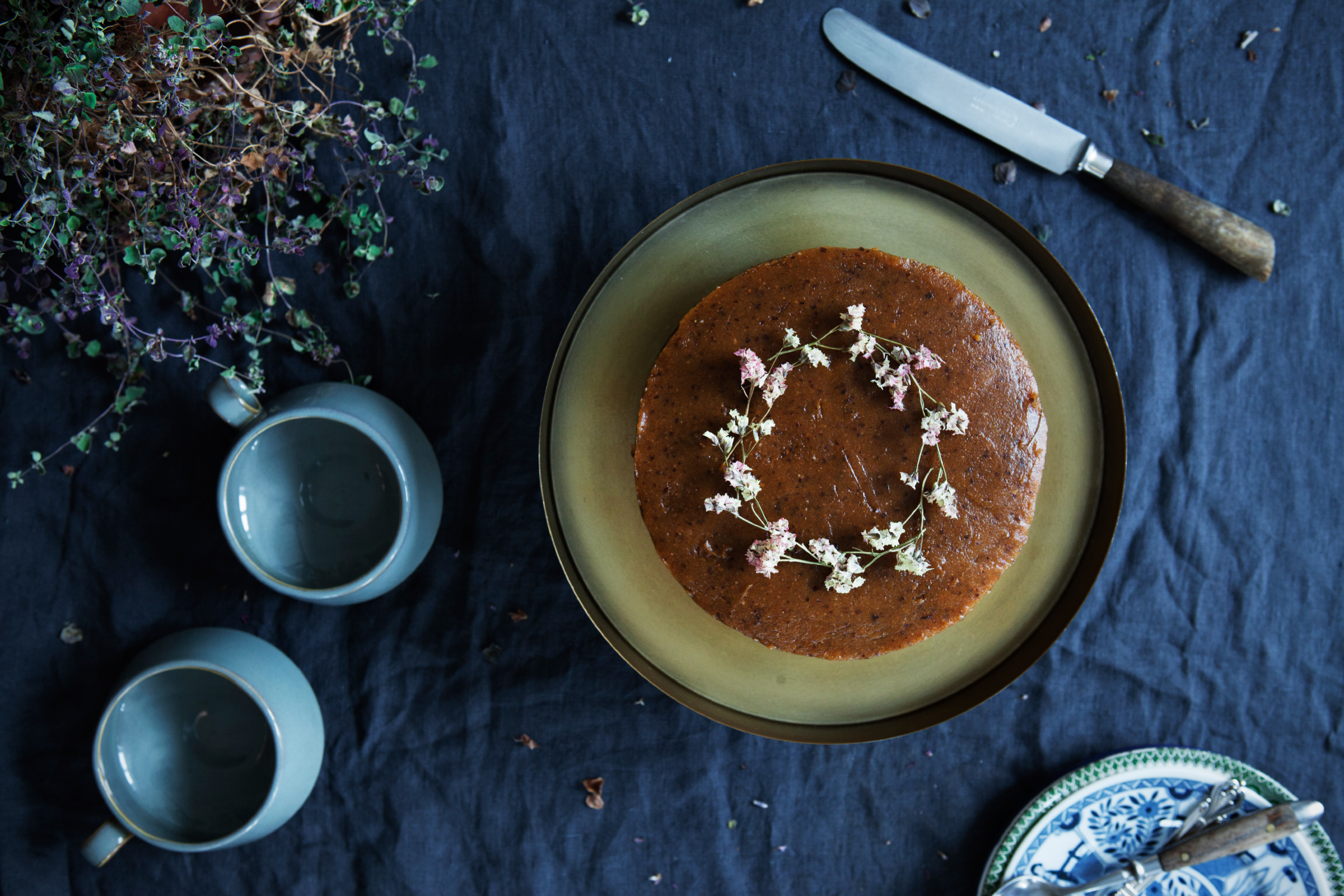 Recipe: Pumpkin Mousse
*Pumpkin Puree
Cut you pumpkin open and remove the seeds. I recommend using roasted pumpkin seeds in a salad.
Cut the pumpkin into few pieces and place skin side up on a baking tray
Bake for 30 minutes in a 180°C hot oven. Let cool slightly then remove the skin
Place the pumpkin meat in a blender or food processor and blend until smooth
Store in airtight container in the fridge for up to 1 week 
Ingredients
300 g

dates, pitted

4 dl

pumpkin puree*

1 tbsp.

Coconut oil

1/2 tsp.

cinnamon

1/4 tsp.

ginger

1/8 tsp.

cloves

1/4 tsp.

salt
Directions
Blitz the dates in a food processor until smooth then add the pumpkin puree and mix until well blended
Add the coconut oil, spices and syrup if you are a sweet tooth and give it a spin
Press the mousse through a fine sieve, discard all solids (date skin)
Pour the mousse over the baked and chilled chocolate cake
Place in the fridge for minimum 1 hour before serving, or place in the freezer for up to 1 week.
|
Published on November 12, 2014
|
Chocolate Pumpkin Cake
Comments - I would love to hear from you