Chocolate Whoopie Pies made with brown butter and filled with Rosemary Orange Custard. A true taste of the Holidays and wonderfully warming and delicious!
These Chocolate Whoopie Pies go perfectly with hot cup of cocoa or a glass of ice cold milk.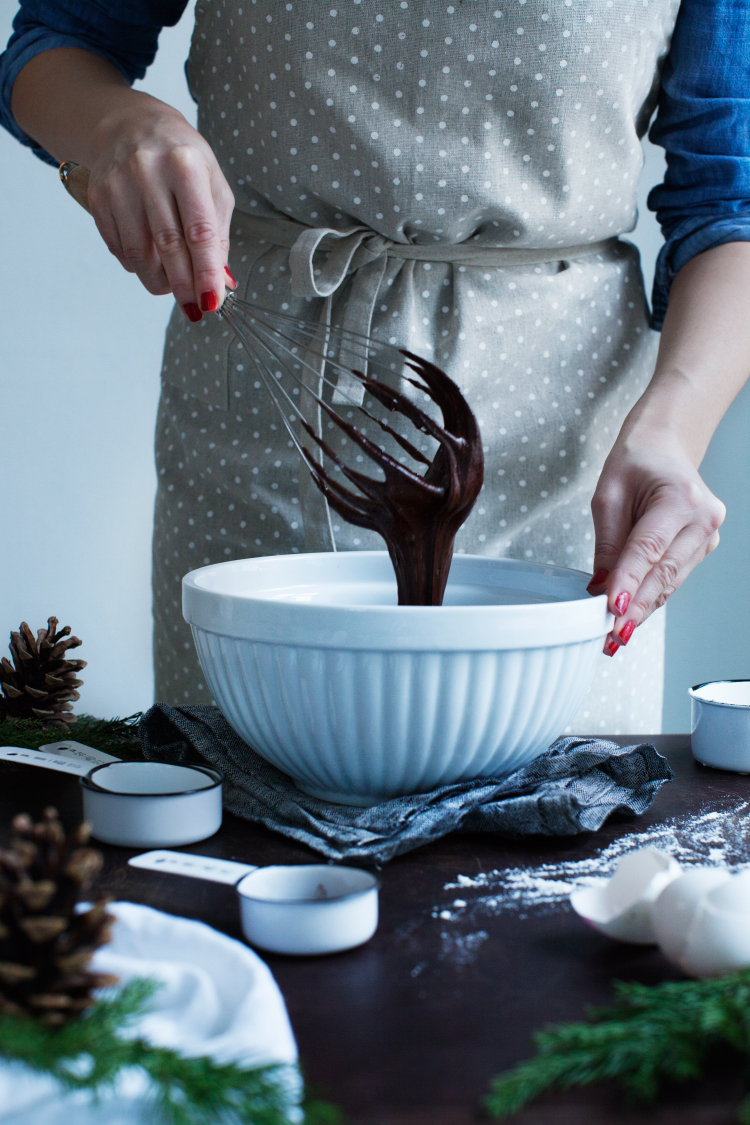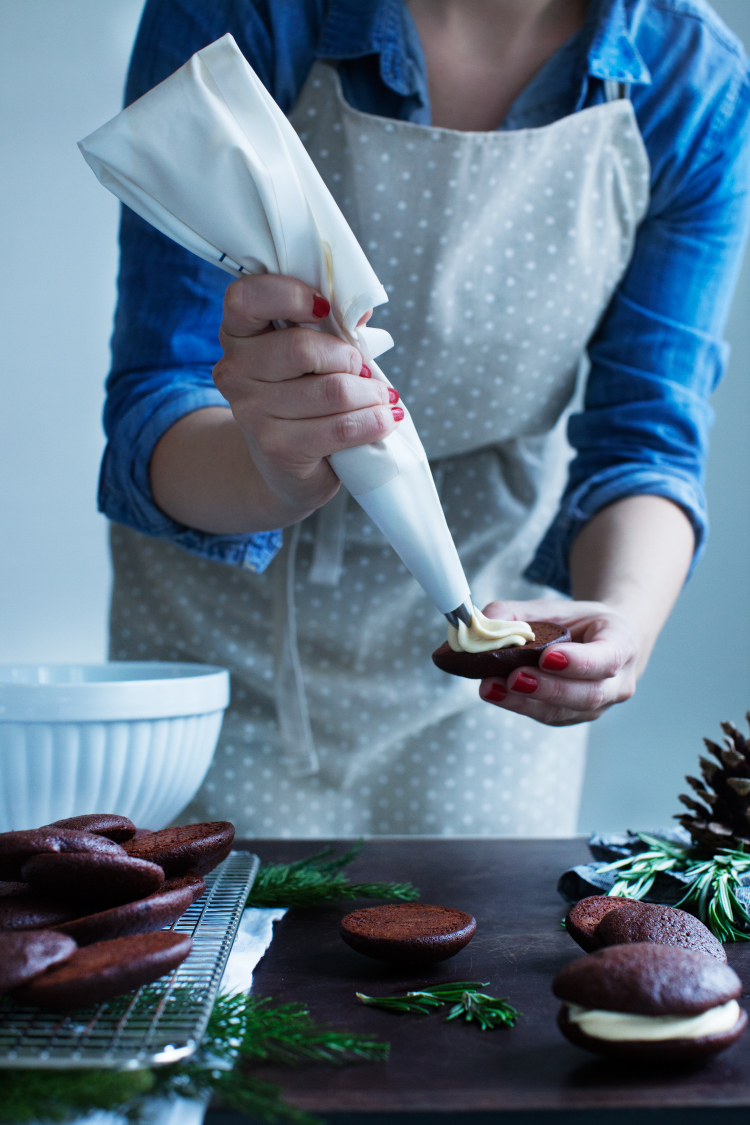 A Whoopie Pie is two halves of a small spongy cookies sandwiched together with frosting or custard in-between the layers.
Fun Fact: The Whoopie Pies, also known as 'Hucklebucks' and 'Creamy Turtles' are Amish!
Amish women would use cake batter leftovers to bake these tasty miniature cake sandwiches and then slip them into the farmers' lunch boxes. When the farmers found the treats in their lunch, they would shout "Whoopie" and therefore the name 'Whoopie Pie'.
What is brown butter or Beurre Noisette? 
Unsalted butter is melted over low heat and allowed to separate into butterfat and milk solids. The milk solids naturally sink to the bottom of the pan and, if left over gentle heat, will begin to brown. As the milk solids reach a toasty hazelnut color, the pan is removed from the heat. Beurre noisette may be used in its liquid state, or cooled to a solid form. It has a nutty flavour and is particularly included in the batters for french pastry.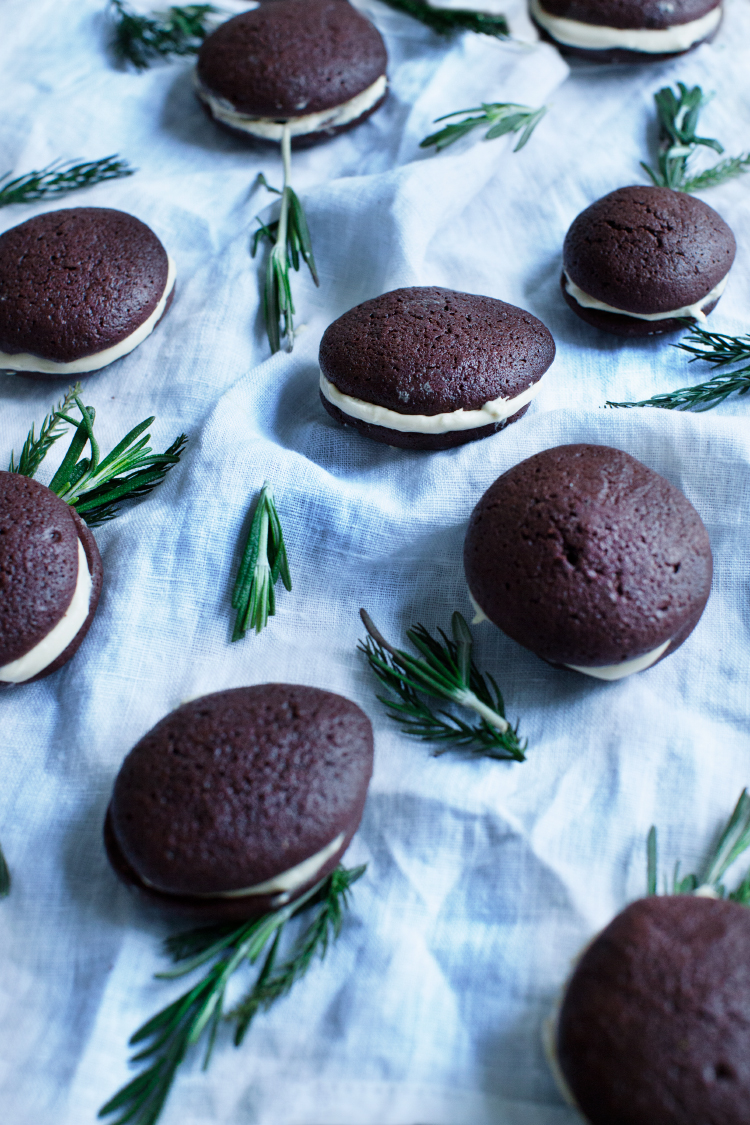 As you all know I am a big fan of edible presents, and my Chocolate Whoopie Pies are totally in that category. Wrap them up with a ribbon, place them in a tin box or wrap them individually as small presents for your co-workers. Happy December everyone!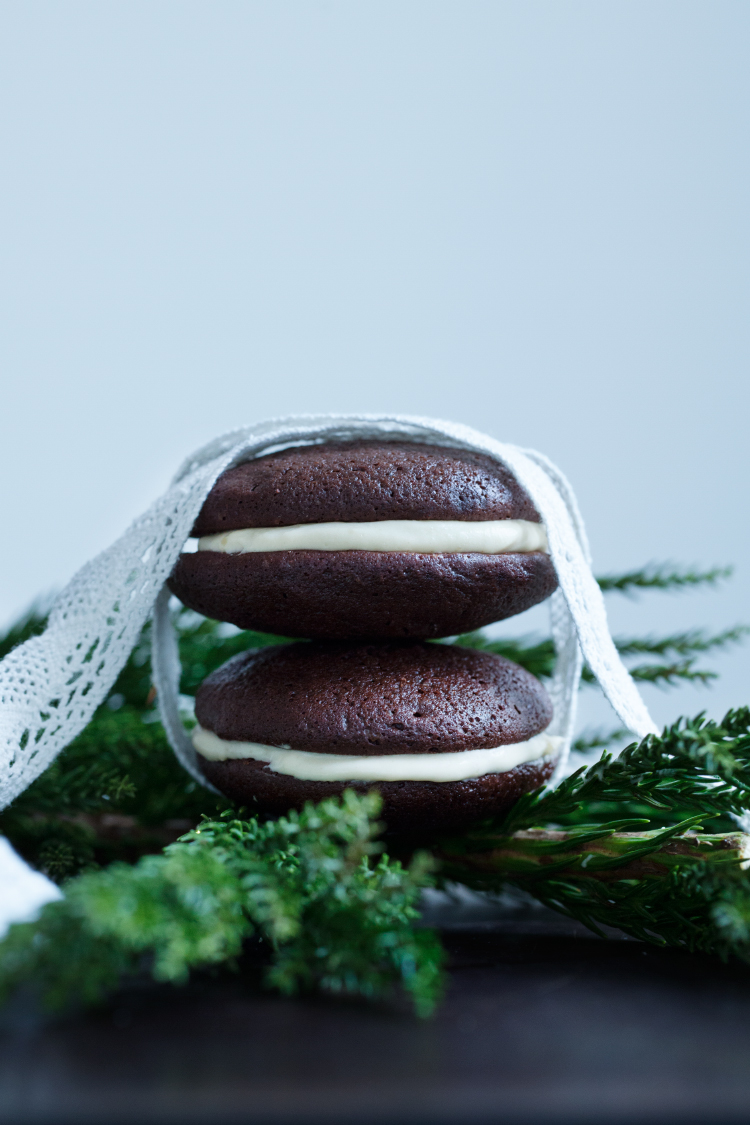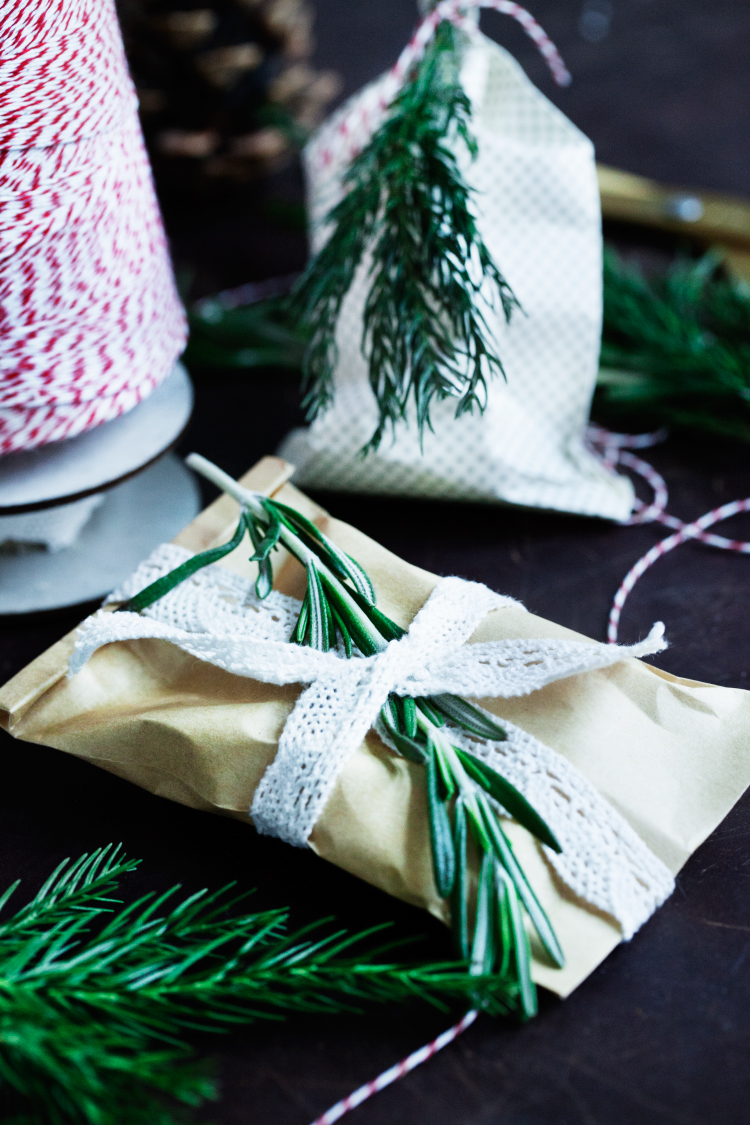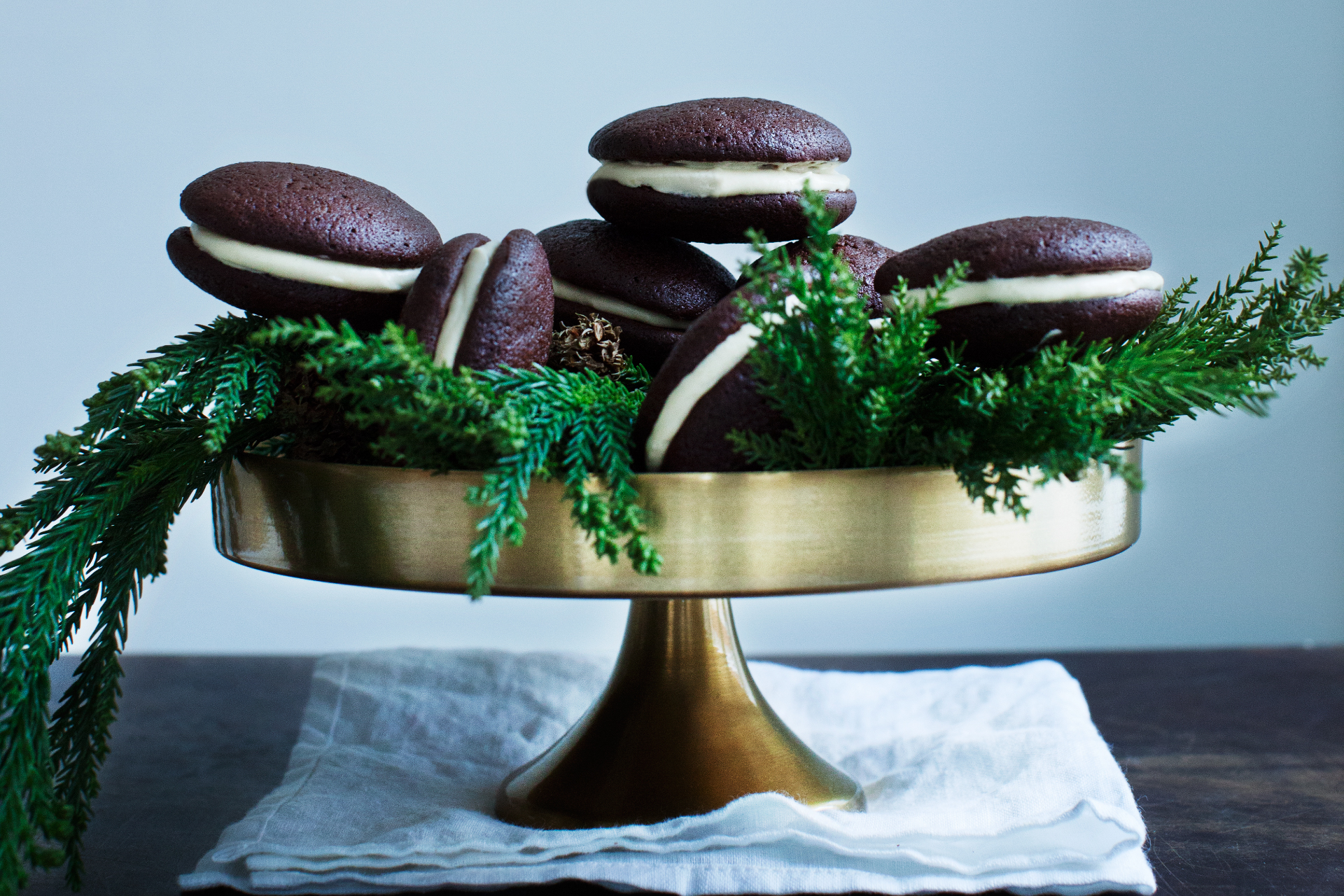 Recipe: Chocolate Whoopie Pies
Makes 36  halves – 18 large whole Whoopie Pies
Ingredients
2,5 dl (1 cup)

Flour

1/2 dl (1/4 cup)

Cocoa

1 tsp

Baking Powder

1/2 tsp

Salt

115 g (1 stick)

Butter

170 g (6 oz)

Dark Chocolate (70%)

3

Eggs

2,5 dl (1 cup)

Brown Sugar

2 tsp

Grand Marnier or Vanilla Essence
Directions
Preheat the oven to 180°C (350°F) and line a baking pan
Sift flour, cocoa, baking powder and salt together in a bowl and set aside
Melt the butter in a saucepan and keep it over medium/low heat until it starts to brown and smell nutty. Be careful not to burn it.
Melt the Chocolate over water bath, and then stir in the brown butter
Whisk eggs, sugar and Grand Marnier together in a bowl, when light and fluffy, add the chocolate butter in a steady stream. Whisk until smooth
Fold the dry ingredients into the wet ones
Drop a tablespoon of batter onto the prepared pan and bake for 6-8 minutes, or until a toothpick comes out clean and the cakes are spongy
When the cookies have cooled completely pair them, two and two, by size
Transfer filling into a pastry bag and pipe a dollop onto the flat side of one cookie from each pair. Sandwich with the remaining cookies - Press slightly so filling gets pushed to the edges
Store in the fridge for up to 4 days
Recipe: Rosemary & Orange Custard
This Holiday custard is great for Whoopie Pies and Profiteroles (Cream Puffs)
Ingredients
3 dl (1 1/4 cups)

Whole Milk

Zest from one Orange

4

Sprigs Rosemary

3

Egg Yolks

3,5 tbsp

Brown Sugar

2,5 tbsp

Corn Starch

1 tbsp

Flour

1 tsp

Grand Marnier
Directions
Warm the milk, rosemary and orange zest in a small saucepan until hot and steaming (not boiling). Turn of the heat and let steep for 30 minutes
Then reheat the milk up to the point of boiling. Sift and discard solids
Whisk egg yolks, sugar, cornstarch and flour light, fluffy and completely smooth
Temper the eggs by adding a little bit of the warm milk and whisk constantly. Add little at a time until you have added half of the milk
Then pour the eggs/milk mix into the pan with the remaining hot milk and heat over medium heat and stir constantly until the mixture is very thick
Remove from heat and stir in Grand Marnier
Chill the custard before piping them onto the whoopie pies
If you like me are in love with these Chocolate Whoopie Pies with a Holiday twist, you will definitely LOVE my Pumpkin Whoopie Pies!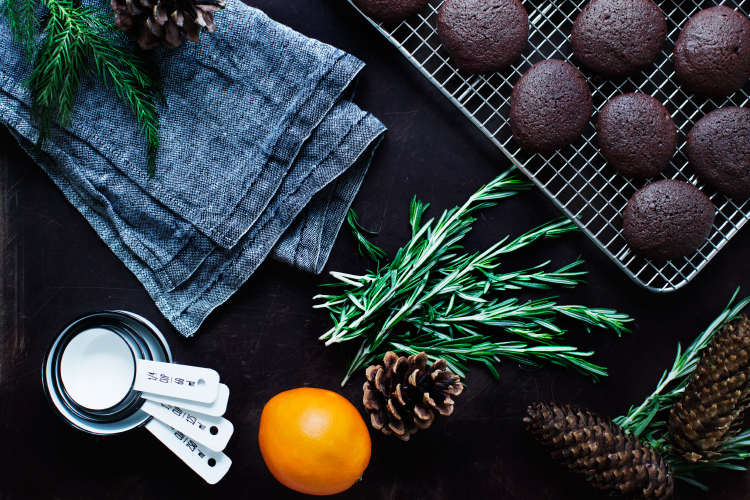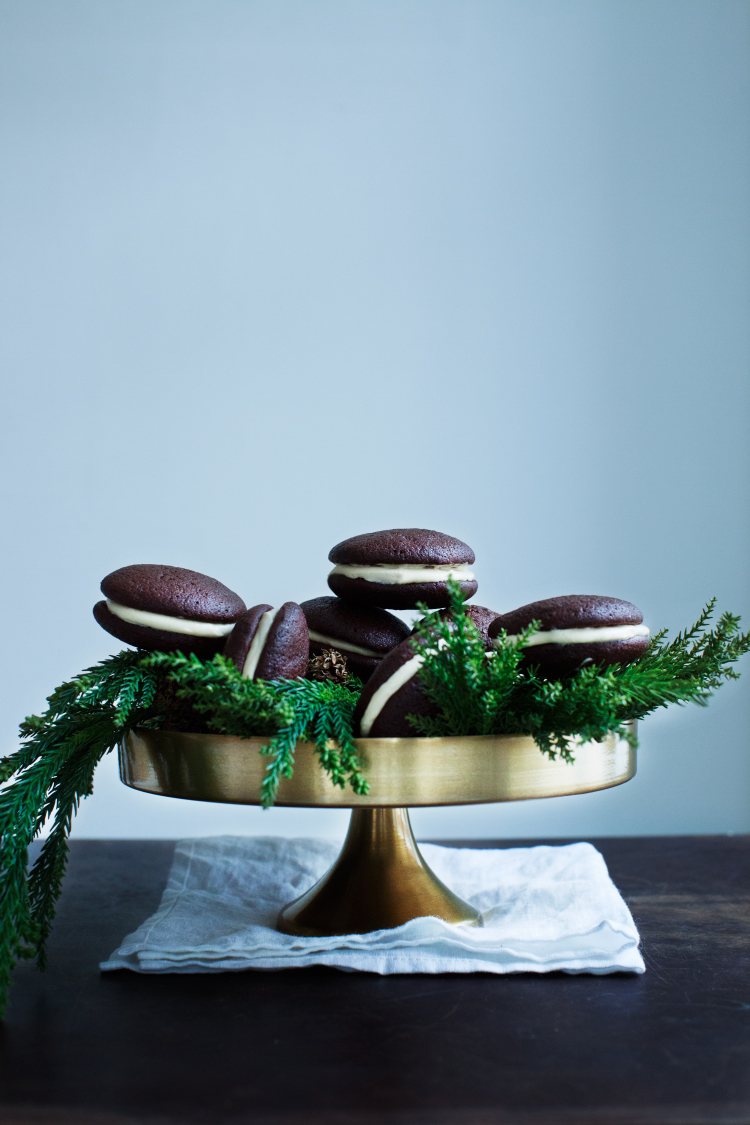 |
Published on December 5, 2014
|
Chocolate Whoopie Pies
Comments - I would love to hear from you