I was invited to a dinner party at a friends house on friday night and was asked to bring dessert. I wanted to make something classic and simple yet fancy enough to go with my old crystal bowl. At first I was thinking about making Lemon Fromage (very 80′ I know) and then I changed my mind wanting to make something more in beat with the cold weather so I decided on Mousse au Chocolat.
But somehow neither of these classics seamed to fit the occasion but time was flying and I had to make something. So with a storm I made both the desserts and layered them together in one. I did a four layered one for the party starting with the chocolate mousse (the pictures show a two layered one I made from the left overs)
Personally I find lemon flavor and chocolate not a good match and since I  still had that mountain of clementines in my kitchen I chose to make Clementine Fromage instead. I made the chocolate mousse a little bitter and the clementine fromage was very fresh and not to sweet and in perfect harmony this two flavored classic was a success.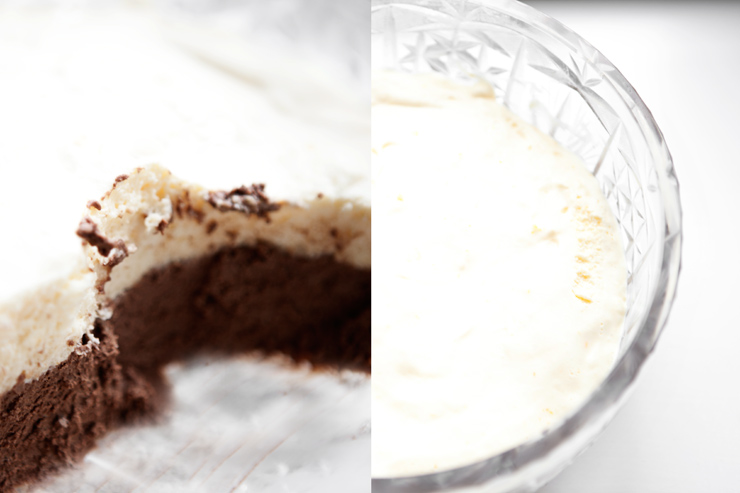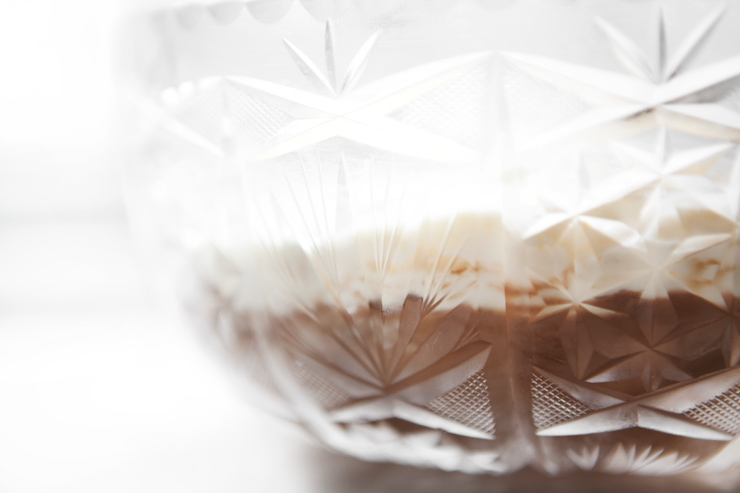 Clementine Fromage:
5 sheets gelatine
4 pasteurized egg yolks
100 g sugar
3 tsp. grated clementine peel
1 ½ dl freshly squeezed clementine juice
3 pasteurized egg whites
3 dl whipping (heavy) cream
1. Soak the gelatine in cold water for 10 min.
2. Whisk egg yolks and sugar well or until it is creamy and then add the grated clementine zest and half the clementine juice.
3. Take the gelatine and melt it together with the rest of the clementine juice over a water bath . Let this mass cool before using it.
4. Stir a little of the egg mixture in the now cooled gelatin/clementine mix and the pour the gelatin/clementine in a thin stream into egg mixture, while stirring.
5. Whisk the egg whites until stiff.
6. Whip the cream.
7. Gently fold the egg whites in the egg mixture.
8. Gently fold the whipped cream in the mixture
9. Pour the fromage into a bowl (remember to layer with the chocolate) and place in the refrigerator for few hours.
Mousse au Chocolat:
200 g dark chocolate (minimum 70% cocoa)
1 dl strong, cold coffee
2 pasteurized egg yolks
½ liter Whipping (heavy) cream
1. Melt the chocolate in a water bath
2. Take the bowl of the heat and whisk in the cold coffee and egg yolks
3. Whip the cream stiff and fold gently into now cooled chocolate mixture
4. Layer with the Clementine Fromage and place in the refrigerator for few hours
|
Published on November 7, 2011
|
Mousse au Chocolat with Clementine Fromage
Comments - I would love to hear from you