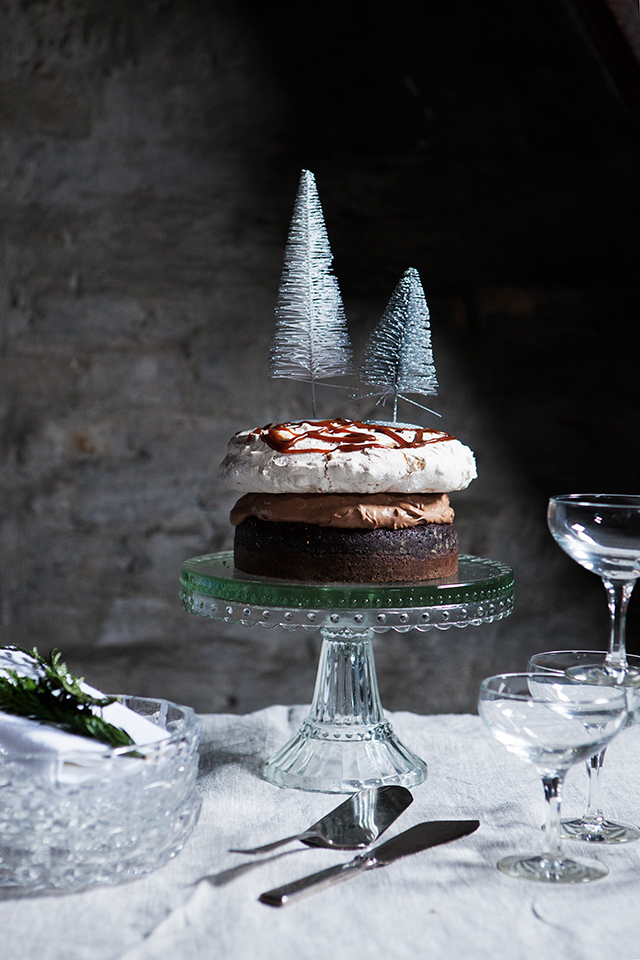 My New Years Eve Dessert this year is a tall and elegant cake, with rich flavour of chocolate with sophisticated hint of salted caramel – and with it's different textures it truly is a party for your mouth and taste buds.
A slice of this beauty is perfect for celebrating the brand new year and believe me when I tell you that it goes extremely well down with ice cold glass of bubbly.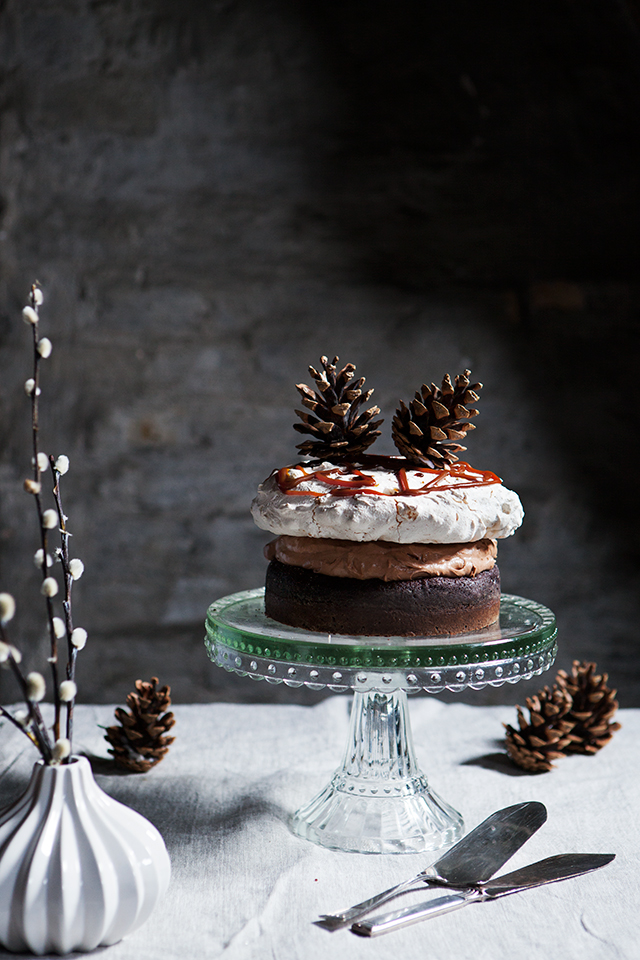 I am celebrating New Years Eve with dear friends this year and when I asked what their favourite dessert is the answer was: "a bowl of candy"
Therefore I decided to concentrate on chocolate and other wintry and sweet flavours, but I also wanted to make something with different textures – Just like when you snack on a bowl of different candies.
The result is classic flavours put together into an elegant and sophisticated cake. To add some extra New Years Sparkle I drizzled amaretto over the chocolate sponge but feel free to skip that step if you don't like booze in your desserts (but who doesn't?)
I am not going to lie and tell you that making this cake is no biggie – but if you follow the recipe and all the steps described below you will be just fine. To make things easier you can make the caramel days in advance and the filling can be made the day before.
☆ After you assemble the cake, make sure to store it in the fridge or somewhere cold.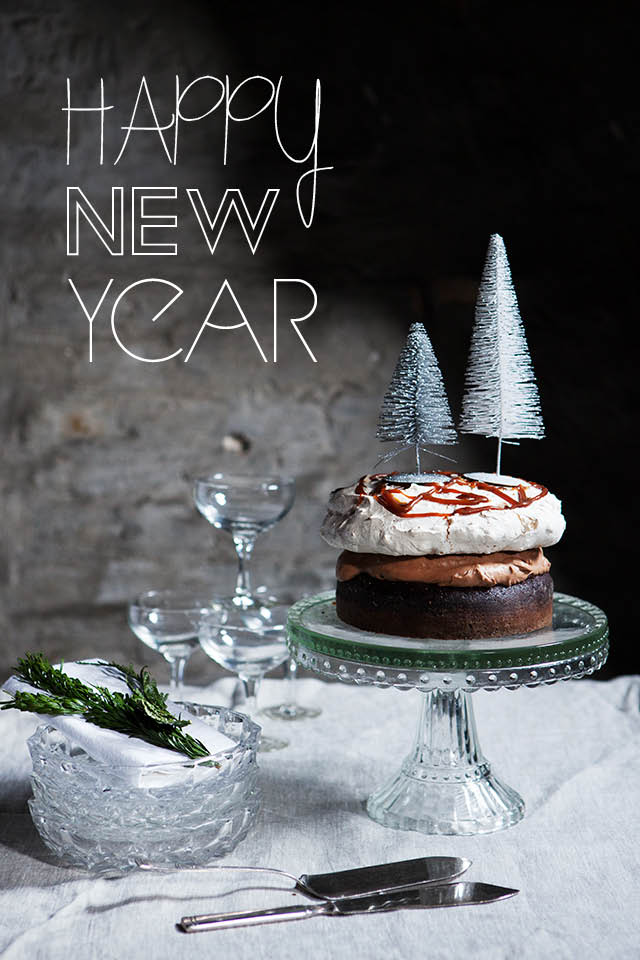 New Years Eve Cake – Recipe
Chocolate Sponge
100 g (3/4 cup) flour
150 g (3/4 cup) sugar
35 g (5 tbsp) cocoa
1/2 tsp baking soda
1/2 tsp baking powder
1/2 tsp salt
1 egg
1/2 dl (3 tbsp) full fat milk
1/2 dl (3 tbsp) sour cream
50 g (3.5 tbsp) butter
1/2 tsp vanilla
1/2 dl (3 tbsp) coffee (hot or cold)
1. Preheat the oven to 180°C or 350°F
2. Butter, line with parchment paper and dust with flour, one 16-18 cm (6-7 inch)baking pan
3. Sift together flour, sugar, cocoa, baking soda, baking powder and salt. Set aside
4. Mix the egg, just to separate it
5. Add the milk, sour cream, and melted butter – mix well
6. Slowly mix in the dry ingredients and make a batter
7. Add the vanilla and coffee and give a good stir
8. Pour the batter into the prepared pan
9. Bake for 40 minutes or until a pin comes out almost clean (few crumbs is fine)
After 30 min I place a aluminium foil over the top to prevent the cake from burning
Meringue
2 egg whites
100 g (0.4 cup) sugar
fist full or two of corn flakes or rice krispies
1.Preheat the oven to 140°C or 280°F
2. Draw a 15 cm (6 inch) circle on parchment paper and set aside
3. With a hand or stand mixer wish the egg whites and slowly add the sugar. Mix on medium to full speed until all the sugar is dissolved. Test to see if the sugar is fully dissolved by rubbing a little of the meringue between your thumb and index finger. The meringue should feel smooth, not gritty. If it feels gritty the sugar has not fully dissolved so keep beating until it feels completely smooth. It should take around 10 minutes.
4. Gently fold in the rice krispies
5. Spread the meringue inside the circle drawn on the parchment paper
6. Bake for 60 minutes
Mousse Au Chocolat Filling
35 g (1.2 ounces) 70% Chocolate
2 egg yolks
3 tbsp powdered sugar
1.5 dl (0.6 cups) heavy cream
1. Melt the Chocolate over water bath. Then let it cool in the bowl a little bit
2. Whisk the yolks and powdered sugar until light and fluffy
3. Slowly add the melted chocolate to the egg mixture. Whisk the whole time
4. In a separate bowl whisk the cream
5. Gently fold the whipped cream into the chocolate mixture
Salted Caramel Sauce
3.5 dl sugar
125 g butter
2 dl heavy cream
1 tbs salt
1. In a heavy sauce pan melt the sugar slowly. You want it amber golden and around 140°C (280°F). Be careful it burns at a blink of an eye.
2. Add the butter all at once and stir until melted and well blended with the sugar
3. Remove from heat and slowly add the heavy cream
4. Add the salt
5. Cool, and pour into a sterilised jar
Assembling the Cake
One Chocolate Sponge
One Meringue
Chocolate Mousse Filling
Amaretto
Coffe Syrup
Salted Caramel
1. Place the Chocolate Sponge on a plate
2. Drizzle with Coffee Syrup and/or Amaretto
3. Add the chocolate mousse frosting
4. Place the Meringue on top
5. Drizzle with Salted Caramel and/or Coffee Syrup
6. After you assemble the cake, make sure to store it in the fridge or somewhere cold.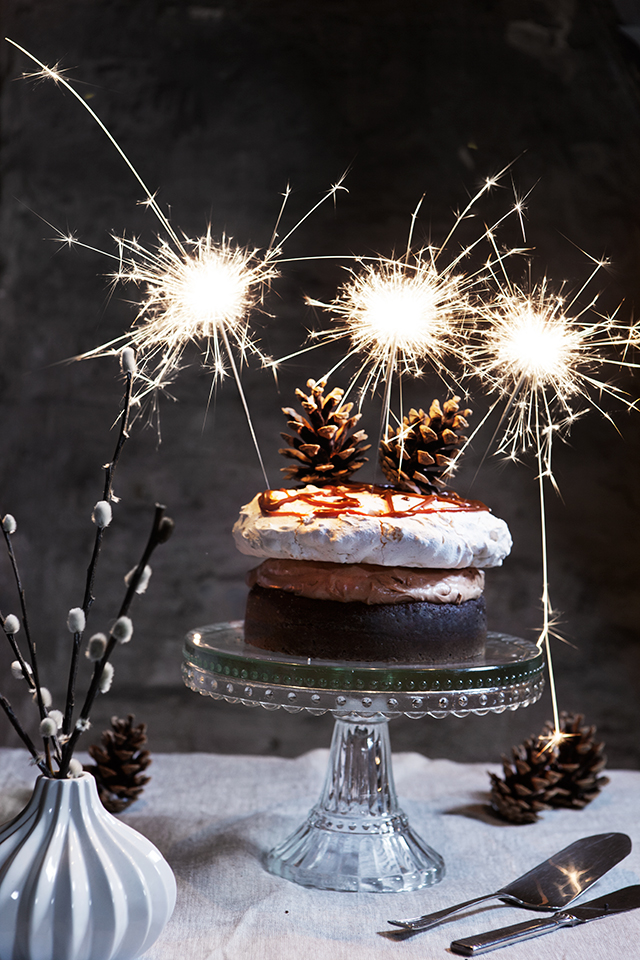 |
Published on December 29, 2013
|
Dessert for New Years Eve
Comments - I would love to hear from you