Today's post is from one of my favorite design blogs out there Design Sponge
Kate Pruitt is a senior editor for D*S and she writes DIY 101, a monthly column that covers basic DIY tools and techniques; and Treasure Hunting, a column dedicated to finding new and inventive ways to bring value to everyday objects within the home.
Kate wrote this post which i completely fell in love with. The idea is so simple and wonderful.
Kate says: "Growing up, I kept a daily journal. I always enjoyed looking back at previous entries to see what had changed over the course of a year. These days, I can't seem to find the time to journal, but I do try to jot down a little note from each day on my perpetual calendar/journal. The idea is very simple — flip to the current date and at the end of the day, write down something that happened. Some days it is big things like "Annie took her first steps." Other days it is small, like "needed more than one cup of coffee this morning.""

1. Cut index cards in half.
2. Stamp the month and date on each card.
3. Trim postcards to the same width of the cut index cards and just a bit longer than the index cards.
4. Organize postcards by date, dividing each month with the postcards.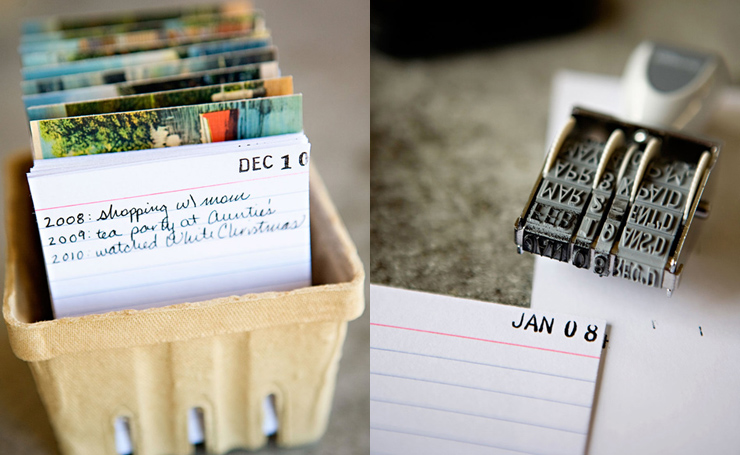 |
Published on January 23, 2012
|
DIY Journal
Comments - I would love to hear from you