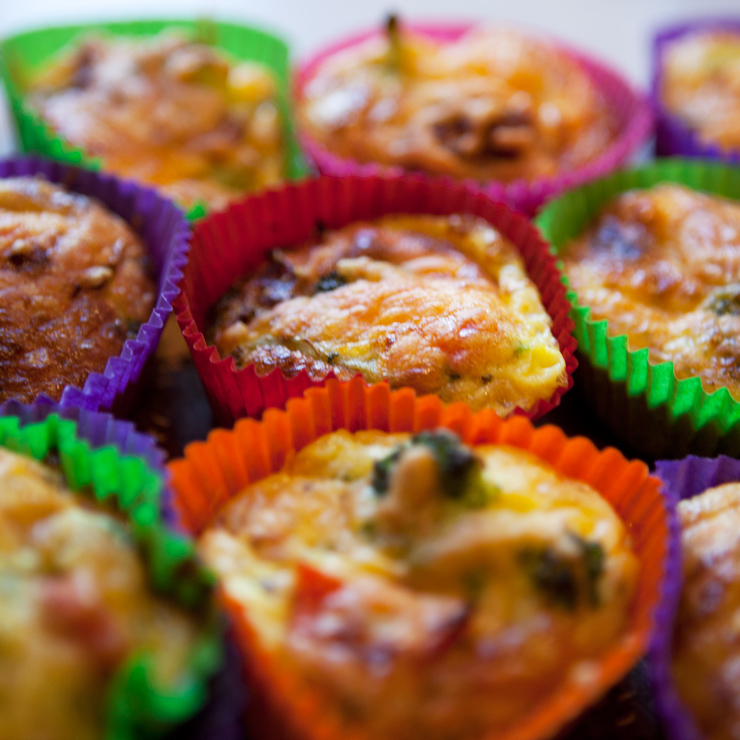 This morning I hosted an early breakfast meeting at my house. I wanted to serve some food for my fellow creatives, but nothing to complicated or time consuming. So on the table there was freshly brewed coffee and  hot fennel tea, a large bowl of new and crisp clementines and a trey full of hot and homemade bacon/broccoli egg muffins.
The egg muffins were super yummy and a huge success, so I thought of sharing the recipe with you, hoping you will surprise the people you love with a tasty sunday breakfast this weekend.
I originally found the recipe on one of my favorite food blogs: Snacking in the kitchen  but since then I have developed and change it a little. Here is my take on it:
275 g bacon
2 cups finely chopped broccoli
1 red bell pepper
8 eggs
1/2 cup milk (or heavy cream for special occasions)
1/2 tbsp vegetable oil
2 tsp baking powder
salt and pepper
freshly grated Prima Donna and/or cheddar
1. Preheat oven to 180 C.
2. Cut bacon into small pieces
3.In a large saute pan, over medium high heat, fry the bacon until crispy. Then stir in broccoli and bell pepper.
4. Whisk together eggs, milk, oil and baking powder.  Season with salt and pepper.
5. Lightly spray a 12-cupcake pan (I used 15 paper cups) with oil. Divide the bacon /broccoli mixture evenly into each cupcake form.
6. Pour the egg mixture over.
7. Sprinkle with Prima Donna and/or cheddar cheese.
8. Bake for 12-15 minutes.
|
Published on October 21, 2011
|
Weekend Breakfast – Egg Muffins
Comments - I would love to hear from you