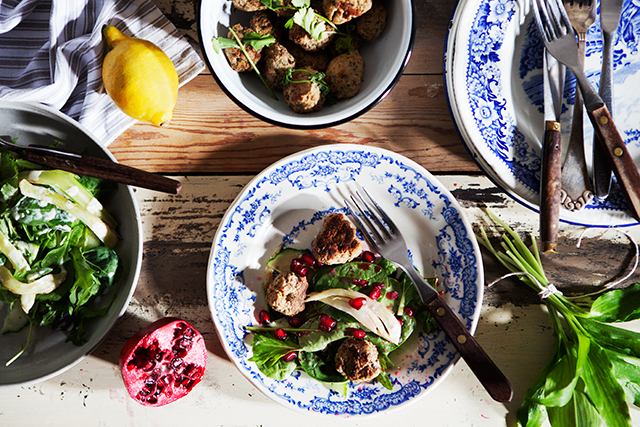 Ramsons (Allium ursinum) are often called wild garlic and are not to be confused with Ramps (Allium Tricoccum) that are wild leeks.
Ramsons grow in Europe and Asia while Ramps grow in North America.
These meatballs are packed with flavour and therefor perfect to serve along with something light like a salad and/or flat bread.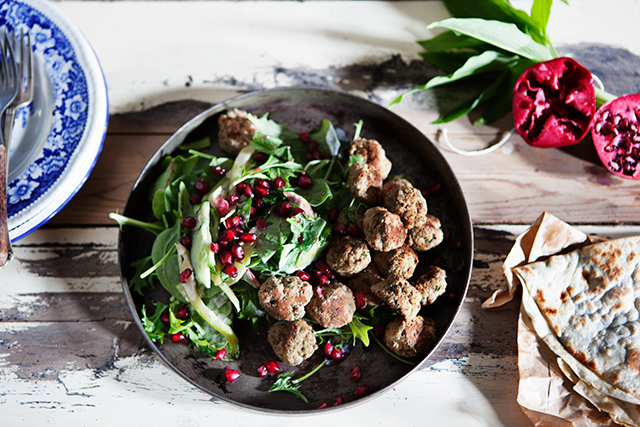 Right before you serve the meatballs I recommend sprinkling the plates with pomegranate seeds. Pomegranates add such a beautiful color to the dish and balance the powerful flavors of the meatballs with their sweetness.
How to deseed a Pomegranate:
– Cut the fruit in two and you should be able to see a five pointed star shape created by the seeds.
– Then turn (one half at a time) cut side down in your palm. Make sure there is space between your hand and the fruit.
– With a wooden spoon start hitting the pomegranate with enough force to jolt the seeds but not hard enough to crack the skin of the fruit
I usually do this over a large bowl or the sink, it can easily get really messy and the juice will stain your clothes and kitchen counter.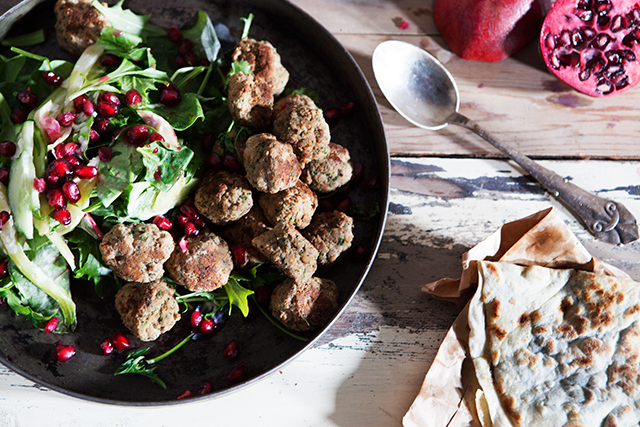 Recipe: Middle Eastern Meatballs with Ramsons
If you can not get your hands on ramsons, simply use garlic instead.
Serve the meatballs with a green salad and flat bread
Ingredients
500 g (1 lbs)

Ground Meat - I use a mix of pork and veal

1

Egg

1 tbsp

Bread Crumbs

Bundle (around 12 leaves)

Ramsons

Juice and Zest from 1/2

Lemon

Handful

Flat leaved Parsley

Handful

Fresh Mint

1/2 tsp

Salt

Freshly Ground

Pepper

1/2 tsp

Onion Powder

1 tsp

Cumin

1 tsp

Coriander (dried)

1/2 tsp

Chili Flakes

Pomegranate seeds for garnish
Directions
Place all the ingredients into a food processor and spin until everything is well combined. If your processor is small, start with the herbs and spices, then add the meat, egg and crumbs.
Make small balls using two spoons or your hands
Drizzle olive oil on a frying pan and sauté the meatballs over medium heat for approximately 5 minutes. Make sure they are cooked through but do not over cook them. You want them moist and not dry.
Serve with green salad and flatbread. Garnish with Pomegranate seeds for a color pop
|
Published on May 13, 2014
|
Family Style Dinner – Meatballs with Ramsons
Comments - I would love to hear from you