This Noodle Soup recipe is pretty simple but I am not gonna lie to you it is time consuming to make. So make sure to start your stock early and you will have the happiest people around your dinner table.
This dish isn't expensive, so it is great for larger parties. I recommend using a cheap cut of beef for this soup, either Round Steak (Coulotte) or Shank. Just remember to add to the recipe, since mine is only for four people.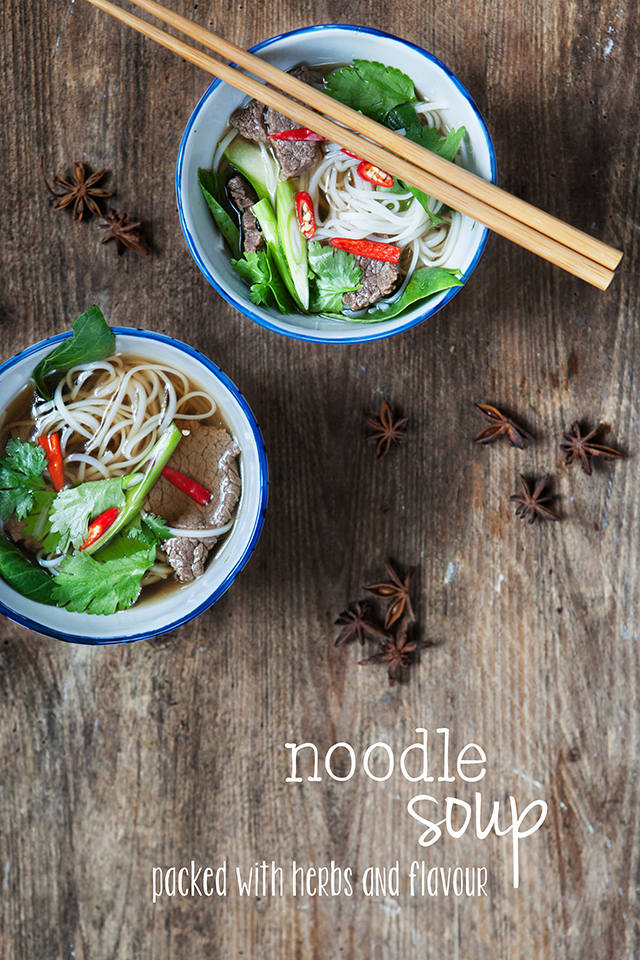 If you have tons of time, I recommend you make your own beef stock. But I totally understand if you buy it, just make sure you buy a quality stock and not one filled with artificial flavouring.
I like my noodle soup to be clear, but when you boil the meet with the soup it tends to get a little fatty. Therefor I always strain my broth through a cheesecloth at least twice and if I have the time I clarify it.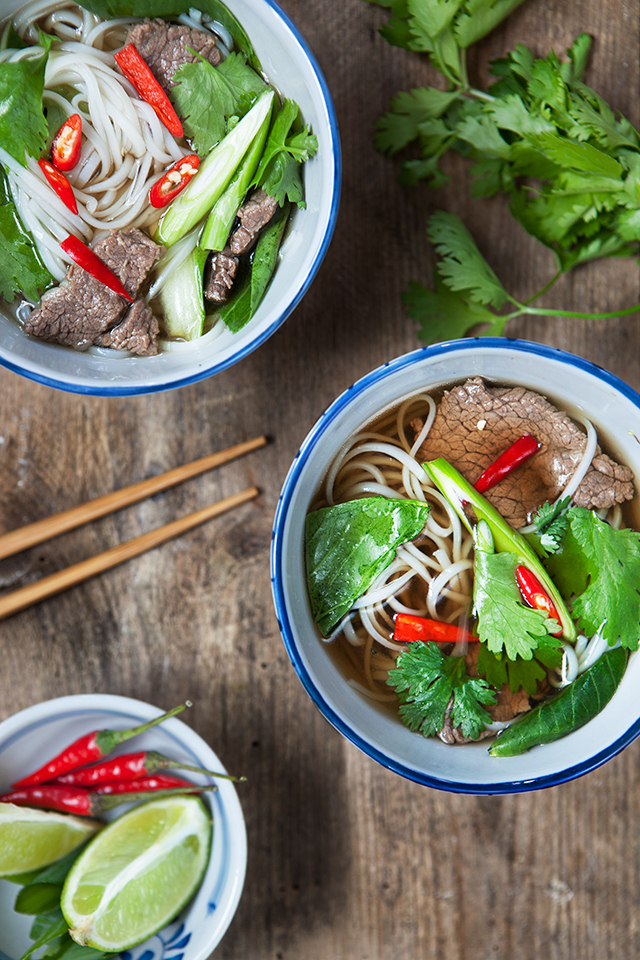 How to clarify Stock/Broth
1. Place a cheese cloth in a sieve and let the stock slowly ladle through. Place all meat aside, discard the rest.
2. Repeat
3. Place the broth back into the pot (remember to wash the pot so there is no fat on it's sides) and slowly bring to a boil
4. Whisk together 2 egg whites and a little bit of water
5. When the stock is boiling pour the egg into it and remove from heat. Let it sit for 5 minutes with the lid on. As the egg white cooks, it will act like a vacuum for fat and trap fine particles from the stock.
6. Then strain once more through rinsed cheesecloth, taking care to pour slowly and carefully so the fat does not break free
Don't forget to make your life easier with a weekly meal planner

And check my other soup recipes: Beet Soup & Pumpkin Soup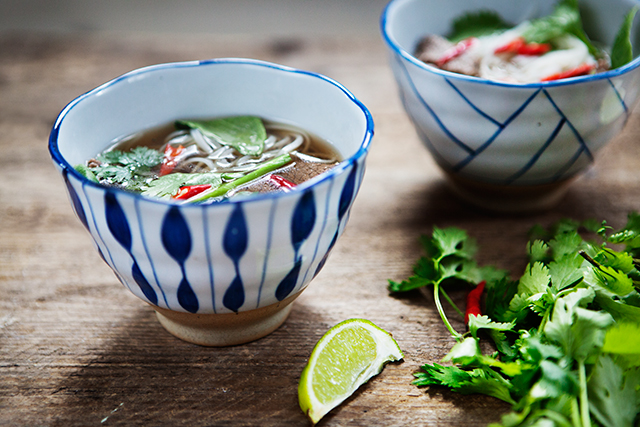 Recipe: Noodle Soup
Serves 4 If you find the soup to spicy or salty, balance it with little sugar.
Ingredients
2 tbsp

Olive Oil

1

Onion

5 Cloves

Garlic

3

Star Anise

2

Cinnamon Sticks

1 hot

Red Chili Pepper, chopped

7 cm (3 inches)

Ginger, sliced

500 g (1 lb) of thinly sliced

Beef

1 l (4 cups)

Beef Stock

750 ml (3 cups)

Water

1 dl (7 tbsp)

Soy Sauce

250 g (1/2 lb)

Rice Noodles

100 g (3.5 ounce)

Bok Choy or Spinach

Handful

Cilantro /Coriander for Garnish

1

Lime, cut into wedges for serving
Directions
Slice Onion and Garlic and place with olive oil into a large pot
When onion and garlic have softened add the star anise and cinnamon and give it a good stir. After 2 minutes add ginger and chili and let simmer for few minutes
Then add the beef and the rest of the ingredients
Let the soup simmer for at 1 hour. Add 1 tbsp of sugar if the soup is too spicy or salty for your taste
Strain the soup. Place the meat on plate and cover with foil until you are ready to eat. Discard the spices
If you want to clarify the soup completely like I do, please read the instructions above.
Follow the instructions on the packedge to cook the noodles
Place bok choy, cooked noodles and beef into every bowl. Pour the hot soup over. Garnish with Cilantro and serve with a lime wedge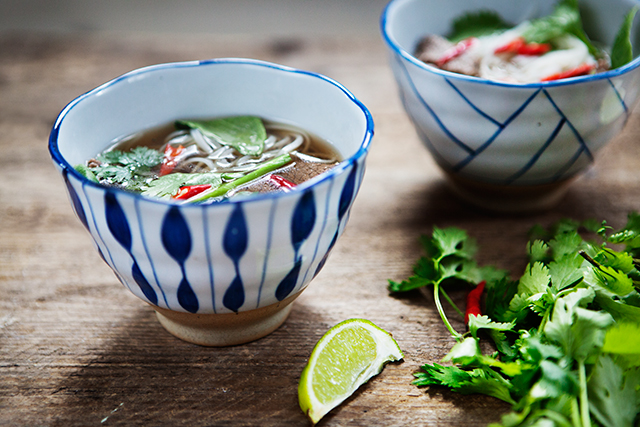 All bowls and plates in this post are courtesy of House Doctor
|
Published on June 30, 2014
|
Noodle Soup
Comments - I would love to hear from you