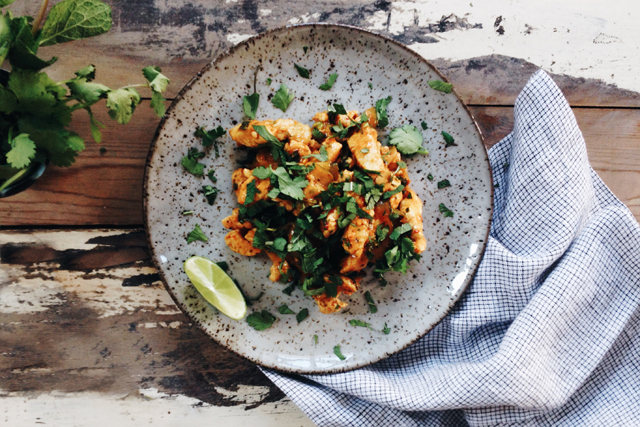 Last night I threw together this dish and I have no idea what to call it.
It's not a Curry even though there is curry powder in it and it isn't Mexican even though there is both cilantro and lime in the mix.
Therefore I call it Spicy Stir Fry – even though it isn't Asian at all.
This Stir Fry takes only 15 minutes to make, including prep – and if you don't want it spicy, just skip the chili.
If you want the dish more "wet" you could add more lime juice or few tablespoons of either coconut-milk or low fat cream.
You can serve this dish with all kinds of flat bread, with a mango salad, in a bun or with rice, quinoa or cauliflower.
Bon Appetit!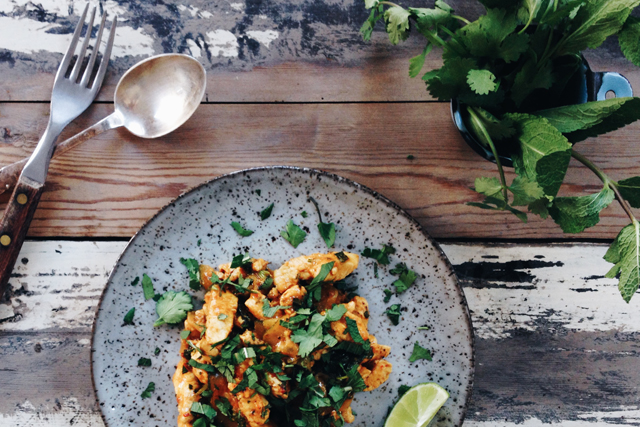 Recipe: Spicy Stir Fry
Ingredients
500 g (1 pound)

turkey breast, cut into pieces

1/2

medium sized zucchini

1

onion

2 tbsp

oil

1 tsp

salt

1 tsp

black pepper

1/2 tsp

yellow curry powder

1/2 tsp

paprika

1/2 tsp

garlic powder

1 tsp

cumin

1 tsp

coriander

1/2 - 1 tsp

dried chili flakes

handful

fresh parsley

handful

fresh cilantro

handful

fresh mint
Directions
heat the oil in a skillet over medium heat.
Add all the dry spices and give them a quick roast
Chop the onion and add to the spices
Add the meat and give it a quick stir and make sure all the pieces are coated with spices
Slice the zucchini into thin slices and add to the skillet
While the meat is cooking, roll the fresh herbs into a bundle and chop finely
Take the skillet off the heat and add the lime juice and herbs. Give a quick stir and serve imediately
Serve with rice, quinoa, bulgur or cauliflower
|
Published on May 2, 2014
|
Spicy Stir Fry
Comments - I would love to hear from you