Rhubarb Syrup is not only pretty and pink, it's delicious and you can use it for basically everything! Rhubarb Cocktails, Soda, on your Pancakes, in Cakes, in Smoothies, Margaritas, on Yogurt, in Salads….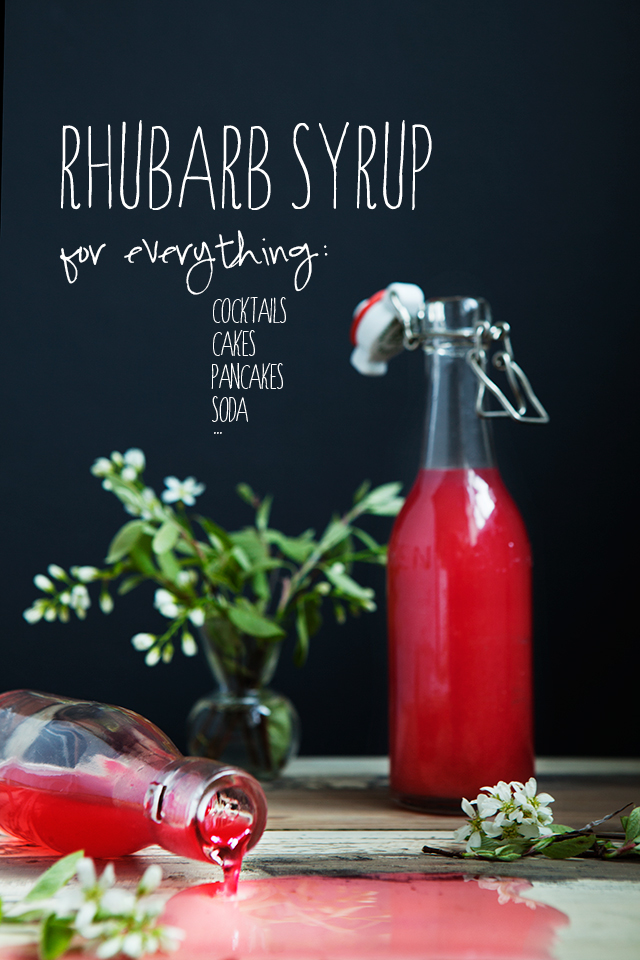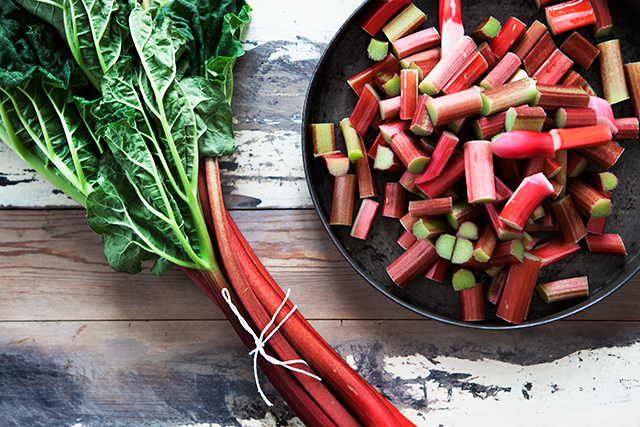 Rhubarb is super easy to grow, and it is one of the first things you can harvest from your garden in the Spring. Rhubarb is also a popular ingredient in the New Nordic Cuisine along with Dill, Beets and Liquorice.
There are many different types of Rhubarb, but the most common are the red and the green ones. I highly recommend using the red one, since it is sweeter and has more appealing color. (The green one becomes dark brown when cooked)
Rhubarb Leaves can contain oxalic acid, which is fatal to people when consumed in large amounts. In World War I Rhubarb Leaves were recommended as a food source in Britain and Oxalic Acid Poisoning killed a lot of people. So don't eat the leaves kids!
Making Rhubarb Syrup and Compote at the same time is a great use of the whole rhubarb, and nothing goes to waste!
Don't forget to try out my Rhubarb Collins Long Drink – Perfect for the weekend!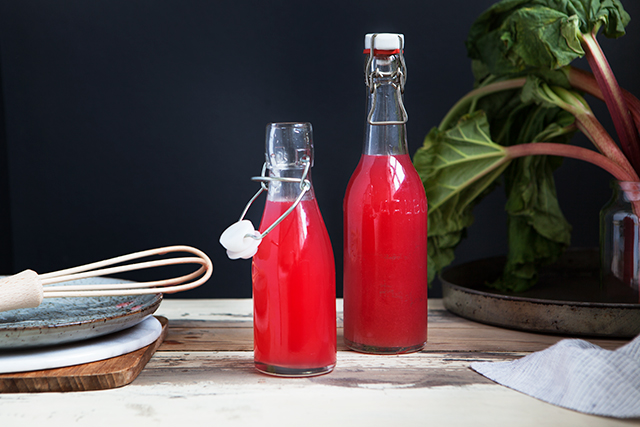 Recipe: Rhubarb Syrup
Make sure you do not discard the rhubarb after cooking it – Make a Compote! If you are using frozen Rhubarb make sure it is completely thawed.
Ingredients
500 g (1 pound)

Rhubarb

6 tbsp

Sugar

2.5 dl (1 cup)

Water

Few leaves of

Mint

2 strips

Lemon Zest
Directions
Roughly chop the Rhubarb into 2.5 cm (1 inch) pieces
Throw Rhubarb, sugar and water into a saucepan and simmer until rhubarb has softened and the sugar has completely dissolved
Sift the liquid into a clean pan set the Rhubarb a side and follow my Recipe for Compote to finish that
You might want to strain the syrup a few times to make sure it is completely clear!
Chop few mint leaves and cut thin strips of lemon zest and add to the syrup
Bring to the boil and let simmer for few minuets or until the syrup starts to thicken
Turn off the heat and let it steep until the liquid completely cold
sift one more time and discard lemon and mint leaves
Pour into a clean and sterilised jar and store in the fridge for up to 4 days, or in the freezer for up to 4 weeks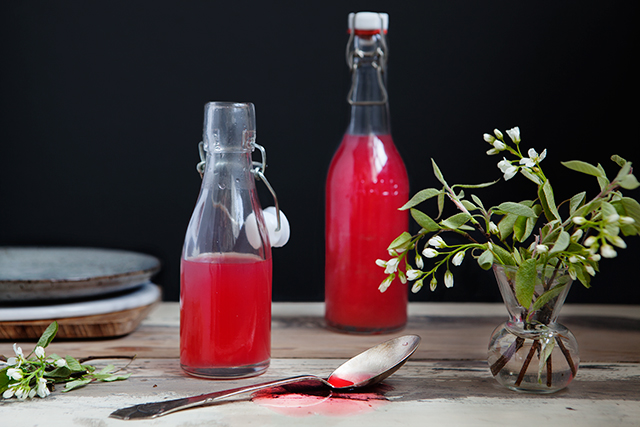 |
Published on April 26, 2014
|
Rhubarb Syrup Recipe
Comments - I would love to hear from you