I got a request from a reader to share a snack recipe that will go well with the friday night cocktail. So instead of giving you a drink recipe, like past few fridays, I present to you the elegant and delicios French Macaron.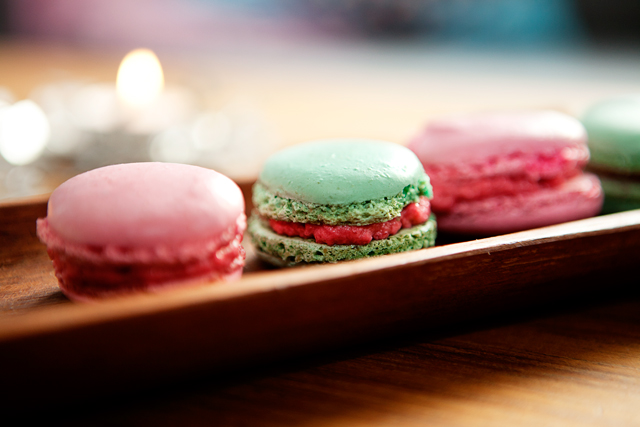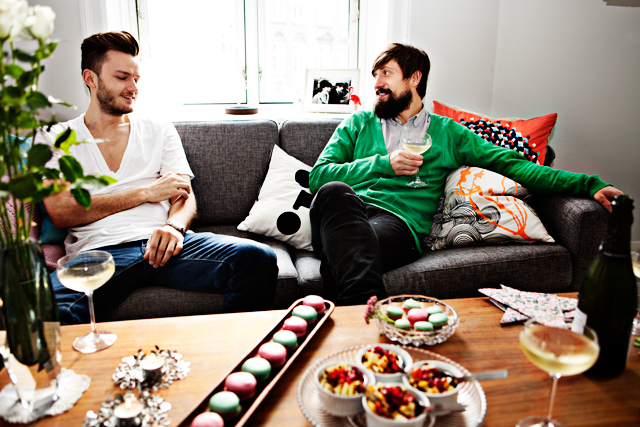 On a sunny saturday afternoon we had dear friends over for some desserts and bubbles. I wanted to keep it simple and light, and served them a fresh fruit salad and homemade French Macarons with Raspberry mousse filling.
Remember my birthday cake with the Raspberry Mousse? Well when I made that cake I had some mousse left over, so I decided to store it in the freezer, and that sure came in handy when choosing a filling for my macarons. The mousse had the perfect consistency and added delightful sourness to weigh up against the sweet almond cakes.
If you don't have mousse in the freezer, I recommend making a simple chocolate ganache (recipe below) or even take a short cut and use store bought Nutella.
French Macarons – Makes 35 pieces
(From Martha Stewart)
2.5 dl powdered sugar
2 dl almond flour
2 large egg whites, room temperature
Pinch of cream of tartar
0.5 dl sugar
Food color
1. Mix powdered sugar and almond flour until combined. Sift mixture 2-3 times!
2. Preheat oven to 160 degrees C.
3. Whisk whites with a mixer on low speed until foamy. Add cream of tartar, and whisk on medium speed until soft peaks form. Then add the sugar. Increase speed to high, and whisk until stiff peaks form, about 5 minutes. Do not whisk them completely dry like you would if you were making a meringue, the mass should fold beautifully and hang from the mixer when you remove it
4. When stiff, I divided my egg whites into two bowls and gave one batch some red food color for pink and the other little yellow and blue for green.
5. Sift flour/sugar mixture over whites, and fold carefully. You want the mixture well folded together, but it should be a little bit grainy and not completely smooth, otherwise the cakes will crack.
6. Transfer batter to a pastry bag fitted with a 1 cm plain round tip, and pipe 2 cm rounds 1 cm apart on parchment-lined baking sheets, dragging pastry tip to the side of rounds rather than forming peaks.
7. Tap bottom of each sheet on work surface to release trapped air. Let stand at room temperature for 15 minutes. Tap again before putting in the oven.
8. Place in the oven and immediately reduce oven temperature to 140 degrees C.
Bake 1 sheet at a time, until macarons are crisp and firm, about 18-20 minutes (I baked mine for 19).
After each batch, increase oven temperature to 160 degrees C, heat for 5 minutes, then reduce to 140 degrees.
9. Let macarons cool on sheets for 2 to 3 minutes, then transfer to a wire rack. (If macarons stick, spray water underneath parchment on hot sheet. The steam will help release macarons.)
Raspberry Mousse – This a a large recipe meant for a whole cake. It can easily be stored in the freezer so I recommend making this whole batch and store the leftovers. If you only want to make enough for Macarons, you should only make 1/3 of this recipe
500 g (1 pound) Raspberries (I used frozen)
5 gelatin sheets (2 tsp powdered gelatin)
2 pasteruset egg whites
1 dl (0.4 cup) sugar
2 dl (0.8 cup) heavy cream
0.5 dl (3.5 tbsp) powdered sugar
Zest of 1/2 lime
Juice from 1 lime
1. Thaw the berries and mash them through a fine strainer. This takes time so be patient. When you are done you should have about 4 dl of raspberry purée. Toss the seeds
2. Put the gelatin leaves in cold water and let them be
3. Whisk the egg whites with 1 dl of sugar. Whisk until they are stiff but not completely dry
4. Stir the lime zest, lime juice and powdered sugar into the raspberry puré
5. Mix the raspberry/lime puré with the egg whites
6. Whip the heavy cream in a separte bowl
7. Over low heat in a small sauce pan melt, the now soft gelatin sheets, with little water
8. Pour a little of the rasperry/egg mix to the now dissolved gelatin and mix together until combined
9. Now in a steady stream, while stirring constantly, pour the gelatin into the raspberry/egg mixture
10. Gently fold in the whipped cream
11. Cool until firm or freeze

Chocolate Ganache
2.5 dl heavy cream
100 g dark chocolate, finely chopped (preferably 70 percent cacao)
15 g unsalted, softened butter
1. Bring cream to a boil in a saucepan over medium-high heat
2. Pour cream over chocolate in a heatproof bowl. Let stand for 2 minutes
3. Add butter, then whisk mixture until smooth
4. Let cool, stirring often. Use immediately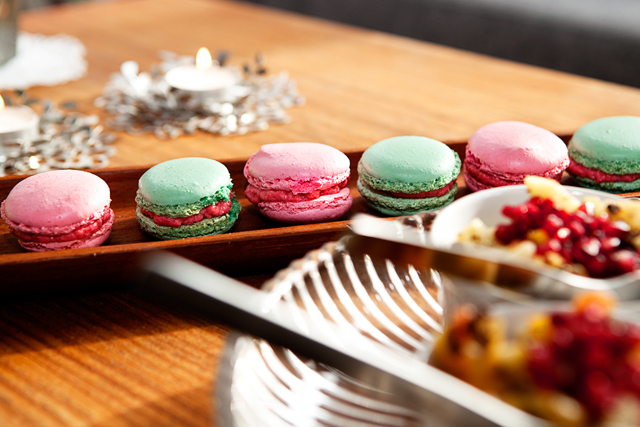 |
Published on October 26, 2012
|
Friday Night – Cocktail Night : French Macarons
Comments - I would love to hear from you