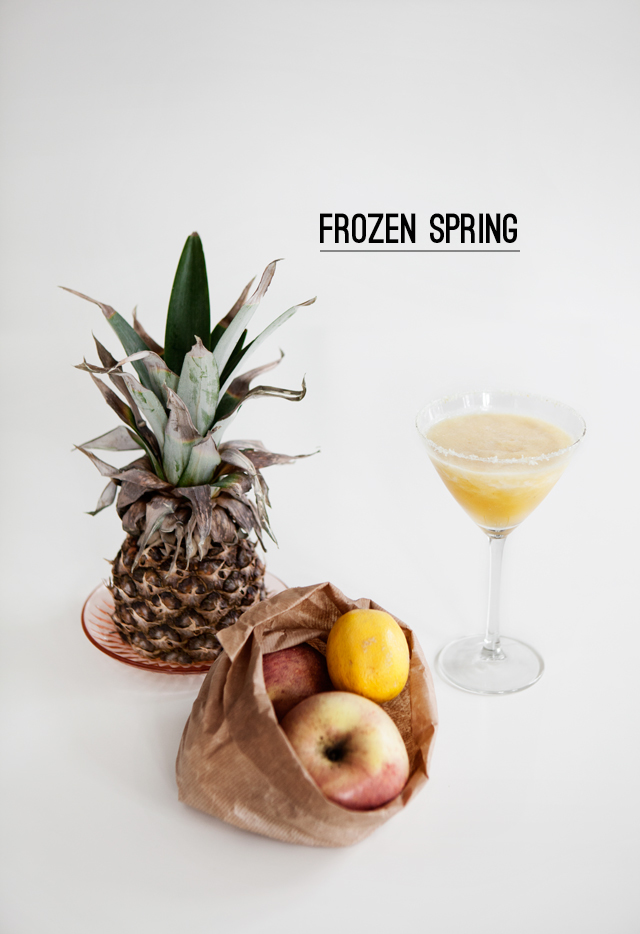 Is it just me or has this winter been very long and extremely cold? Well, I am pretty sure I am not the only one out there dreaming of warmer days and lighter clothes, and therefor I created the perfect season cross-over Cocktail. A drink that combines the warmth of a fire place and the freshness of spring. I call it Frozen Spring! This is what you need for this Fresh and Frozen Season Cross-Over Cocktail: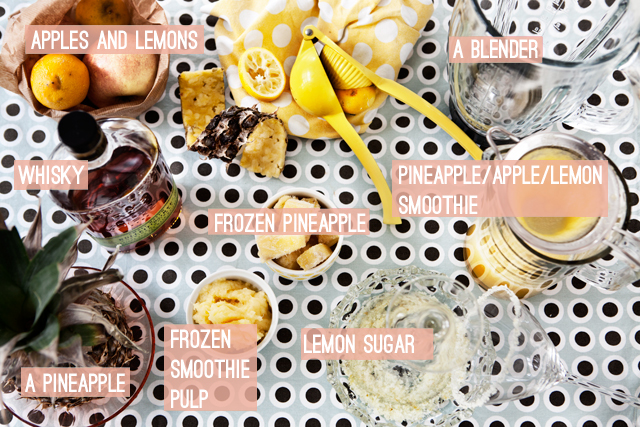 This recipe is easy, even though it might seem like a lot of ingredients, you can make everything a day or two in advance, so no stress! And the best thing is that this drink has no added sugar, only fresh fruit and whisky. This Whisky Cocktail is excellent as a pitcher and if you are serving many people and a lot can be prepared in advance. But here is the recipe for a single drink, do the math your self and double it, triple it….
Fun Fact: When I have fruit that are becoming soft and I know that I will not eat them before they go bad, I peel them, cut them in pieces and throw them in a plastic bag and into the freezer. Perfect for morning smoothies or mixed drinks!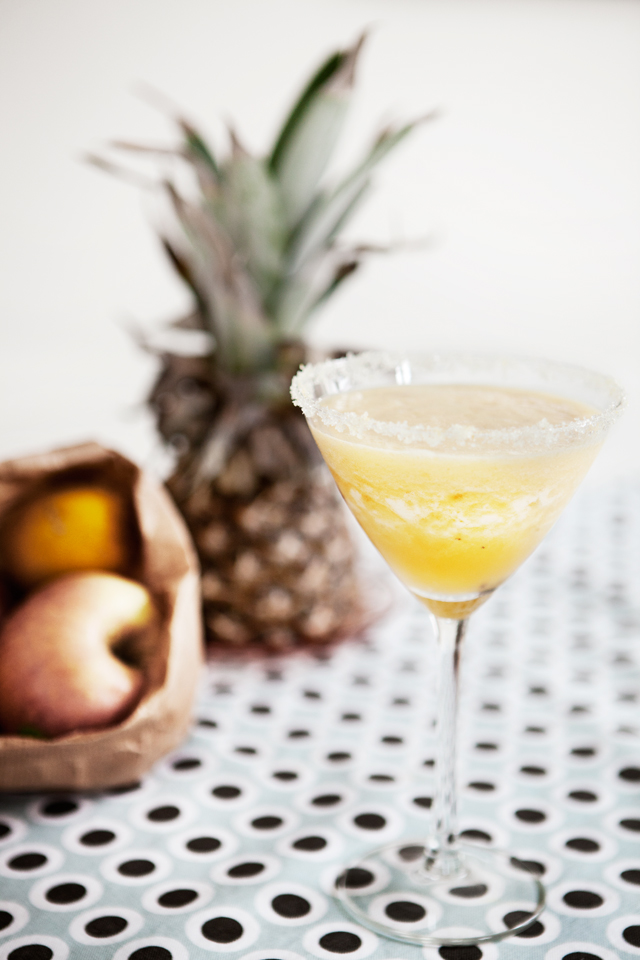 Frozen Spring (A Whisky Cocktail)
4 cl (1.5 ounces) Whisky, Bourbon, Rye.. what ever kind of Whisky you enjoy
8 cl (3 ounces) Pineapple/Apple/Lemon Smoothie *recipe further down
4 cl (1.5 ounces) Frozen Smoothie Pulp *recipe within the smoothie recipe
Few Ice cubes Frozen Pineapple pieces (if you don't have frozen pineapple, use more frozen pulp and more ice cubes)
1. Put everything in a blender and serve ice-cold in a Martini Glas
2. If you are feeling fancy dip the rim of the glas in some sugar with lemon zest in it

Pineapple/Apple/Lemon Smoothie
1/2 pineapple
1 large apple (I used Fuji)
Juice from two small lemons
1. Blend until smooth
2. Then strain the smoothie
3. Throw the pulp in a plastic bag and into the freezer
4. Store the strained smoothie in the fridge for up to 3 days
|
Published on February 22, 2013
|
Frozen Spring (A Whisky Cocktail)
Comments - I would love to hear from you