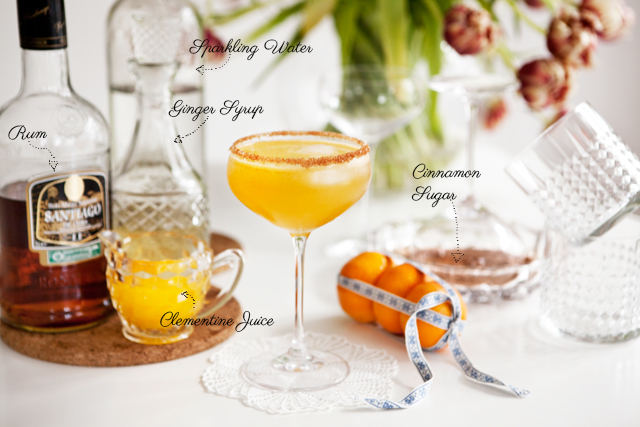 It is Friday once again and that means a new cocktail recipe to kickstart your weekend.
Today I made a simple rum based cocktail with clementine and ginger, served in a cocktail glass with cinnamon-sugar on the rim.
The sweetness of the Rum, the spiciness of the ginger and the sourness of the clementine go perfectly together with that hint of cinnamon you get with every sip.
Have a wonderful happy weekend ya'll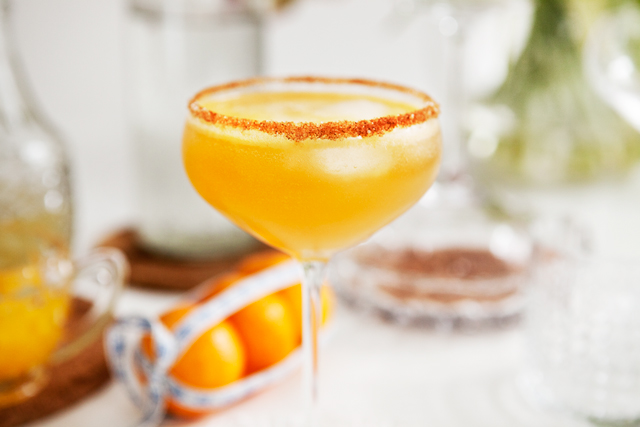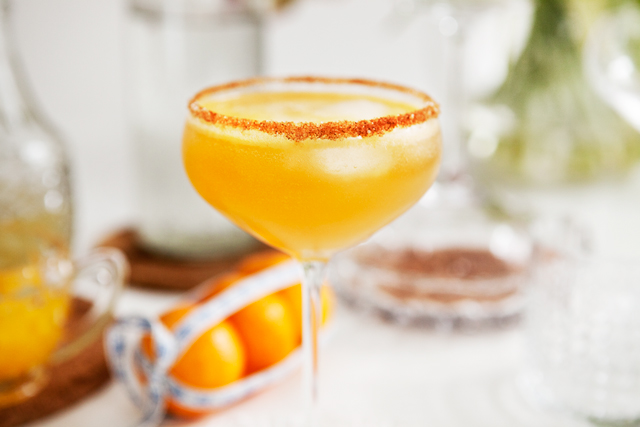 Recipe: Ginger Rum Cocktail
A balanced drink that suits both tired housewives, the feinschmeckers, the businessmen and the regular Johns and Maries.
Ingredients
4 cl

dark rum (I used Santiago De Cuba 11 years)

4 cl

freshly squeezed clementine juice

4 cl

ginger syrup (recipe below)

4 cl

Sparkling water (just a dash)

2 tbsp

Sugar

2 tsp

Cinnamon
Directions
On a flat plate mix together sugar and cinnamon
Wet the rim of the glass with water or rum, then dip it into the cinnamon-sugar
Fill a cocktail shaker with ice and shake together rum, ginger syrup and clementine juice
Strain the drink over to ice-cubes into the prepared cocktail glass
Fill the glass up with sparkling water (around 4 cl)
Ginger Syrup recipe (you can keep it in the fridge for 2 weeks)
2.5 dl (1 cups) sugar
2.5 dl (1 cups) water
100 g ginger
1. Combine water and sugar in a medium size sauce pan and over low heat dissolve the sugar
2. Add the ginger
3. Let it simmer for 5 min then turn the heat off
3. Let the syrup rest and cool for at least one hour
4. Strain the syrup and toss the ginger
5. Pour into a bottle and refrigerate
|
Published on November 9, 2012
|
Ginger Rum Cocktail
Comments - I would love to hear from you