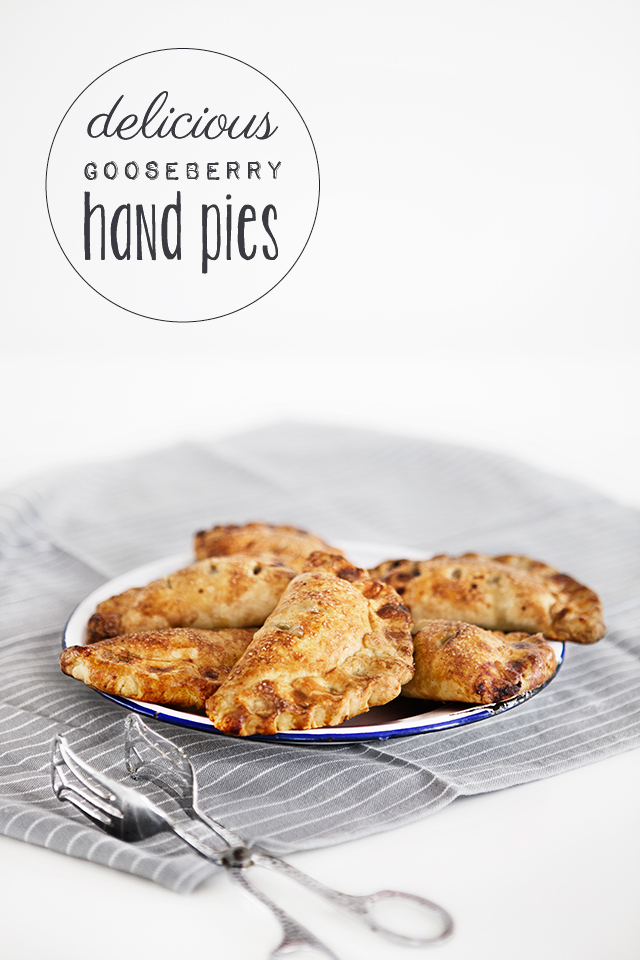 These Gooseberry Hand Pies are not only pretty and delicious, they are simple to make and everybody loves them. Not to sweet and not to sour, simply perfect!

And believe me, your friends will love you a whole lot more if you bring a bag of these babies next time you are having morning coffee  ♡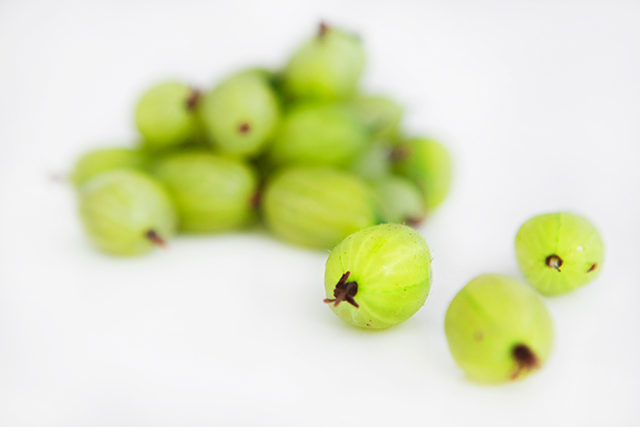 I love eating with my hands and I find the idea of hand food very intriguing and fun. But if you disagree you can easily use this recipe and make a whole pie, and you can use any filling you like, sweet or savoury,
Gooseberries are great for jams, tarts and pies. Green Gooseberries are more sour than sweet with fresh hint of citrus, a little bit like rhubarb. Where as red Gooseberries are sweet and more berry like.
This pastry recipe is amazingly simple, the dough is smooth and elastic and comes super crisp out of the oven. Remember to press the dough well together so the filling doesn't burst out while you bake them. And don't forget the three air holes to let the steam out while they are baking.
The Pies are best when they are warm, but if you bake them in advance you can simply throw them in a hot oven for few minutes to warm them up.
You can also freeze the pies "raw" and then bake one or two at a time.
Fun Fact: 'Gooseberry bush' was 19th-century slang for pubic hair – hence the old saying: 'Born under a gooseberry bush.'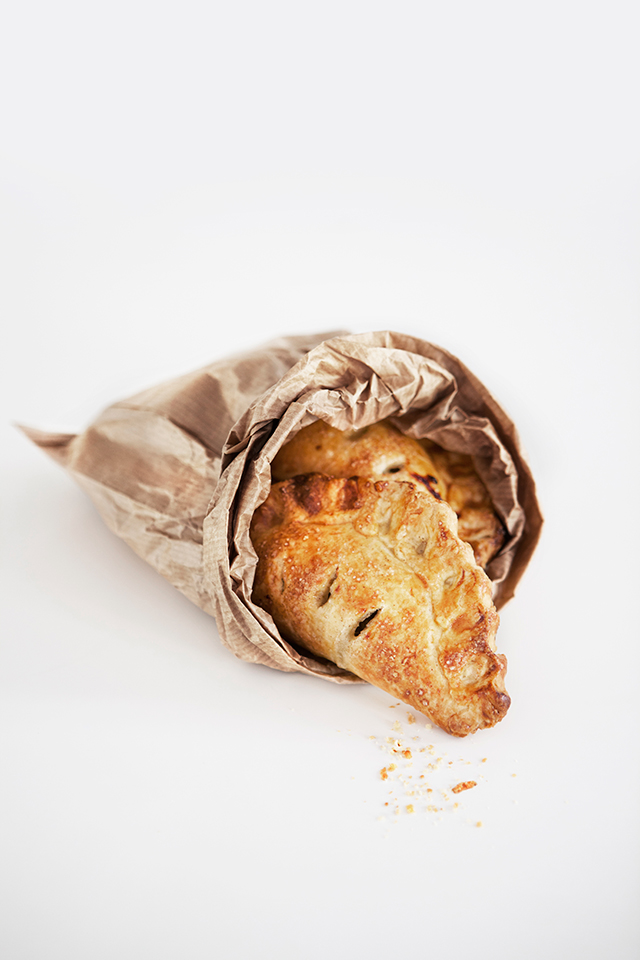 Recipe: Gooseberry Hand Pies
Makes 6 large or 12 small hand pies (turnovers)
Ingredients
5 dl (2 cups)

Flour

115 g (1 stick)

Ice cold butter

1 tbsp

Sugar

1 tsp

Salt

6 tbsp

Ice cold water

1

Egg (for egg-wash)
Directions
Pulse flour, butter, sugar and salt in a food processor until you have "sand" consistency
Add the ice cold water and pulse until the dough starts to stick together
Pour the dough on a clean surface and press it together. Do not knead the dough, simply press the crumbs together
Wrap the dough into plastic film and place in the fridge for minimum one hour, preferably over night
Devide the dough into 6 pices and roll to 12 cm (4,5 inch) rounds
Place 2 tbsp filling in the middle and fold the dough over. Fold the dough 1 cm (0,4 inch) short, so that the you can still see 1 cm of the bottom layer. Gently press dough closed around filling, using your fingertips.
now fold the 1 cm (0,4 inch) overhang over again and press down
To make the crimped edge place thumb and forefinger of one hand on the edge and use your index finger on the other hand to push a small notch into the pinched dough. Continue pinching and notching all the way around
Whisk the egg lightly and brush on top of the pies. If you like cinnamon you can easily sprinkle some on top now
Cut 3 air holes on top of each pie
Bake at 200°C (400°F) for 25 minutes
Filling
300 g (10 ounces) Gooseberries
1/2 dl (3,5 tbsp) Sugar
1 tbsp Corn Starch
Splash of port or sherry
1. Place the Gooseberries in a saucepan and sprinkle the sugar over the berries
2. Turn the stove on medium heat. Shake the pan gently from time to time
3. When the sugar has melted and the berries have softened sprinkle the corn starch over. Stir gently but try not to stir to much, you want to keep the berries whole and not make a jam
4. Add the port or sherry
5. Place in a bowl and store in the fridge until ready to use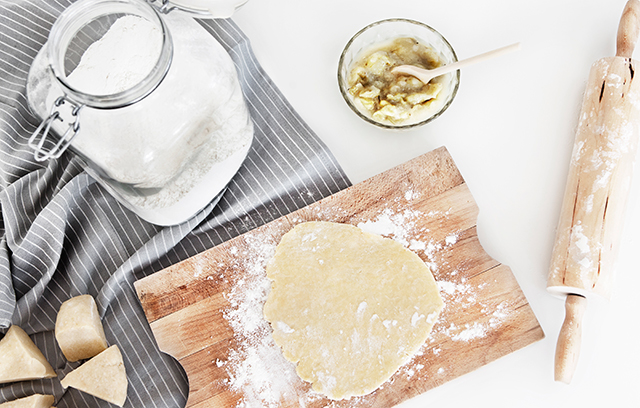 |
Published on August 18, 2014
|
Gooseberry Hand Pies
Comments - I would love to hear from you