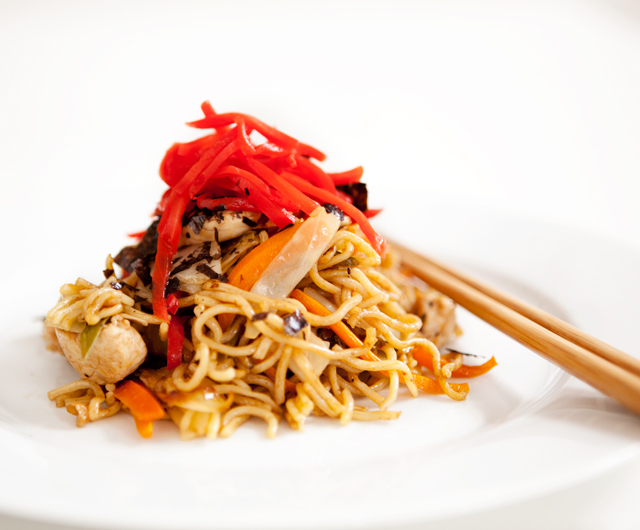 Japanese food is not only fresh and healthy, it is also super easy to make. (One tends to forget that the Japanese kitchen can produce other things than sushi)
One of my dearest friends is Japanese, and through the years she has made me some of my favorite dishes and taken me places that serve traditional Japanese food and truly opened my eyes for new culinary experiences.
So when trying out Japanese cooking, I have her on speed dial while at the same time I watch You Tube tutorials in Japanese – A confusing process, but it works.
My greatest success so far is Yakisoba – Fried noodles with chicken or tofu, crisp veggies and pickled ginger on top.
Few Tips:
– I am so lucky to have a Japanese shop in my city, but you should be able to get all these ingredients at a traditional Asian supermarket
– Slice all the ingredients into same size pieces so they will cook evenly
– If you can not find soba noodles, use ramen noodles instead and cook them as described on the package. If you can get your hands on fresh soba noodles, use them!
–  You can buy Yakisoba Sauce or make your own
– I crumble nori sheets (sushi seaweed) on top instead of buying other type of seaweed
– If they do not have red ginger at your Asian market, use sushi ginger and cut it to small pieces before drizzling on top
– Asian food is very often made on high heat and Yakisoba is no exception, so keep stirring so you wont burn the dish to ashes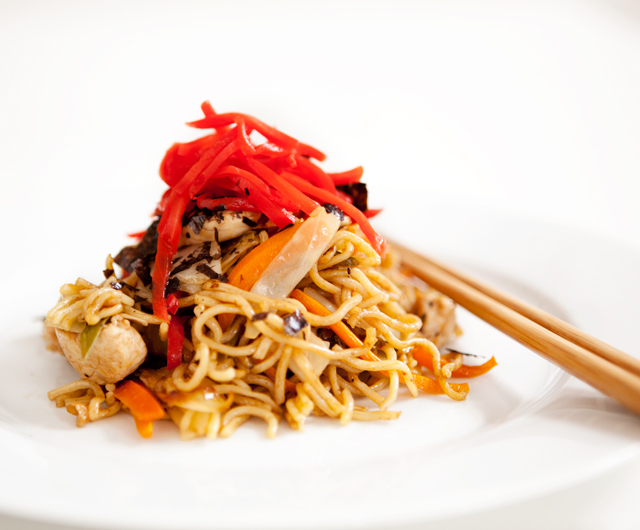 Recipe: Yakisoba
 Serves 4 (and you should have leftovers for lunch the following day) Yakisoba Sauce
1 Tbsp. Worcestershire sauce
1 tsp. oyster sauce
1 tsp. ketchup
1/2 tsp. soy sauce
1/2 tsp. sugar 1. Combine all the ingredients in a small bowl and whisk together. Adjust the sauce according to your liking
Ingredients
250 g dry / 500 g fresh (8 oz dry / 16 oz fresh)

Soba Noodles

300 g (0.5 pounds)

Chicken or Tofu

2

medium carrots

a good slice of white cabbage

2

scallions

4 tbsp

Yakisoba Sauce*

Dried Seaweed (nori)

Red pickled ginger
Directions
Cook the noodles as described on the package. If you are using fresh noodles you do not have to cook them
Slice the chicken into small pieces
Stir fry it in vegetable oil, salt and pepper well
Remove the chicken from pan and throw in the veggies (all cut into similar sizes)
When the veggies have softened up a little bit add the chicken back to the pan
Add the noodles. If you are using fresh noodles pour a little water over them and loosen them apart with chopsticks
Patiently mix the noodles and veggies and add the Yakisoba sauce
Place on plates and sprinkle some nori and ginger on top
|
Published on October 30, 2012
|
Homemade Dinner – Japanese Yakisoba
Comments - I would love to hear from you