Recently I turned 31 – No big thing – but since I love being a birthday girl, I decided to invite my girlfriends over for desserts and champagne-cocktails.
One of the deliciousness I served that night was a gorgeous three layered raspberry/white chocolate cake.
It was not only stunning to look at, but really fresh in flavor and light in texture. I highly recommend this fluffy beauty as a dessert after a heavy meal or on occasions where you wanna slide over to the fancier side.
Are you ready to blow your guests mind?
This cake is not difficult to make, but it is not as simple as many of my earlier recipes. It is also pretty time consuming recipe, but with good planning and a dash of patience everything is possible.
Remember that you can make the cake up to one week in advance, just store it in the freezer until 5 hours before serving.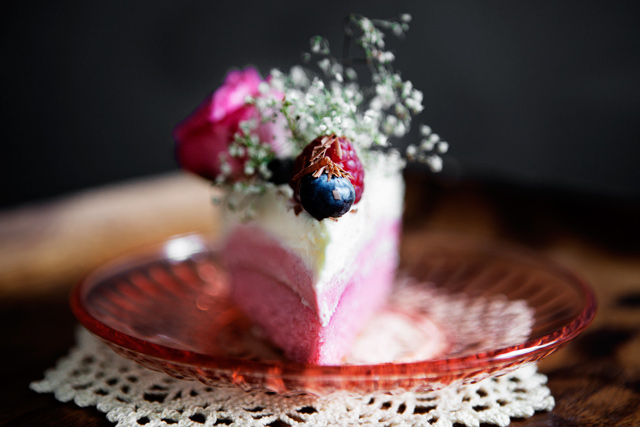 Bottom layer – The Cake (it is a small recipe since you want this layer to be thin so there is room for double mousse layers)
25 g (1.5 tbs) butter
3 eggs (at room temp)
3/4 dl (1/4 cup) sugar
1 tsp vanilla
pinch of salt
1.5 dl (1/2 cup) siftet flour
Few drops of food coloring (Only if you feel like pimping the cake up up – I used red)
1. Preheat the oven to 180 C (350 F)
2. Grease and flour a 22 cm (9 inch) cake pan
3. Melt the butter in a small saucepan over low heat
4. With your KitchenAid mix eggs, sugar, vanilla and salt until it has tripled in volume, it takes about 4 to 5 minutes
5. Fold the flour, one third at a time into the egg mix
6. Pour about 1 dl of the batter into the melted butter and fold until combined
7. Return the butter mix to the batter, and again fold to combine
8. Pour batter into prepared pan
9. Bake for 18-22 minutes (depends on your oven) or until top springs back slightly when lightly touched
10. Cool completely. Remove from cake pan and wash the pan. Place the cake back in the pan when cold
Raspberry Mousse
500 g Raspberries (I used frozen)
5 gelatin sheets (2 tsp powdered gelatin)
2 pasteruset egg whites
1 dl sugar
2 dl heavy cream
0.5 dl powdered sugar
Zest of 1/2 lime
Juice from 1 lime
1. Thaw the berries and mash them through a fine strainer. This takes time so be patient. When you are done you should have about 4 dl of raspberry purée. Toss the seeds
2. Put the gelatin leaves in cold water and let them be
3. Whisk the egg whites with 1 dl of sugar. Whisk until they are stiff but not completely dry
4. Stir the lime zest, lime juice and powdered sugar with the raspberry puré
5. Mix the raspberry/lime puré with the egg whites
6. Whip the heavy cream in a separte bowl
7. Over low heat in a small sauce pan melt, the now soft gelatin sheets, with little water
8. Pour a little of the rasperry/egg mix to the now dissolved gelatin and mix together until combined
9. Now in a steady stream, while stirring constantly, pour the gelatin into the raspberry/egg mixture
10. Gently fold in the whipped cream
11. Pour your mousse (pretty liquid, will set when cold) over the cake. Remember to leave space for the white chocolate mousse
12. Place in the freezer and do not make or pour the white chocolate mousse over until completely frozen
White Chocolate Mousse
150 g White Chocolate
0.5 dl whole milk
2 egg yolks
1 tsp vanilla
3.5 dl Heavy Cream
2 Gelatin sheets (1tsp powdered)
1. Melt the chocolate super slowly over water bath
2. Put the gelatin sheets in cold water to soften them up
3. Hand wisk together milk, egg yolks and vanilla
4. Whip the heavy cream in a separate bowl
5. When the chocolate is melted and cooled!!, stir it together with the eggs
6. Melt the geleatin in tiny spalsh of milk
7. Pour a little of the chocolate/egg mix to the now dissolved gelatin and mix together until combined
8. In a steady stream, while stirring constantly, pour the gelatin into the remaining choco/egg mixture
9. Gently fold the whipped cream into the mix
10. Pour your mousse over the now frozen rasbberry mousse
11. Place in the freezer until 5 hours before serving, then thaw it up in the fridge for 5 hours
12. Decorate with fresh berries, dark chocolate and flowers. For old fashioned look you can sift a little powdered sugar over the whole cake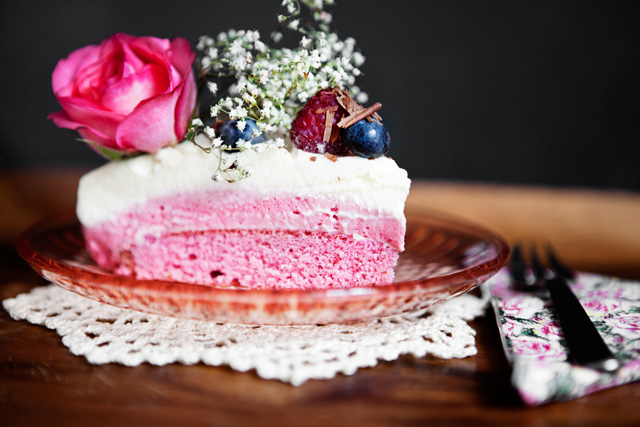 |
Published on September 21, 2012
|
Layered Raspberry-White Chocolate Mousse Cake – Recipe
Comments - I would love to hear from you