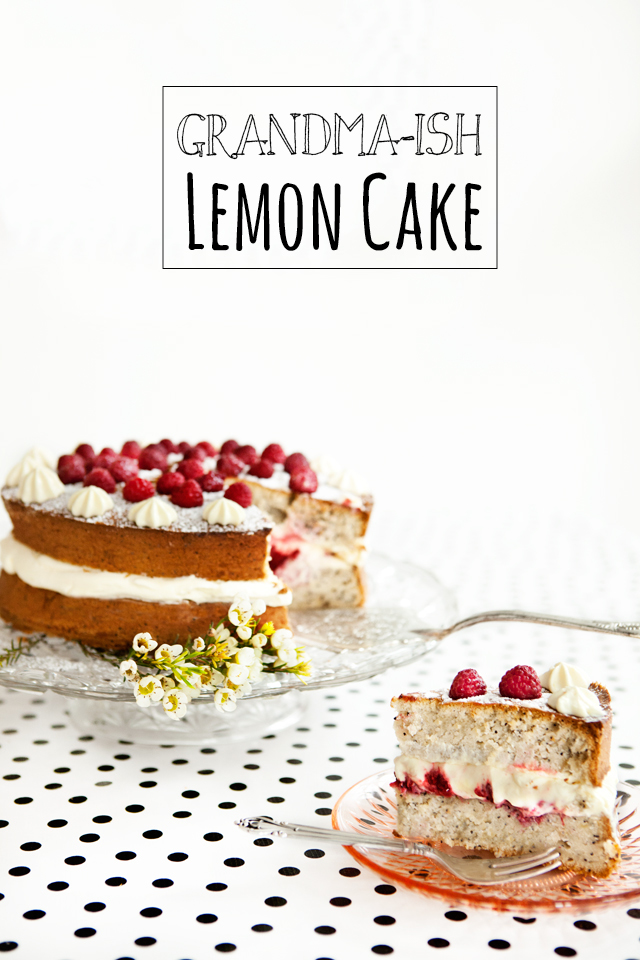 There is nothing fancy about this Lemon Cake and in fact it is a little bit grandma-ish, but it tastes like the freshness of spring and I can not imagine anyone not loving it's citrusy flavor and fluffiness.
This cake is very big (serves 10-12) and is perfect for this easter's family gathering, as dessert or even together with the afternoon tea.
The recipe isn't new here at Modern Wifestyle, at least not for those of you who read the blog last easter. The cake is simply the same as I made for my guests then, but now with delicious filling and in an all over improved and better version.
Lemon Cake Recipe
240 g (2 sticks) butter
3.5 dl (1.5 cups) light cane sugar
1 vanilla bean
2 tsp baking powder
540 g (4 cups) flour
20 g poppy seeds
zest and juice from 2 organic lemons
3.5 dl (1.5 cups) milk
8 egg-whites
1. Preheat the oven to 160°C (320°F)
2. Whip butter and sugar until light and fluffy
3. Mix the vanilla in the suger/butter
4. In a separate bowl mix together flour and baking powder, then add poppy seeds and lemon zest
5. Add the flour mix, milk and lemon juice in the butter/sugar. Do: wet-dry-wet-dry…
6. In another bowl whip the egg-whites super stiff (you should be able to turn the bowl up side down with out them moving at all)
7. Fold the egg-whites in the batter
8. Grease a baking pan (23-25 cm wide) with some butter and sprinkle it with sugar
9. Bake the cake for 120 minutes (or until a tooth pick comes out clean) in the middle of the oven
10. When the cake is completely cool, divide it into two halves using a tread of some kind (I always use flavorless and clean dental floss)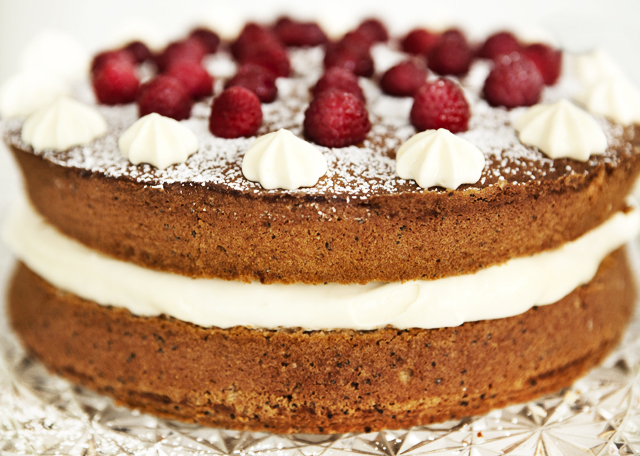 Mascarpone/Lemon Curd Filling
1 dl (0.4 cup) Sugar
1 dl (0.4 cup) Lemon Juice
Zest of 1 Lemon
2 Eggs
2 Egg Yolks
30 g (1/4 stick) Butter
250 g (8 ounces) Mascarpone Cheese
2 dl ( 3/4 cup) Heavy Whipping Cream
1 tbsp Powdered Sugar
Lemon Curd
1. Whisk sugar, lemon juice, zest, eggs and yolks together in a bowl
2. Place the bowl over a water bath and whisk constantly for about 10 minutes or until thickened and a thermometer inserted into mixture registers 70°C (160°F)
3. Remove bowl from heat and add butter; whisk until melted
4. Press plastic film over curd and place in the fridge for at least 4 hours. Can be made 3 days ahead. (If you are in a hurry you can also place it in the freezer for 1.5 hours and you will be fine)
Filling and Decoration
1. Beat whipping cream and powdered sugar in large bowl until peaks form
2. In a separate bowl whisk together mascarpone and lemon-curd until blended
3. Fold the whipped cream into lemon curd/mascarpone mixture
4. Spread the filling evenly between the layers, if you feel like it, throw in some raspberries in there as well
5. dust the cake with powdered sugar and decorate with fresh flowers and raspberries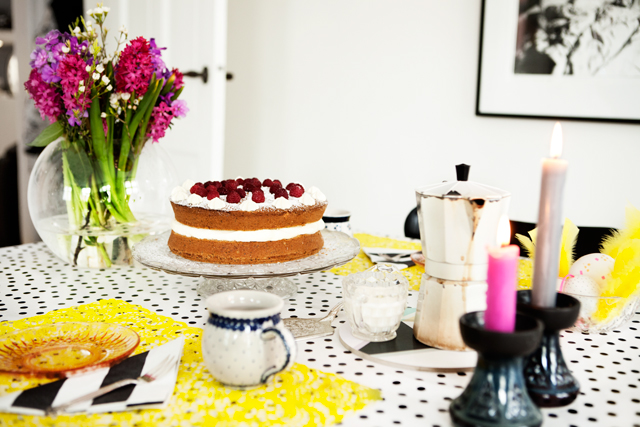 |
Published on March 24, 2013
|
Lemon Cake for Easter
Comments - I would love to hear from you