Here is my perfect Lemon Sponge Cake Recipe for easter and spring!
With hints of marzipan and silk smooth white chocolate and mascarpone frosting. A super yummy cake that is easy to make with foolproof genoise sponge.
Decorate it with fresh berries and flowers and make an entrance at this years family gatering!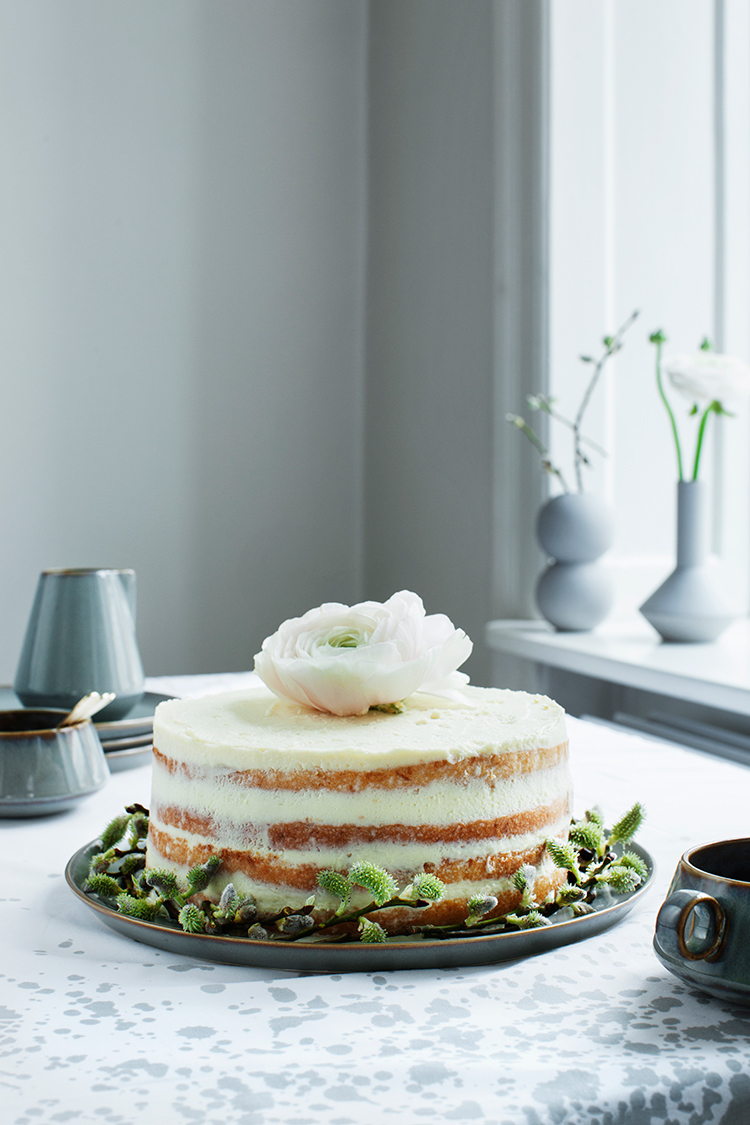 The Genoise Sponge is the easiest one out there in my opinion. It uses whole eggs (no separating yolks from whites) and no baking powder. Rule of thumb is equal weight of sugar and flour, whisking the eggs and sugar for at least 10 minutes and not opening the oven while they bake. If you do that, it can't go wrong!
You can easily freeze the sponges for up to 4 weeks. Just make sure to wrap them properly and lay them flat.
The recipe makes two thick bottom layers, I always divide them into two, so that I have four thin layers to work with. You do not have to do that, but it gives the cake a better structure.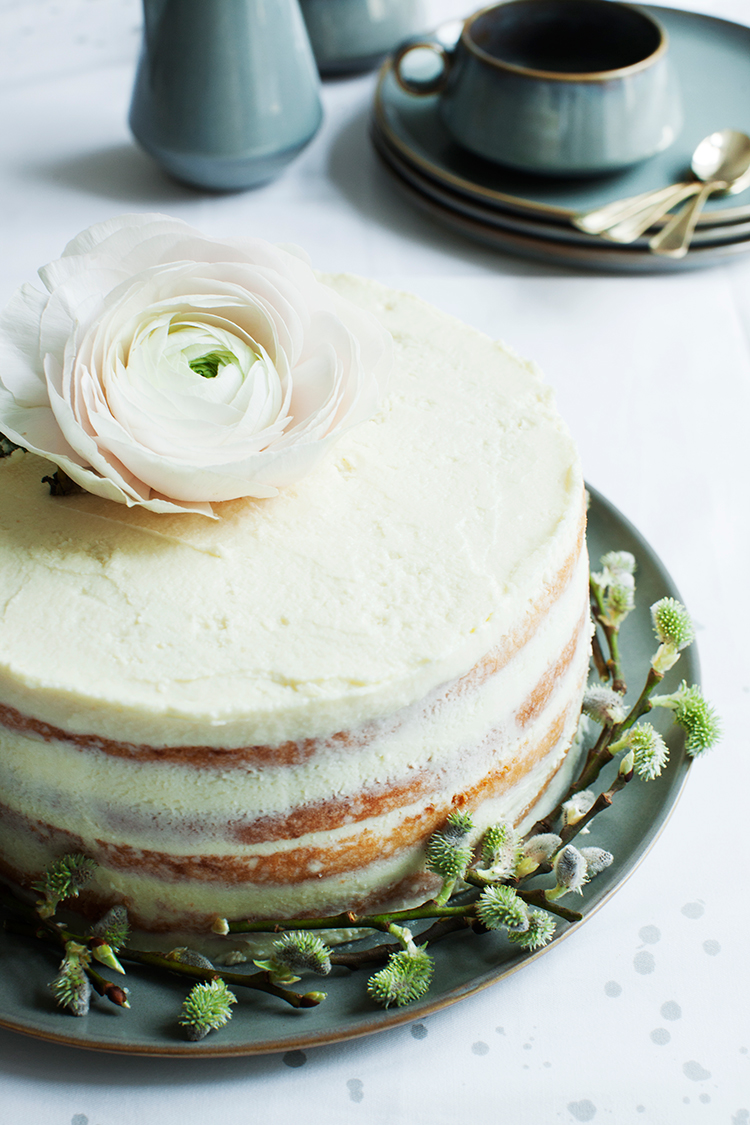 This Lemon Cake makes the perfect dessert after my flavorful Middle Eastern Leg of Lamb and Lentil Salad Recipe. The cake is not too sweet and the white chocolate and mascarpone frosting bring freshness with its slight hint of salt.
If this years Lemon Sponge Cake Recipe doesn't tempt you check out last year's cake: Icelandic Skyr Cake or my always popular Chocolate Cake with Salted Caramel Frosting.
Happy Easter Everyone!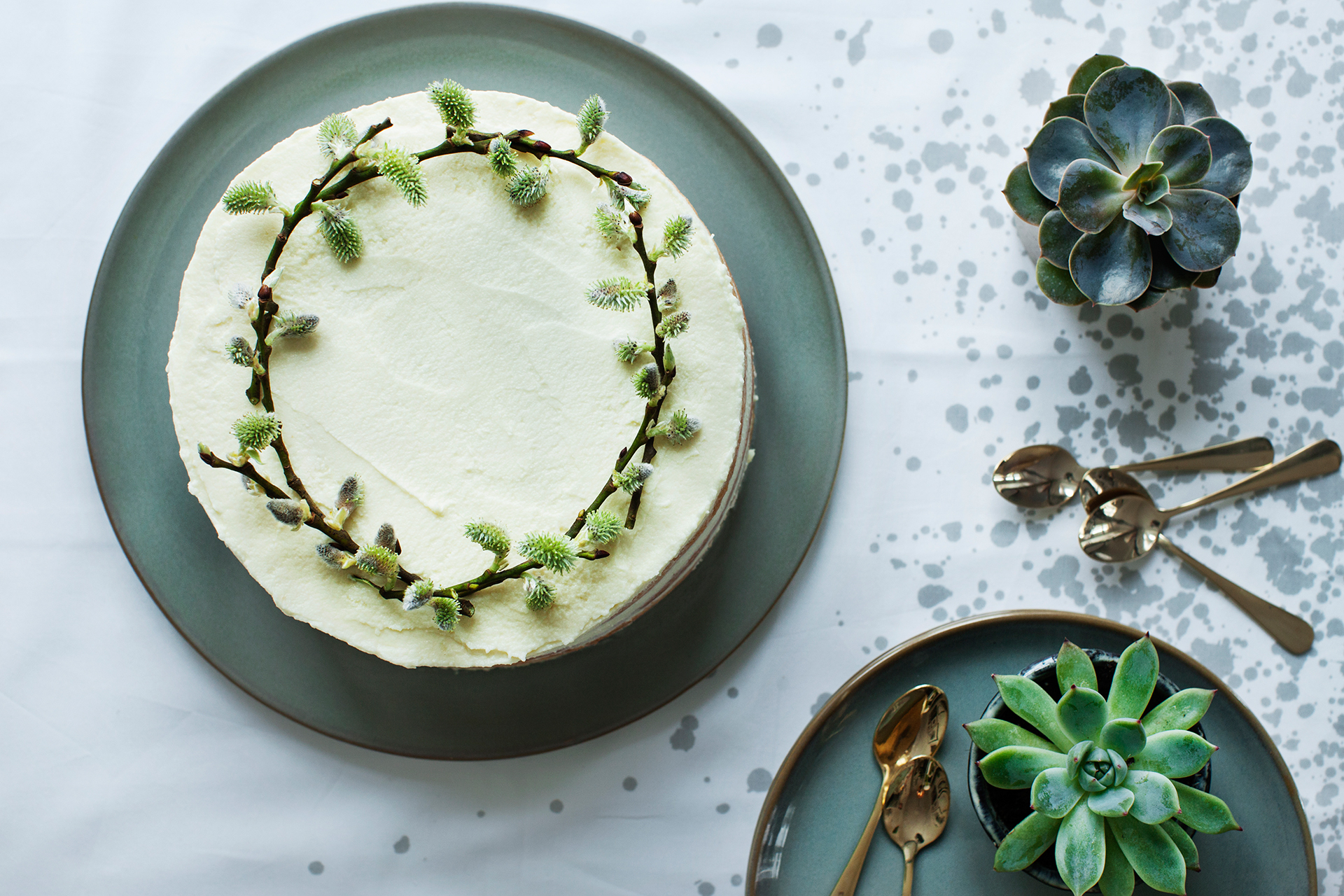 Recipe: Lemon Sponge with Marzipan
makes 2 large layers that I divide into 4
serves 12
Ingredients
175 g (3/4 cups plus 1 tbsp)

Sugar

6

Eggs

175 g (1 + 1/4 cups)

Flour

75 g (5,5 tbsp)

Butter, melted

50 g (1,5 oz)

Marzipan, shaved or grated

Zest from 2 Lemons

Dash of

Limoncello or Cointreau (optional)
Directions
Heat the oven to 180°C (350°F). Grease and line two 20 cm (7-8 inch) cake pans
Whisk sugar and eggs together in a stand mixer until tripled in size. Approximately 10 minutes.
Fold in the flour
Take a little of the mixture and stir into the melted butter, then return to the batter together with shaved marzipan and lemon zest and fold until incorporated
Divide the batter into the two baking pans and bake for 20-25 minutes or until a toothpick comes out clean
When the cakes have cooled, divide them into 2, so that you have 4 layers. Give each layer a splash of Limoncello or Cointreau right before adding the frosting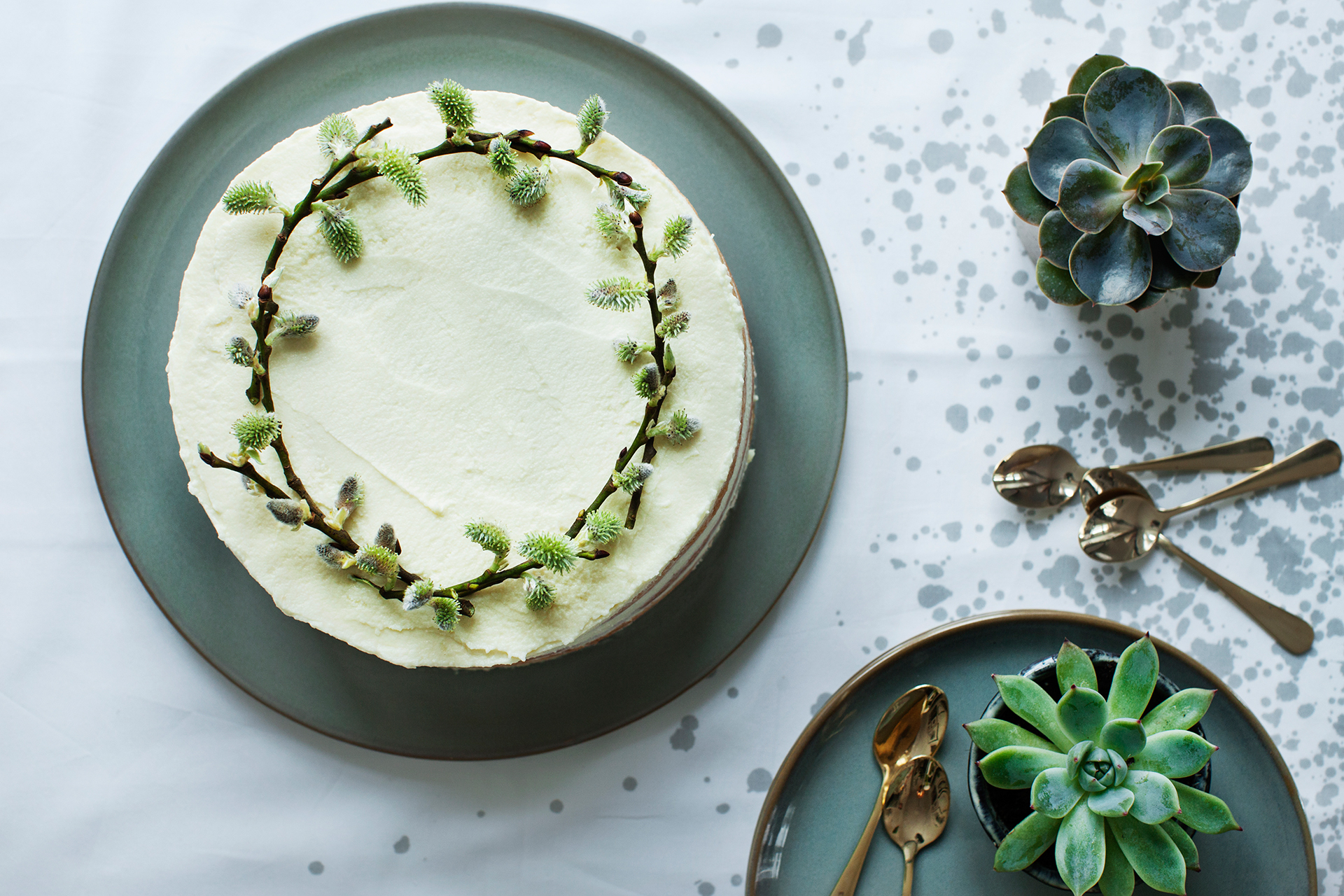 Recipe: White Chocolate Mascarpone Frosting
I like to keep the cake rustic so I only give it a thin crumb layer on the outer sides of the cake. If you rather cover the cake completely, feel free to do so, just give it a little less between the layers.
Ingredients
350 g (12oz)

White Chocolate

2 tbsp

Butter

450g (16 oz)

Mascarpone

Pinch of Salt
Directions
Melt the Chocolate over water bath. Let cool slightly
Whisk butter and Mascarpone until smooth, then add the melted chocolate and salt and mix until fluffy
Sprinkle Cointreau or Limoncello over the sponges
Divide the frosting between the layers and on top of the cake. Feel free to add jam or berries between the layers
Decorate the cake with Fresh Berries and flowers
All the products in the images are from the beautiful Danish Design Brand, ferm Living who create Scandinavian houseware and interior products with strong graphic edge and a hint of retro.
This Lentil Salad Recipe was created for Ferm Living's Easter Catalog, available online.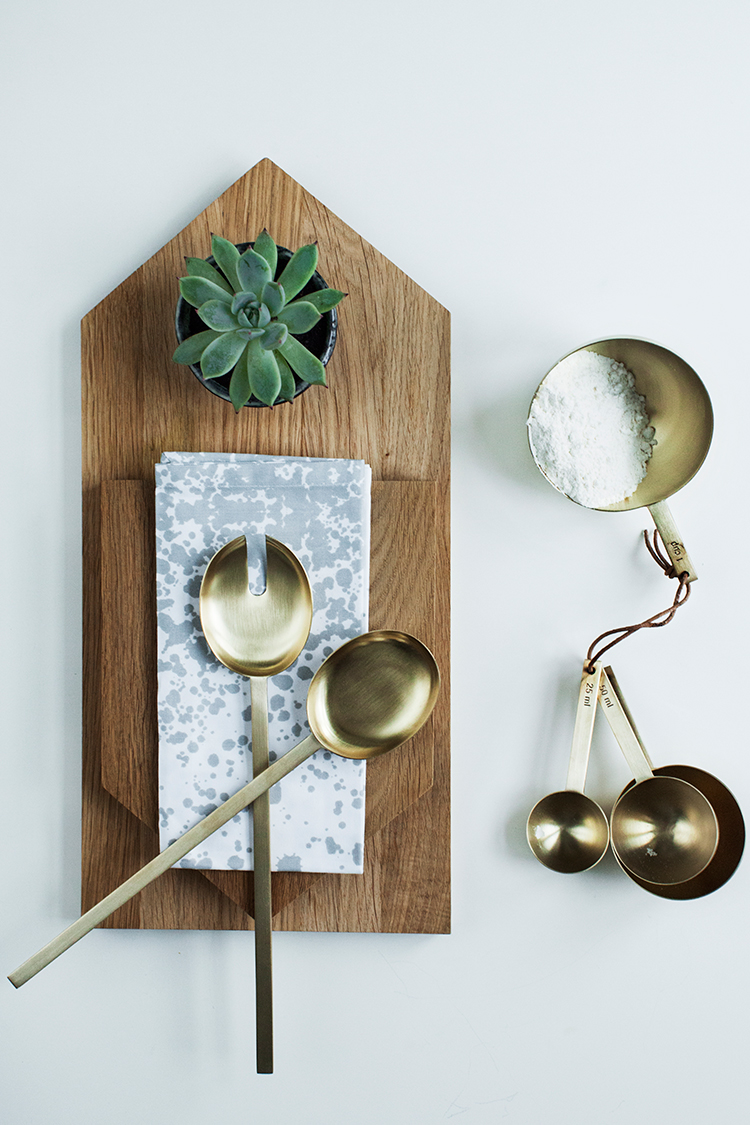 |
Published on March 31, 2015
|
Lemon Sponge Cake Recipe
Comments - I would love to hear from you