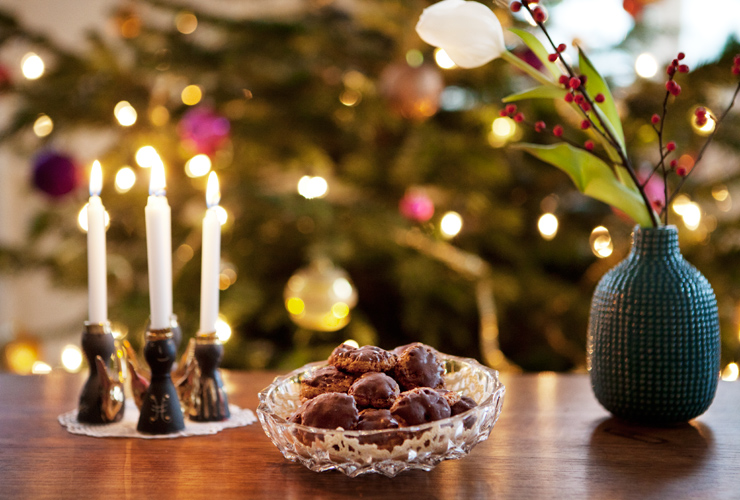 When I was growing up all Icelandic housewives baked at least 4 different christmas cookies every year. I remember my mom staying up all night baking and cleaning, she would even change the kitchen curtains out for a christmas patterned version. Christmas was a serious business back then, and especially hard on the working housewives that had to bake and decorate at night after us kids were sound a sleep.
Here in Denmark December 23rd is called ´Little Christmas Eve´. This is the last day before christmas where the husbands and boyfriends are running around trying to find the perfect gift at the last minute and the moderne housewives start to prepare the big dinner for the 24th.
Being a modern housewife I am at the moment pre-cooking the smoked lamb and making the stuffing for the Duck so believe me the house smells delicious. To make it even better I am mixing the spicy smell of meat and herbs with the smell of freshly baked christmas cookies. Unlike the Icelandic housewives back in the day I only bake one kind of cookies, the kind I make have have been my favorite since I can remember. They are easy to make (like everything I bake) and very crispy and delicious.
I hope the holiday stress hasn't gotten to you and that you can enjoy filling your homes with all the delicious smells of the holidays.
My Favorite Christmas Cookies
2 dl all purpose flour
1 dl granulated sugar
1 dl brown sugar
1 egg
1 tsp vanilla
1 tsp baking powder
1/4 tsp salt
2 dl corn flakes
2 dl oatmeal
1 dl coconut flakes
100 g butter (soft but not melted)
200 g chocolate for decoration (I use a mix of dark and mint chocolate, but you can use what ever you like)
1. Preheat the oven to 180
2. Start by mixing all the dry ingredients together in a big bowl and then add the 'wet' ones.
3. Knead the batter with your hands or with a Kitchen Aid or Hand mixer if you have one.
4. Form small balls with your hands and place them on a baking sheet with ca 3 cm between them.
5. Bake for 13-15 minutes. The longer you bake them, the crispier the cookies become.
6. While the cookies cool down melt the chocolate in a bowl over water and then dip the cookie top in it.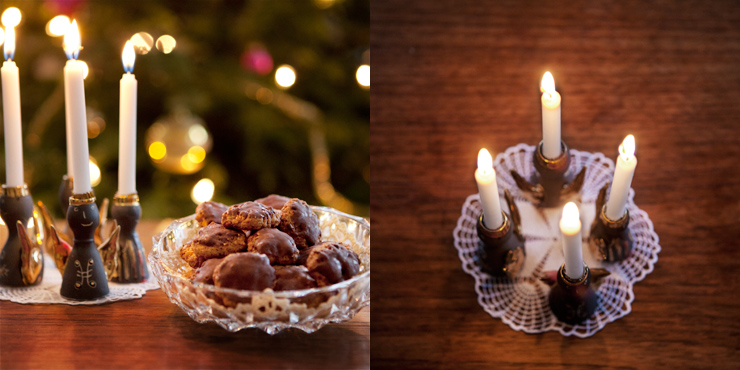 |
Published on December 23, 2011
|
Little Christmas Eve
Comments - I would love to hear from you