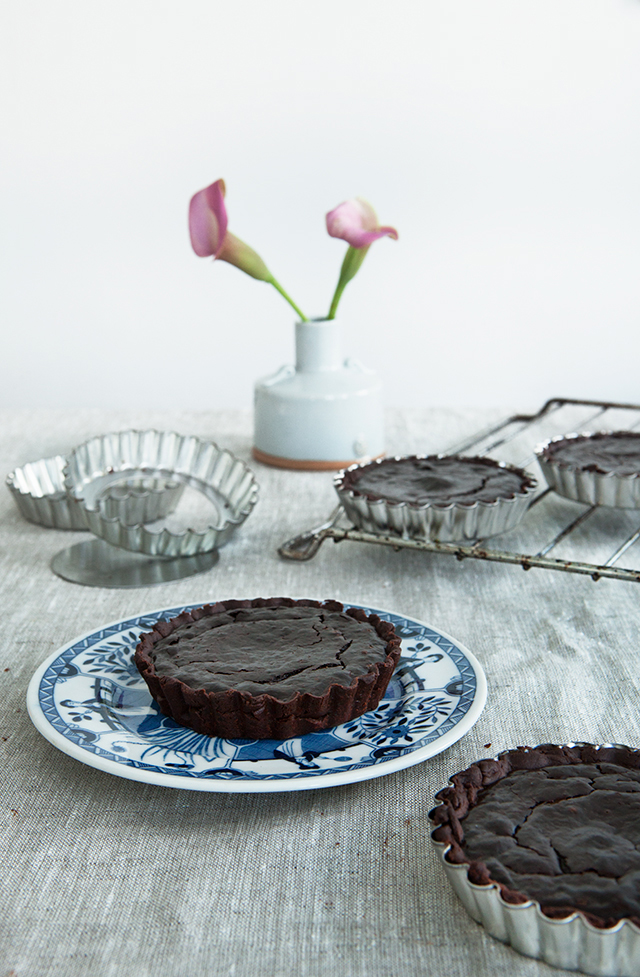 These tarts are super rich, and far from sweet, a true diamond for hard-core chocolate lovers!
These Chocolate Tarts are no joke and if you are a fan of the cocoa bean you will not be disappointed. The first bite will hug all your senses you like a warm blanket and the tart's richness will knock your socks off.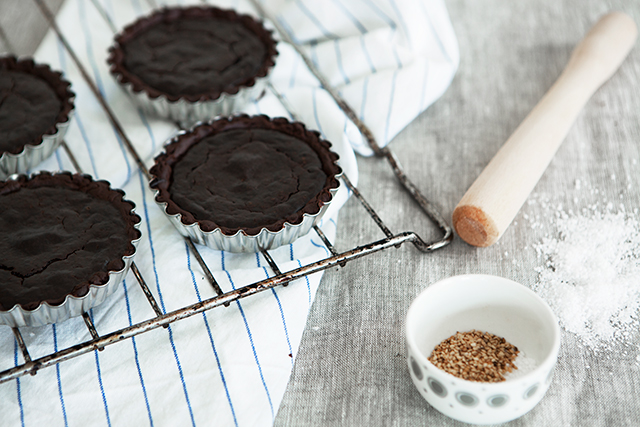 Making tarts isn't hard, and this recipe requires minimum of ingredients. Really, everybody can make these without significant effort, I promise!
Chocolate is the flavour of coziness and a tiny bite can make most people happy within seconds, and my tarts are no exception.
If you are not a fan of 70% chocolate (or you plan on serving these tarts to children) and feel like that might become to bitter for your taste, feel free to use a lighter kind, but try to keep it on the darker side and not to sweet.
My mini tart pans are 10 cm (4 inches) and this recipe made 5 tarts, which is plenty for 10 people. These babies are so rich and I doubt anyone can eat more than half.
On some of the tarts I drizzled a little raw liquorice and some of them I enriched with homemade sesame-salt. The tarts are definitely rich enough, but the salt adds an extra layer and takes you to heaven!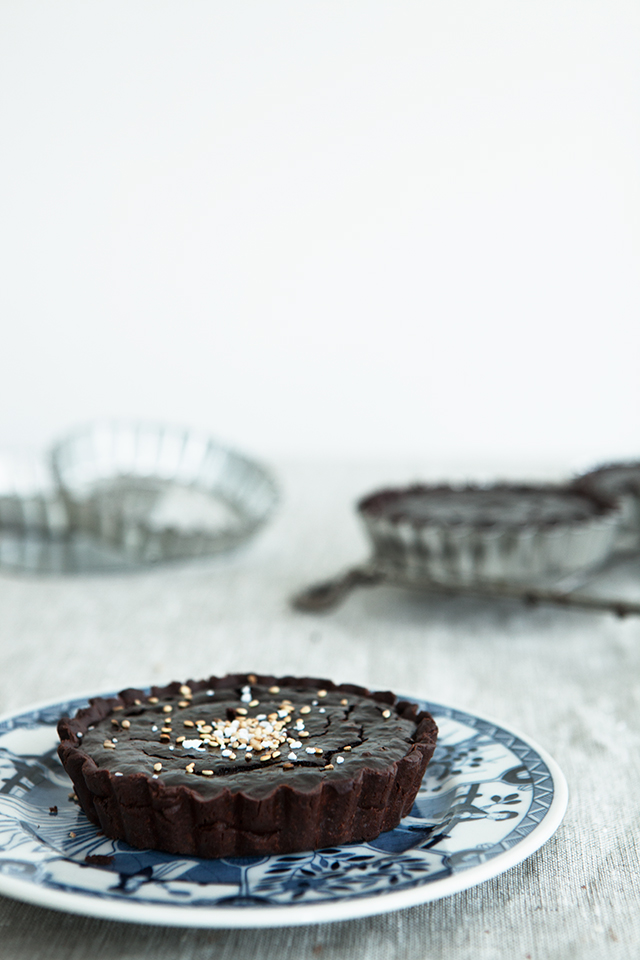 Crust
From Bon Appetit
1.5 dl (0.6 cup) Flour
2 tbsp Unsweetened Cocoa
1/2 tsp Salt
1.5 tbsp Powdered Sugar
50 g (1/2 stick) Butter (room temp)
1 Egg Yolk
1/2 tsp Vanilla Extract
1. Whisk flour, cocoa powder, and salt together in a bowl
2. Pulse powdered sugar and butter in a food processor until smooth
3. Then add egg yolk and vanilla, pulse until well mixed
4. Add the dry ingredients and pulse just to blend
5. Gather dough into a ball, flatten into a disk and wrap in plastic wrap
6. Chill for min 1 hour max 3 days
7. Grease 4 mini tart forms with loose bottoms
8. Roll out dough between 2 sheets of parchment paper to 3 mm (1/8 inch) thickness
9. Cut dough into 5 rounds. Gather scraps and repeat rolling dough until you have all 4
10. Transfer rounds to tart dishes, pressing gently onto bottom and up the sides. Chill for 30 minutes.
11. Preheat oven to 160°C (325°F). Bake tart shells until slightly puffed, 10 minutes. Let cool completely.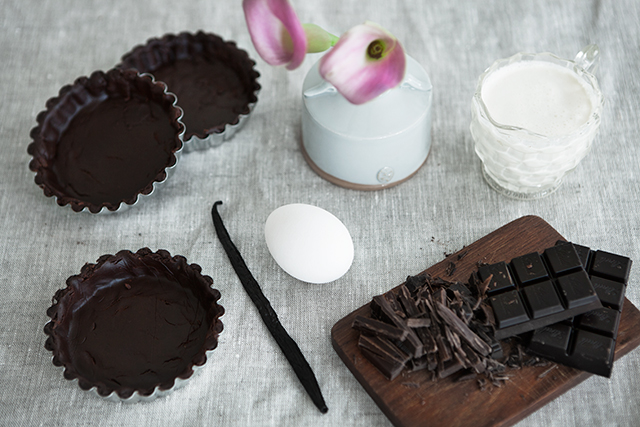 Filling
From Epicurious.com
1.5 dl (0.6 cup) Heavy Cream
125 g (4.5 ounces) Dark Chocolate (70%)
1 Egg
1/2 tsp Vanilla Extract or seeds from 1/2 vanilla bean
pinch of salt
1. Preheat the oven to 180°C (350°F)
2. Chop the Chocolate
3. Heat cream until boiling and pour over chocolate in a bowl
4. Stir until chocolate is completely melted and you have a shiny ganache
5. In a separate bowl, whisk together egg, vanilla and salt. Then stir into the melted chocolate
6. Pour filling into the cooled pie crusts and bake until filling is set but center is still wobbly, 20 to 25 minutes. (Center will continue to set as tart cools.)
7. Cool completely in pan on rack, about 1 hour.
Garnish
1/2 tbsp Sesame Seeds
1/8 tsp Salt
1. Stir sesame seeds in a small skillet over medium heat until golden and fragrant, about 1 minute
2. Gently crush the seeds in a mortar
3. Put in a small bowl and mix in the salt
4. Sprinkle over Chocolate Tarts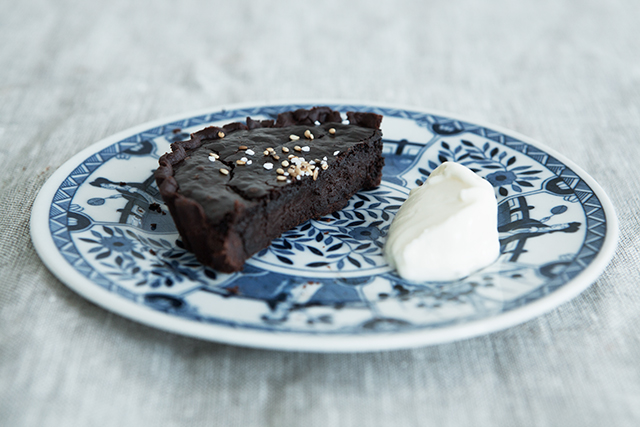 |
Published on October 28, 2013
|
Mini Chocolate Tarts
Comments - I would love to hear from you