Move over poached eggs, baked eggs are here to stay!
Planning on serving eggs on Christmas morning? Oeufs en cocotte or baked eggs in a pot (e.g ramekin) are easy to make and always a crowd pleaser! Prepare them at night and serve them for breakfast the next day!
I am not kidding when I say that this baked eggs recipe is a crowd pleaser and easy to make. Earlier this month I was invited to cook breakfast for the entire Hearst Tower in New York City and I developed this recipe for the occasion. I dished out almost 100 ramekins and everyone that tried the baked eggs asked for the recipe. So, for all of them and all of you, here is a foolproof recipe for oeufs en cocotte with herbs and skyr!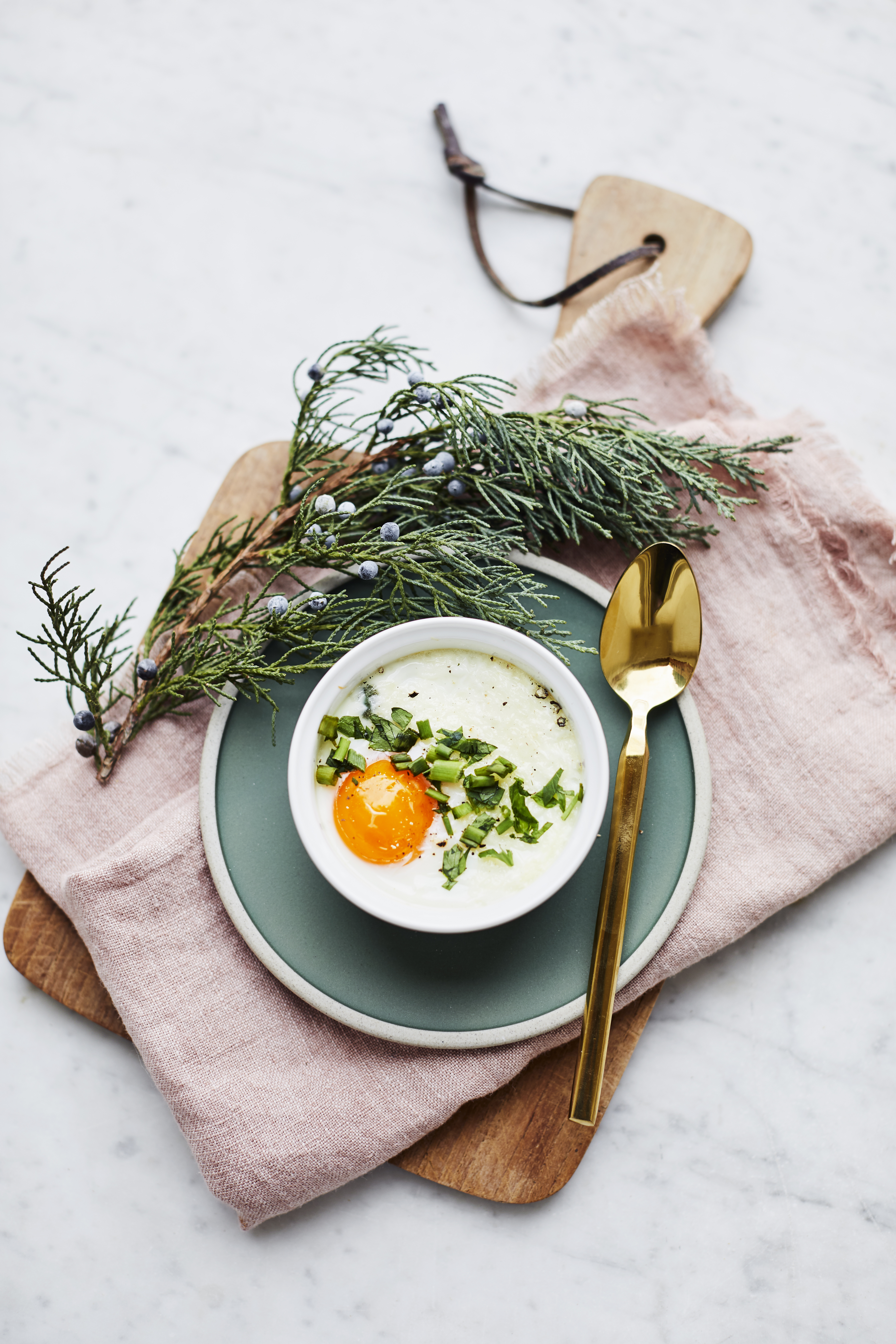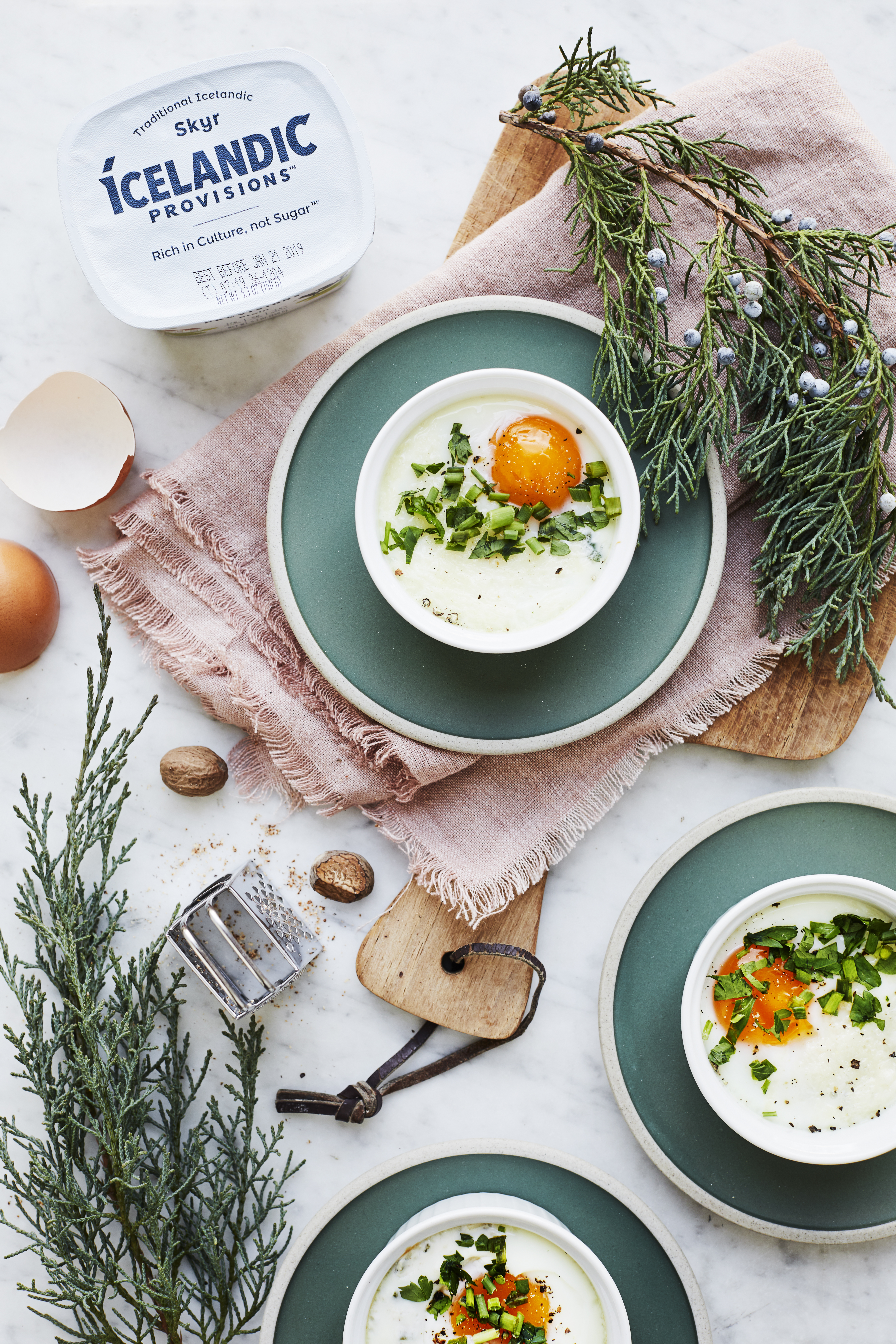 I like to use skyr in my baked eggs as it adds slight sourness to the dish and mixing it with herbs takes the eggs to a whole other level. And let's not forget that skyr is packed with protein so a single ramekin will fill you and keep you full for hours.
Icelandic Provisions is hands down my favorite skyr brand here in the US, and anywhere in the world to be honest. Their skyr has the perfect, creamy texture and the flavor is spot on and just as I remember it from growing up in Iceland.
You can, of course, decorate the recipe as you please – add crispy bacon bits, other herbs, different cheese etc. be creative and use what you have in your fridge and trust the flavors you love.
You can bake the eggs as long or as short as you please. I like my white set and the yolk runny so 12-15 minutes (depending on the oven I am using) is the sweet spot.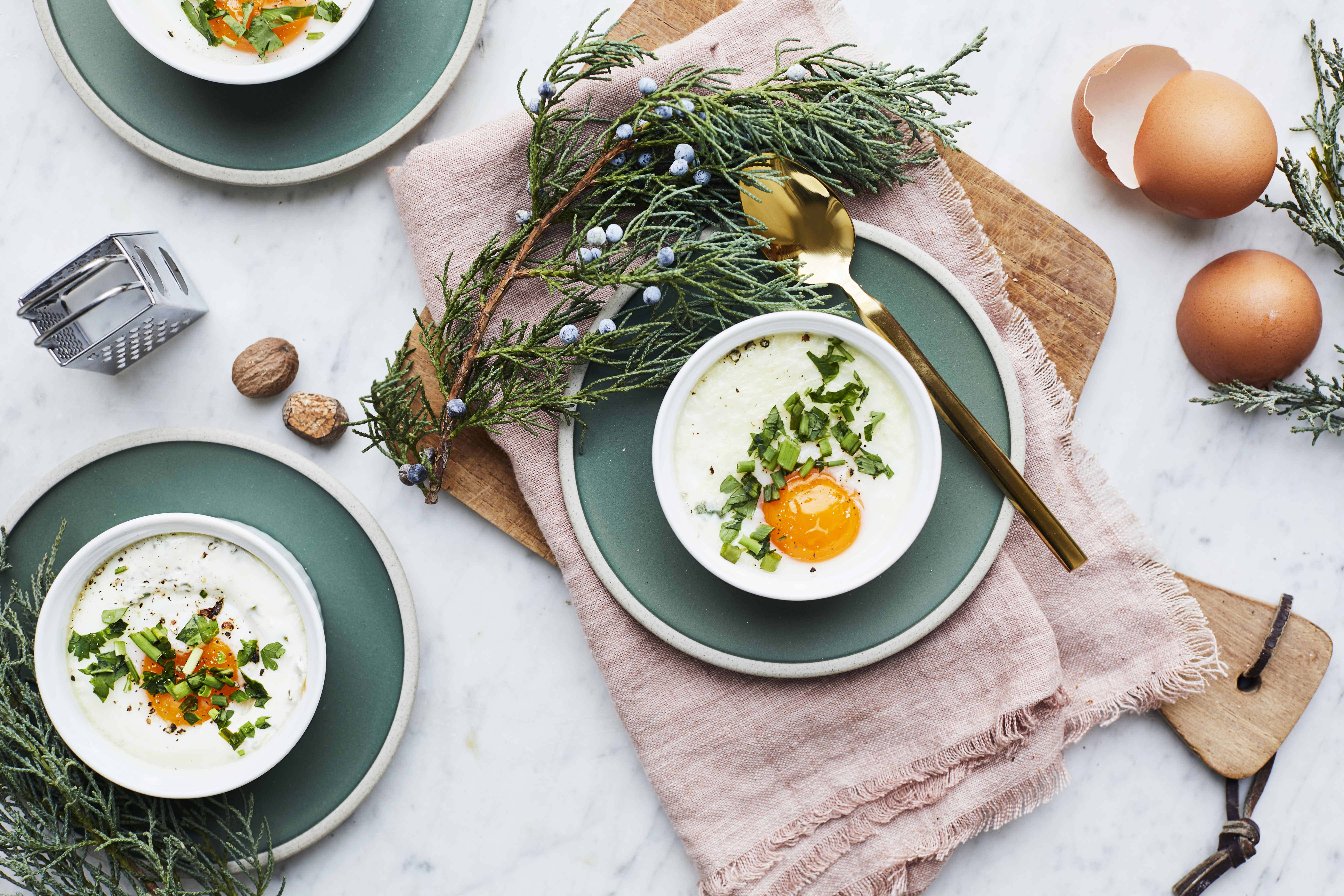 Recipe: Oeufs En Cocote
Makes 4 (120 ml/ 4 fl oz ramekins)
Ingredients
150 g (5.3 oz)

Icelandic Provisions plain skyr

1 1/2 tbsp

Chives, finely chopped

1 tbsp

Flat leaved parsley, finely chopped

4 tbsp

Gruyere Cheese

Grated nutmeg to taste

Salt & pepper

4 large

Eggs
Directions
Stir together skyr, chives, parsley, cheese, and spices then place a generous dollop of the crema on the bottom of each ramekin
Crack an egg on top and divide remaining skyr mixture over (leave the yolk visable) and sprinkle with some extra gruyere if you are feeling festive
Place ramekins in a baking tray and pour enough lukewarm water into the dish to come halfway up the sides of the ramekins
Bake for 15 minutes or until the yolk is set to your liking.
|
Published on December 21, 2018
|
Oeufs En Cocotte Recipe
Comments - I would love to hear from you