My Pink Pepper Cake is the hip and trendy big sister of the all time American classic the Red Velvet.
The Pink Pepper is a two layered moist and spongy cake with Mascarpone and Mango frosting and decorated with fresh berries.
Here it is, my very first Video!
I am so lucky to have a lot of creative girlfriends that work behind the camera in the movie industry and they came over the other day to help me make this.
After wrap we obviously drank all the champagne and ate the cake. It was such a wonderful day!
I would love to hear your opinion on the video so please tell me what you think in the comments below or on my Facebook page.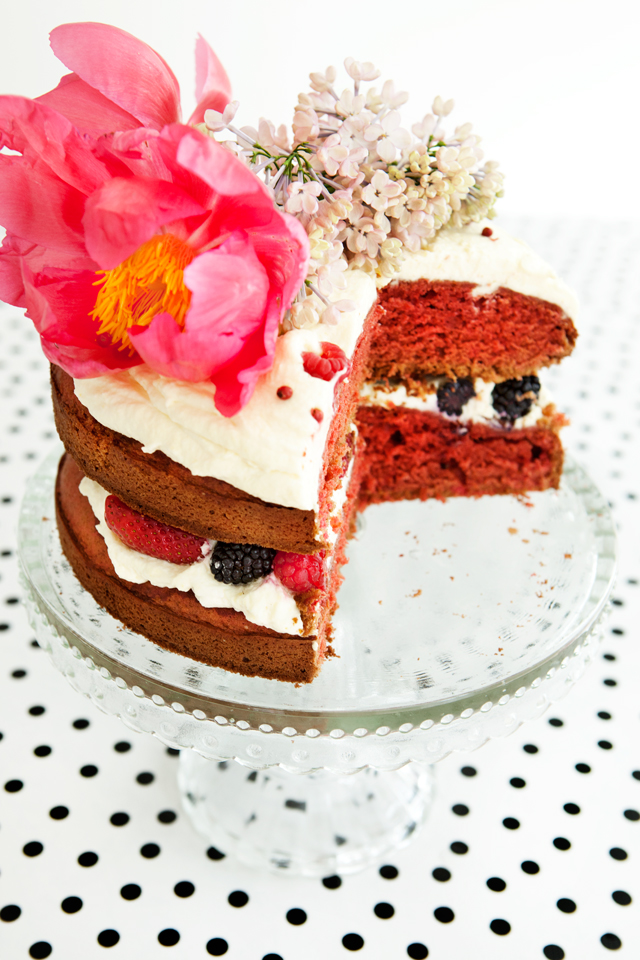 The cake's spiciness mixed with the freshness of the frosting and berries adds wonderful drama to every bite and the strong aftertaste goes perfectly with refreshing champagne.
A highly decorative cake, with lots of drama and glory for you and your guests.
Fun Fact about Buttermilk:
Buttermilk is the liquid left behind after whisking cream into butter. It is non-fat and a little sour.
In Icelandic: Áfir
In Danish: Kærnemælk
Unfortunately it can be tricky to find buttermilk in many european countries, but don't you worry, here is a recipe for DIY substitute:
2 tbsp lemon juice
2 dl (0.75 cup) skim milk
Let it sit for 10 minutes or until the milk is lumpy and then it is ready to use.
Recipe: Pink Pepper Cake
Ingredients
6 dl (2,5 cups)

Flour

1/2 tsp

Salt

1 tsp

Unsweetened Cocoa

1-2 tsp

Cayenne Powder

115 g (1 stick)

Unsalted Butter

2.5 dl (1 cup)

Sugar

2

Large Eggs

1 tsp

Vanilla Extract (or 1/2 vanilla bean)

2.5 dl (1 cup)

Buttermilk* - recipe above

1 tsp

red food coloring

1 tsp

baking soda

1 tsp

white vinegar

Rose pepper, fresh berries and flowers for decoration
Directions
Preheat oven to 175°C (350°F)
Butter two - 21-23 cm (8-9 inch) cake pans and line the bottoms with parchment paper. Set aside
Sift together flour, salt, cocoa and cayenne powder and set aside
In bowl of your electric mixer, or with a hand mixer, beat the butter until soft (1-2 minutes) then add the sugar and beat until light and fluffy (2-3 minutes) Use the 'K' beater if using a stand mixer
Add the eggs one at a time, beating well after each one and scrape down the sides if necessary
Add the vanilla
With the stand mixer on low speed, alternately add the flour mixture and buttermilk to the butter/sugar/egg mixture, in three additions, beginning and ending with the flour (dry-wet-dry)
In a small bowl combine the vinegar and baking soda. Allow the mixture to fizz and then quickly fold into the cake batter
Quickly pour the dough into the prepared pans and bake in the preheated oven for 25-30 minutes or until a toothpick comes out clean
Cool the cakes in their pans for about 10 minutes, then remove from pan and cool to room temp
When cool, wrap in plastic and place in the fridge for 3 hours or in the freezer for 1 hour. This is done to prevent the cake from crumbling when frosting. If you skip this step, your white frosting will be filled with red crumbles.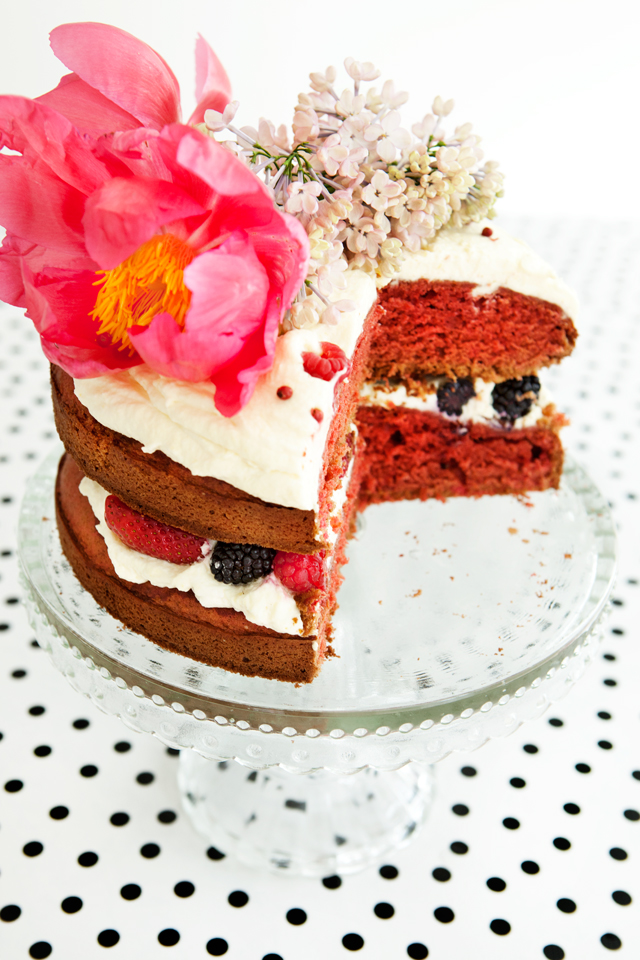 Recipe: Mango Frosting
Mango Purée:
1 Mango and juice from 1/2 Lemon in a blender. Then strain
Ingredients
450 g (16 ounces)

Mascarpone Cheese, room temp

1.5 dl (0.5 cup + 2 tbsp))

Mango puree* - recipe above

1 dl (0.4 cup)

Powdered sugar, sifted

1 dl (0.4 cup)

Heavy whipping cream
Directions
Whisk the Mascarpone a little bit
Add the Mango Purée and mix
With an electrical mixer beat the mascarpone, mango and powdered suger together
In a separate bowl whisk the whipping cream until it forms soft peaks
Fold the whipped cream into the mascarpone/mango mixture
|
Published on April 28, 2013
|
Pink Pepper Cake Recipe
Comments - I would love to hear from you