This new combo of mine; Pumpkin and Liquorice is definitely working, and these little cookies are moist and fluffy, with a hint of bitterness but filled with sweet bites of chocolate coated liquorice.
Pumpkin Liquorice Cookies is a combo not many people have tried. Usually Pumpkin is paired with cinnamon and cloves and Liquorice is very often paired with chocolate or sweet food such as beets.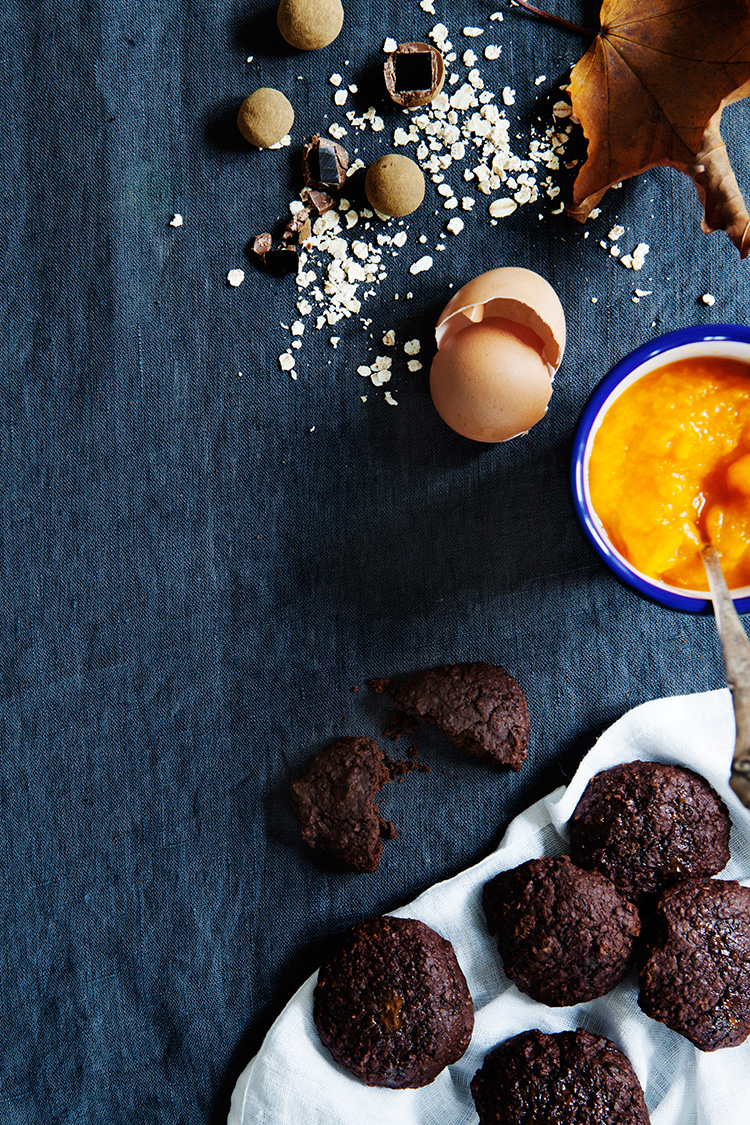 I grew up in Iceland, where basically all candy contains liquorice and chocolate. Therefor I love black, salty liquorice and the combo of liquorice and chocolate is the most natural flavor combo for me.
In this recipe, I reduced both butter and sugar, and gave the dough a good amount of pumpkin purée for moister. The chocolate coated liquorice gives it plenty of sweetness along with the added sugar.
Maybe the word cookies isn't completely correct, because these are more like cakeies (if that is even a word). So biting in to them is a little like taking a bite of a whoopie pie, just without the filling.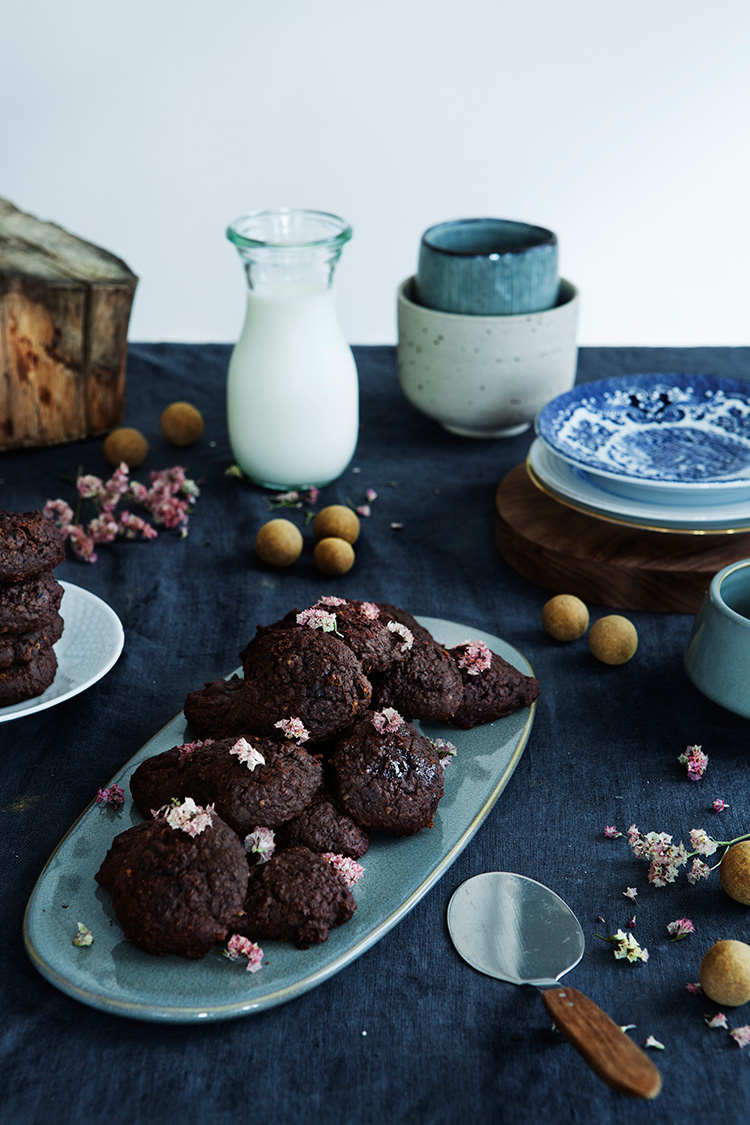 The liquorice plant is native in southern Europe, India and parts of Asia. Surprisingly enough Liquorice is not botanically related to anise, star anise, or fennel, which are all sources of similar flavouring compounds. 
As mentioned earlier, Liquorice flavour is found in a wide variety of candies or sweets. In most of these candies the taste is reinforced by aniseed oil so that the actual content of liquorice is very low. Where as the largest percentage of produced liquorice is sold to Tobacco Giants. There is something so wrong with that picture, right?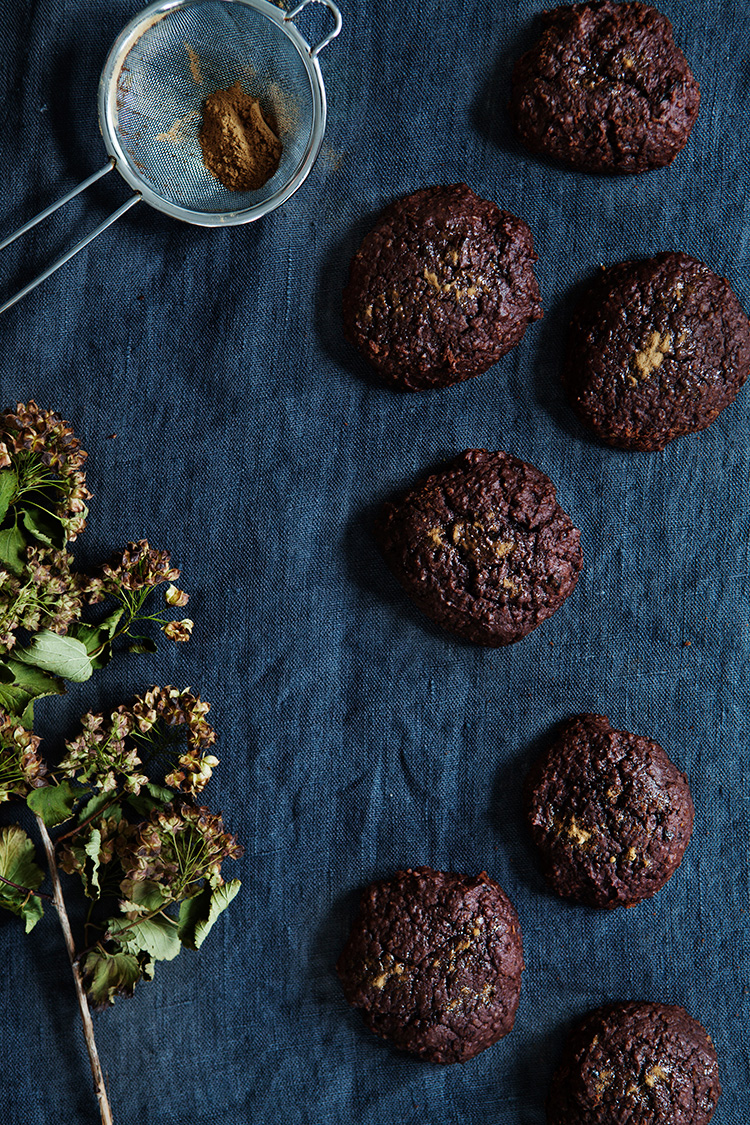 In this Pumpkin Liquorice Cookies Recipe I use liquorice from Johan Bülow. He is by far the leading producer of Liquorice here in Denmark and everything he makes tastes like a piece of heaven.
You can buy his liquorice online, and read his successful story on his website.
Here are some of my other recipes containing Liquorice:
Liquorice Skyr Cake Recipe
Profiteroles with Liquorice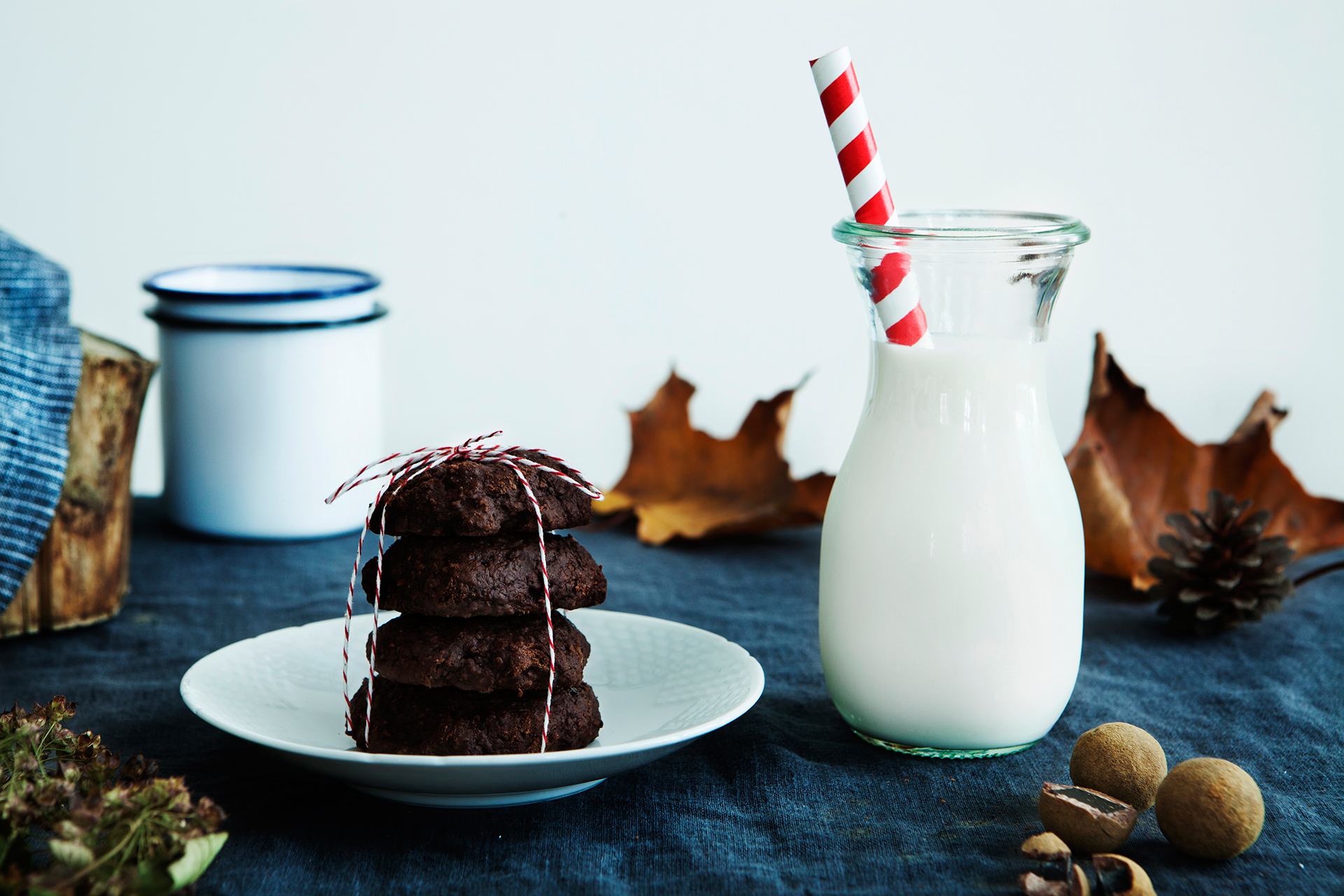 Recipe: Pumpkin Liquorice Cookies
*Fine Liquorice Powder                                              *Chocolate Coated Liquorice                                            *Oat Flour = Oats that have been through a food processor *Pumpkin Purée
Ingredients
2,5 dl (1 cup)

flour

2,5 dl (1 cup)

oat flour*

1 dl (7 tbsp)

cocoa

3 tsp

liquorice powder

2 tsp

baking powder

1/2 tsp salt

salt

75 g (1/2 stick)

butter

5 tbsp

brown sugar

2,5 dl (1 cup)

pumpkin puree*

1

egg

150-250 g (5-9 ounces)

chocolate coated liquorice*
Directions
Heat the oven to 180°C (350°F)
Give the oats a spin in a food processor, until you have oat flour
Whisk flour, oat flour, cocoa, liquorice powder, baking powder and salt together in a bowl and set aside
Beat butter and brown sugar until light and fluffy. Add the egg and beat a little more
Fold in the flour mixture and pumpkin puree - using the dry - wet - dry method
Chop the chocolate coated liquorice in a food processor or by hand and fold in the batter
Scoop heaped tablespoons of batter to a lined cooking sheet and bake for 10 minutes
Store in an airtight container
|
Published on October 20, 2014
|
Pumpkin Liquorice Cookies Recipe
Comments - I would love to hear from you