Are you in the mood for an alternative Thanksgiving dessert this year? Well this bourbon spiked Pumpkin Pie Ice Cream Recipe might be your answer.
The warmth of the spices and sweetness of the bourbon bring heat to your heart while the cold ice cream clears your head.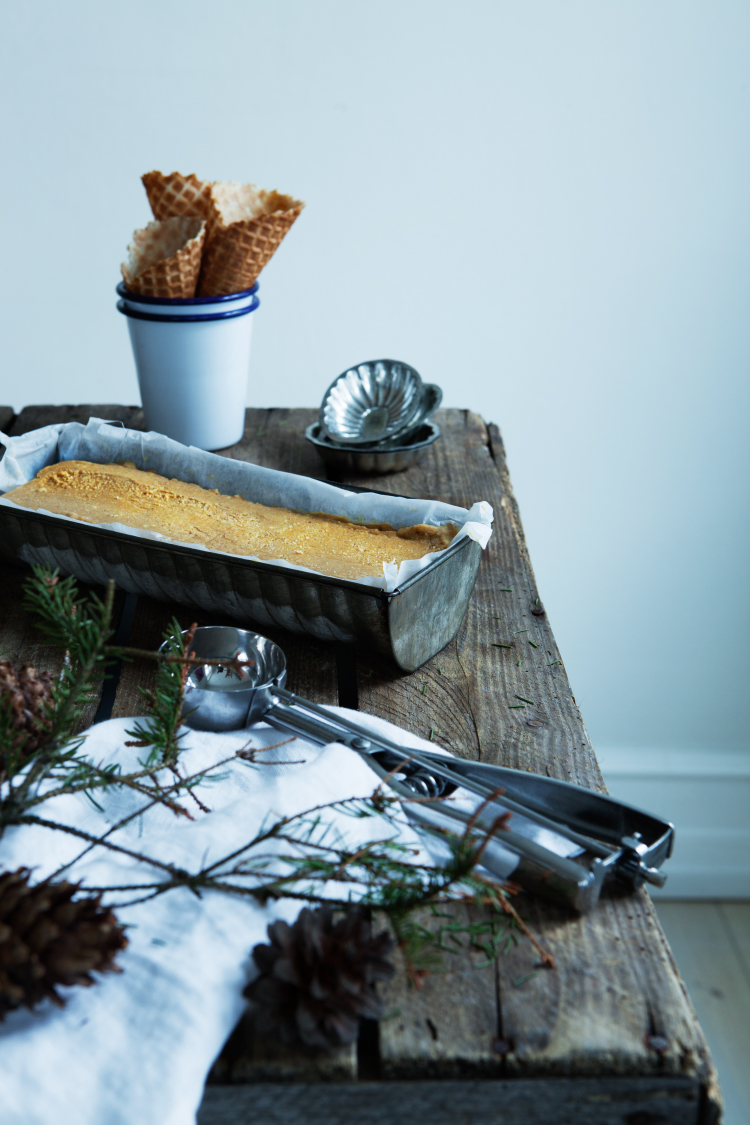 This version of my Pumpkin Pie Ice Cream is meant for grown ups, but if you have a lot of kids coming over, simply skip the bourbon and add a little vanilla extract instead.
You can serve the ice cream in traditional cones, but if you feel that is to casual you can serve the scoops in small bowls with a little melted chocolate and nuts.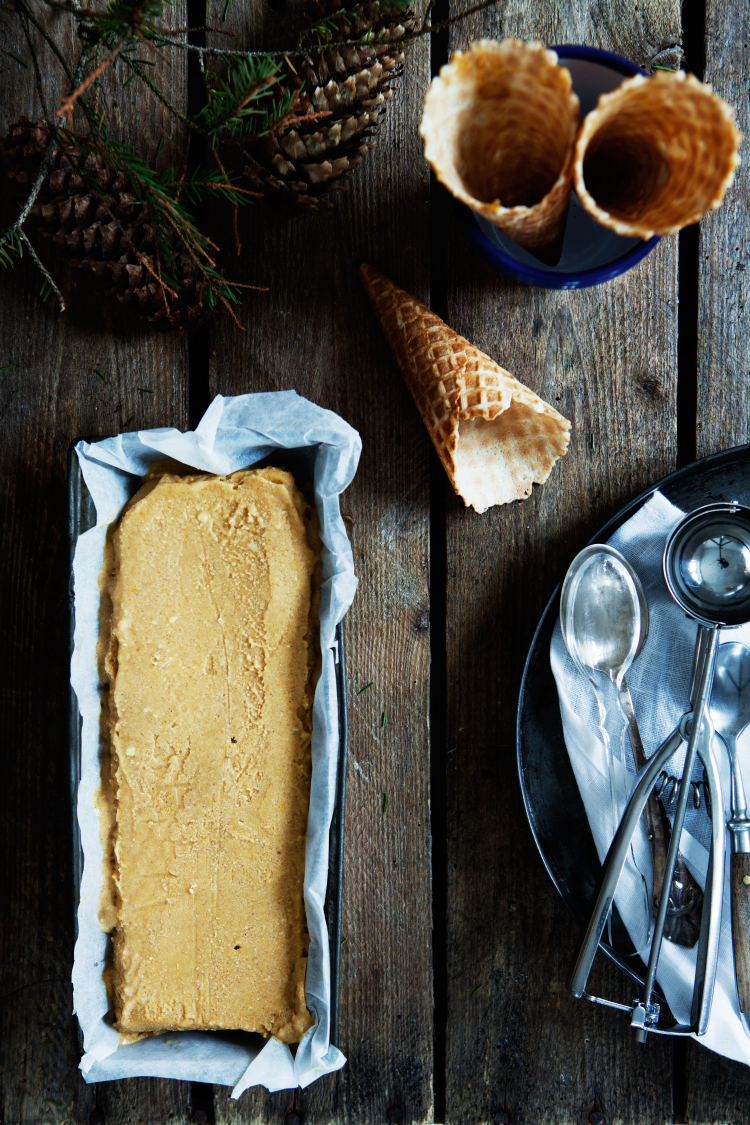 Thanksgiving is my favorite holiday and after my stay in New York I have started my own Thanksgiving tradition even though we do not celebrate Thanksgiving here in Scandinavia.
I always go all in. Huge turkey, gazillion sides, and usually I make a classic Pumpkin Pie for dessert. This year I am making this Ice Cream and my stunning alternative to Pumpkin Pie; Chocolate Pumpkin Cake.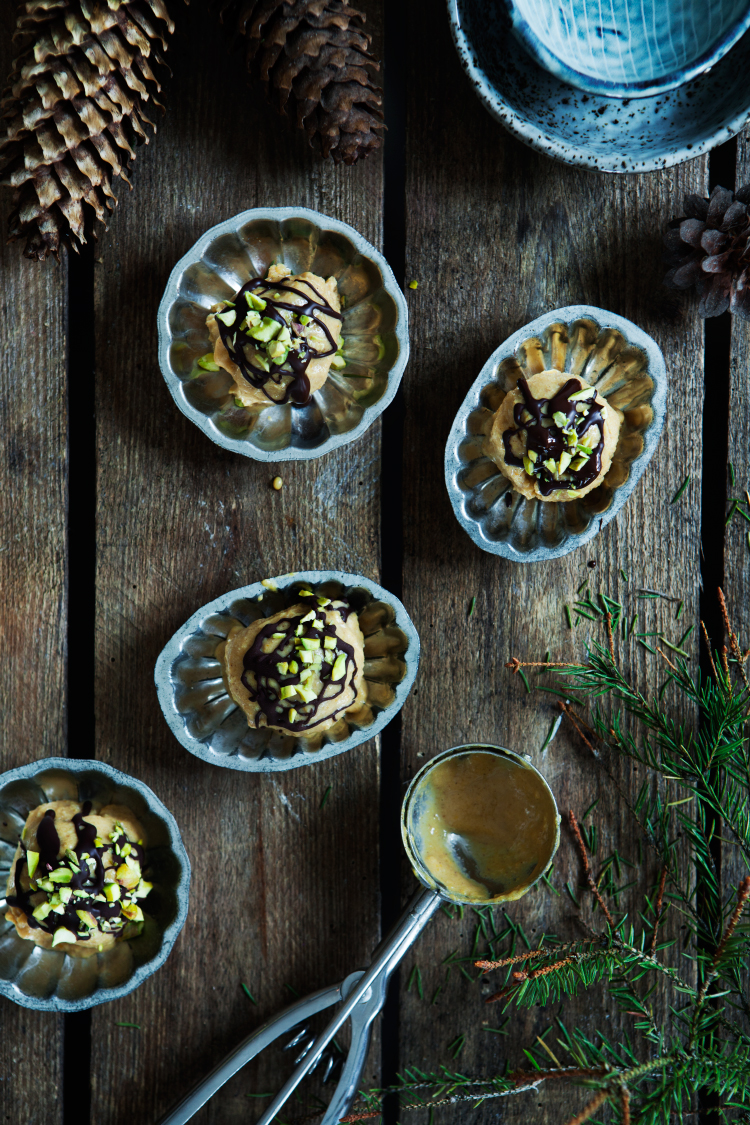 I wish you all a very happy Thanksgiving, and I hope your hearts and tummies are thankful for yet another holiday season.
I have great plans and giveaways for December, so keep coming back for more goods!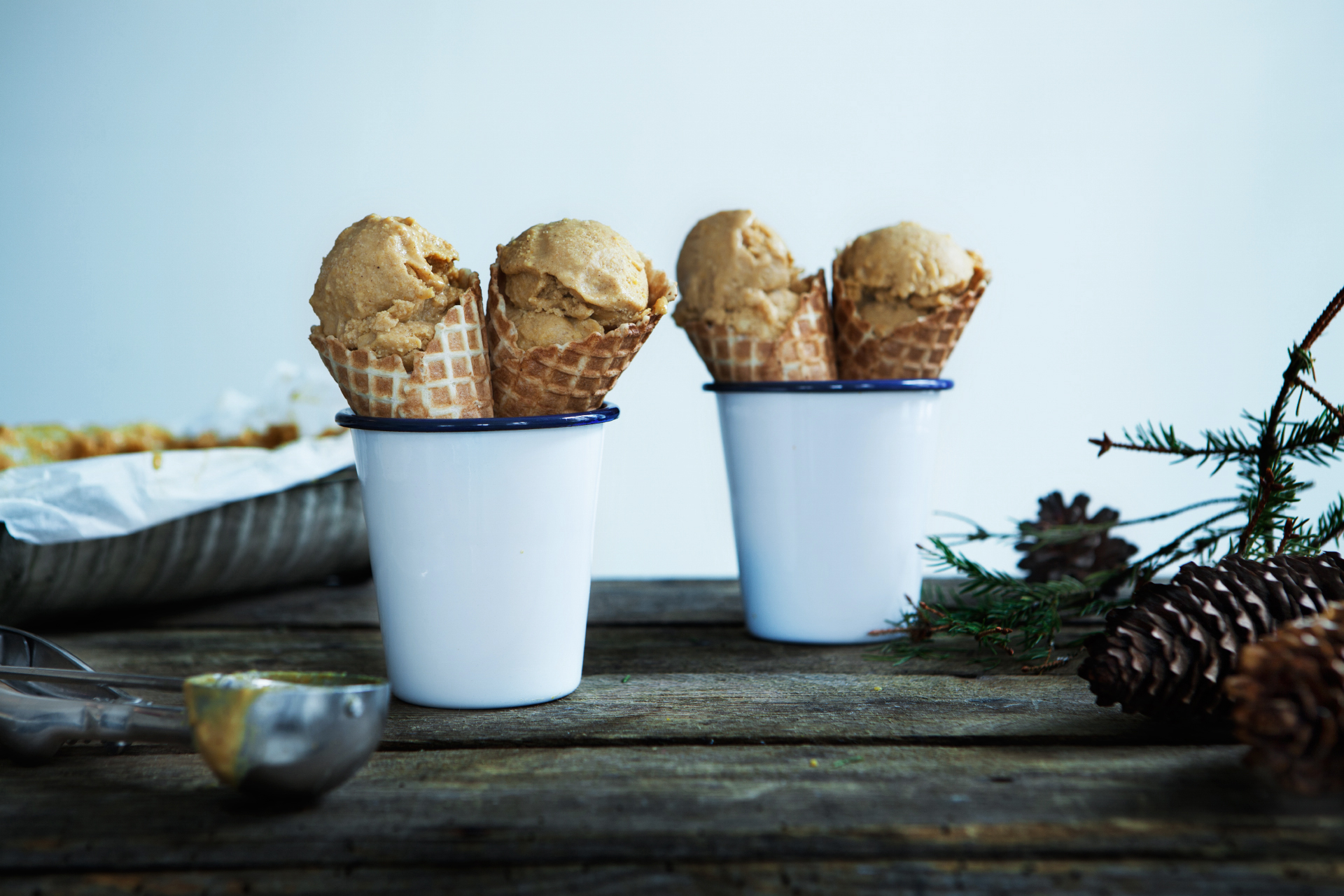 Recipe: Pumpkin Pie Ice Cream
Recipe adapted from Williams Sonoma *Pumpkin Puree 1. Chop your pumpkin in half and remove the seeds (here is my recipe for Roasted Pumpkin Seeds)
2. Depending on how large your pumpkin is, chop the halves into pieces and place shell side up on a baking trey
3. Bake in 200°C (400F) preheated oven for 30 minutes or so
4. Now the pumpkin shell should be a lot darker than before, deep dark orange
5. When cool enough to handle you should be able to easily remove the skin from the fruit or scoop the pumpkin out of the shell
6. Toss the skin
7. Process the pumpkin meat and then strain
8. Now you should have a very smooth pumpkin puree which you can freeze, use for pumpkin pie or other delicious treats.
Ingredients
2,5 dl (1 cup)

Pumpkin Puree*

1 tsp

Vanilla Extract

1/2 L (2 cups)

Heavy Cream

1,5 dl (0,5 cups + 2 tbsp)

Brown Sugar, Divided

6

Egg Yolks

1/2 tsp

Cinnamon

1/2 tsp

Ground Ginger

1/4 tsp

Salt

1/8 tsp

Nutmeg

2 tbsp

Bourbon
Directions
Whisk together Pumpkin Puree and vanilla. Place in the fridge
Heat cream and 1 dl (0,5 cup) brown sugar in a saucepan until bubbles form and sugar has dissolved
Meanwhile beet yolks, remaining brown sugar and spices together in a separate bowl until smooth and sugar has dissolved
In a steady stream, while whisking, pour 1/2 of the hot cream into the eggs and mix until smooth. Make sure you do this slowly so that you do not end up with scrambled eggs
Then return everything back into the saucepan and heat over medium heat, stirring constantly with a wooden spoon until the custard is thick enough to coat the back of the spoon
Strain the custard into a cleean bowl, press plastic wrap over the surface and place in the fridge for 3 hours or over night
When the custard is completely cold, mix in the pumpkin puree and whisk until smooth
Churn in an Ice Cream Maker, add the bourbon when 5 minutes of churning are left
Transfer ice cream into airtight container and place in the freezer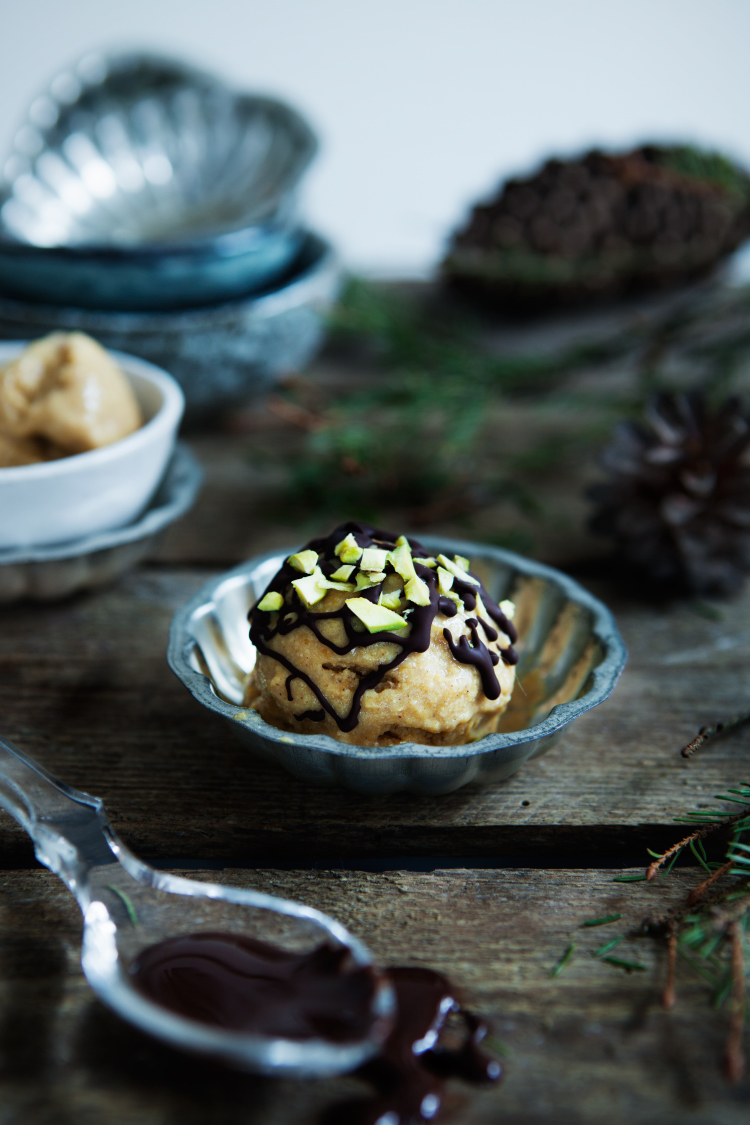 |
Published on November 14, 2014
|
Pumpkin Pie Ice Cream Recipe
Comments - I would love to hear from you