Homemade Pumpkin Spice Latte is a lot easier to make than one might think – and the best part about making it your self is that you can totally control the amount of sugar and fat that goes in it, and you can make sure it contains real pumpkin!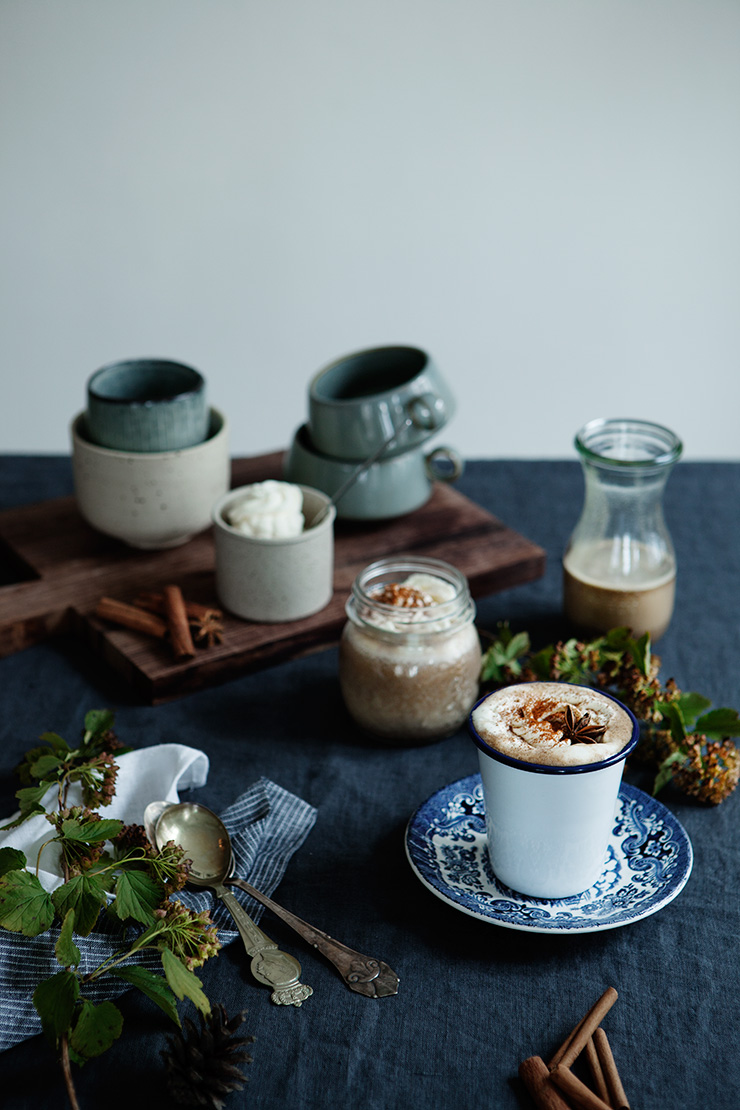 The Pumpkin Spice Latte was invented under fluorescent lights at Starbucks headquarters in 2003 by a group of people that were tasting classic fall treats and spices together with a cup of coffee.
Even though customer surveys showed that the trend of mixing pumpkin and coffee should never have happened, customers have ordered more than 200 million cups, making the pumpkin spice latte the most successful drink Starbucks has ever created.
There are still a lot of haters out there and vulgar joke like this one can be heard in line at Starbucks:
"How do you make a pumpkin spice latte? Put yoga pants, Ugg boots, a hoodie, an iPhone 5, and a white girl into a blender."
But to those people I say:
"How do you enjoy a pumpkin spice latte? Put on a knitted sweater, cuddle up under a blanket in front of the fire and read a good book while sipping on this wintry warming treat.

Feel free to use any kind of milk; soy, dairy free, full fat, skim…
If you are holding back on you calorie intake, I recommend you skip the whipped cream on top
Here are some of my other Pumpkin recipes:
Pumpkin Thai Soup
Pumpkin Whoopie Pies
Roasted Pumpkin Seeds
Pumpkin Pie Truffles

For those of you that are not familiar with Pumpkin Spice, it is simply a mixture of cinnamon, ginger, nutmeg and sometimes allspice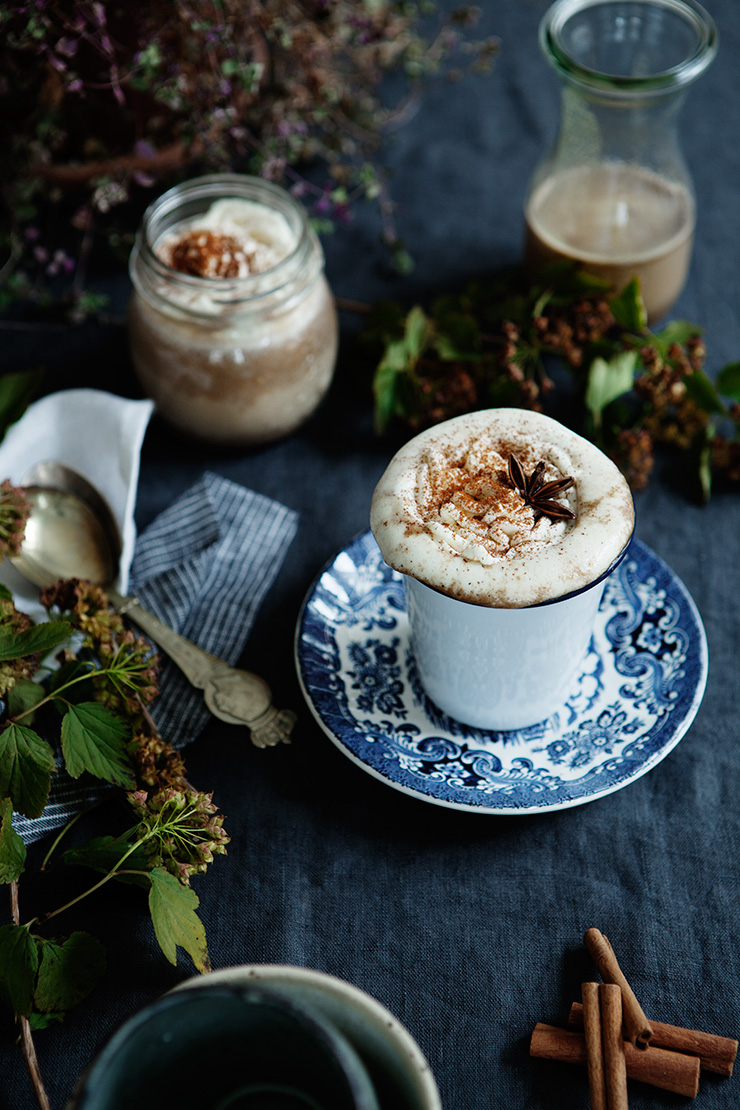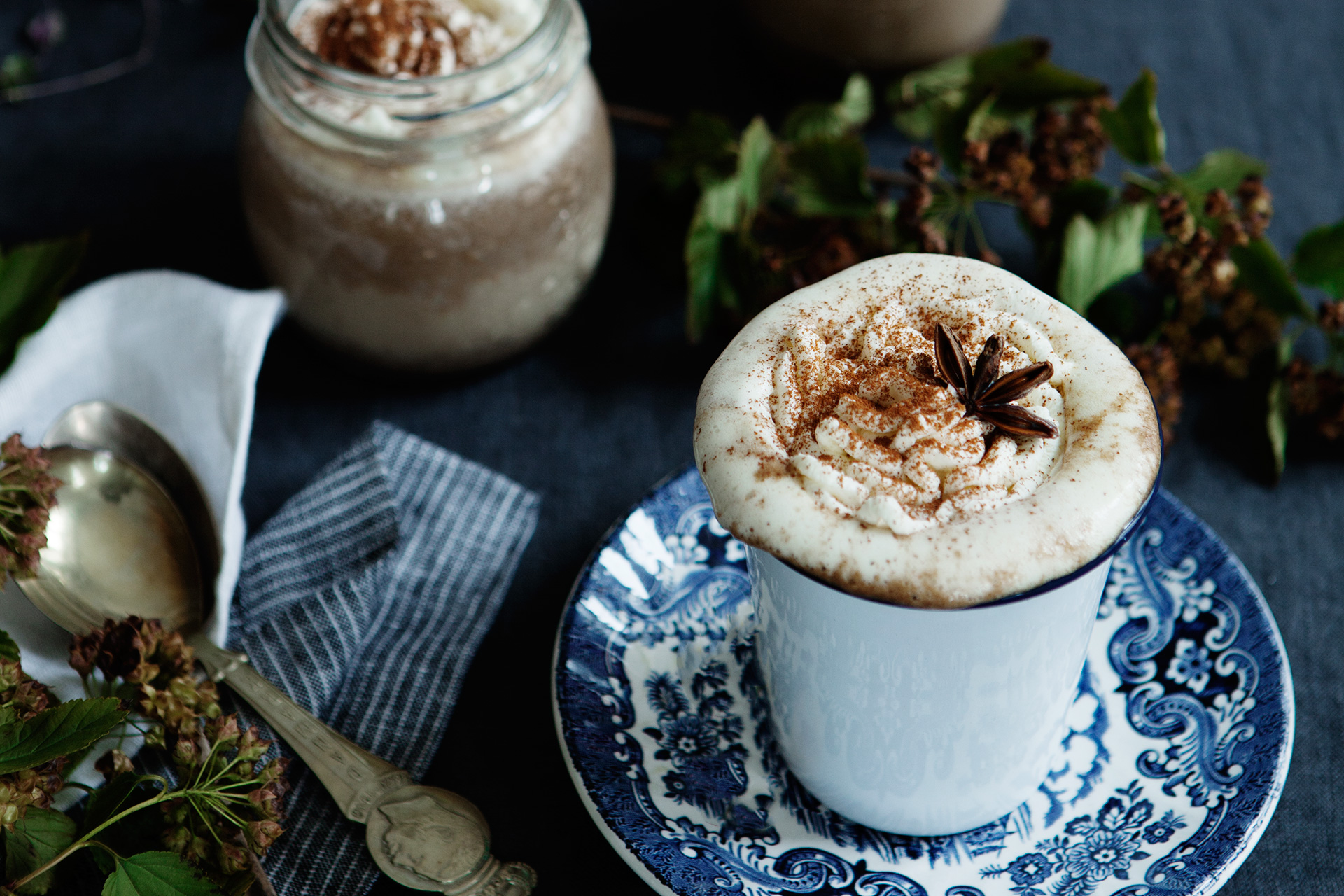 Recipe: Pumpkin Spice Latte
Makes 2 *Pumpkin Puree
1. Chop your pumpkin in half and remove the seeds (here is my recipe for Roasted Pumpkin Seeds)
2. Depending on how large your pumpkin is, chop the halves into pieces and place shell side up on a baking trey
3. Bake in 200°C (400F) preheated oven for 30 minutes or so
4. Now the pumpkin shell should be a lot darker than before, deep dark orange
5. When cool enough to handle you should be able to easily remove the skin from the fruit or scoop the pumpkin out of the shell
6. Toss the skin
7. Process the pumpkin meat and then strain
8. Now you should have a very smooth pumpkin puree which you can freeze, use for pumpkin pie or other delicious treats.

Ingredients
2 tbsp

Pumpkin Puree*

1/4 tsp

Cinnamon

1/4 tsp

Ginger

1/8 tsp

Nutmeg

1 tbsp

Malt Syrup (or brown sugar)

1/4 tsp

Vanilla Extract

2 dl (1/2 cup + 5 tbsp)

Milk (I use 2%)

2 shots

Espresso

Whipped Cream (optional)
Directions
In a saucepan heat pumpkin puree, spices and sugar until thick and sticky
Whisk in the milk and vanilla, and warm don not let the milk boil
If you want your milk to be frothy give it a spin in the blender while its steaming hot.
Brew the coffee, top off with pumpkin milk. Add whipped cream on top if you like
|
Published on October 9, 2014
|
Pumpkin Spice Latte Recipe
Comments - I would love to hear from you