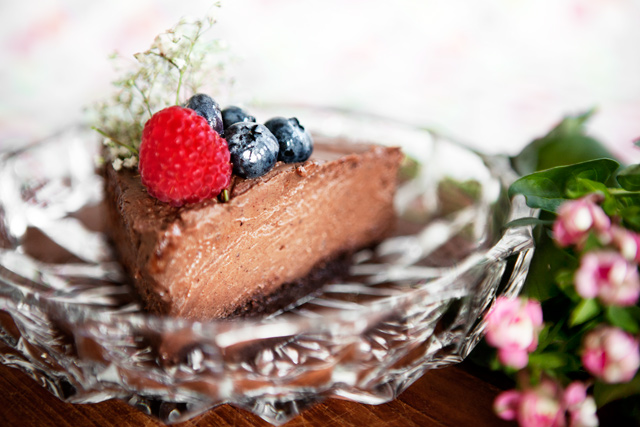 If you have been reading and using my recipes that I have posted here on the blog, you might remember that I have a friend who is intolerant to basically everything.
In the past I always made her the same dairy, sugar and gluten free chocolate cake, but at my tiny little birthday party last weekend I served her a brand new recipe – A Raw Chocolate Mousse Cake!
Having a food processor makes this recipe super easy to make, and it makes the mousse silk smooth and the crust finely chopped.
This mousse cake really is delicious (I was a little surprised myself), with it's strong and fresh flavor profile and lightness in the mousse.
And the best part is that you could have it for breakfast since there are only healthy ingredients.
You can easily make this cake few days before serving it, just store it in the freezer. It takes about 3 hours to thaw.
Cake Crust
1/3 cup pecan nuts
1/3 cup macedonian nuts
1 tsp cinnamon
2tbs cocoa
1/4 tsp salt
1 tbs dried coconut
2 tbs agave
1 tbs coconut oil
1/2 vanilla bean (or 1 tsp extract)
1. In a food processor mix pecans, macedonian nuts, cinnamon, cocoa, salt and coconut. Blend until nuts are super finely chopped
2. Add the agave syrup, coconut oil and vanilla. Mix super well (If you feel like the crust is to dry, add a little more agave)
3. Press the crust dough in a spring form or baking pan with loose bottom, aprox 16/18 cm or 6/7 inches
4. Place in the freezer until mousse is ready
Choco Mousse
1 cup dates
1 1/4 cup coconut milk
pinch of salt
1/2 vanilla bean (or 1 tsp extract)
3 tbs cocoa
2 tbs avocado
7 tbs strong black coffee
5 tbs coconut oil
1. Remove stones and stems from the dates. If they seem dry soak them in water for 5 min
2. In a food processor blend the dates until smooth
3. Add coconut milk, salt, vanilla, cocoa, avocado and coffee. Blend well
4. Add the coconut oil and blend until well incorporated
5. Pour the mousse over the crust and place in the freezer until 3 hours before serving
6. Decorate with fresh berries
|
Published on September 18, 2012
|
Raw Chocolate Mousse Cake – Recipe
Comments - I would love to hear from you