Ever wondered what would be the healthy alternative to a cheesecake? Well, here is your answer: This Raw Lime & Blueberry Cake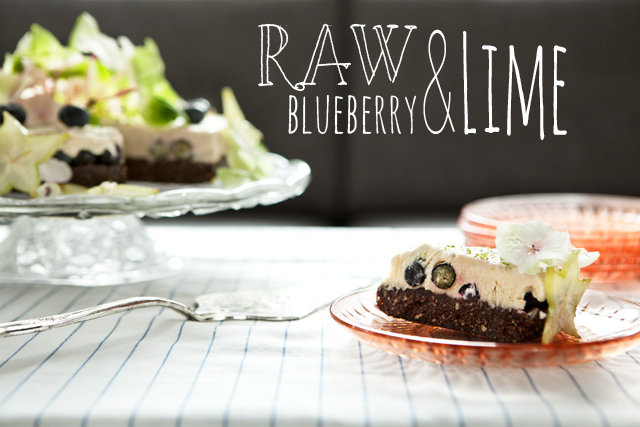 The Blueberry & Lime cake feels very light in taste, but it is quite filling because of the amount of nuts in it, so this raw cake serves at least 12-14 people.
Raw means dairy free, gluten free, sugar-free and 100% vegan, so absolute majority of people can enjoy this deliciousness in good conscience which makes this cake the perfect delight for a workplace summer party.
Baobab: The fruit has a velvety shell and is about the size of a coconut. The powdery white pulp has an acidic, tart flavor somewhere between grapefruit, pear, and vanilla. Baobab contains more vitamin C than an orange, more iron than red meat, more potassium than a banana and more calcium than a glass of milk: in a word, it's very nutritious. You buy baobab in health stores or online.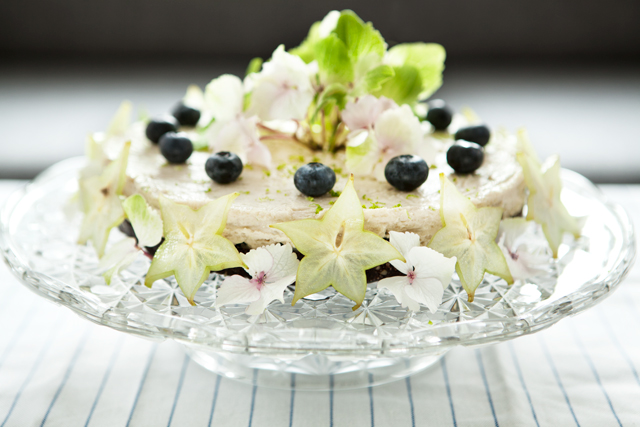 Blueberry & Lime Raw Cake
Recipe adapted from the Icelandic Raw Dessert Book 'Eftirréttir Sollu'
200 g (7 ounces) Walnuts
100 g (3.5 ounces) Pecan Nuts
2 dl (0.8 cup) Shredded Unsweetened Coconut
150 g (5 ounces) Dried Apricot
150 g (5 ounces) Dates (pitted)
1 dl (0.4 cup)  Unsweetened Cocoa
2.5 dl (1 cup) Cashews (soaked in water for 2 hours before use)
1.25 dl (0.5 cup) Agave syrup
1 dl (0.4 cup) Baobab
3 Limes
zest from 2 limes
1.25 dl (0.5 cup) Coconut Oil (melted)
pinch of salt
Handful or two of blueberries
1. Line a 21 cm (8 inch) springform with parchment paper
2. Put Walnuts, pecans, coconut, apricot, dates and cocoa in a food processor and mix until the dough is sticky and sticks together
3. Press the dough into the springform and place in the freezer while making the filling
4. Soak the cashews for 2 hours
5. Blend the cashews and Agave syrup in a blender or a food processor until completely smooth and creamy
6. Peel the limes and add them along with the baobab. Blend
7. Add lime zest, coconut oil and salt. Blend
8. Take the bottom layer in the spring form out of the freezer
9. Spread the blueberries evenly on top
10. Add the cashew filling and spread it out so it covers the berries
11. Place the cake in the freezer for at least one hour or in the fridge for two
12. Decorate with starfruit, blueberries and fresh flowers
13. Store in the fridge to keep it firm and cold
|
Published on May 12, 2013
|
RAW Lime & Blueberry Cake – Recipe
Comments - I would love to hear from you