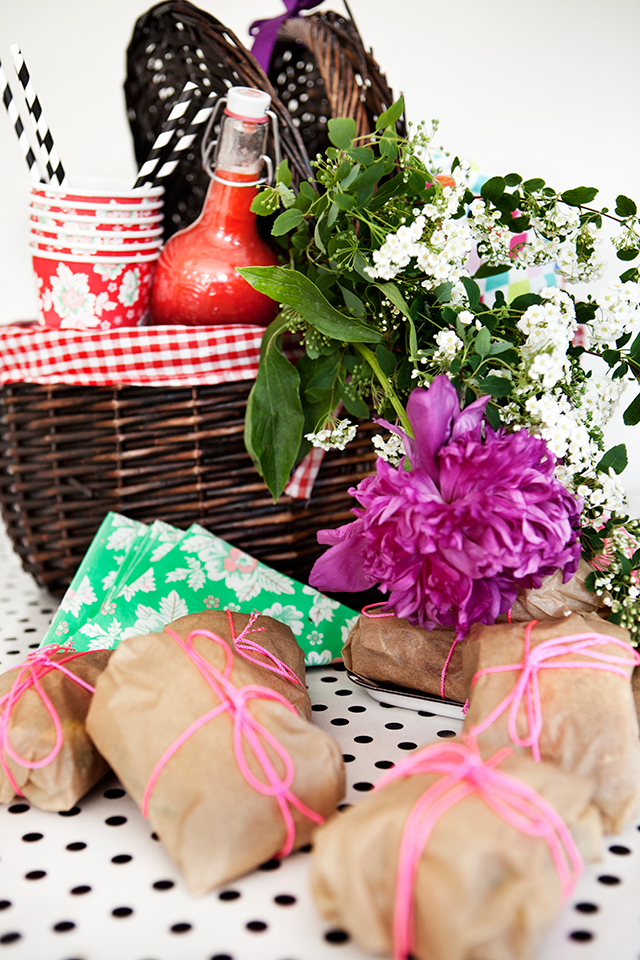 When my dear friend Noura turned 30 she threw a picnic in Central Park and asked me to prepare something super simple yet fun for her guests to eat.
The budget was limited and the weather forecast was hot, hot hot so I came up with the concept of Surprise Sandwiches.
All the sandwiches were wrapped and in a big basket. Then the guests stuck their hand in and fished up a sammie, without knowing the topping. No two sammies were the same so that first bite was a total surprise for everyone, hence the name.

To make picnic a little more sophisticated you can hang ornaments on the trees, lay patterned blankets on the ground, use colorful baskets for the food and you can even pick some wild flowers and put in a small vases.
Choose colorful plastic cups and napkins, and wrap the food with paper and string – and even though you are "only" serving sammies your guests will feel like royalties because of the beautiful environment.
Lemonade is definitely also a good thing to bring to a picnic, since you can serve to both kids and grown ups. Not to mention how easy it is to make it even more fun with a splash of vodka or champagne.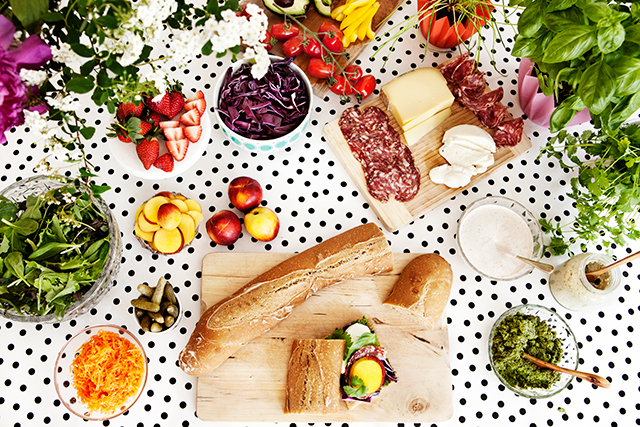 The key to make a good basket of 'Surprise Sandwiches' is to have various toppings; vegetables, sausage, cheese, fresh herbs , fruits and of course good (preferably homemade) bread.
I usually empty my fridge, including leftovers from yesterday and the day before, make different spreads, buy two different kinds of cheese and sausage and then I randomly assemble the sandwiches.Don't forget that fruit is delicious with both salty cheese and sausages, and fresh herbs always do the trick and add the umph you a might be lacking.
Other great stuff you can use:
Comté

Mozzarella
Strawberries
Peaches
Sausage: Fennel and/or Chili
Cottage Cheese
Fresh Herbs such as: basil, cilantro, dill and oregano
Shredded Red Cabbage
Arugula
Shredded Carrot
Cornichons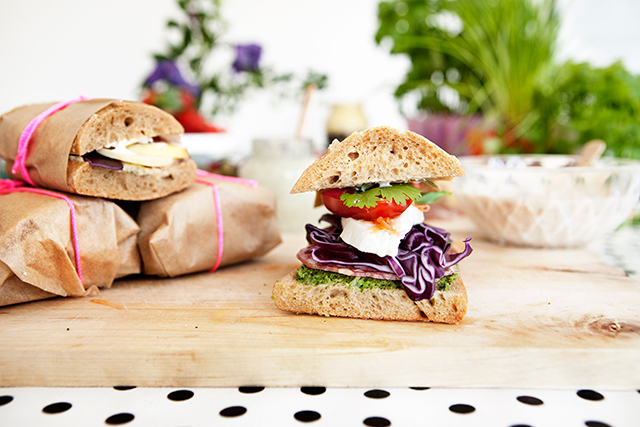 |
Published on June 4, 2014
|
Surprise Summer Sandwiches for the Picnic
Comments - I would love to hear from you