The non-bake Icelandic Skyr Cake is such a lovely alternative to cheesecake. It's not only lighter in texture but also lower in fat and higher in protein.
I have shared a Skyr recipe before here on the blog, but this time I will share two different recipes for the bottom layer as well as other alternatives and possibilities.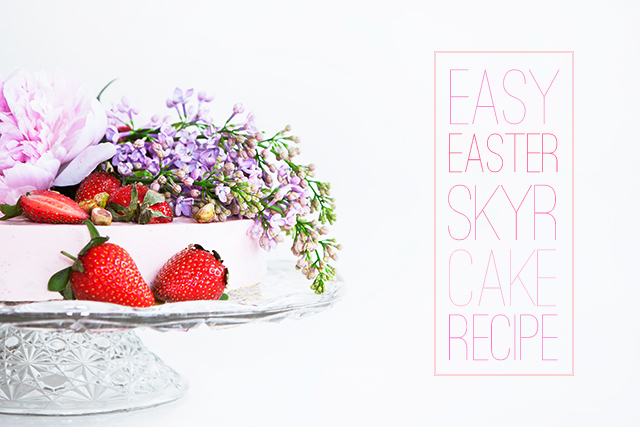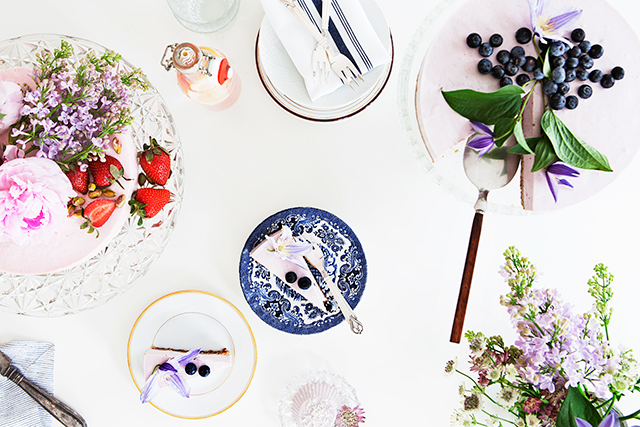 The Skyr Cake is definitely this year's easter cake with it's light texture and full flavor.  I make mine more on the sour side to weigh up against all the sugar I will be eating in form of easter eggs.
Last years easter cake was a Lemon Sponge with Poppy Seeds and Mascarpone.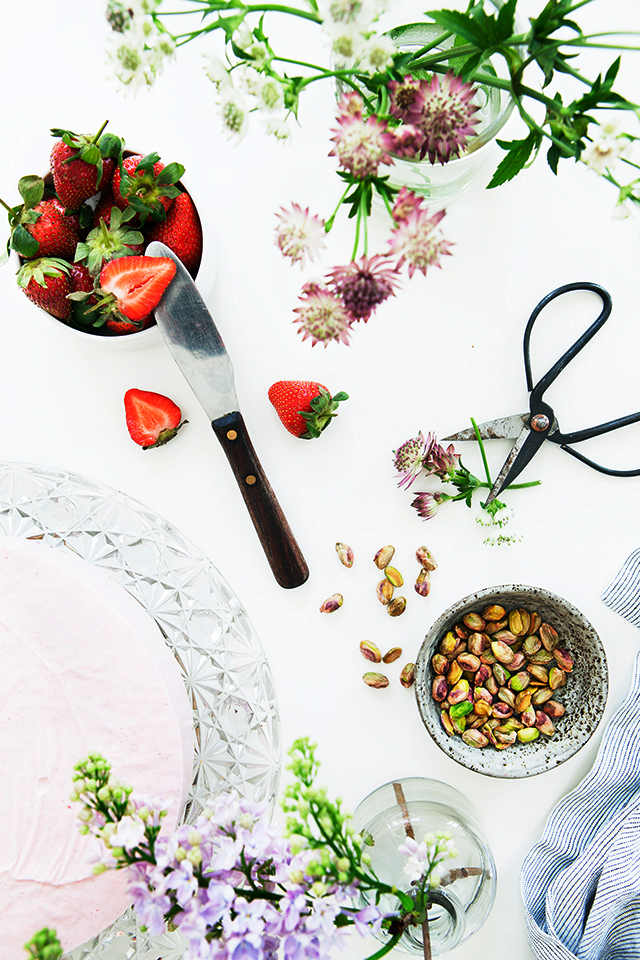 Good Tips:
– You can buy 'Skyr' in Iceland, Denmark, Sweden, Norway and at Wholfoods in the US.
– When using plain unflavored skyr, you do need to add sugar. But I have cut it down to absolute minimum, if you are a sweet tooth you might want to add a little more. On the other hand, when I use store bought flavored skyr I add no sugar at all.
– Below you will find two choses of a bottom layer for a Skyr Cake. One of them is simply crushed biscuits and butter, while the other one is RAW. The raw version obviously requires more ingredients and is more time consuming to make, but it sure is delicious!
– There are thousand ways to decorate a cake. I like using fresh berries, shaved chocolate, pistachios and fresh flowers.
– A frozen Skyr Cake takes about 8 hours to thaw in the fridge or 3 hours on the kitchen counter
– These recipes fit for 20-23 cm (8-9 inch) spring forms
– If you want to add color to your cake, you can always add few drops of food coloring into the skyr/egg mixture
– Store leftover cake in the fridge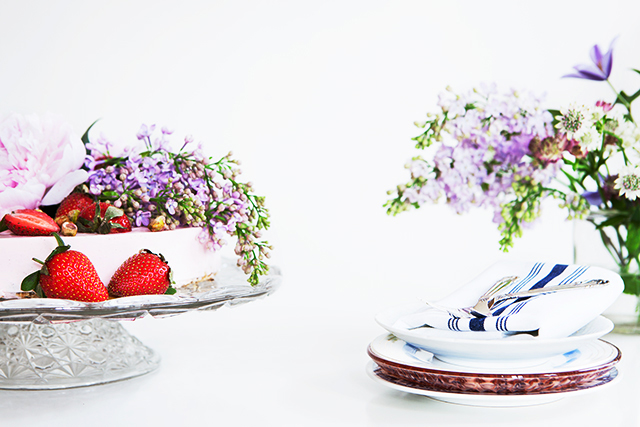 Recipe: Skyr Cake with Raw Bottom Layer
You can use any flavor of Skyr. My favorite is Blueberry, but I very often keep it simple and use unflavored skyr and add vanilla and sugar to it myself. If you do not have access to fresh coconut meat, use dry coconut instead.
Ingredients
200 g (7 ounces or 20 pieces)

Dates, pitted

100 g (3.5 ounces)

Fresh Coconut Meat, shredded

100 g (3.5 ounces)

Almonds

40 g (1.5 ounces)

Walnuts

40 g (1.5 ounces)

Peanuts

500 g (17.5 ounces)

Skyr (I use blueberry)

2

Eggs

1

Vanilla Bean (only if you are using unflavored skyr)

80 g (1/2 cup)

Sugar (only if you are using unflavored skyr)

250 ml (1 cup)

Heavy Cream

8

Gelatin Sheets

0.5 dl (4 tbsp)

Milk

2 dl (1 cup)

Fresh Blueberries
Directions
Line a round spring form (20-23 cm (8-9 inch)) with parchment paper
Give the nuts a spin in a food processor. Then add the coconut and dates and pulse until a dough has formed. You will have to stop to scrape down sides.
Press the raw dough into the form and place in the fridge while you make the cake
Soften the gelatin sheets in a bowl of water
Mix together Skyr and Eggs (+ vanilla and sugar if using those)
In a separate bowl whip the heavy cream, then gently fold into the skyr mixture
Squeeze the water out of the now softened gelatin sheets and place in a small sauce pan along the milk. Melt together over low heat until gelatin is completely absorebed
While wisking, add the gelatin-milk in a slow but steady stream to the skyr/cream mixture
Fold in the blueberries and pour over the bottom layer
Place in the fridge for minimum 8 hours or in the freezer for up to 4 weeks
The Easy Bottom Layer
225 g (8 ounces) Digestive Biscuits with Dark Chocolate
80 g Butter
1. Crush the biscuits and make a single layer in the spring form
2. Melt the butter and pour over biscuits
3. Mix well together and press down into a completely even layer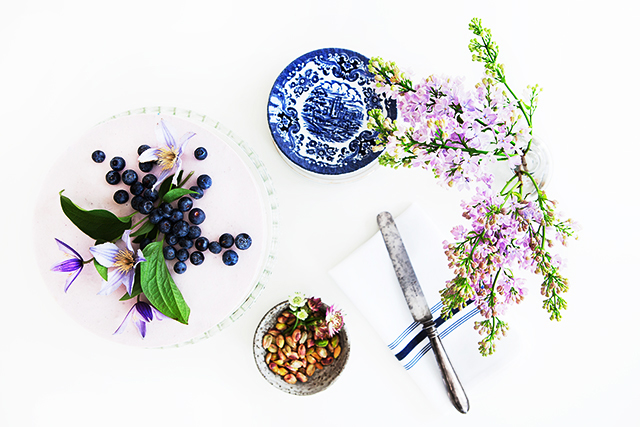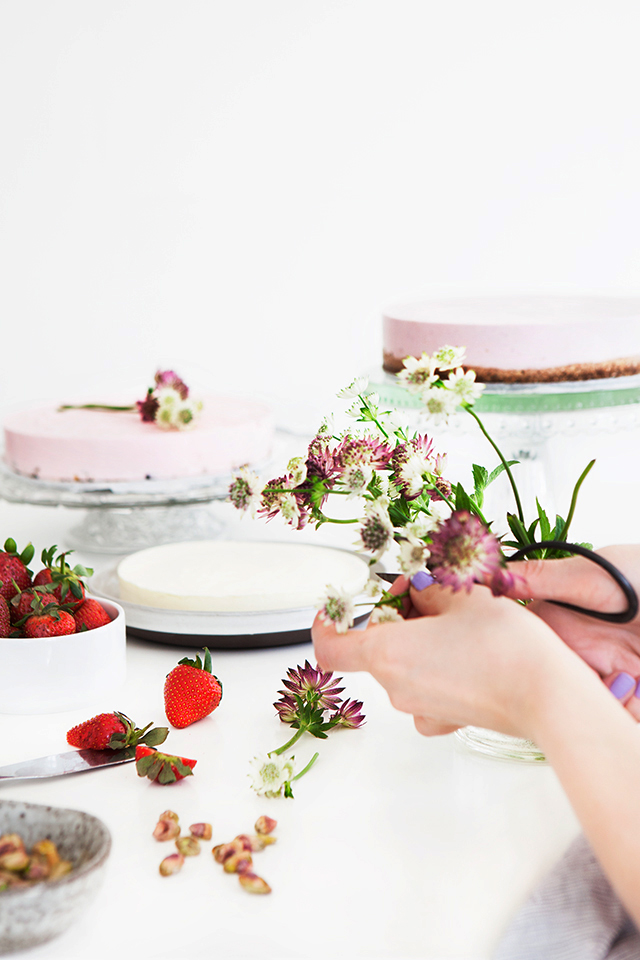 |
Published on April 13, 2014
|
Skyr Cake Recipe
Comments - I would love to hear from you