Here is the Perfect Valentine's Day Dessert!
Profiteroles or Cream Puffs are traditional French Dessert. A choux pastry ball filled with pastry cream or whipped cream, decorated with melted chocolate or powdered sugar.
These are the Icelandic Version of a Mardi Gras (February 17th) Dessert. They are large choux pastry puffs cut cross over in the middle and filled with cream and often jam.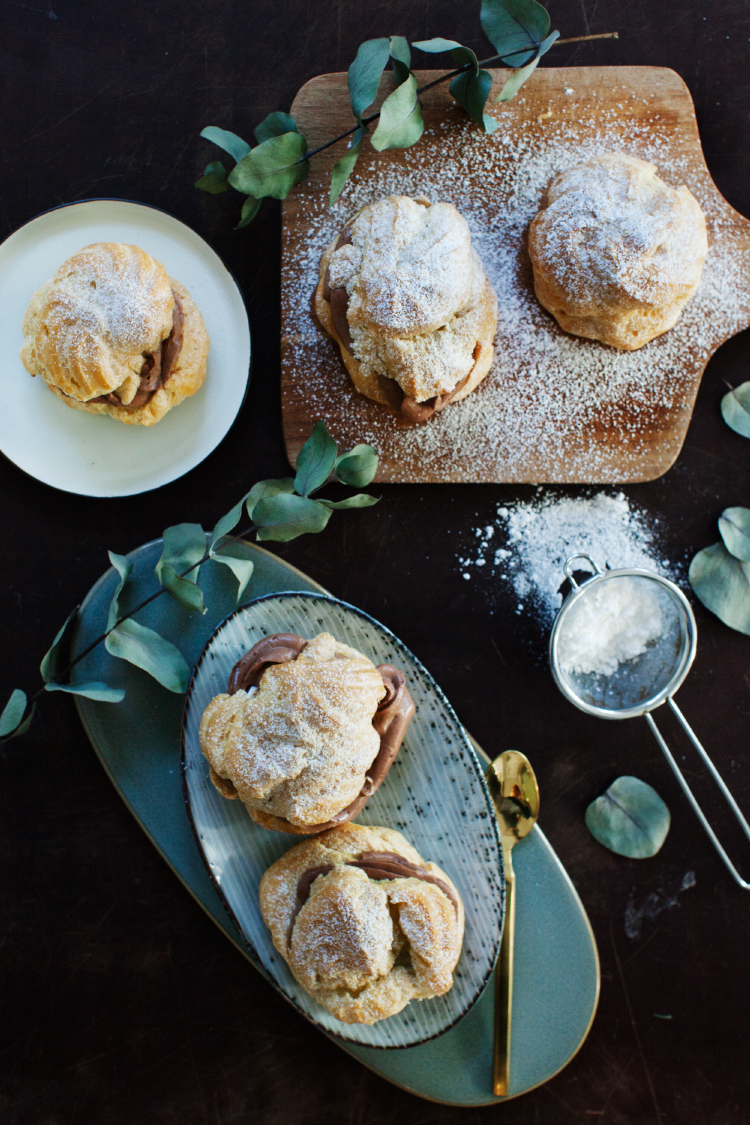 We do not really celebrate Valentine's Day here in Scandinavia, but since a lot of my readers are American I thought it was a great idea to post something sweet that both covers Valentines's Day Dessert and Mardi Gras (Fastelavn, Öskudagur).
If you do not feel like using alcohol for the pastry cream, simply skip it. If you on the other hand feel like throwing in some fresh berries or a thin layer of jam, go for it!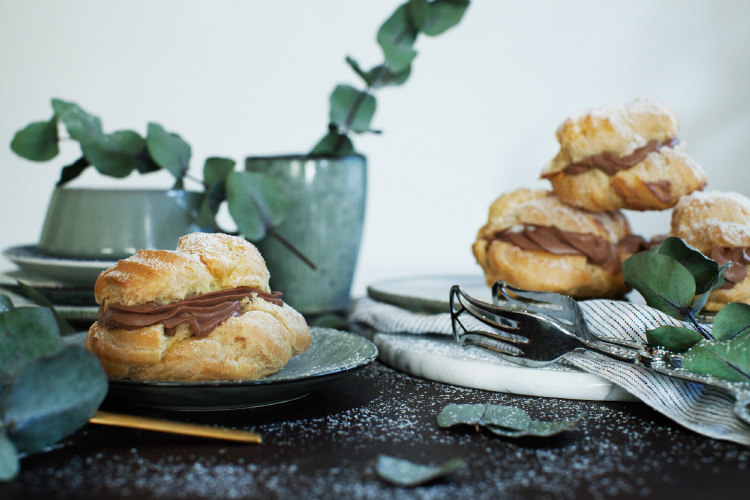 You can easily store Choux Paistry. You can freeze the dough balls before you bake them for up to 1 month or you can keep them unfilled in an airtight container for days and then simply throw them in the oven for 5 minutes to have them crisp up right before you fill them.
I do not recommend storing the profiteroles filled for a long time, they quickly become soggy that way.
Last year i made Traditional Profiteroles with Liquorice and the year before i was on more healthier side with these Raw Peppermint Almond Cookies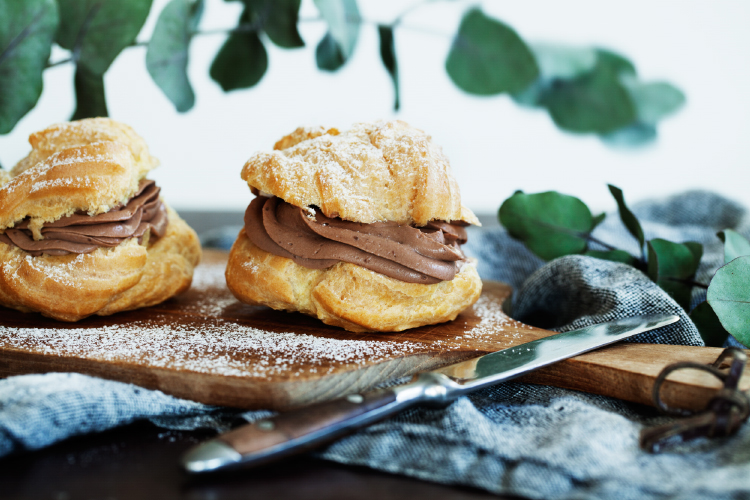 Recipe: Large Profiteroles
Makes 12
Ingredients
2.5 dl (1 cup)

Water

125 g (1 stick)

Butter

1/2 tsp

Salt

140 g (1 cup)

Flour

4

Eggs
Directions
Preheat the oven to 200°C (375°F)
Combine water, butter and salt in a medium saucepan, place over low heat, and stir as butter melts (make sure it is low heat, you do not want the water to evaporate before the butter melts). When the butter has melted turn the heat on high and bring to a boil.
Remove the pan of heat and stir in the flour with a wooden spoon. Continue to stir for about 1 minute
Place the pan back on medium heat and stir rapidly for 1 minute or until the dough pulls away from the sides and forms a ball. The dough should be glossy and little wet
Place the pan back on medium heat and stir rapidly for 1 minute or until the dough pulls away from the sides and forms a ball. The dough should be glossy and little wet
Then start adding the eggs, one at a time and make sure they are well incorporated.
When all the eggs are added Increase the power to medium and beat for 30 seconds
Put the dough in a pastry bag and let cool to room temp before piping out 5 cm (2 inch) balls onto a parchment-paper covered baking sheet. If the balls form a top, dip your finger in water and lightly smooth them out
Spray the profiteroles with water and as soon you place them in the oven decrease the temperature to 180°C (350°F) and bake for 25-30 minutes
Let the cool to room temp before cutting them open and filling them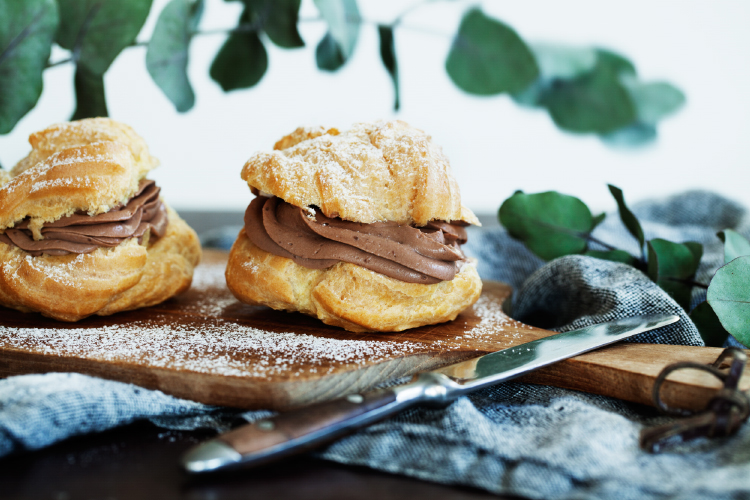 Recipe: Chocolate Pastry Cream
Ingredients
60 g (2 oz)

Dark Chocolate

3 dl (1 1/4 cup)

Whole Milk

3

Egg Yolks

1/2 dl (1/4 cup)

Sugar

1 tbsp

Flour

3 tbsp

Cornstarch

2 tsp

Cocoa

1/8 tsp

Salt

1 tbsp

Cognac, Bourbon, Amaretto, Grand Marnier

2,5 dl (1 cup)

Heavy Cream
Directions
Melt the chocolate over water-bath and set aside
In a small saucepan, warm the milk over low heat until steaming hot. Then stir in the melted chocolate. Stir until completely smooth
While the milk is warming, whisk together the egg yolks, sugar, flour, cornstarch, cocoa and salt until the mixture is light and fluffy
Temper the eggs by adding a little bit of the warm chocolate milk and whisk constantly. Add little at a time until you have added half of the milk
Then pour the eggs/milk mix into the pan with the remaining hot milk and heat over medium heat and stir constantly until the mixture is very thick
Remove from heat and stir in the alcohol if you are using any. If your pastry cream is grainy, press it through a fine sive
Chill the pastry cream in the fridge for 2 hours
Whip the heavy cream and mix together with the chocolate pastry cream. Then pipe onto the profiteroles.
|
Published on February 10, 2015
|
Valentine's Day Dessert
Comments - I would love to hear from you