This spring we bought a stunning 120-year-old Victorian house in the historic uptown district in Kingston NY.  It truly is the house of our dreams, our forever, future home.
It is my children's childhood home, the house they will return home to on Thanksgiving and Christmas as adults. It is the house which basement I will fill with boxes of cutouts of my children's achievements and the home where I will bake with my grandchildren one day. And most importantly it is the home where we can have multiple 10 ft tall Christmas trees (we might not all agree on that being the most important feature, but you know, priorities).
The house is 2700 sq ft and when we bought it it was in excellent condition but everything was orange/brown – the floors, trims, the mantel, the walls… you name it. It was dark, dramatic and very shiny as most of the walls were painted in a glossy sheen.
It didn't require any major renovations to achieve our goals so with only a few "minor" changes we turned this dark and dramatic American classic into a bright Nordic Haven! Here is what we did:
We painted (almost) everything white!
To start with a clean slate, we decided to paint all the trim and walls white in the color Pure White by Sherwin Williams. A lot of people have rolled their eyes at us and said we must be crazy doing so, having two small children with sticky fingers. But hear me out.
Sherwin Williams's Emerald paint is washable IN ALL SHEENS! Yeah, you heard me, in 'Matte' too, which is what we chose for the walls. I never in a million years thought I could have beautiful, flat, white, WASHABLE walls. Truly amazing.
We painted all the trim in the same color as the walls but in a slightly different sheen. We went with 'Satin' and there is not a huge difference, but enough to create a subtle contrast between walls and trim.

The color pure white
Pure White is simply white. It's crisp without being blue and soft without being beige or yellow. It sounds impossible, but it's just that: White.
To get that perfect shade of white they simply add a drop of gray or black to pure white paint. That removes the blue hue (which you do not want unless you are painting a dentist's office) and it also adds warmth without adding any yellow (which you do not want unless you are your grandmother).
We did paint two walls in a different color. Pippa and Prince got to choose a color for one accent wall in each of their rooms. Prince was super focused on picking a "sea green color" and he went with Sherwin Williams Aloe. For Pippa's room, we decided to pick a beautiful complimentary color to the green and went with Sherwin Williams Comical Coral. Both came out great and they give the kids room a little spark.
The Chestnut Trim
All the wood in our house is original chestnut and it had never been painted, though it certainly had been covered with gazillion coats of super shiny varnish.
Finding unpainted, original chestnut trim is rare, I get it, but to us, it simply wasn't pleasant for the eye to have so much of it. So we painted a lot of the wood but left the doors and the beautiful panels in the stairway as they were and now the remaining wood stands out and adds a beautiful contrast to our clean, white walls. Before you didn't even notice all the details because everything around was shiny and brown too.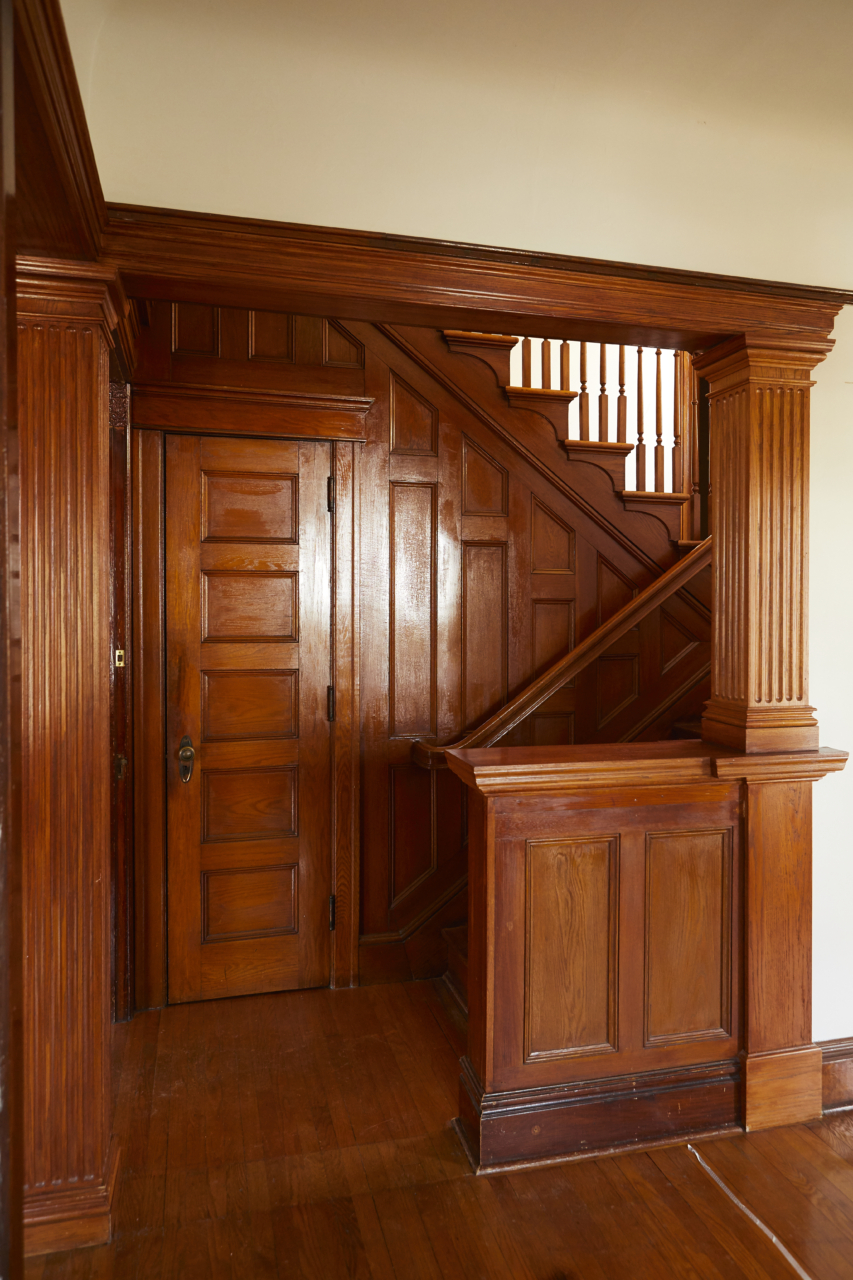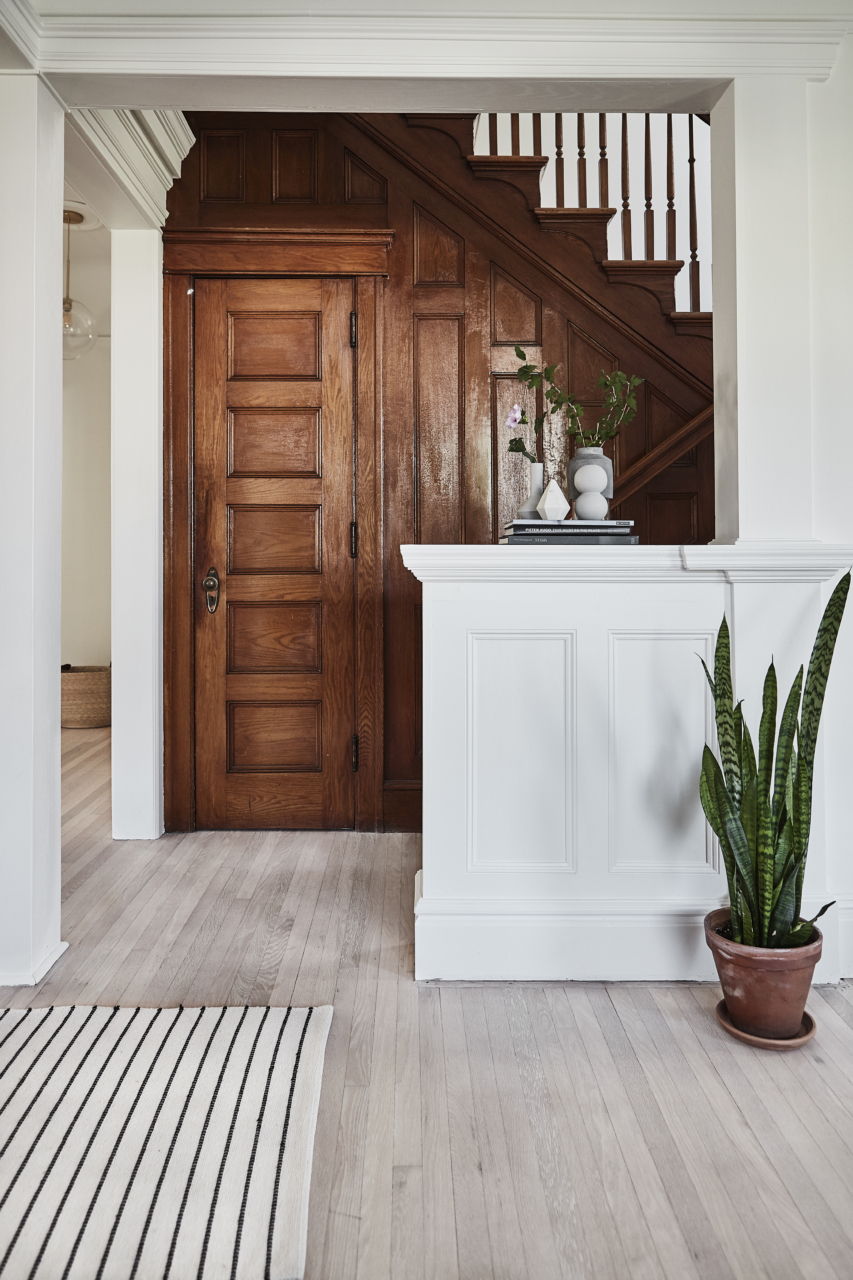 Painting the varnished trim
How did you paint all that lacquered trim you might be asking yourself. Again, Sherwin Williams came to the rescue and saved us from hours and hours of sanding all that wood: Premium Wall & Wood Primer. One coat of primer followed by two coats of paint, and voila. Beautiful white trim.
Next week I am going to share with you how we tackled the floors to get that beautiful, light surface. It is a true Scandinavian secret, that by next week will not be a secret anymore as you all deserve to transform your (orange) hardwood floors into a nordic hygge dream. The best part is that the products we used are available right here in the US. Stay tuned!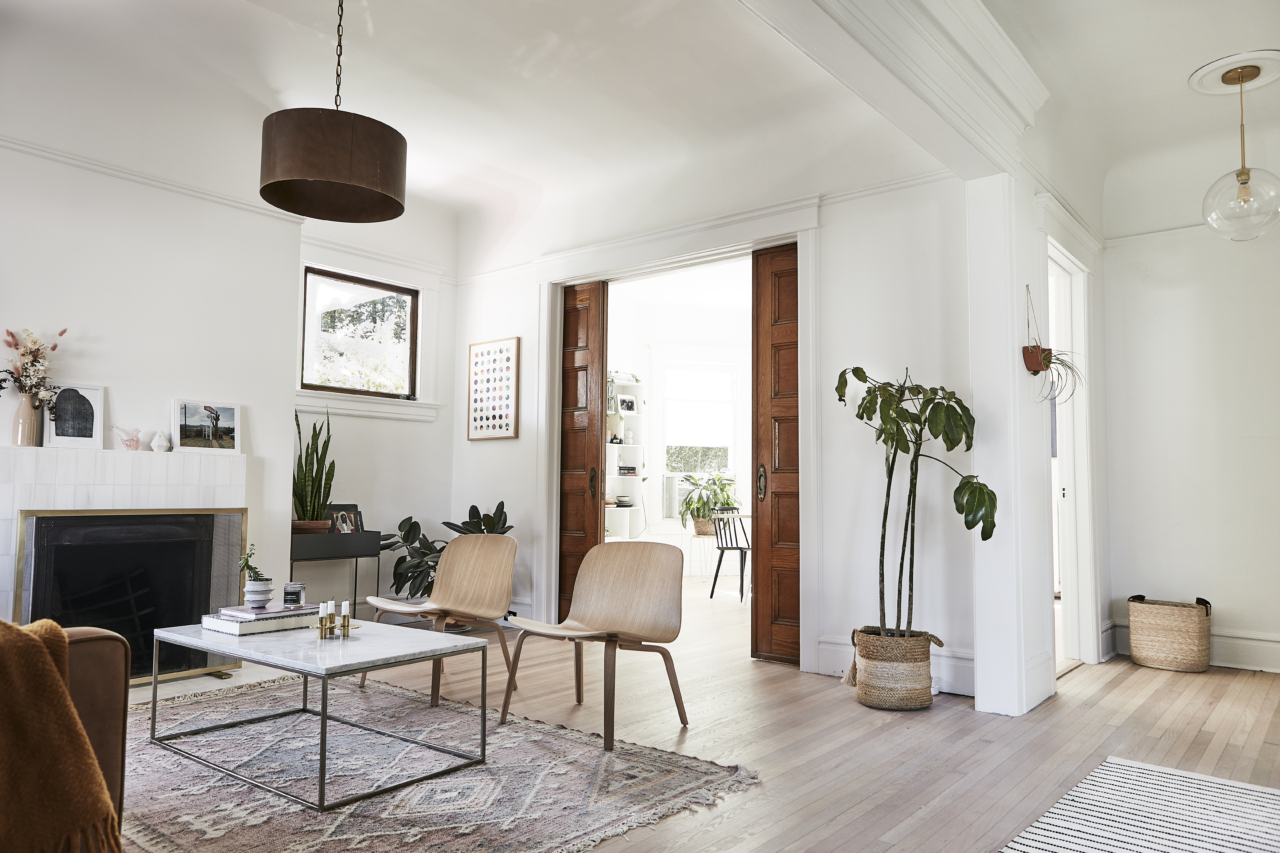 This post is in part sponsored by Sherwin-Williams. All the choices and opinions are my own.
|
Published on November 18, 2019
|
Our Victorian House Renovation
Comments - I would love to hear from you