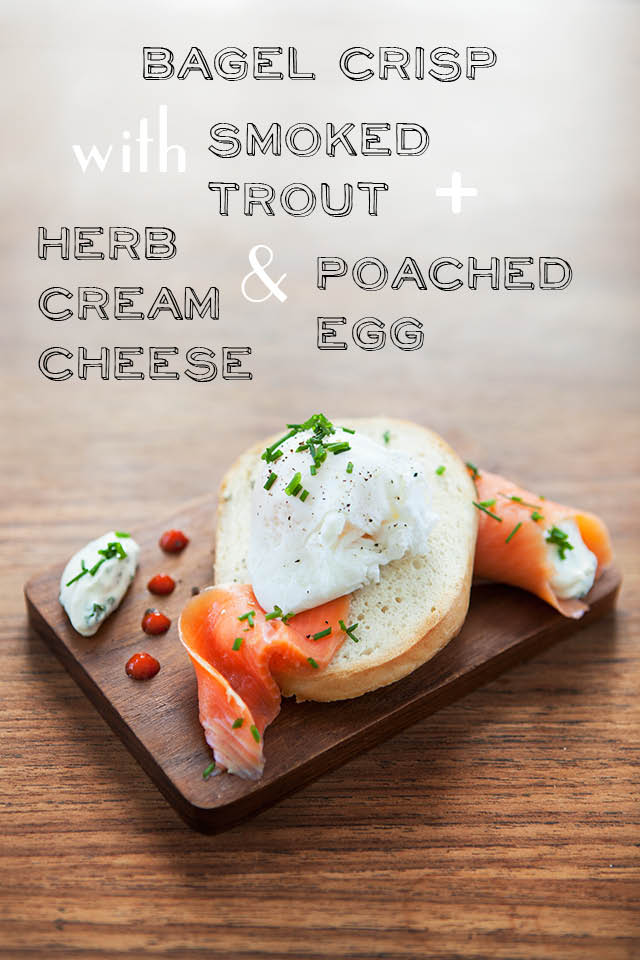 This Breakfast might look fancy, but in fact it is simple and there is nothing on this plate that you haven't eaten before. Making regular everyday food look pretty makes it even more delicious, and it makes you feel a tiny bit more glamorous. Throw on a dress, put on some lipstick and enjoy a classy version of a breakfast this weekend.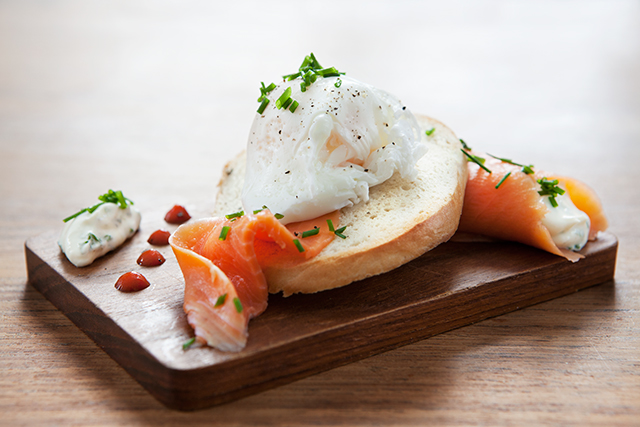 On my plate we have a toasted bagel, smoked trout, cream cheese with fresh herbs, hot-sauce and a poached egg.
I prefer smoked trout over smoked salmon (lox), the trout is leaner and has a stronger taste to it, but feel free to use what ever fish you like, but keep it smoked.
Instead of using a whole bagel, I divided one bagel into 4 pieces and you can toast the pieces in either the oven or the toaster, so it becomes more a crisp than a pice of bread. If you are up for it, I recommend spraying the bagel with a little garlic oil before toasting it (if you do not have garlic oil in a spray container, just rub a garlic clove onto the bagel and then drizzle tiny bit of olive oil over it.)
You can use regular cream cheese, but it really doesn't require much to whisk some herbs and flavours into it. And that little effort really makes a difference for the taste buds. And instead of smearing the cream cheese on the bagel, I rolled some of it into a piece of trout, and also placed a little bit on the side.
The hot-sauce (I use Sriacha) gives an 'umph' to the the plate. You don't need a lot, and if you do not like spicy food do me a favour and try it anyway, I am pretty sure you're gonna love it! Just put a little bit on the side so you can control the heat.
Poached eggs are simply elegant. Not that they taste particularly different from other eggs, but there is that awesome moment when you cut into it the first time and the yolk bursts out in a slow stream. So lovely!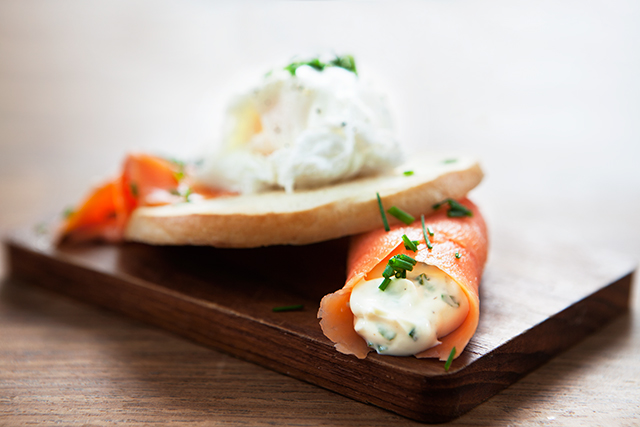 Bagel Crisp with Smoked Trout, Fresh Herbs and a Poached Egg
Cream Cheese
Cream Cheese -I use philadelphia light, but use what ever plain cream cheese you prefer.
Fresh Herbs – I use basil, chives, dill, parsley and even cilantro if I am feeling wild.
Dijon Mustard
Squeeze of fresh lime juice
salt and pepper
1. Mix everything together in a bowl, and use your taste buds to figure out how much mustard or lime juice you like.
Poaching Eggs
Eggs
3 tbs Vinegar
2 liters Water
1. Bring a deep saucepan of water to the boil
2. Add the vinegar
3. Break the eggs into separate bowls or cups
4. Swirl the vinegared water briskly to form a vortex and slide in an egg. It will curl round and set to a neat round shape
5. Cook for 3 minutes
6. Make sure you only do one egg at a time
The Bagel Crisp
Cut a regular sized bagel into 4 thin slices
Spray the slices with some garlic oil
Toast them in the oven or in the toaster
Smoked Trout
I buy mine at my local grocery store. If I can get Icelandic trout I buy that, but usually they only have Norwegian.
|
Published on September 26, 2013
|
Bagel with Smoked Trout
Comments - I would love to hear from you