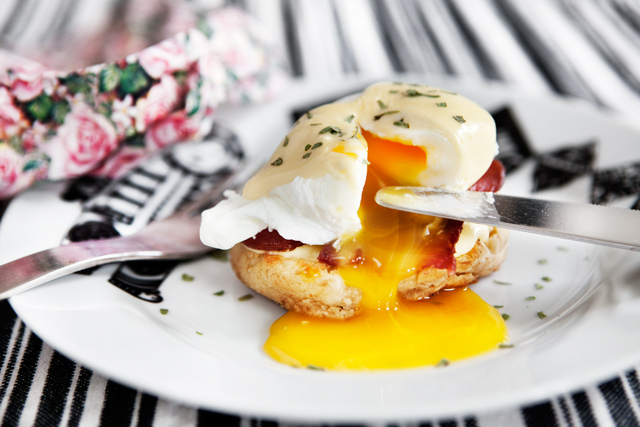 There are at least three different stories about the origin of the popular breakfast dish 'Eggs Benedict'. Some say it was the Wall Street Broker, Lemuel Benedict, that pioneered by ordering the combo of English muffin, poached egg, bacon and hollandaise at the Waldorf's in 1894, in attempt to cure his hang over.
Other say it was the banker, Elias Cornelius Benedict, a New York banker and yachtsman that invented the dish in his very own home and the third story gives the credit to a waiter at the fancy New York restaurant Delmonico's. All the stories take place in New York in the late 1890's but most importantly they all include the recipe for one of the most delicious breakfast dish out there!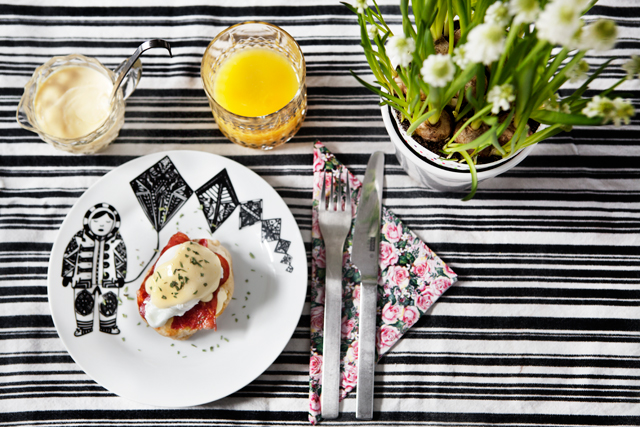 I chose to make my own English muffins from scratch, if you can buy them at your bakery or supermarket, I recommend you do so. Not that mine don't taste good, but they take forever to make. I also decided to use turkey bacon instead of Canadian bacon, ham or regular bacon, simply because I love it. Feel free to use what ever smoked meet you like and prefer. Poaching eggs is easier then you think and even though it might sound complicated, you should definitely give it a try, if not for the taste then at least for the sake of elegance.
Happy Weekend Y'all. 
Eggs Benedict
English Muffins *recipe below
Turkey or Canadian Bacon
Poached Eggs *instructions below
Hollandaise *recipe below
1. Toast an English muffin
2. Spread some hollandaise on the muffin
3. Add some bacon on top
4. Place the poached egg on top of bacon
5. Top with more sauce
6. I love tarragon so I sprinkled some over as garnish
Poaching Eggs
Eggs
3 tbs Vinegar
2 liters Water
1. Bring a deep saucepan of water to the boil
2. Add the vinegar
3. Break the eggs into separate bowls or cups
4. Swirl the vinegared water briskly to form a vortex and slide in an egg. It will curl round and set to a neat round shape
5. Cook for 2-3 minutes
6. Make sure you only do one egg at a time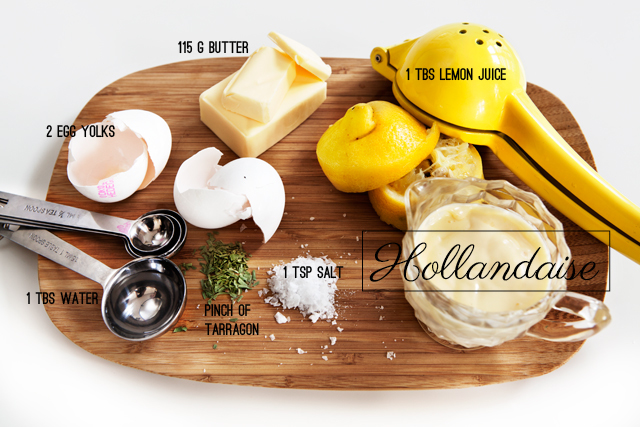 Hollandaise Recipe from Martha Stewart
2 large egg yolks
1 tbs warm water
1 tbs fresh lemon juice
1/2 tsp salt 115 g (1 stick) butter
1. In a blender combine egg yolks, water, lemon juice, and salt; blend until frothy
2. Melt the butter over medium heat until bubbly (do not let it brown)
3. With the blender running, pour in hot butter in a very thin stream, blending until sauce is thick and creamy

English Muffins
0.5 dl (0.2 cup) water
1.25 dl (0.5 cup) milk (I used 1.5%)
1 tsp salt
0.5 tbs sugar
10 g (0.5 tbs) butter
25 g active yeast
0.25 dl (0.1 cup) water
225 g (8 ounces) flour
1. Bring the 0.5 dl water to a boil
2. Melt the butter
3. In a large bowl mix that boiling water with the milk, salt, sugar and melted butter
4. In a separate bowl dissolve the yeast in the remaining 0.25 dl water
5. Add the yeast/water to the milk/butter mixture and stir together until well blended
6. Sift 2/3 of the flour into the mixture and mix well
7. Cover the bowl with a clean cloth and place in a warm place for an hour
8. After the hour has passed and the dough has doubled it's size, add the remaining flour
9. Mix well
10. Place the cloth over the bowl again and let the dough rise for another hour
11. Dust flour on parchment paper and pour the very sticky dough on to it 12. Press the dough out into a 1.5 cm flat pie
12. With an 8 cm glass or a cookie cutter, cut out the muffins. This recipe makes 10 muffins
13. Cover the cut outs and let them rise for 15 min
14. Melt some butter on a frying pan
15. Over medium heat fry the muffins for 15 min on each side. First 5 min on one side, then flip it over and give it full 15 min. Then flip it over to the first side and five it the last 10 minutes.
16. Store the English muffins in an airtight container or freeze them
|
Published on February 28, 2013
|
Eggs Benedict
Comments - I would love to hear from you